4 Days in Budapest: Visit all the Must-See Attractions & Hidden Gems
Budapest is one of my favourite cities in all of Europe! Home to stunning architecture, thermal baths, and delicious food. Budapest has quickly become a popular destination for tourists all over the world. Whether you're a first-time visitor or a seasoned traveller, spending 4 days in Budapest is the perfect amount of time to explore all that this beautiful city has to offer.
In this 4 day Budapest itinerary, I will guide you through some of the city's most enchanting sites and exciting hidden gems, as well as share some budget-friendly dining options that you need to try!
The Hungarian Capital is also a great spot for those looking to take part in some nighttime shenanigans. So, without further ado let's dive into the itinerary.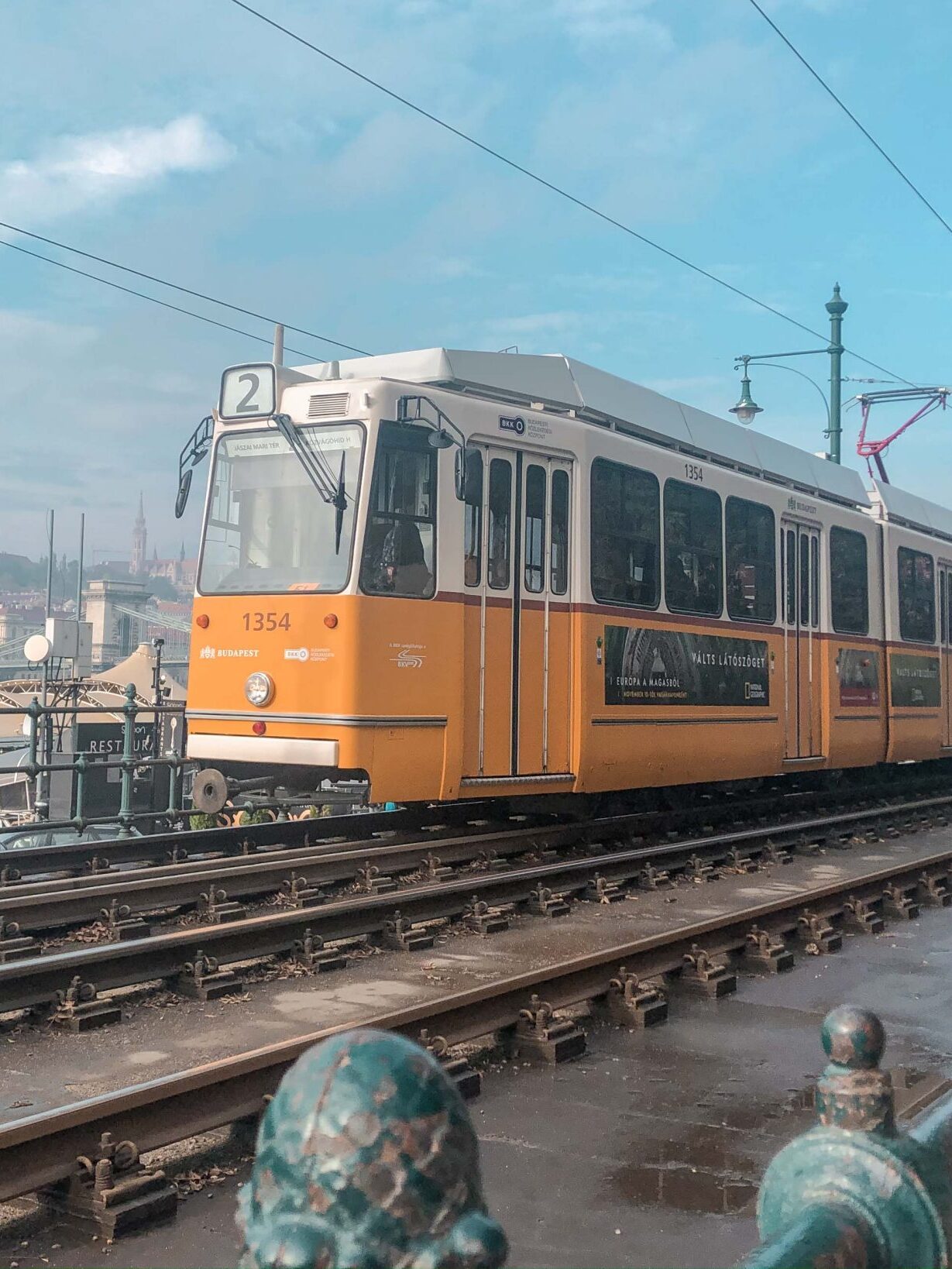 This post may contain affiliate links which means we make a commission at no extra cost to you
Getting Around Budapest
Walking: Budapest is an extremely walkable city, making getting around that extra bit easy. Most tourist attractions are within walking distance of each other. Which is super convenient, especially when visiting Budapest for the first time.
Public Transport: Transport in Budapest is rather cheap and there are many options to choose from. The city's public transport consists of lime scooters, an underground, trams, busses and city bikes.
Budapest offers a transport card system that allows tourists to purchase their transportation tickets ahead of time for a designated number of days. This is perfect for those depending on the city's bus, tram, and metro services for the duration of their stay.
Bolt: If you find yourself in a rush, taxis can be rather affordable in Budapest compared to other major European cities. I recommend using apps such as Bolt to get the best prices. (They do not have Uber in Budapest) Disclaimer: I once hailed a taxi off the street while visiting Budapest and was completely overcharged. Therefore, it is best to use a regulated app.
Scooters: Lime scooters are a fun and convenient way to explore Budapest. They can be easily rented through the Lime app, with many pickup and drop-off locations throughout the city.
---
Getting to and from Budapest Airport
Budapest Airport is a convenient 45-minute drive from the city centre. The easiest and most budget-friendly way to get to and from Budapest Airport is by bus.
The 100E bus takes passengers into the city and back to the airport every 30 minutes. At the time of writing the 100E cost, 900 HUF (2.70 euro) and the journey takes about 45 minutes to complete.
Another option is to take a taxi which can cost anywhere between 20-30 euros depending on your destination in the city centre. However, be cautious as some taxis may try to overcharge you.
If you are travelling with luggage or looking for a more comfortable and direct transfer, there are also airport shuttle services available at Budapest Airport. These services offer door-to-door transfers.
Arriving in Budapest by Train/Bus
You may choose to have Budapest as a stop-off on a favourite. If so, consider arriving in the city by train or bus.
The city's main train station, Keleti pályaudvar, is well connected to other parts of Europe, welcoming daily trains from cities like Berlin, Munich, or Vienna.
It's a comfortable and eco-friendly way of travelling. The station is located in the city centre, making it easy to start exploring Budapest right upon your arrival.
There are also numerous bus companies, such as FlixBus, that offer regular services to Budapest from various European destinations.
The main bus station, Népliget Bus Station, is also located conveniently in the city, with easy access to public transportation. As a cost-effective alternative, travelling by bus might be a good option for those on a budget.
---
Buda or Pest?
Before we dive deep into our 4 day Budapest itinerary, it is important to note that Budapest was once divided into 2 sections by the Danube river, Buda and Pest.
Budapest wasn't always one big city and there is still evidence of that seen today.
The Buda side of the city consists of mostly residential areas and is known for being the wealthier side of the city. Buda is home to most of Budapest's historic sites such as Buda Castle and the Fisherman's Bastion.
The Pest side of the city is considered to be the more lively and cultural part of Budapest. It is home to most of the city's restaurants, bars, and shops. You will also find some iconic landmarks such as St. Stephen's Basilica and the Hungarian Parliament building on this side of the river.
The city of Budapest is very much divided by the old and the new. Making it a very interesting destination to explore.
4 Days in Budapest – Day 1: Exploring the Castle District
The first day of our Budapest itinerary brings us to the Buda side of the city.
Here, we will explore the Budapest Castle District. Discovering some of the city's major attractions such as Gellért Hill, Buda Castle, Matthias Church, Fisherman's Bastion, and Castle Hill.
We will dive deep into the history of the capital and take a look at some of the city's most beautiful sites.
This side of Budapest seems like something straight out of a fairytale. You will be blown away by its beauty! Here you will truly find out that Budapest is 110% worth the visit.
---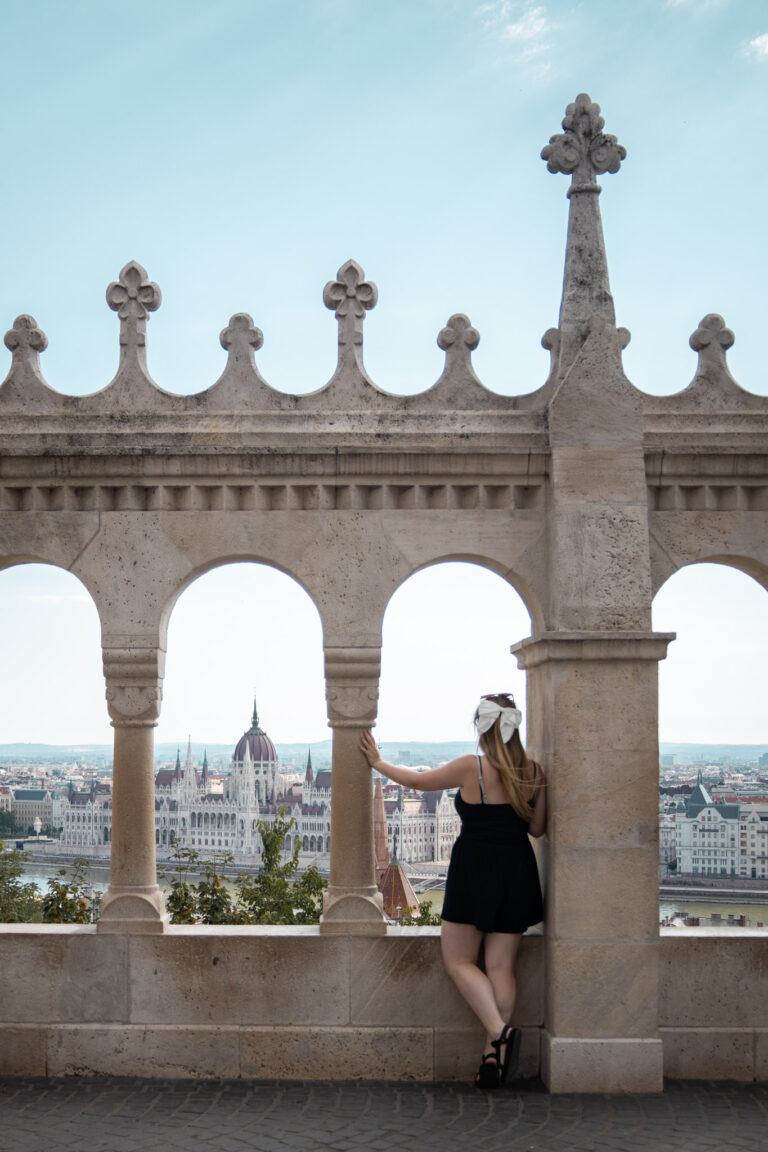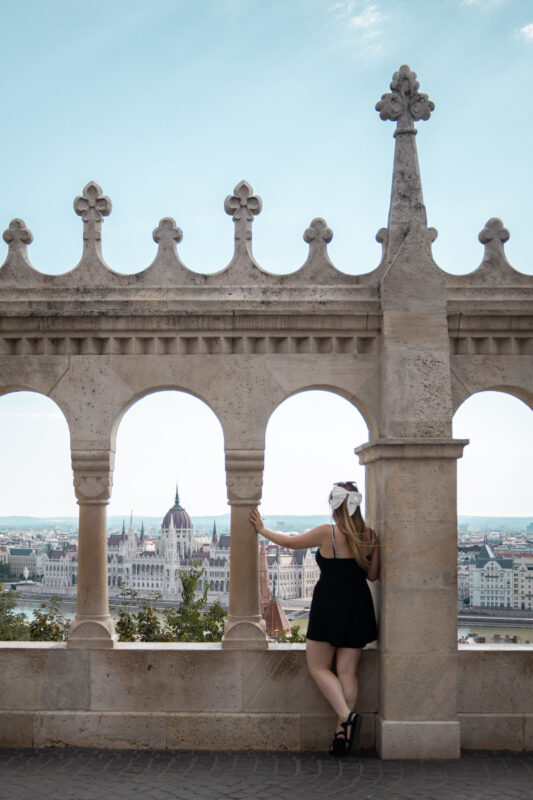 Stop 1: Fisherman's Bastion
The first stop on our trip to Budapest is none other than the incredible Fisherman's Bastion. This is one of the most iconic landmarks in all of Budapest. It can get incredibly busy throughout the day due to its popularity. So, I recommend waking up bright and early to see it without the crowds.
The Bastion is a beautiful terrace that looks out over the Pest side of the city offering panoramic views. It is also an amazing spot to take pictures of the famous parliament building across the water.
The unique architectural style of the Bastion is sure to leave you in awe. It is also steeped in history and legend, making it a fascinating place to visit and learn more about.
Whether you're a history buff or just looking for a picturesque spot to take some photos, Fisherman's Bastion is definitely worth a visit.
---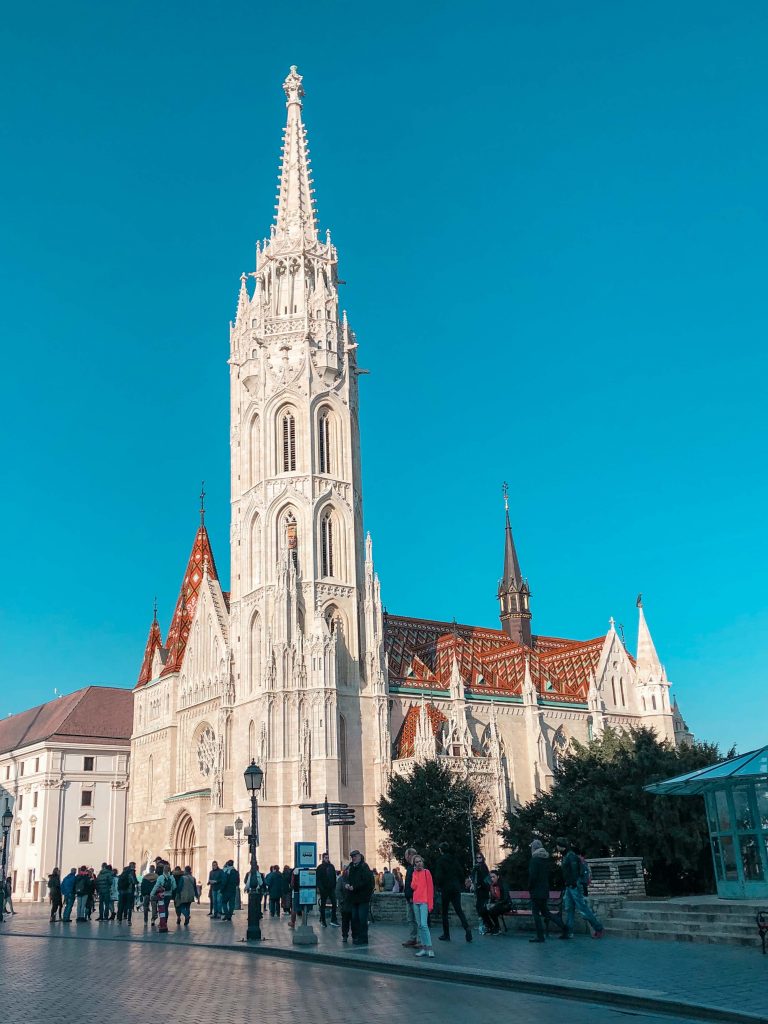 Stop 2: Matthias Church
Placed behind the Fisherman's Bastion is the stunning Matthias Church. I recommend climbing to the top of the tower for further panoramic views of the city. You will be presented with sweeping views of the Danube River, the parliament building, and the pest side of the city.
It is the ideal location to take amazing photographs and soak in the beauty which Budapest has to offer. This experience will set you back 1000 HUF (€2.50) but it is completely worth the small fee in my opinion.
The church's interior is equally impressive, with stunning frescoes and intricate carvings throughout. There is also an option to take a guided tour of the church for an additional cost. The knowledgeable guides will give you an in-depth look at the church's history and architecture, making your visit even more meaningful.
---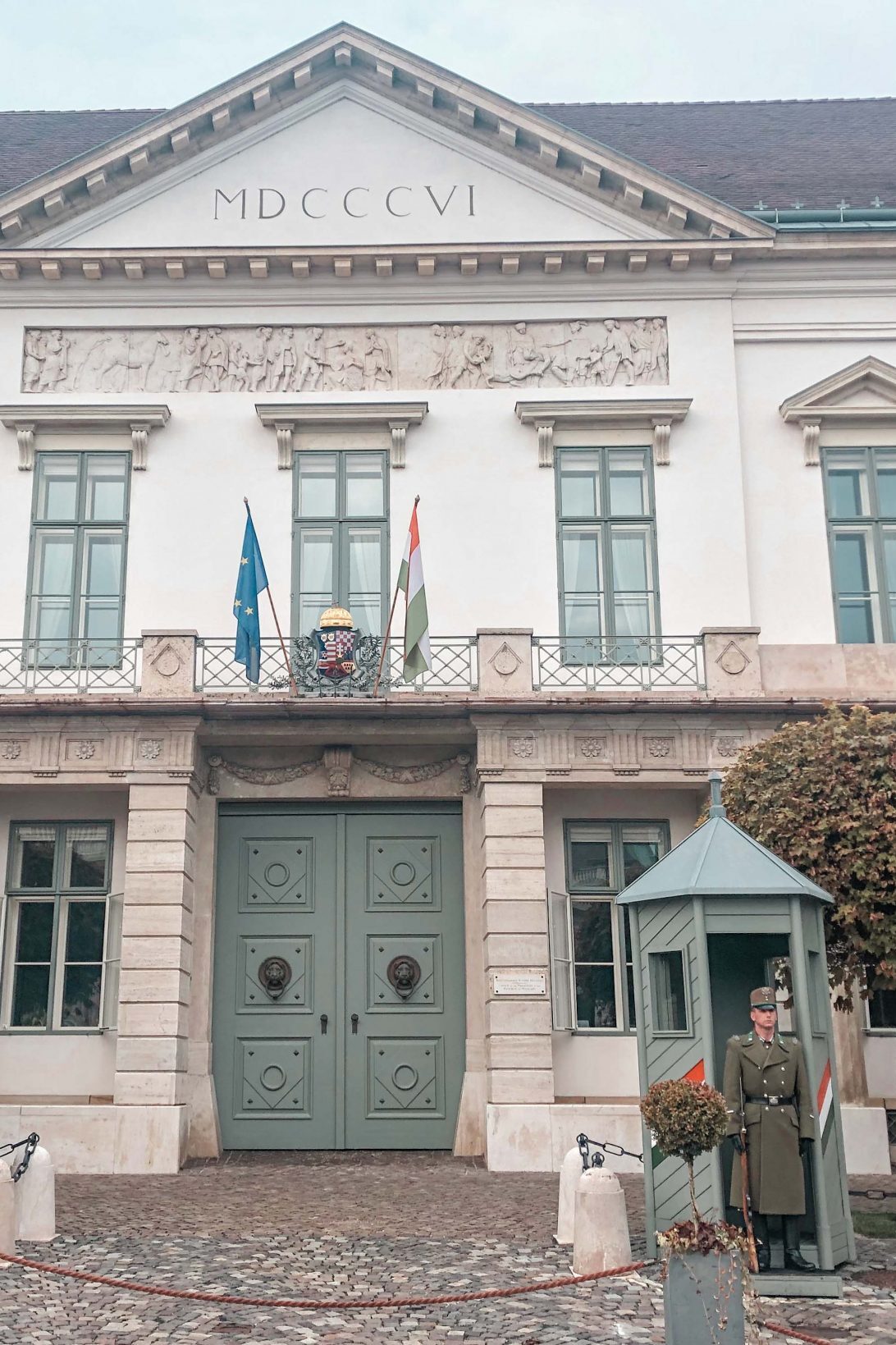 Stop 3: Buda Castle
Buda Castle is possibly one of the most popular attractions in all of Budapest. I'd 100% recommend spending a fair bit of time exploring the castle grounds. They are STUNNING!
If I am being honest, I felt as if I had stepped straight out of reality and into a fairytale. There is so much more than meets the eye on the castle grounds and it is easy to miss out on the Castles' less central areas. In fact, the first time I visited the castle I only saw half of what's is to offer.
Onsite, it is free to catch another panoramic view of the city, explore the surrounding forests, enjoy the fairytale-like architecture and watch the changing of the guards (which was super cool to see).
If you are hoping to dive even deeper and learn about Budapest's interesting past there are more paid historic attractions on the castle grounds. For example, The Budapest History Museum (2000 HUF) and the National Galleries (1800 HUF). It is important to note that more time is needed if you choose to avail of these attractions.
Stop 4: Buda Castle, Changing of the Guards
If time allows I recommend sticking around the castle for the changing of the guards ceremony. It takes place every day at noon and is definitely worth seeing. The ceremony is a tradition dating back to the 17th century and involves a choreographed march by the Hungarian Presidential Guards.
This experience tends to get busy , especially during peak tourist season. So I would recommend arriving early to secure a good viewing spot.
---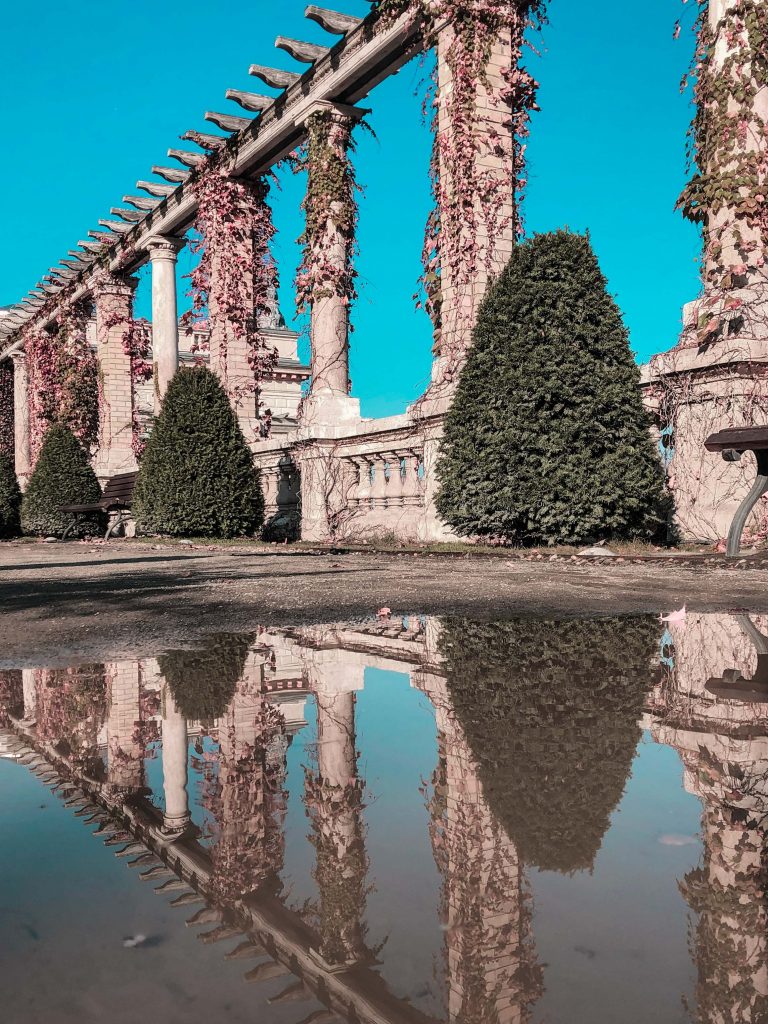 Stop 4: Castle Garden Bazaar
On the grounds of Buda Castle is the Castle Garden Bazzaar. This is a site I came across by accident. As I strolled by the Castle Garden Bazaar I noticed the surrounding buildings' unique architecture which prompt me to explore the grounds further. Originally, I was intending on walking straight along the banks of the Danube (the Buda side) until I reached Buda Castle funicular.
The Castle Garden Bazaar offers visitors a stunning view of the Danube river and is a beautiful way to walk towards the famous Buda Castle. As I explored the grounds of the Garden Bazaar, I came across a hidden short cut so to speak. A free escalator is located on the garden grounds that transport people up and down to Buda Castle.
I was really happy with this find as the line for the funicular railway was extra long and the escalator presented me with more time to explore the castle grounds.
---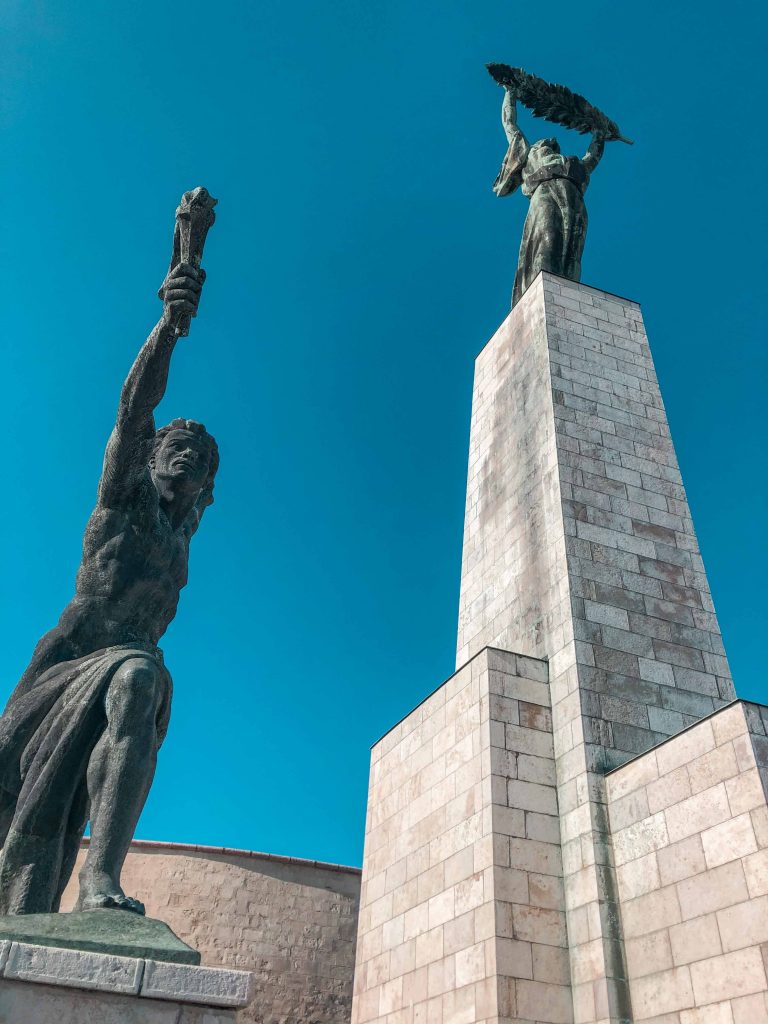 Stop 5: Enjoy a 360 view of Budapest City at Gellért Hill
Gellért Hill is a lovely spot to go for a stroll and move away from the hustle and bustle of the city. The beautiful park offers 360 views of Budapest. Really giving tourists a feel for the city's size, beauty and character.
The Liberty Monument is located at the top of Gellért Hill and has great history attached to it. It was built in 1947 by Hungarian sculptors, Zsigmond Kisfaludi Strobl and Károly Senyey. It is a tribute to those who sacrificed their lives for Hungary's freedom during World War II. Today, it is a popular tourist spot and offers a breathtaking view of the city.
There are many ways to walk up Gellért Hill, with the shortest taking just 20 minutes to reach the summit. For those of you looking to take in the views without the extra work don't worry as it is possible to catch the 27 bus to the top.
I would however recommend the hike in order to capture some unique photo opportunities. The top of the hill is home to the historic Citadella, a fortress built in 1851 by the Austrian Empire.
---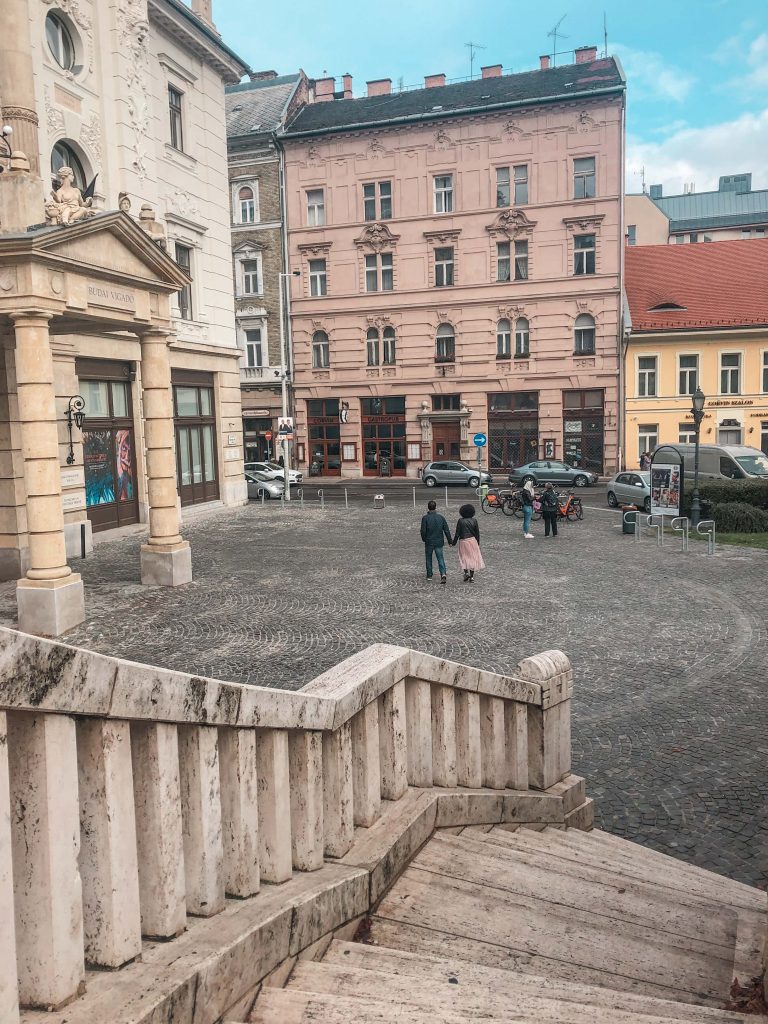 Stop 7: Enjoy the Walk Back Down + Riverside View of the Parliament
There are many ways to get back down Gellért Hill, I personally decided to walk, unaided by Google Maps. Budapest is a beautiful place to get lost, you will be surprised by what you may find. Particularly on the Buda side of the river which is home to charming residential streets and houses.
I came across some beautiful side streets, unique shortcuts and cute Hungarian houses. Walking back down the hill allowed me to take in the beauty and charm of Budapest.
You may also opt for a leisurely walk along the Danube river, which offers stunning views of the Buda Castle, Chain Bridge and Parliament Building.
The Parliament Building looks extra special from across the river, with its gothic revival architecture and grandeur. It is one of the most iconic landmarks.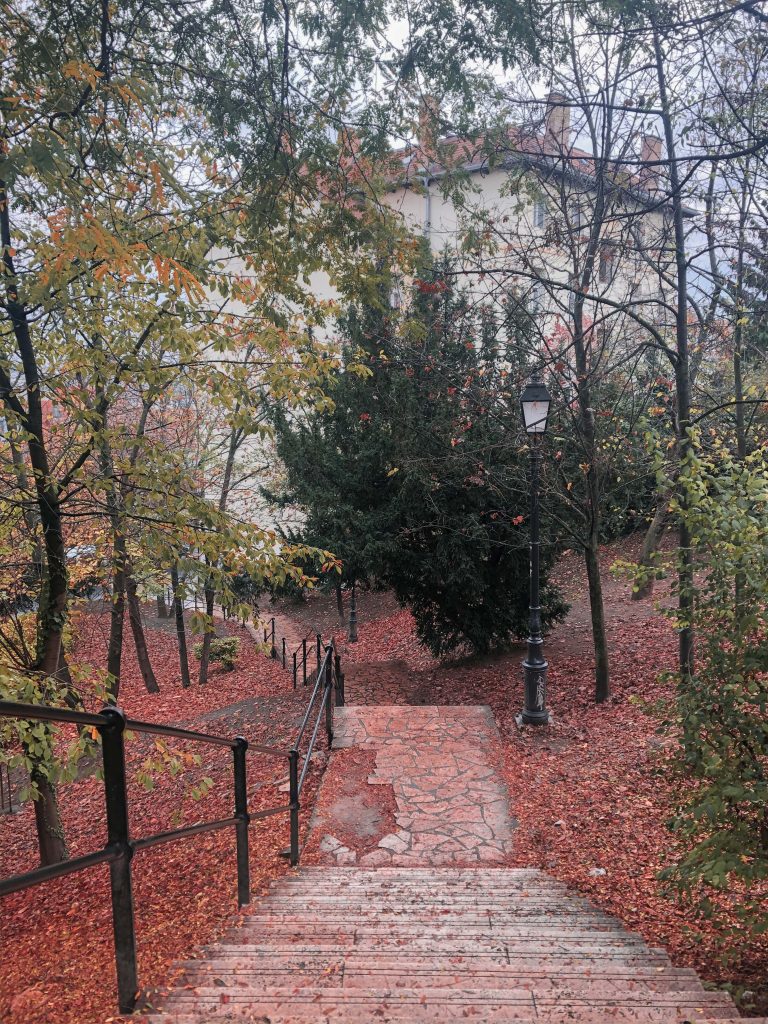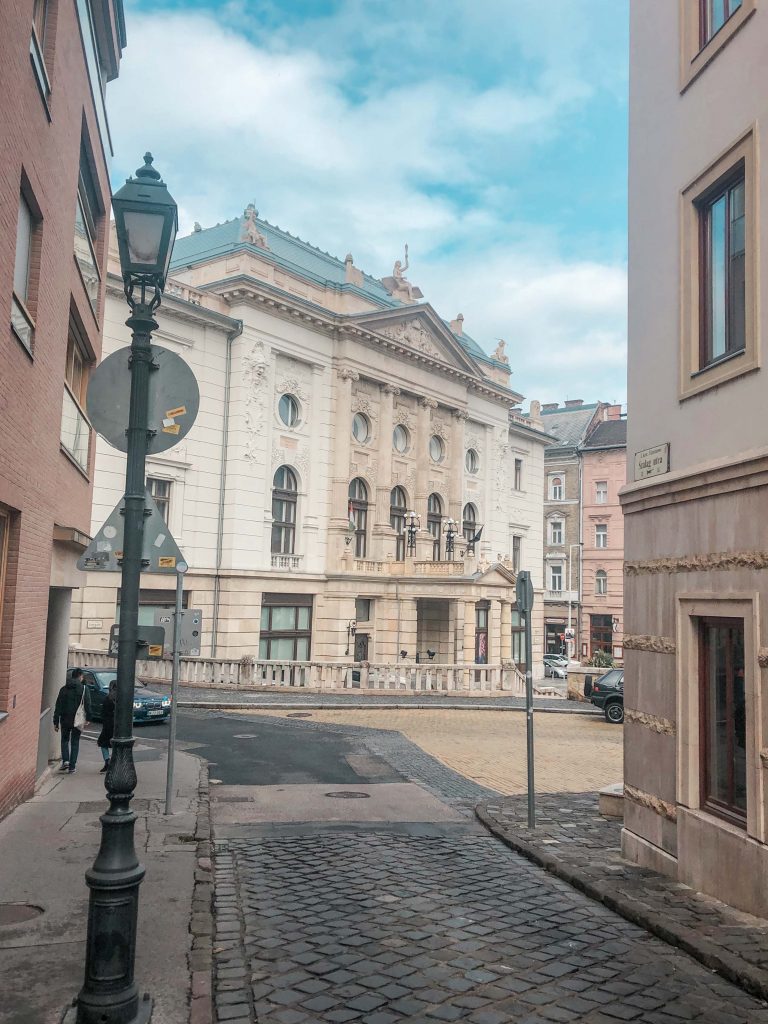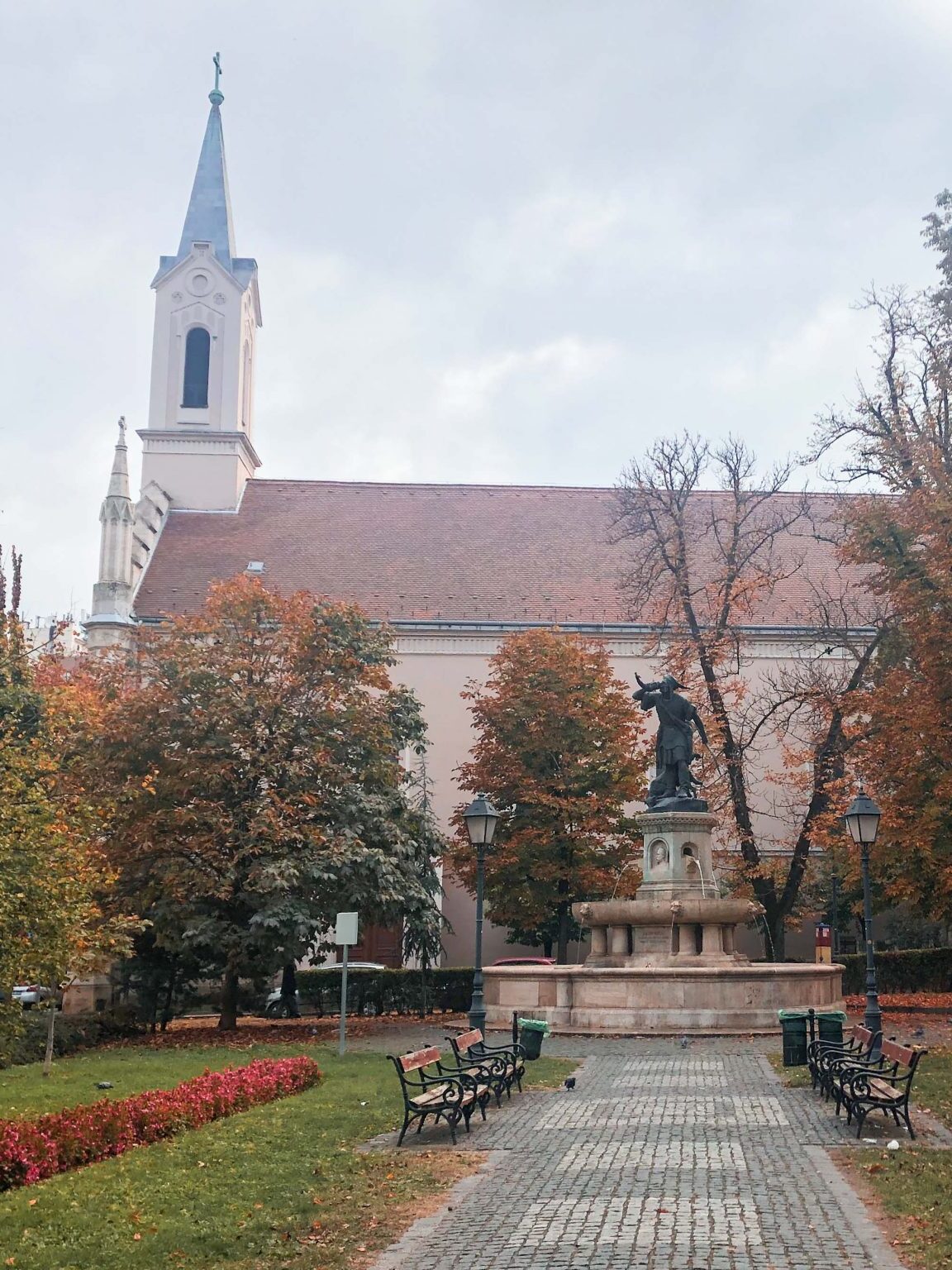 ---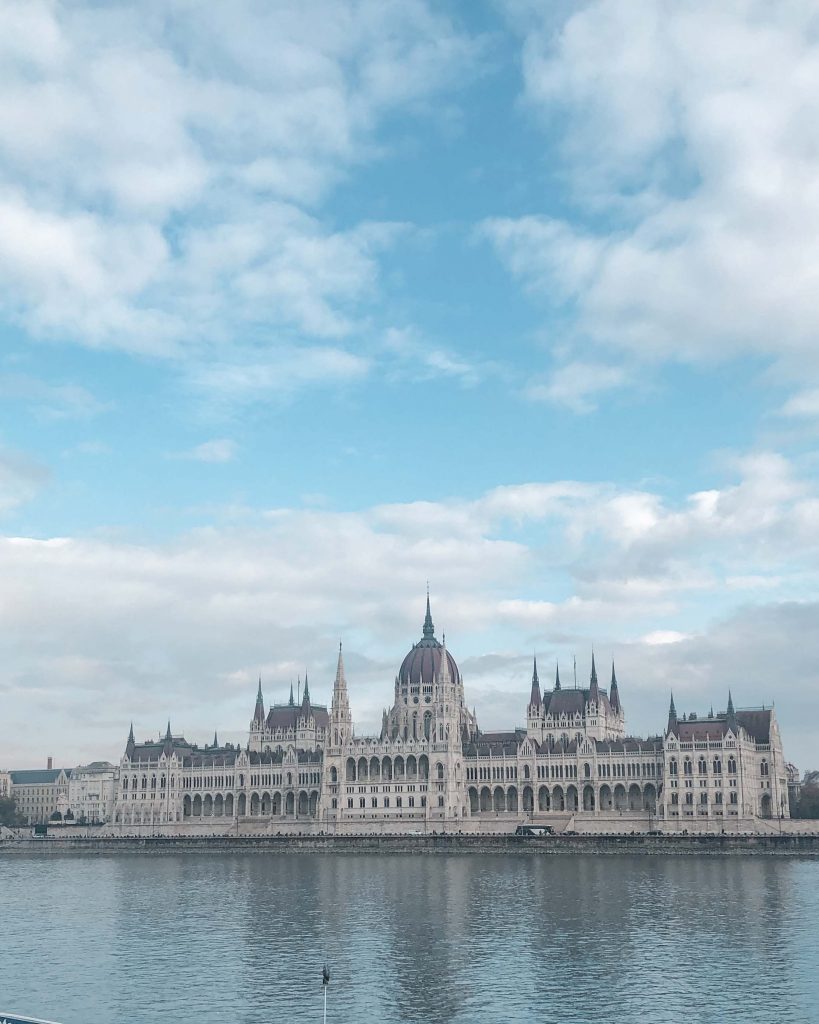 Stop 8: View the Parliament from the waterfront
Depending on where you end up after hiking down from Gellért Hill. I recommend checking out the view of the Budapest Parliament from the waterfront.
It is a stunning building and sometimes, on a calm day, it can reflect into the river which is pretty cool to grab a snap of.
If time allows, I recommend walking along the river to enjoy the city landscapes before returning to your hotel to get ready for some nighttime ventures.
---
Things to do at Night in Budapest: The Ruin Bars
No trip to Budapest is complete without a visit to the famous ruin bars. If you're looking for a unique and unforgettable experience, then this is a must!
As someone who has experienced the magic of these bars firsthand, I can't recommend them enough. They are built in abandoned buildings and courtyards, creating a unique and quirky atmosphere that you won't find anywhere else.
Each bar has its own unique style, from funky decor to graffiti-covered walls. The drinks are also affordable and delicious, making it a perfect place to enjoy a night out with friends
Recommended Ruin Bars in Budapest
Szimpla Kert: As the original ruin bar, Szimpla Kert is an experience in itself with its eclectic mix of furniture and graffiti-adorned walls. The atmosphere is energetic and friendly, perfect for a fun night out.
Instant: Instant is the largest ruin bar in Budapest, boasting multiple dance floors and a wide selection of music genres. If you're someone who enjoys a lively atmosphere and great music, Instant is a top choice.
Anker't: Anker't is known for its minimalist design and spacious, open-air courtyard. They often host live music and DJ sets, making it a perfect choice for music lovers.
4 Day Budapest Itinerary Suggested Timetable: Day 1
| | | |
| --- | --- | --- |
| Stop | Destination | Time Spent |
| Stop 1: | Fisherman's Bastion | 1 and 1/2 Hours |
| Stop 2: | Matthias Church | 1 Hour |
| Stop 3: | Buda Castle | 1 and 1/2 Hours |
| Stop 4: | Castle Garden Hill | 30 minutes |
| Stop 5: | Hike to the Citadella on Gellért Hill | 1 and 1/2 Hours |
| Stop 6: | Walk Back Down | 40 minutes |
| Stop 7: | Buda River View | 30 minutes |
| Stop 8: | Ruin Bars | Night Time |
4 Days in Budapest Itinerary – Day 2: Let's explore the Pest side of the city
Day 2 of our Budapest itinerary is all about exploring the Pest side of the city. Pest is the 'modern' side of Budapest, full of breathtaking viewpoints, lively nightlife opportunities and stunning buildings.
Budapest in 4 days: Day 2 Map and Stop Break Down
| | | |
| --- | --- | --- |
| Stop | Destination | Time Spent |
| Stop 1: | Budapest's Street Art | 1 Hour |
| Stop 2: | Elizabeth Square | 15 Minutes |
| Stop 3: | St. Stephens Basilica | 1 hour |
| Stop 4: | The Parliament | 1 hour |
| Stop 5 | Shoes on the Danube | 30 Minutes |
| Stop 6: | Banks of the Danube | 30 minutes |
| Stop 7: | 360 Bar | Night Time |
Stop 1: Explore Budapest's Street Art
Start your day by immersing yourself in Budapest's vibrant street art scene. The walls of the city are adorned with murals, graffiti, and installations that breathe life into its streets.
These works of art not only add colour to the city but also tell stories of its history, culture, and people. To truly appreciate the depth and beauty of Budapest's street art, I recommend taking a street art tour.
The tour guides you through the city's most captivating artworks, providing insights into the artists' inspirations and the messages behind their creations.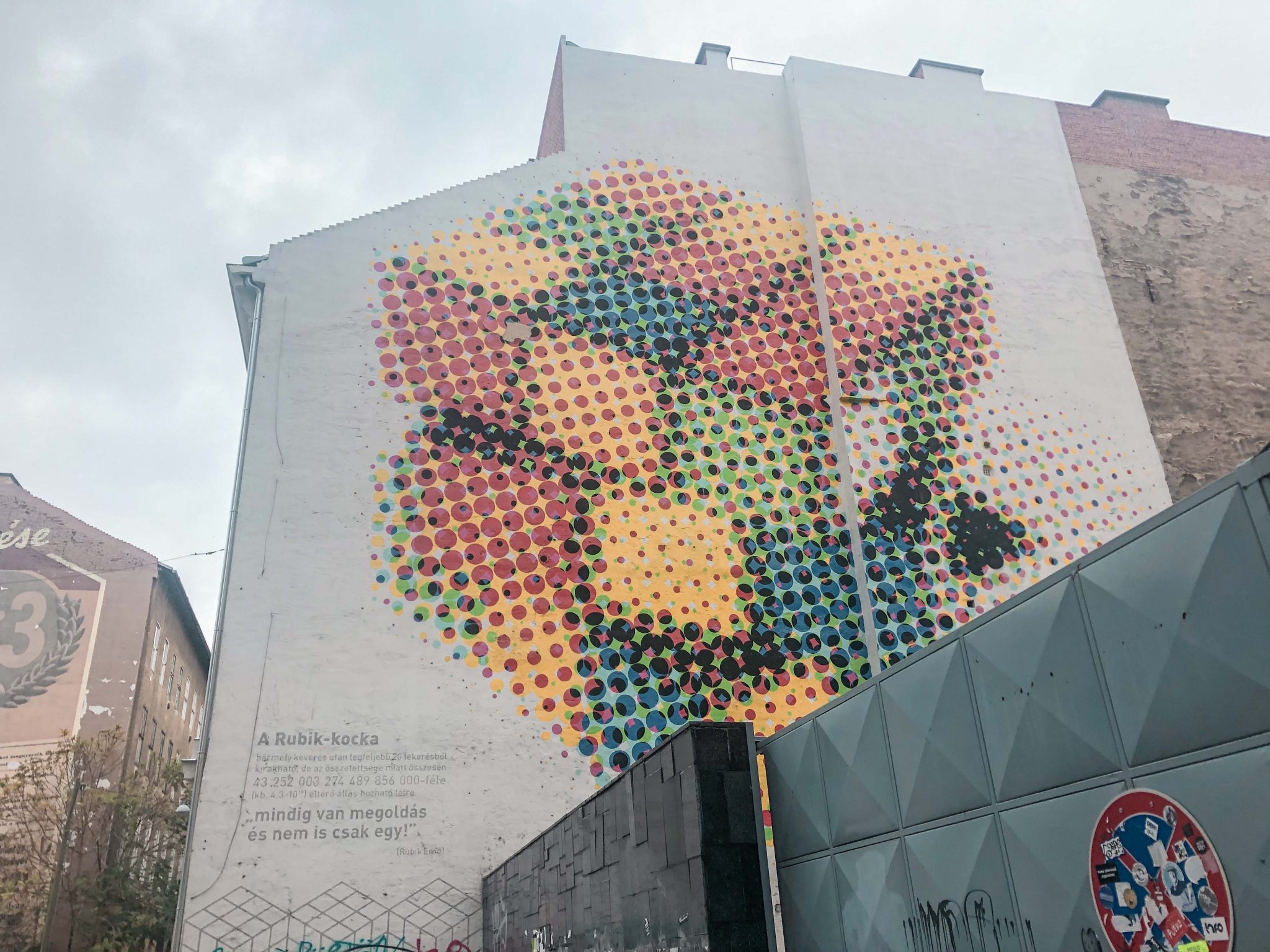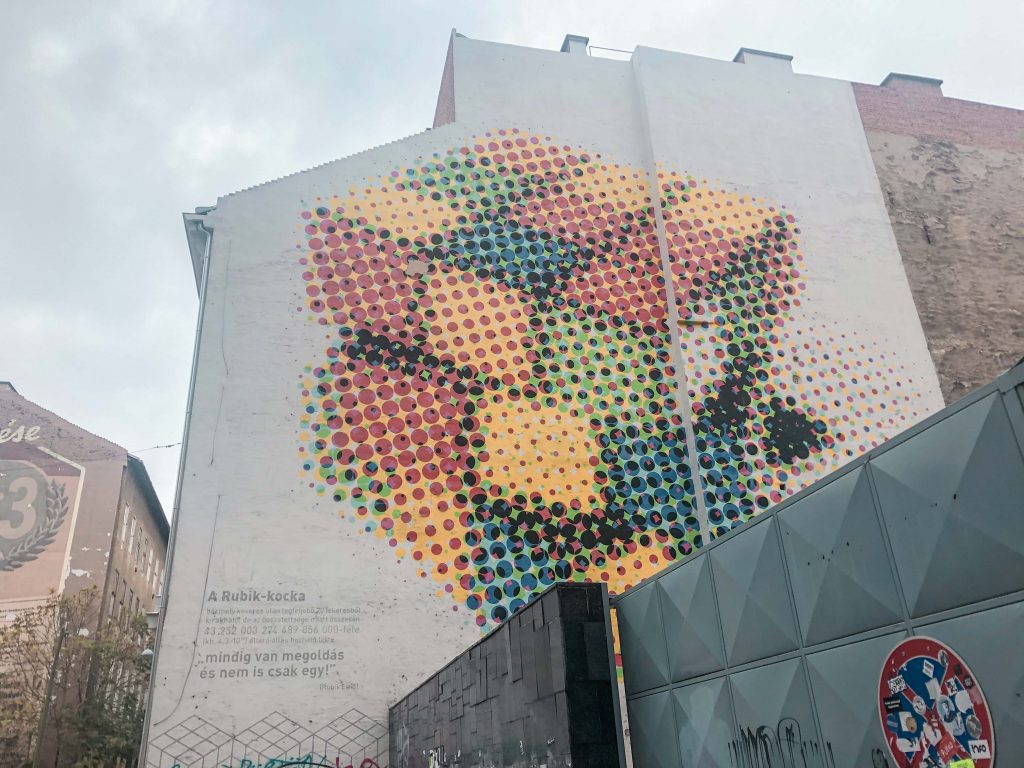 Stop 2: Elizabeth Square
Elizabeth Square, or Erzsébet Tér in Hungarian, is a bustling hub of activity in the heart of the city. The square is named after Elisabeth of Bavaria, commonly known as Sisi, who was a beloved Hungarian queen.
One notable attraction here is the Budapest Eye, a giant Ferris wheel that offers a unique view of the city's skyline. As you ascend the wheel, you'll be treated to breathtaking panoramas of the Pest side of the city, making it a must-visit for photographers and sightseers alike.
The square is also home to numerous cafes and restaurants, making it a great spot to relax and people-watch after your ride on the Budapest Eye.
Stop 3: St. Stephens Basilica
The next stop on the list is the historic St. Stephens Basilica. The Building is stunning on the inside and out.
The basilica boasts a grand neoclassical design, with intricate details and towering domes. Make sure to take in the breathtaking view of the city from the top of its dome – it's well worth the climb up the 364 steps.
The church itself is FREE to enter but it does however cost the small price of 500 HUF to climb up to the observation deck. Which in my opinion is 100% worth it.
Alternatively, visitors can take a lift up and opt out of 260 steps leaving them with only 42 to climb. Both options lead to an outstanding view of Budapest.
Once you leave the Basilica, it is worth sticking around to hear the bells chime from the towers.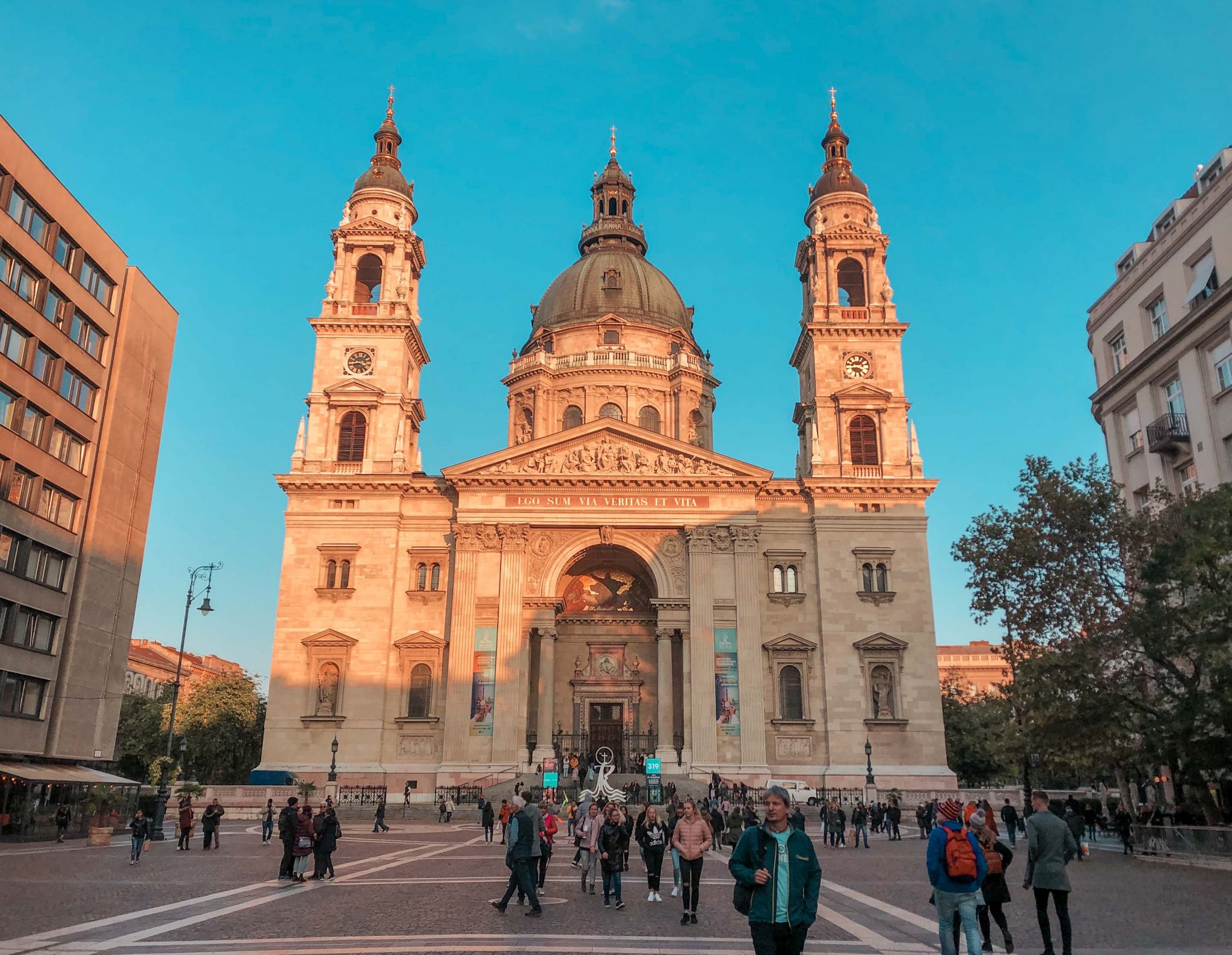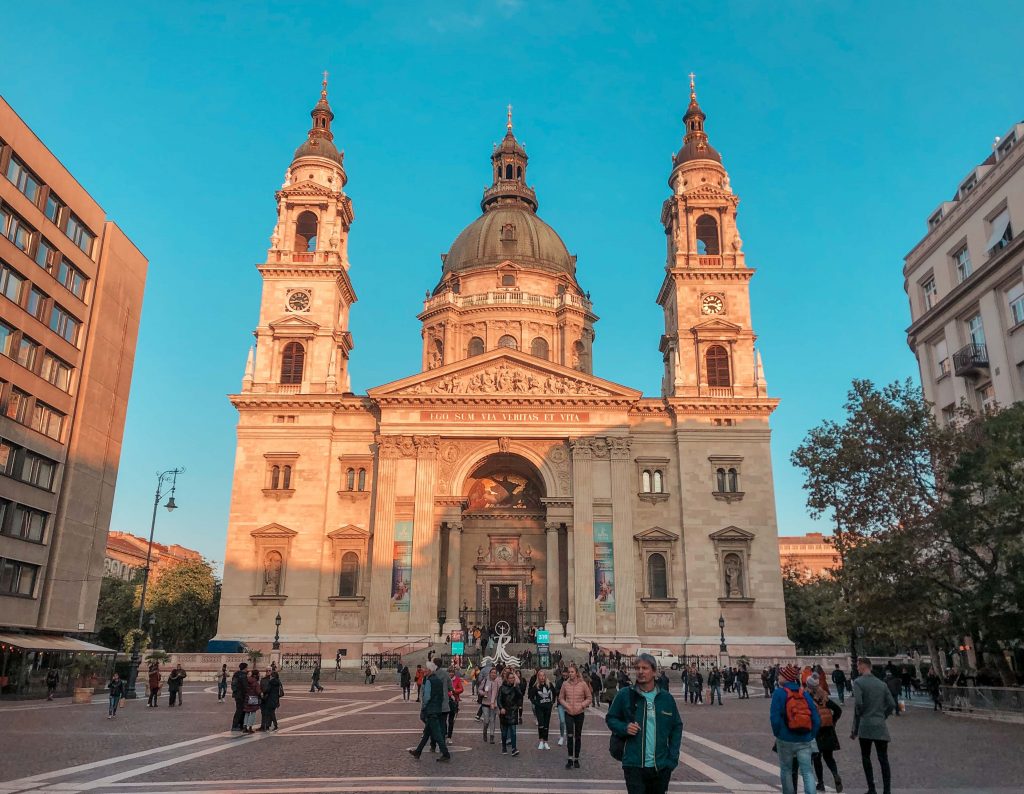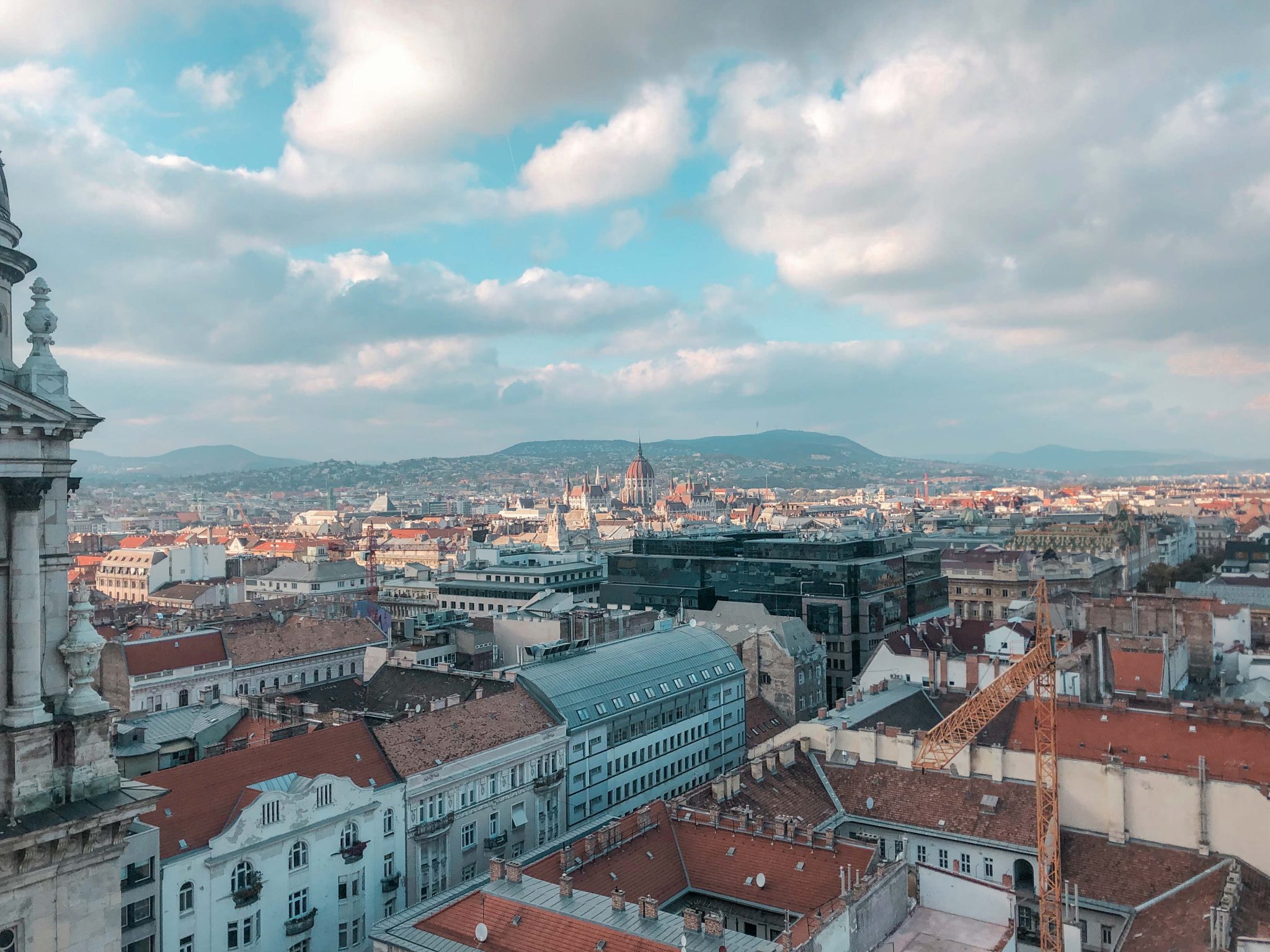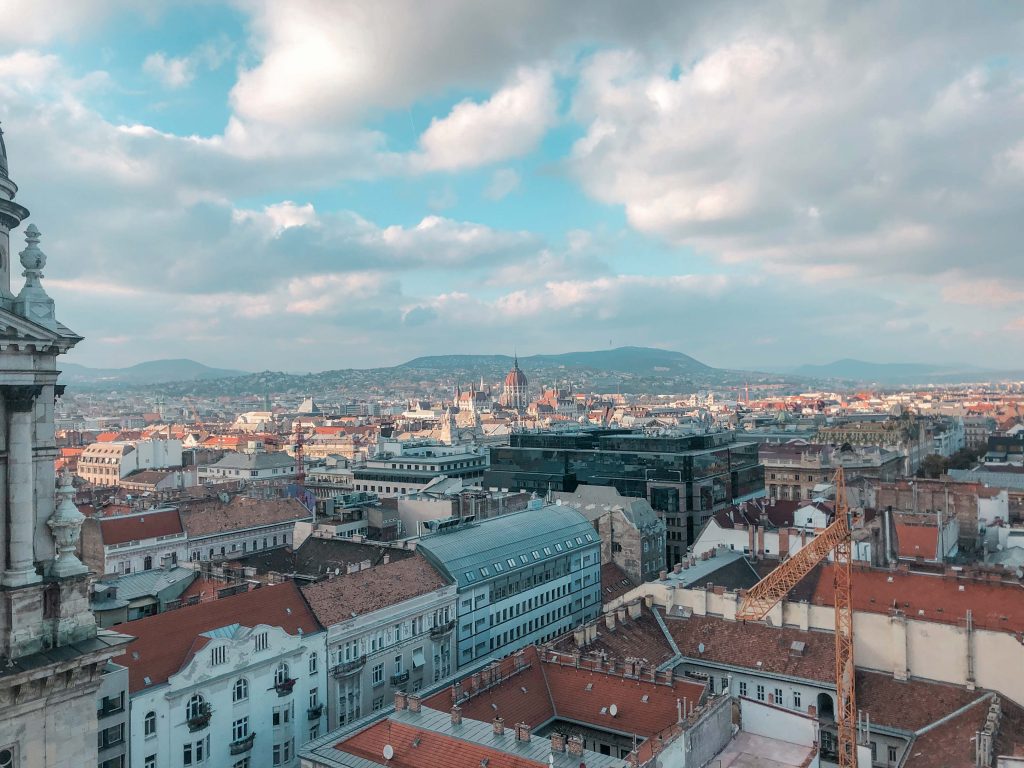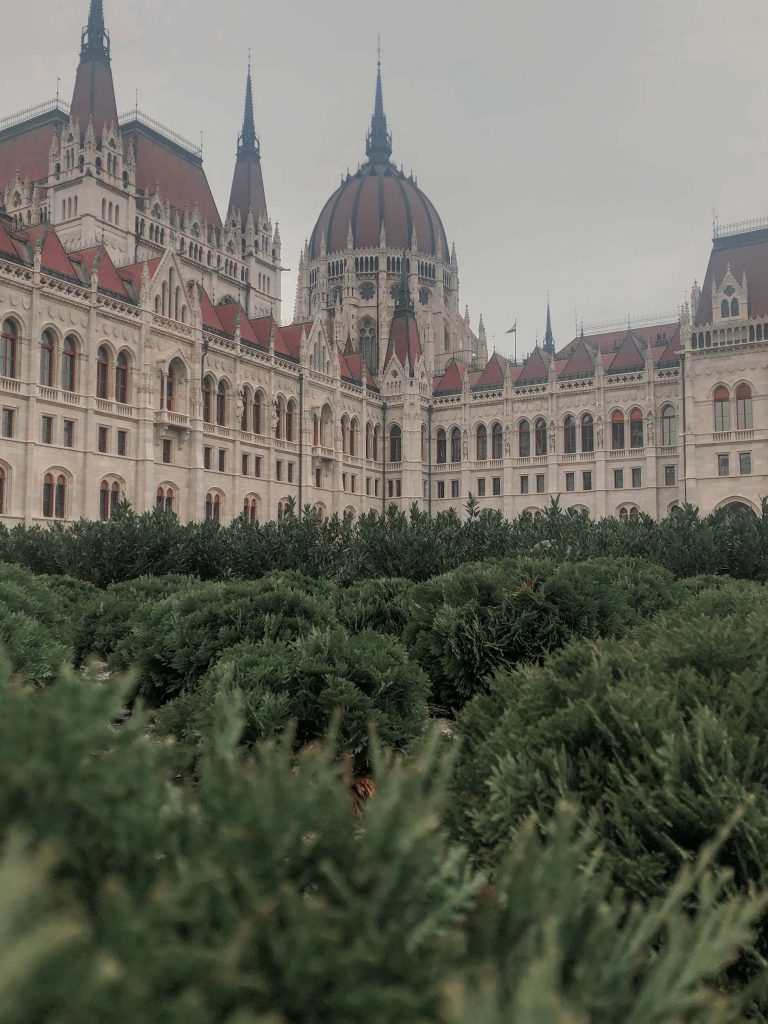 Stop 4: Hungarian Parliament Building
Our Budapest itinerary continues to the iconic Hungarian Parliament Building, an architectural marvel located on the banks of the Danube River.
This Neo-Gothic gem, designed by Imre Steindl, is the third-largest parliament building in the world. And I promise it is a sight not to be missed.
It is easy to spend over an hour walking around the building, taking in the distinct details and admiring its exterior appearance.
However, if you want to take a closer look inside, guided tours are available for a fee. These tours showcase the impressive interior with luxurious furnishings and stunning artwork.
Stop 5: The Shoes on the Danube Bank
The next stop is quite a sad but vital stop in Budapest. The shoes on the Danube are a memorial created to reflect and pay tribute to those who lost their lives in World War II to Fascist Arrow Cross Militiamen.
The memorial consists of 60 pairs of iron shoes, representing the victims who were ordered to take off their shoes before being shot into the Danube River.
It is a powerful and moving sight that highlights the impact of war and the importance of remembering those who have suffered.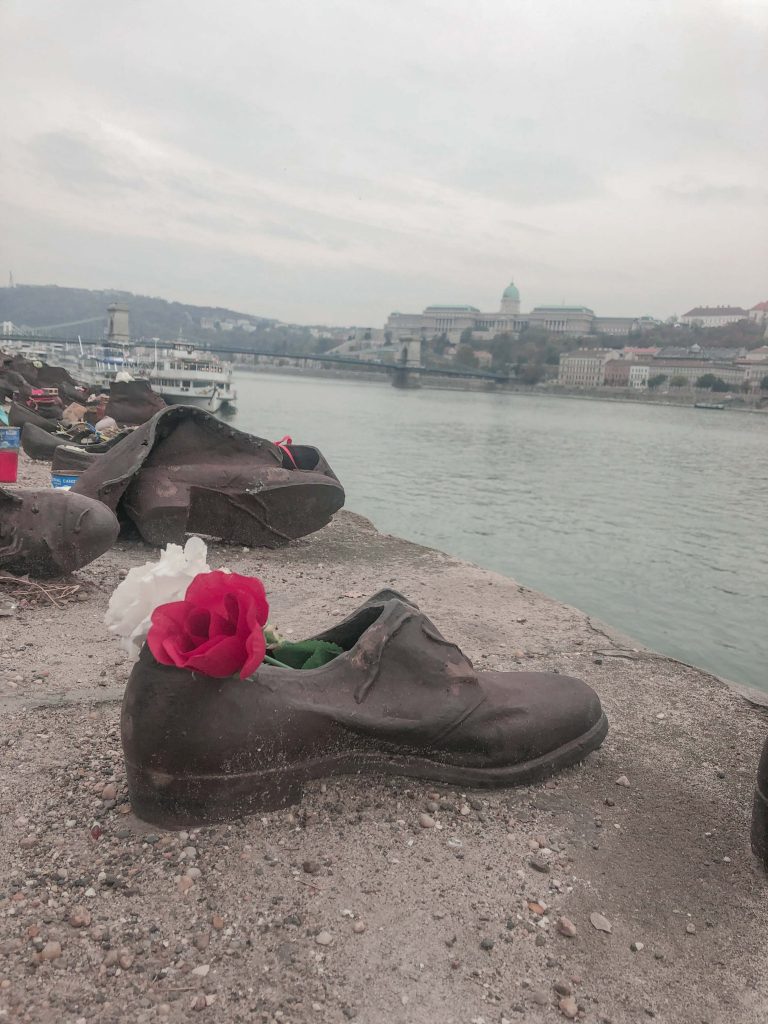 Stop 6: Walk the Danube Promenade
After stopping by the Shoes on the Danube, continue to walk along the banks of the Danube River.
If you look across the water you will see a lovely view of Buda Castle, the Fisherman's Bastion, Gellért Hill and the famous Chain Bridge. It is lovely to see the Buda side of the city from across the water.
The promenade is lined with bars and restaurants, making it the perfect place to stop for a drink or a bite to eat while taking in the stunning views. You can also find various street performers along the promenade, adding to the lively atmosphere of Budapest.
I also really like the view of the chain bridge from this side of the promenade, it is one of Budapest's most iconic landmarks.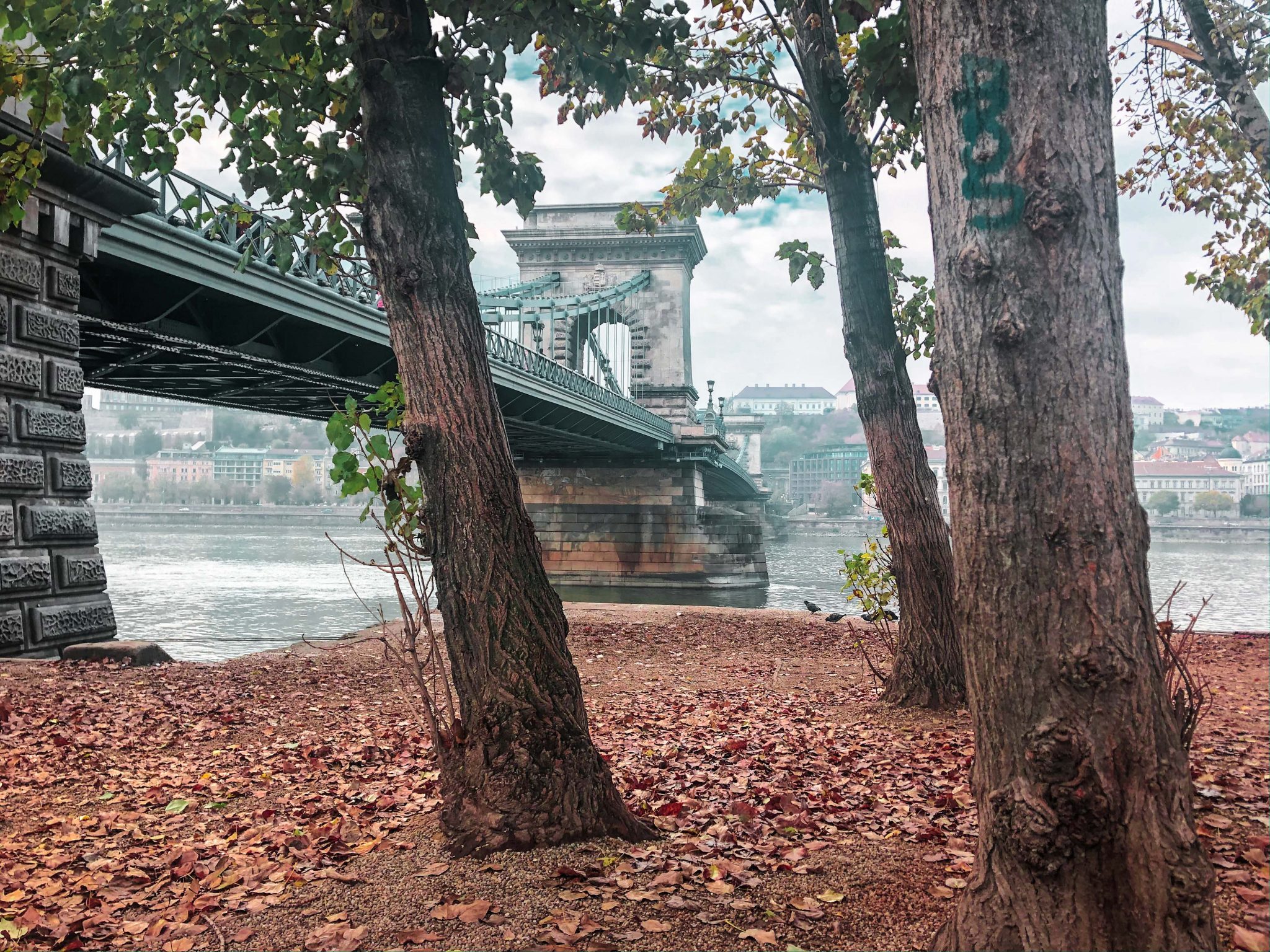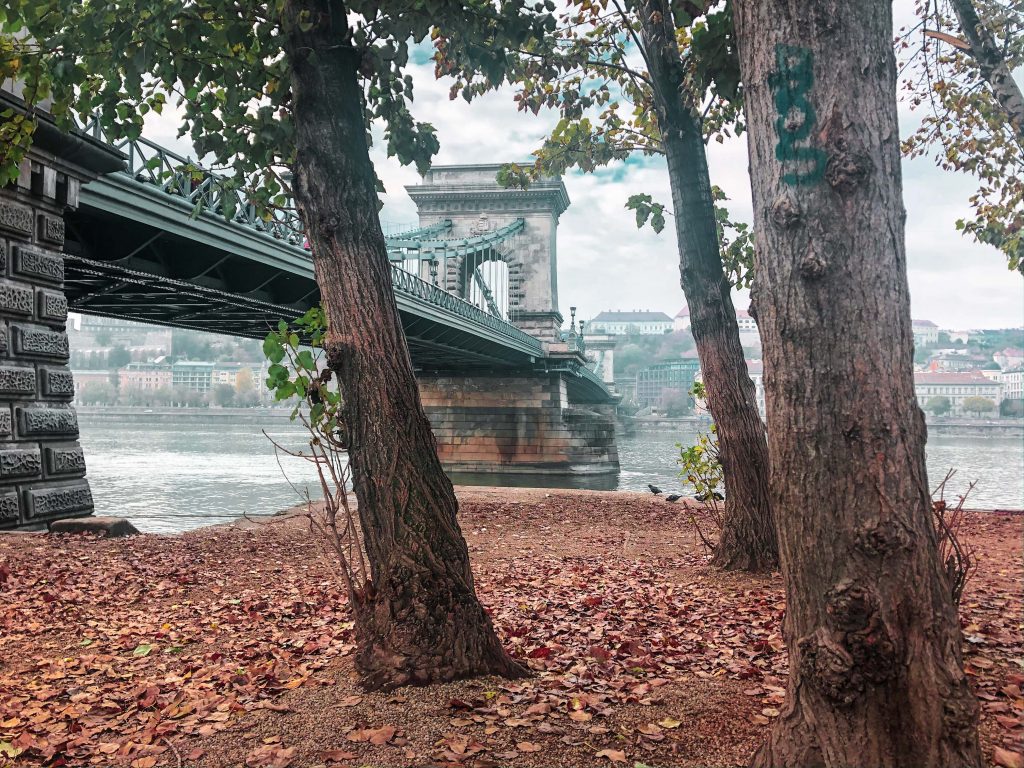 Things to do in Budapest a Night – Day 2
This evening has a little more relaxed vibe, after spending two full days exploring the city I am sure you will want a little bit of a rest. I recommend taking a trip to the 360 rooftop bar, which is home to one of the best views in Budapest.
Spend the evening, zipping cocktails and reminiscing about a fantastic few days in the Hungarian Capital.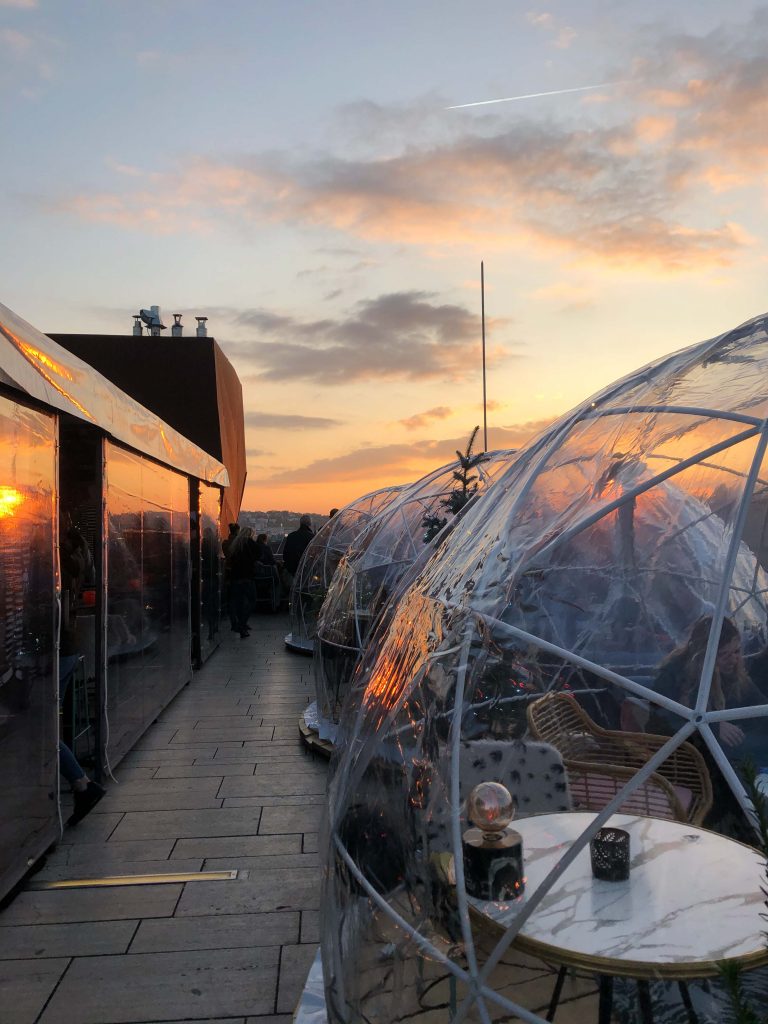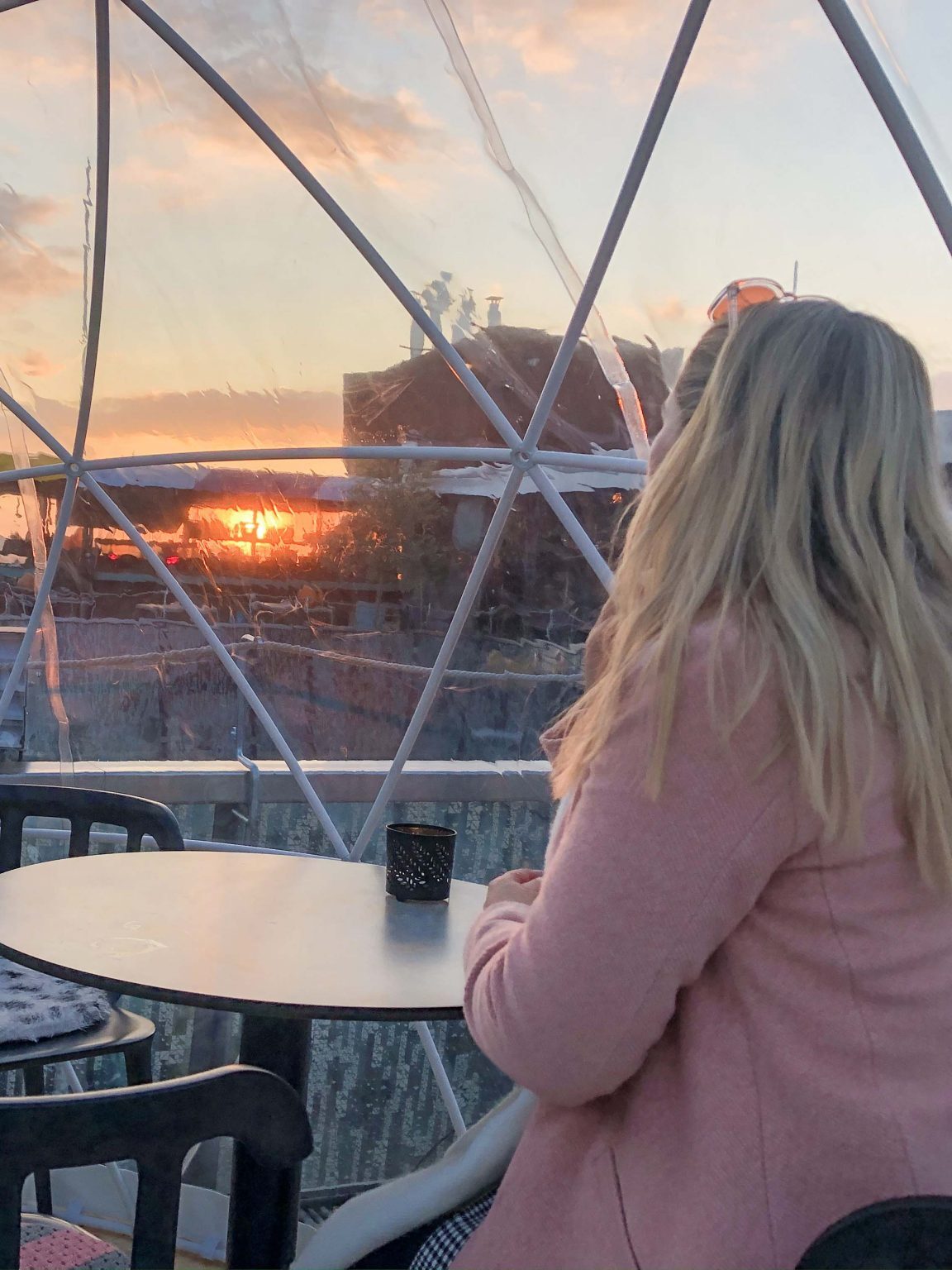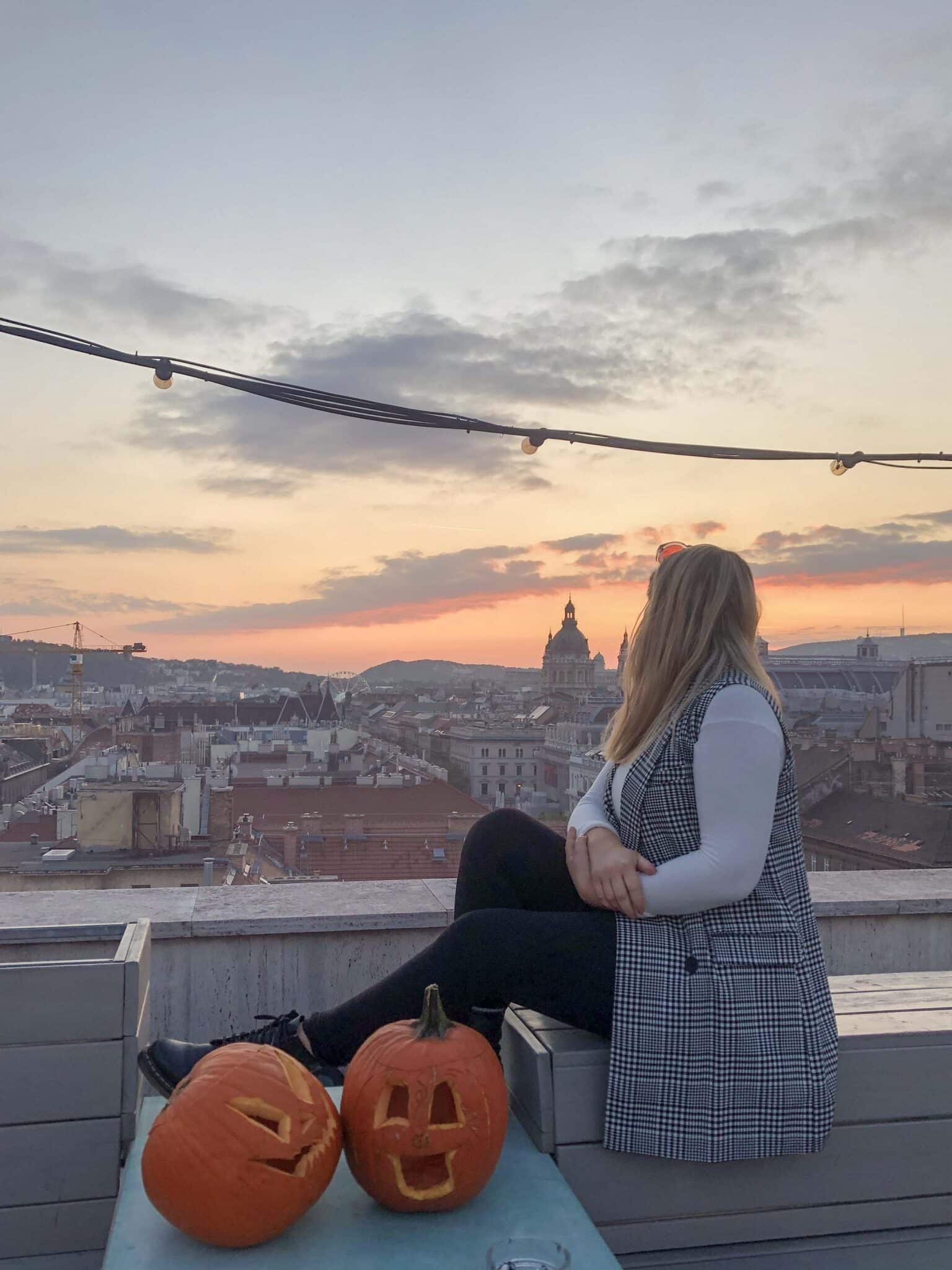 Budapest Itinerary 4 Days – Day 3: Adventure Awaits
Did you know, that beneath Budapest lies a thrilling cave system waiting to be explored? On Day 4 of our itinerary, I have a few options for my readers. I have provided two exciting activities, one perfect for those Adrenaline Junkies and the other for those seeking a hidden gem or two.
4 Days in Budapest – Day 3: Map and Stop Break Down
| | | |
| --- | --- | --- |
| Stop | Destinations | Time Spent |
| Stop 1: | A La Maison Grand for Brunch | 1 hour |
| Stop 2: | Caving Beneath Budapest | 3 hours |
| Stop 3: | Booze Cruise on the Danube | Night Time |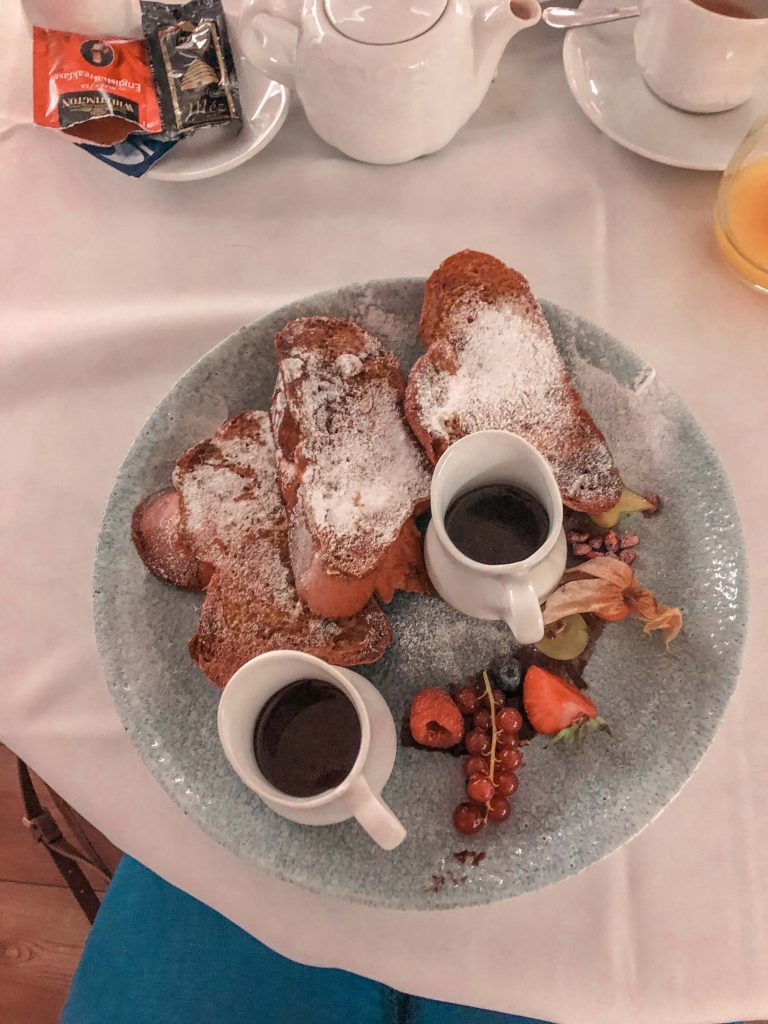 Stop 1: Brunch – A La Maison Grand
There is no harm in having a little rest when travelling. After all, the first 2 days in Budapest were extremely busy. So, allow yourself some time to take it easy and enjoy the morning at a slow paste. I recommend getting some food to line your tummy as the next activity is going to take A LOOOOOT of energy.
My favourite brunch spot in Budapest would have to be A La Maison Grand. This place is decked out in vintage furniture, and the great thing about this spot is that it has outdoor seating as well. Perfect for those basking in the warm sun of Budapest in the summer months.
The menu here is fabulous. Dishes such as poached eggs, avocado and bacon on toast with a side of sweet potato hache are to die for. If you have not tried the traditional Hungarian breakfast yet then fear not, this place does it just right.
---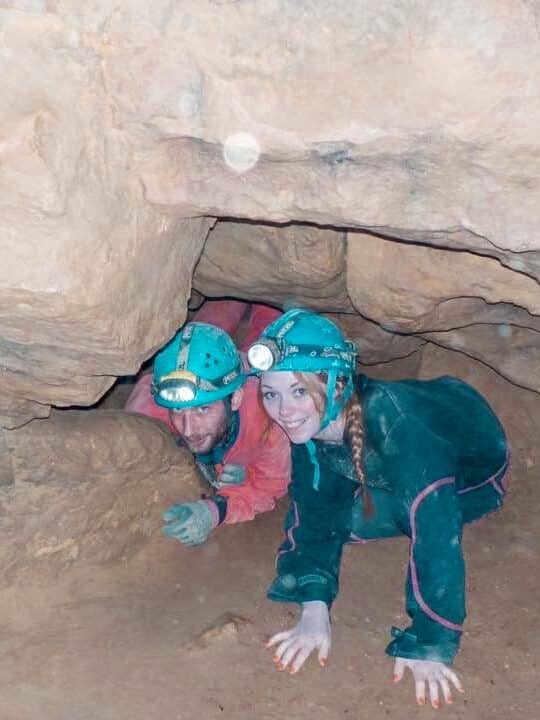 Option 1: Caving Beneath Budapest
Did you know that Budapest has a cave system that runs underneath the capital city? And as if that wasn't enough, it is possible to crawl through the caves and explore beneath Budapest. YES, THAT'S RIGHT CRAWL THROUGH THE CAVES!
I know this sounds like an extremely scary activity and I would be lying if I said I wasn't a little bit nervous while taking part. However, it is a once-in-a-lifetime experience and if you are a little bit of a daredevil like me, it is the perfect activity for you.
The caving tour takes a little over 3 hours to complete and consists of tight spaces, complete darkness and well, a cave. It costs about 10,000 HUF to take part in the guided tour. Which in my opinion is 100% completely worth it.
Now, don't worry if spending 3 hours climbing through tight spaces sounds like your worst nightmare but you still like the idea of exploring Budapest's cave system, then perhaps this tour would be more suited to you.
---
Option 2: Zugliget Chairlift & Elizabeths Lookout Tower
So, if you would sooner stay away from caves completely then I do have one more activity I recommend you do on day 3. Let's me introduce you to the Zugliget Chairlift one of Budapests best-kept secrets!
The Zugliget Chairlift is a chairlift that takes you on a 1.5 km long journey up to the Elizabeth Lookout Tower. It costs around 3000 HUF (approx 7 euros) for a round trip and offers some of the most stunning views of Budapest and its surrounding areas.
Once at the top, you can either climb to the top of the tower or enjoy a drink from the café while taking in the breathtaking scenery.
This activity is perfect for those who want to experience something unique and different in Budapest without having to do something too physically demanding.
After the chairlift ride, you can choose to spend the rest of your day exploring the surrounding area or head back into the city centre for some more sightseeing. Either way, this activity is a must-try for anyone looking to experience Budapest from a different perspective.
Stop 3 (Night Time): Booze Cruise on the Danube River
I am not a massive party animal, I much prefer having a few drinks in a chilled environment. I do, however, from time to time like to splash out and go for a boogie. On my last visit to Budapest, I decided to go on a boat party down the Danube. I have to say it was AWESOME!
I met so many amazing people from around the world all while having a good boogie. The best thing about the cruise would have to be the view of Budapest from the boat.
The city's main monuments and buildings are lit up beautifully at night. And it was amazing to see them from the water.
Now, don't worry there are many different types of nighttime curises on the Danube. Not all of them involve a party atmosphere, some you can enjoy traditional folk performances, have a more chilled cocktail night or enjoy a commentary of the city as you cruise by the major sites. I have put together a post on the Top Budapest Boast Tours to make it easier for you to choose.
4 Days in Budapest: Széchenyi Baths & The City Park
After a good workout on day 3 and a night on the town, I'd recommend taking it easy on Day 4. Why not check out the City park and go for a relaxing evening in the Széchenyi Baths?
4 Days in Budapest Itinerary – Day 4: Map and Stop Break Down
| | | |
| --- | --- | --- |
| Stop | Destinations | Time Spent |
| Stop 1: | Hero's Square | 1 hour |
| Stop 2: | Vajdahunyad Castle, Jaki Chapel & the City Park | 1 hour |
| Stop 3: | Széchenyi Baths | |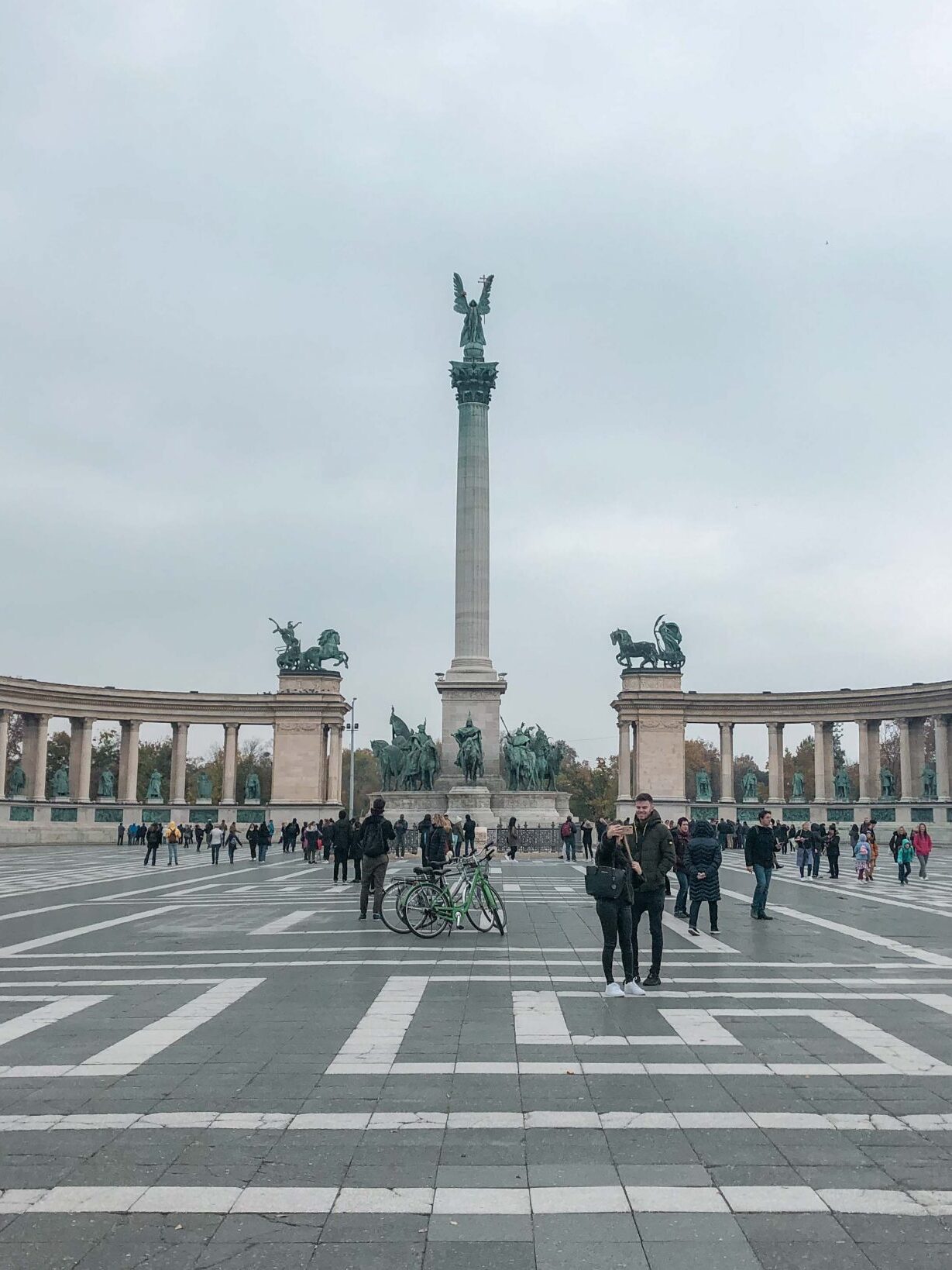 Stop 1: Hero's Square
There are many beautiful attractions and sites right on the foot of Budapest's city park. Starting with Hero's Square. This is the largest square in Hungary and features a massive column with Angel Gabriel on top. It is considered a national symbol of Hungary and is a must-see when visiting the city.
The Square was built in 1896 to commemorate the 1000th anniversary of the Hungarian state. It contains statues of many important historical figures and Hungarian kings. It is a great spot for taking photos and learning more about Hungary's rich history.
It is surrounded by two museums, the Museum of Fine Arts and the Hall of Art. Both are worth checking out if you have time.
---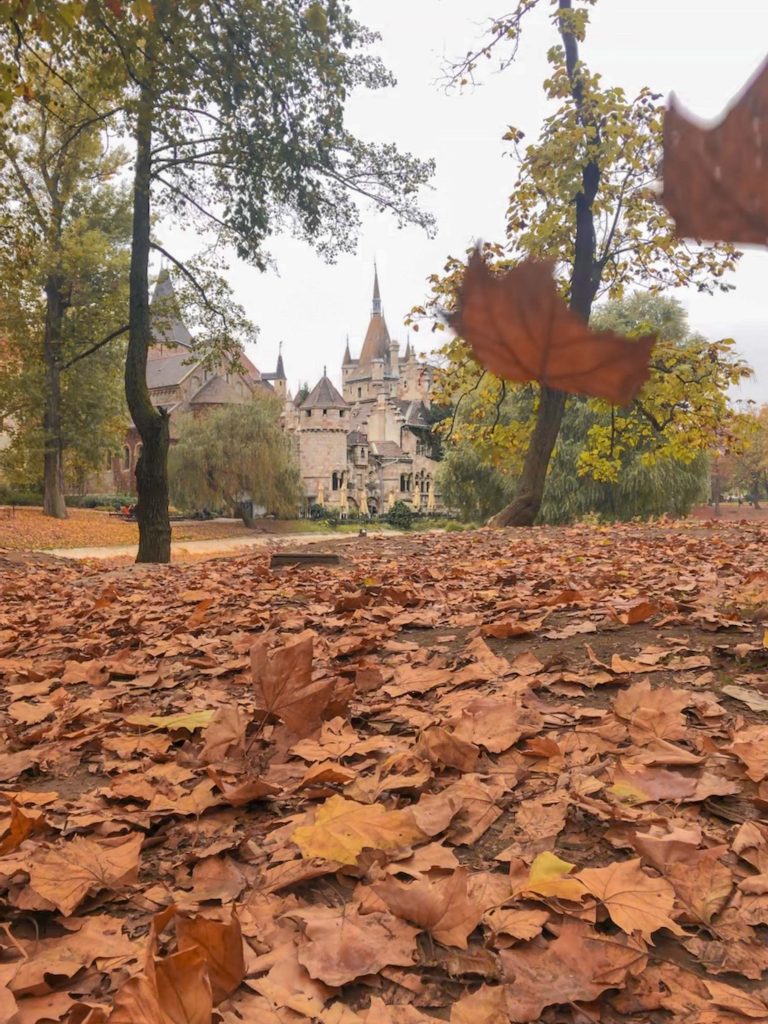 Stop 2: Vajdahunyad Castle, Jaki Chapel & the City Park
A short walk from Hero Square lies the grounds of Vajdahunyad Castle and Jaki Chapel. Both buildings fit in perfectly with Budapest's Fairytale theme. The Castle is modelled after several different buildings from around Hungary and Europe, creating a unique architectural style.
Vajdahunyad Castle is home to the Agricultural Museum and hosts several events throughout the year. The Jaki Chapel, on the other hand, was built in honour of Stephen I, the first king of Hungary. It's a peaceful spot to sit and reflect before continuing your journey through the park.
Both building lie in the City Park, which is a lively spot year-round. Here you can find plenty of activities, such as renting bikes or pedal boats on the lake, visiting the Budapest Zoo and Botanical Gardens, or even trying your hand at skateboarding in the park's skate park.
I easily spent an hour walking around here in October, admiring the beautiful autumn setting.
---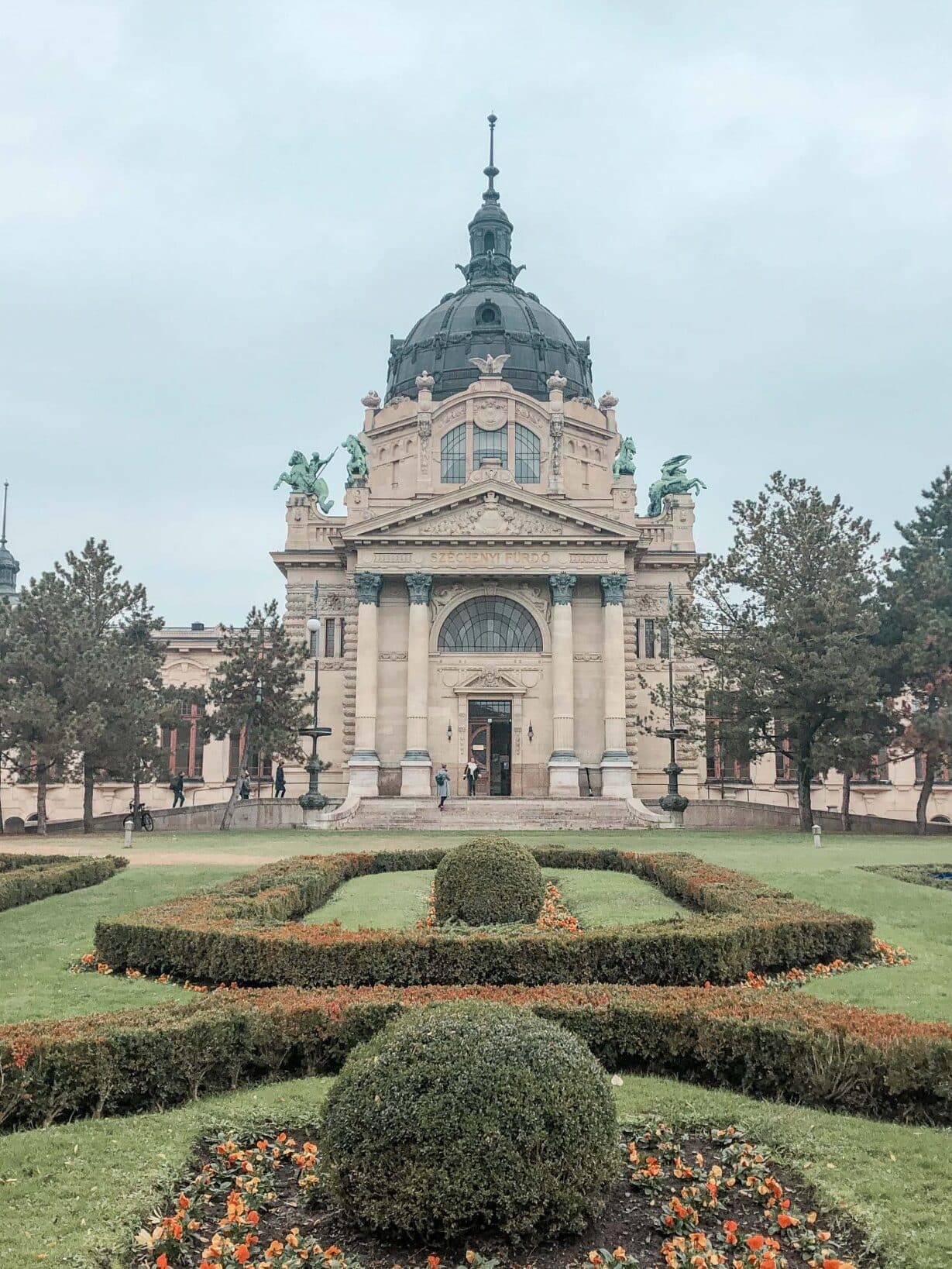 Stop 3: Széchenyi Baths
A stone's throw away from the City Park is the Széchenyi Baths, one of the largest public baths in Europe and a must-visit while in Budapest. Soaking in these thermal baths, rich in minerals and fed by natural hot spring waters, offers a uniquely relaxing and rejuvenating experience.
The Széchenyi Baths feature 18 pools, ranging from outdoor pools to indoor medicinal pools, and various sauna and steam rooms. Aside from bathing, you can also avail of massage therapies here.
Or, at night, the baths transform into a vibrant hub, hosting popular 'Sparty' events every Saturday!
I'd recommend going 2 hours before nightfall, that way you get to experience the baths in both the daylight and at night. And who doesn't love the best of both worlds 😉
Other Baths in Budapest Worth Visiting
Now, the Széchenyi Baths tend to be rather busy as they are the most popular thermal spas in Budapest. So, I have highlighted below some lesser-known baths for those wanting somewhere a little less crowded.
Gellért Baths: Located on the Buda side, they are renowned for their stunning Art Nouveau architecture. The indoor pool with its high glass ceiling is a sight to behold, and the thermal waters are just as soothing.
Rudas Baths: These are perfect for history buffs. The Rudas Baths date back to the 16th century and still maintain the distinctive Turkish architecture from when they were initially built. A bonus is the rooftop pool offering panoramic views of the Danube River.
Lukács Baths: Known for their healing properties, they're a favourite local spot tucked away from the tourist trail. The complex also features a drinking hall, where you can sip the medicinal waters straight from the source!
Where to Stay in Budapest: Options for All Budgets
Whether you're a budget traveller or willing to splurge a bit more on your trip to Budapest, there are numerous accommodation choices available for you.
Wombats CITY Hostel: For those travelling on a shoestring budget, I personally recommend Wombats CITY Hostel. It's affordable, clean, and has a great social vibe. The location is unbeatable too, just a stone's throw away from the major attractions of Budapest. It's by far one of my favourite hostels in Europe.
Hotel Palazzo Zichy: This hotel is perfect for those looking for a middle-budget option. It offers excellent value for money with its comfortable rooms and excellent service. Plus, it's housed in a historic building, adding a bit of charm to your stay.
Four Seasons Hotel Gresham Palace: For luxury travellers, nothing beats the opulence and grandeur of the Four Seasons Hotel Gresham Palace. The hotel is situated in a beautifully restored Art Nouveau building and offers stunning views of the Danube River, making your stay a remarkable experience.
Budapest 4-Day Itinerary: FAQ
In the following section, we'll address some of the most frequently asked questions about planning a 4-day itinerary to Budapest. From the best time of year to visit, to must-see attractions, and local culinary delights, we've got your travel queries covered. Let's delve into the details to help you plan your perfect Budapest getaway.
Is 4 Days in Budapest Enough?
Four days in Budapest can indeed provide a fulfilling experience, giving you plenty of time to explore the city's rich history, diverse culture, and delectable cuisine.
However, the duration might feel rushed if you're the type who likes to delve deep into a city's soul, visiting hidden gems and mingling with locals.
Ultimately, the decision hinges on your travelling style and interests.
For a balanced trip, consider dedicating two days to the city's popular attractions, a day to explore lesser-known spots and the remaining time to relax and soak in the city's vibe.
Is Budapest Worth Visiting?
Absolutely, Budapest is well worth a visit! The city is a treasure trove of architectural marvels, from Gothic and Baroque to Art Nouveau styles. Renowned for its thermal baths, Budapest is also a haven for wellness seekers. The vibrant nightlife, diverse restaurants offering a blend of Hungarian and international cuisines, and the rich history encapsulated in its museums and monuments, make Budapest an enticing destination for travellers. With its blend of the old and the new, the city offers a unique experience that leaves an indelible impression on its visitors.
Check out my Is Budapest Worth Visiting Guide to find the pro's and cons to exploring the Hungarian capital.
When is the best time of Year to Visit Budapest?
The best time to visit Budapest is during the spring (March to May) and fall (September to November) when the weather is pleasant and the city isn't overcrowded with tourists.
During these times, you can enjoy walking tours around the city, visit the beautiful gardens in bloom, and participate in various festivals that take place.
However, if you're a fan of winter sports or festive events, December could be a magical time with the city decked out in Christmas lights and festive markets in full swing.
The Summer months (June to August) can be hot and crowded, but also offer the opportunity for outdoor activities and open-air concerts.
Overall, Budapest has something to offer all year round, so choose a time that aligns with your interests.
What should I pack for a trip to Budapest?
Packing for Budapest largely depends on the time of year you're visiting. However, some essentials are necessary regardless of the season.
Comfortable walking shoes are a must, as you'll likely spend a lot of time exploring on foot. A lightweight, water-resistant jacket can come in handy for unpredictable weather changes.
Don't forget your travel adapter suitable for Hungary to keep your gadgets charged.
If you're visiting in summer, pack breathable clothing, sunglasses, a hat, and sunscreen; in winter, warm clothes, a good quality coat, gloves, and a hat are essential.
Remember to pack a swimsuit at any time of year, as Budapest is famous for its thermal baths.
Lastly, always carry a copy of your important documents and some local currency, just in case.
Is Budapest Safe to Visit?
Indeed, Budapest is generally safe for tourists. Like any other capital city, it has its fair share of petty crime like pickpocketing, especially in crowded tourist hotspots.
However, staying vigilant and taking basic safety precautions can significantly reduce the risk. The city is also politically stable, and there are no major safety concerns regarding political unrest.
Moreover, Budapest's public transportation is reliable and safe to use even at night.
So, whether you are walking the charming streets of the Castle District, or enjoying the vibrant nightlife in the Jewish Quarter, safety is something you can feel assured about.
What are Some Budapest Safety Tips for Solo Female Travellers?
As a solo female traveller, Budapest is a welcoming city, but like any other place, it's essential to keep some safety tips in mind. Always stay in well-lit areas at night, avoid walking alone in unfamiliar or deserted places, and be aware of your surroundings.
Using reputed taxi services or public transportation can help ensure your safety while commuting in the city. It's also a good idea to keep your hotel's address and emergency contact numbers handy.
Do they Speak English in Budapest?
Yes, English is widely spoken in Budapest, especially in areas frequented by tourists such as hotels, restaurants, and major attractions.
The younger generations and those working in tourism or commerce sectors are particularly fluent in English.
However, it's always appreciated when visitors learn a few basic phrases in Hungarian as a courtesy.
It can enhance your cultural experience and help foster relationships with the locals. But rest assured, language will be no barrier to a fulfilling travel experience in Budapest.
Here are some basic phrases in Hungarian with phonetic spellings to make pronunciation easier:
"Hello" – Szia (See-ya)
"Thank You" – Köszönöm (Ko-se-noem)
"Yes" – Igen (Ee-gen)
"No" – Nem (Nem)
"Please" – Kérem (Kay-rem)
"Excuse Me" – Elnézést (Ell-nay-zesht)
"Goodbye" – Viszlát (Vis-laat)
"I don't understand" – Nem értem (Nem air-tem)
"Where is the bathroom?" – Hol van a WC? (Hol van a Vay-tsay?)
"Can you help me?" – Tud segíteni? (Tood she-ghee-ten-ee?)
What Currency Do They Use in Budapest?
The official currency of Budapest is the Hungarian Forint (HUF). It's crucial for tourists to exchange their currency to Forints for a hassle-free transaction in local markets, stores, and other places that might not accept credit cards.
However, most hotels, restaurants, and tourist shops will accept the Euro. Credit and debit cards are also widely accepted across the city.
ATMs are easily accessible throughout Budapest, making cash withdrawals straightforward for tourists. I advise using ATMs attracted to banks for cheaper withdrawal fees.
Budget Tips for Budapest
Budapest is a city rich in culture, food, and experiences that cater to any budget. If you are travelling around Europe on a tight budget, here are some tips that might come in handy:
Walk or Use Public Transportation: Budapest's public transportation system is efficient, reliable, and cost-effective. Avoid taxis if possible, and consider buying a travel card for unlimited travel on buses, trams, and metros.
Eat at Local Markets: The city's markets offer a wide range of delicious, traditional Hungarian food at reasonable prices. Look out for 'langos', a Hungarian speciality.
Free Attractions: Budapest is filled with free attractions. Walk along the Danube for beautiful views, visit historic Heroes' Square, or enjoy the city's numerous parks.
Stay in Budget Accommodation: Consider staying in hostels, guesthouses or budget hotels to save on accommodation costs.
Discounts: Always check if there are any discounts available for students, seniors, or children. Many tourist attractions offer reduced prices for these groups.
Avoid Tourist Traps: As with any city, be aware of overpriced tourist traps, especially in highly trafficked areas. Stick to local-approved spots.
Is Budapest Expensive to Visit?
Comparatively, Budapest is not as expensive to visit as other major European cities like Paris or London.
Meals, accommodations, and attraction tickets are generally more affordable. However, the cost can vary depending on your travel style and preferences.
Luxury travellers can expect to spend more, while budget-conscious travellers can find plenty of ways to stretch their money.
How Much Will I Spend in 4 Days in Budapest?
Budapest is a city that offers memorable experiences without causing a dent in your wallet. The cost of your trip greatly depends on your personal preferences and lifestyle.
If you follow the budget tips above, you can expect to spend around 200-300 Euros for a 4-day trip. This is how much I spent on my interrail trip in Budapest.
This estimation includes accommodation in a budget hotel or hostel, meals at local markets, public transportation, and entrance fees to a few attractions.
However, if you prefer more luxurious accommodations, dine at high-end restaurants, or plan to visit numerous paid attractions, your expenditure could be significantly higher.
Always remember to plan and budget your trip according to your comfort and preferences.
When it comes to transportation, a 24-hour travel card costs about 5 Euros, allowing unlimited travel on trams, buses, and metros.
For attractions, entrance to the Hungarian National Museum is around 6 Euros, while a ticket to the famous Szechenyi Thermal Bath will cost you approximately 16 Euros.
Food-wise, a decent meal at a local restaurant might set you back about 10 Euros, while street food often goes for as little as 3-4 Euros.
A cup of coffee in a typical café will cost you around 2 Euros. Therefore, daily expenses (excluding accommodation) can range anywhere from 30 to 50 Euros, depending on your travel style and activities.
What are the best Day Trips from Budapest?
Budapest is a great hub for exploring other places and regions, from other European Cities to nearby charming lakes and villages.
Szentendre: About a 40-minute drive from Budapest, Szentendre is a vibrant town teeming with art galleries, museums, and craft shops.
Visegrád: Situated just an hour's drive from Budapest, Visegrád offers stunning views of the Danube Bend from its Royal Palace and medieval Citadel.
Lake Balaton: This jewel of Central Europe is a 1.5-hour trip from Budapest. Enjoy the lake's beautiful beaches, vineyards, and outdoor activities during summer.
Journeying Beyond Hungary's Borders: European Cities Within Reach
Prague, Czech Republic: Just a five-hour drive from Budapest, Prague is famous for its stunning architecture. The city offers a magical atmosphere with its gothic-style churches and the historical Prague Castle.
2. Vienna, Austria: A mere 2.5 hours away by train, Vienna, the city of music and dreams, is well worth a visit. It boasts magnificent palaces, beautiful parks, and captivating museums.
3. Bratislava, Slovakia: Just 2 hours away, Bratislava is a charming city with a rich history reflected in its old town area, Bratislava Castle, and the stunning Blue Church.
10 Tips for First-Time Visitors to Budapest
Visit Thermal Baths: Don't miss out on Budapest's famous thermal baths. The Széchenyi Thermal Bath and Gellért Baths are popular choices.
Try Hungarian Food: Taste traditional Hungarian dishes like Goulash and Lángos. Hungarian cuisine is rich and flavorful and offers a unique culinary experience.
Use Public Transport: Budapest's public transportation is affordable and covers extensive areas. It's a great way to get around the city.
Visit the Castle District: The Castle District is home to several historical attractions like Buda Castle, Fisherman's Bastion, and Matthias Church.
Cruise on the Danube: A river cruise on the Danube, especially at night, offers stunning views of the city's illuminated landmarks.
Learn Basic Hungarian Phrases: While English is widely spoken, knowing a few basic Hungarian phrases can be handy and appreciated by locals.
Try Hungarian Wine: Hungary is famous for its wines. Be sure to visit a local wine bar and try some.
Respect Local Customs: Be respectful of Hungarian customs and traditions. This includes being quiet in public areas like the metro and dressing appropriately when visiting religious sites.
Stay Vigilant: As in any city, stay vigilant for your personal safety. Avoid deserted areas at night and keep your belongings secure at all times.
Explore the Markets: Budapest's markets are bustling with energy and are a haven for food lovers and antique collectors alike. The Central Market Hall, the largest and oldest indoor market in Budapest, is a must-visit. Here, you can find everything from fresh produce, meats, and cheeses to local craftwork and souvenirs. Don't forget to try the strudels!
Thanks For Reading <3
Thanks so much for taking the time to read my Budapest itinerary post. I hope it comes in super handy for planning your trip and I hope you have an amazing time.
Planning on spending a few days in Budapest? Check out my FREE resources to help plan your trip!
Planning a trip to Europe? Here's some post to help with your planning!
PIN ME FOR LATER!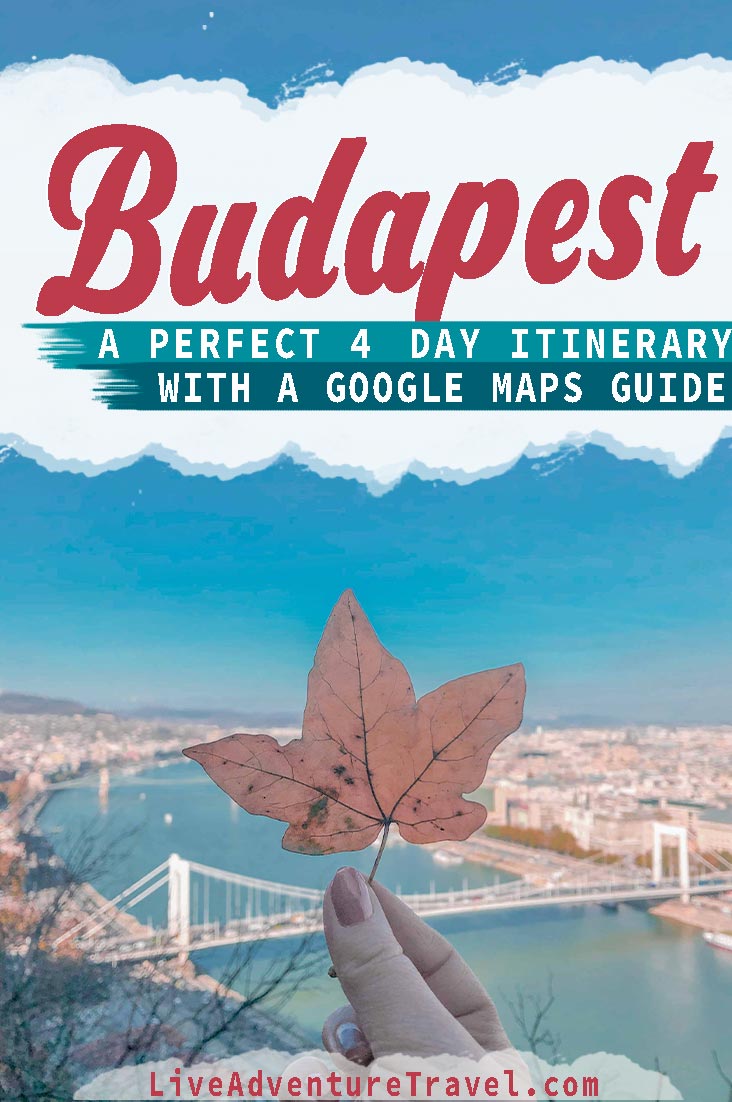 Disclaimer: Please note, this website contains affiliate links, as by I may make a little commission. This is at no extra cost to you.