Ireland & UK Map Pin Board – Trip Map World Review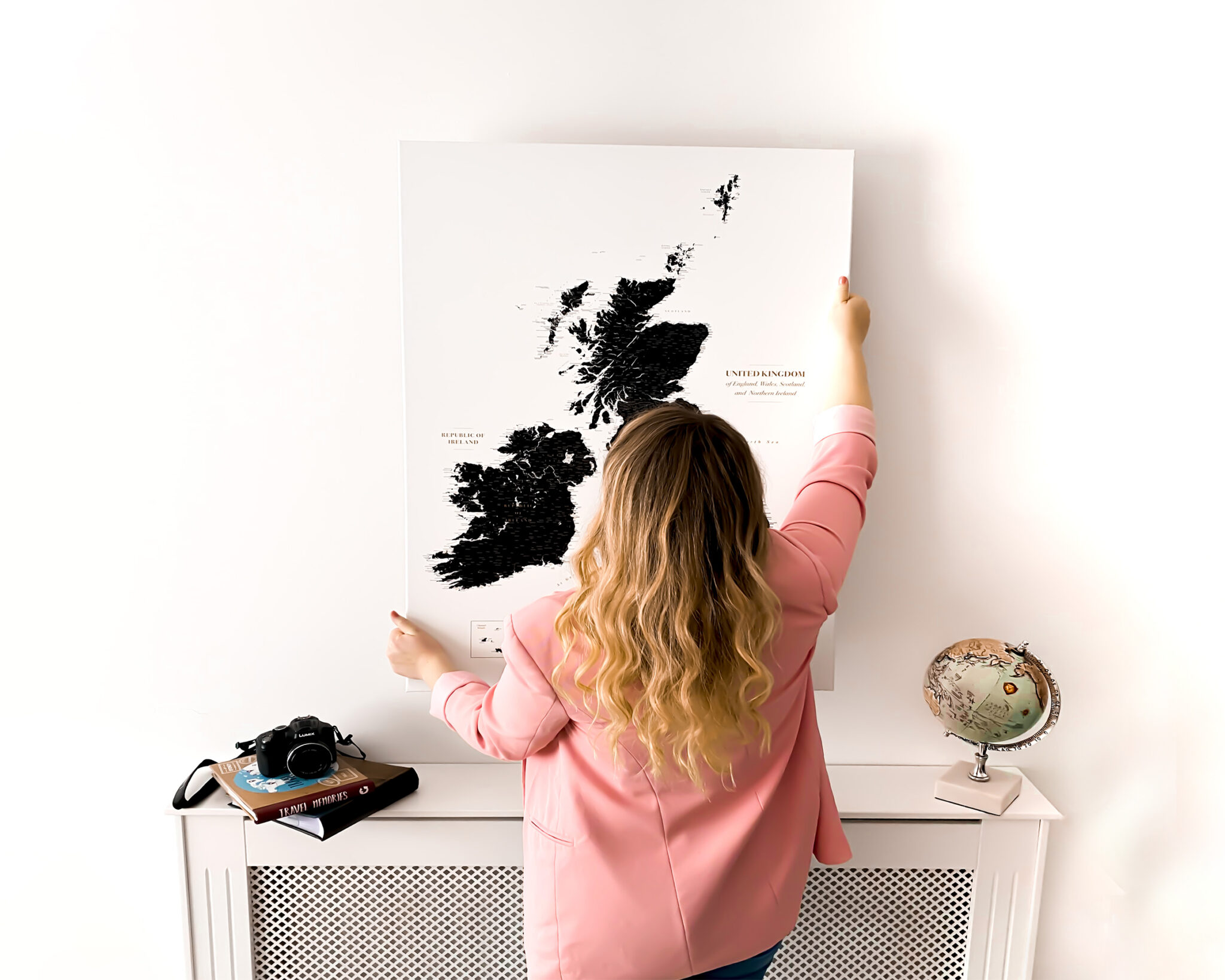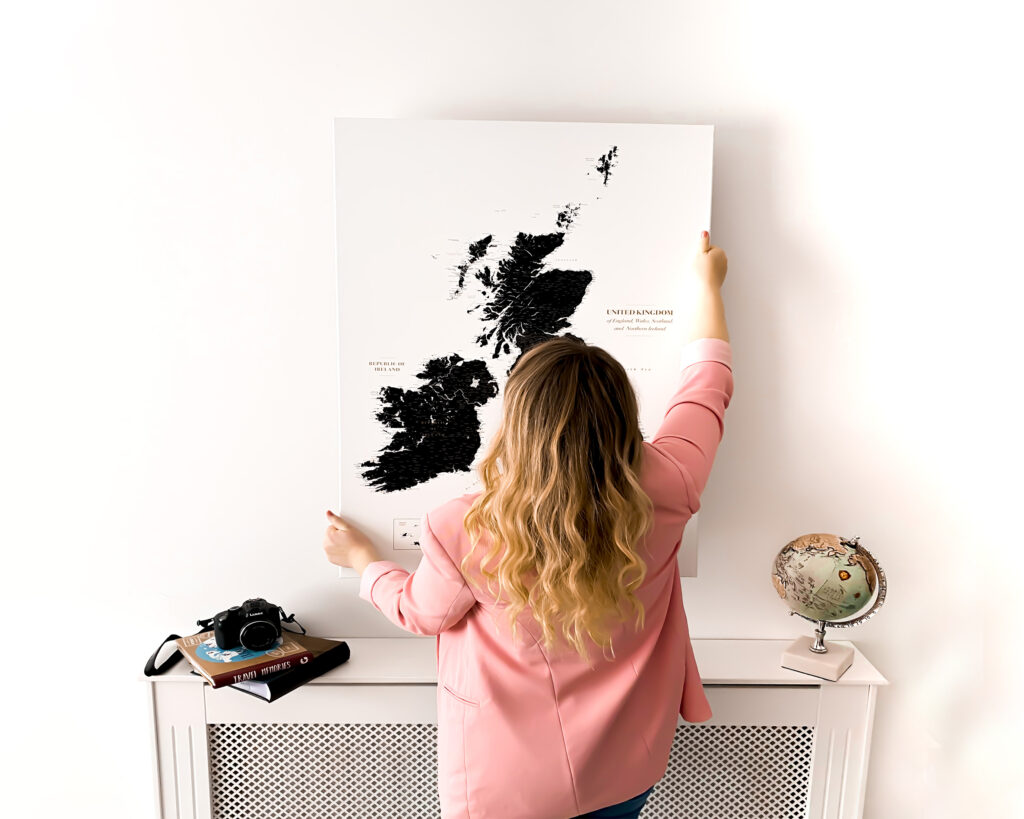 This post may contain affiliate links which means we make a commission at no extra cost to you
Like most people my travel plans for the year 2020 took a drastic turn. I went from dreaming of exploring the white sand beaches of Bali to exploring the emerald green fields of my home country, Ireland. But…Hey…I'm not really complaining. I'm having an unbeilable time exploring every single nut and cranny of the Emerald Isle. And If anything I'm amazed that it has taken me this long to do so.
Recently, I was contacted by Trip Map World asking if I had an interest in helping promote their brand new Ireland and UK Map Pin Board. To be honest this collaboration proposal could not have came at a better time, I have just set myself a new goal of visiting all 32 counties of Ireland before the end of summer 2021. And a pin it map is just what I was looking for to keep track of all my adventures.
Disclaimer: This is a sponsored post. I worked with Trip Map World to help promote their brand new Ireland and UK Map Pin Board. All opinions are my own, the pin it canvas maps are made to an exceptionally high standard and would be the perfect addition to a travel lovers home.
Who is Trip Map World?
First, let's talk about the brains behind the Trip Map World and how the company came to be. Trip Map World is a small Lithuanian company created by Marta and Paulius. They where looking to document their travels with a trendy map of the world that suited their individual style and home decor. And what better way to do so, than creating their own canvas map. Their original design still hangs in their home to this day!
In 2018, after a lot of hard work and effort they opened their first studio in Vilnius and the team has been expanding ever since. Trip Map World's goal from the very beginning was to demonstrate genuine teamwork, great work environment, and maintain satisfied clients.
Their plan is to continue to surprise their clients with new map designs and other new products. Trip Map World success continues to grow around the world and I can clearly see why.
The Order Process
The Trip Map World website is extremely user friendly making it super easy to choose your desired map design. The Ireland and Uk pin map comes in 5 different colour options, Black & White, Grey, Vintage Light Blue & Brown, Political (Pastel Like Palette) and Colourful.
Once you have chosen your design it is time to choose your desired size. The map comes in 3 different dimensions, Medium (100cm x 70cm), Large (120cm x 80) and Extra Large (150cm x 100cm).
You will also be given the option to choose your desired pin colour, with over 16 pin colours to choose from. Each pin pot contains a hundred pins, which is plenty to get you started.
Trip Map World goes the extra mile for their customers and even offer Personalised Ireland and United Kingdom Maps with any wording of your choice. If this sounds like something you'd like why not order your trip map now!
The Delivery Process
Trip Maps Delivery process is exceptionally quick. My parcel arrived within 3 days of being ordered and I was even provided with an online tracking link. Once my parcel arrived in my local depot I received a text message alerting me of an estimated arrival time. I couldn't of asked for a better delivery service. The parcel arrived in a large cardboard box, with the map well protected on the inside.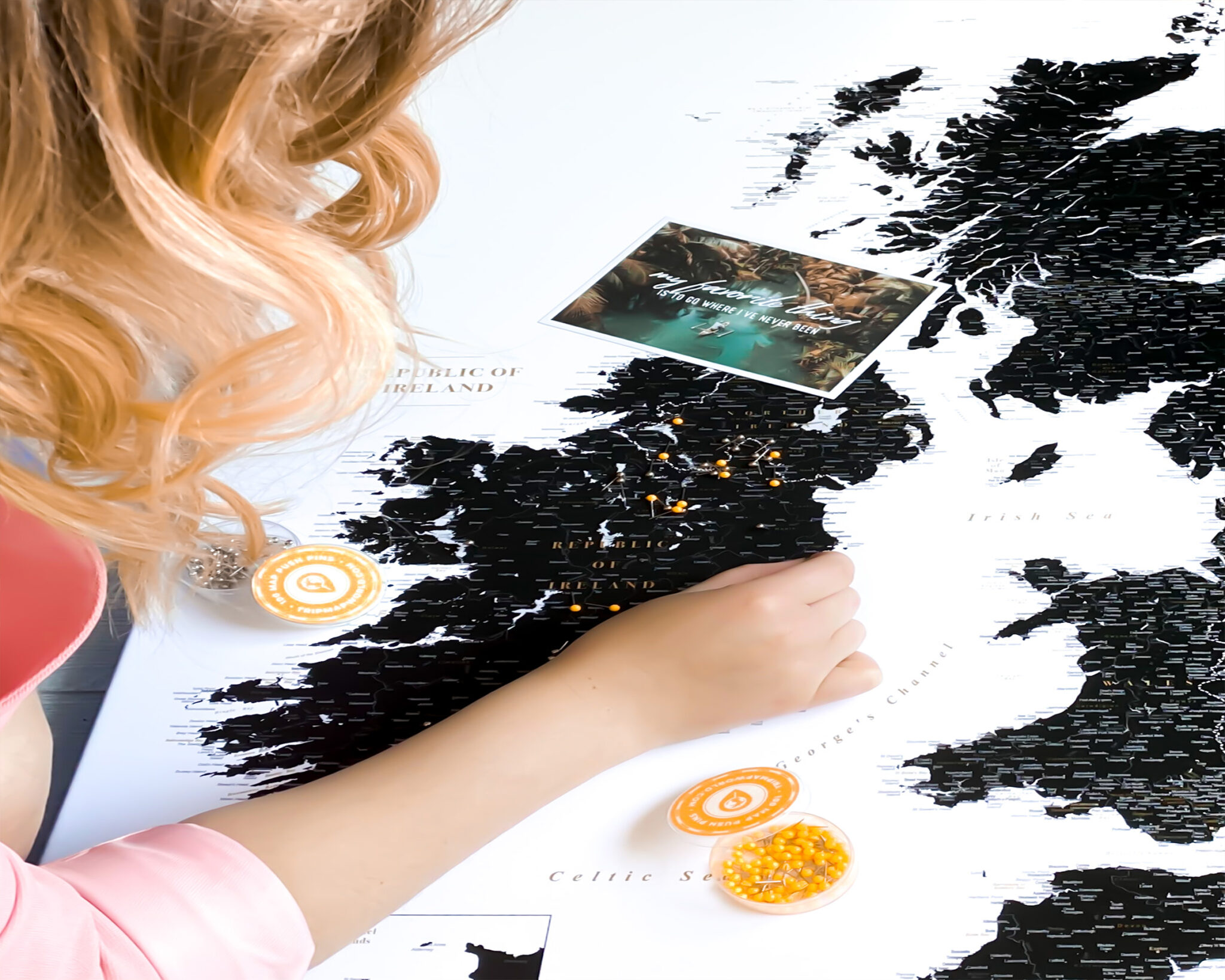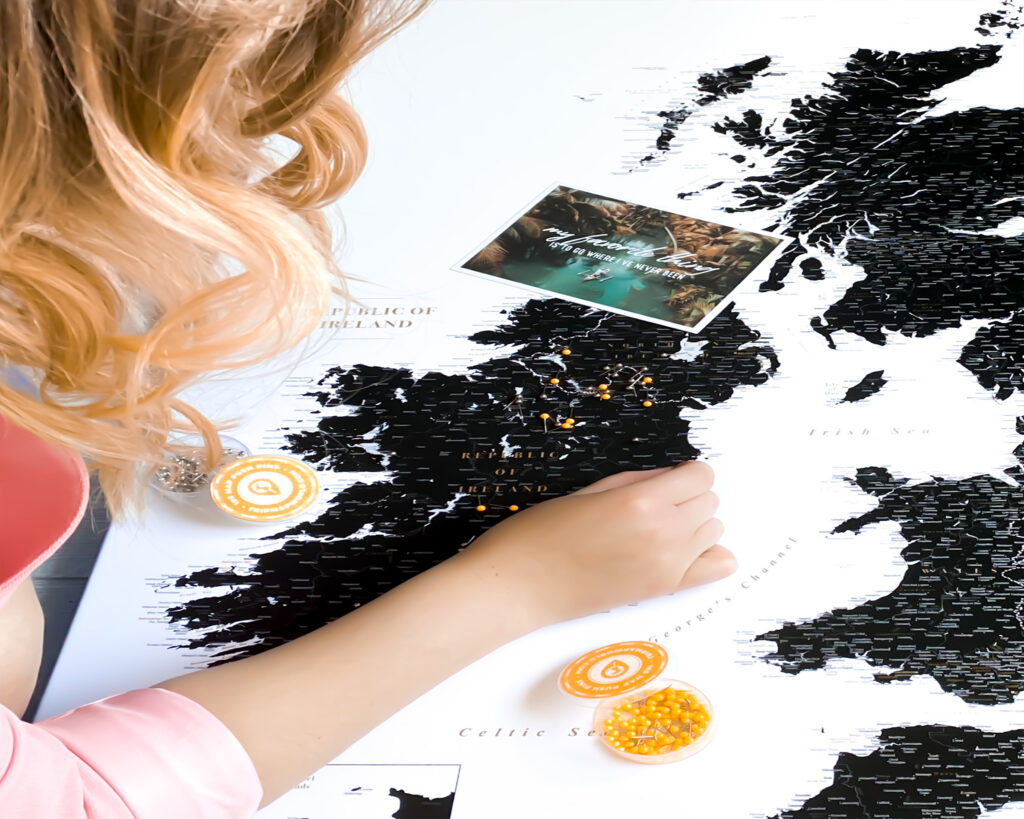 My Personal Opinion of Trip Map World (Review)
I was highly impressed with trip map world's professionalism and work ethic. They where easy to contact and always happy to answer my many questions. I honestly couldn't have asked for better customer service.
As mentioned above my map arrived promptly, in fact, it even arrived before the estimated delivery date which is always an extra bonus.
Once the map arrived I couldn't wait to hang it on my wall. There are two metal mounts located on the back of the canvas making for care free hanging. Trip Map World once again went the extra mile by providing their customers with a step by step guide on hanging their new canvas map. I'd recommend giving the guide a read before purchasing as you may need to buy hooks for your wall.
The map itself was produced to an exceptionally high standard. One thing I was overly impressed with was the maps sturdy design. I liked being able to push a pin into the canvas and remove it again without leaving a single mark.
The level of detail put into the map is better than any other travel map I have purchased in the past. Not only does the map list the main counties and regions, it also lists many different cities and attractions, making it much easier to tick off individual areas.
I choose the black and white design, it blends lovely with my rooms interior with it's modern and trendy styling. I decided to order the the silver pins to accompany my map as I like the minimal vibe. I also went for the orange pins which I intend to use for Scotland once international travel can resumes.
I couldn't recommend Trip Map World more to those looking to purchase a Push Pin United Kingdom and Ireland Map. It is a purchase you will not regret! In fact, I am not the only one who thinks so. Trip Map World has a5 star review score on both their website and facebook.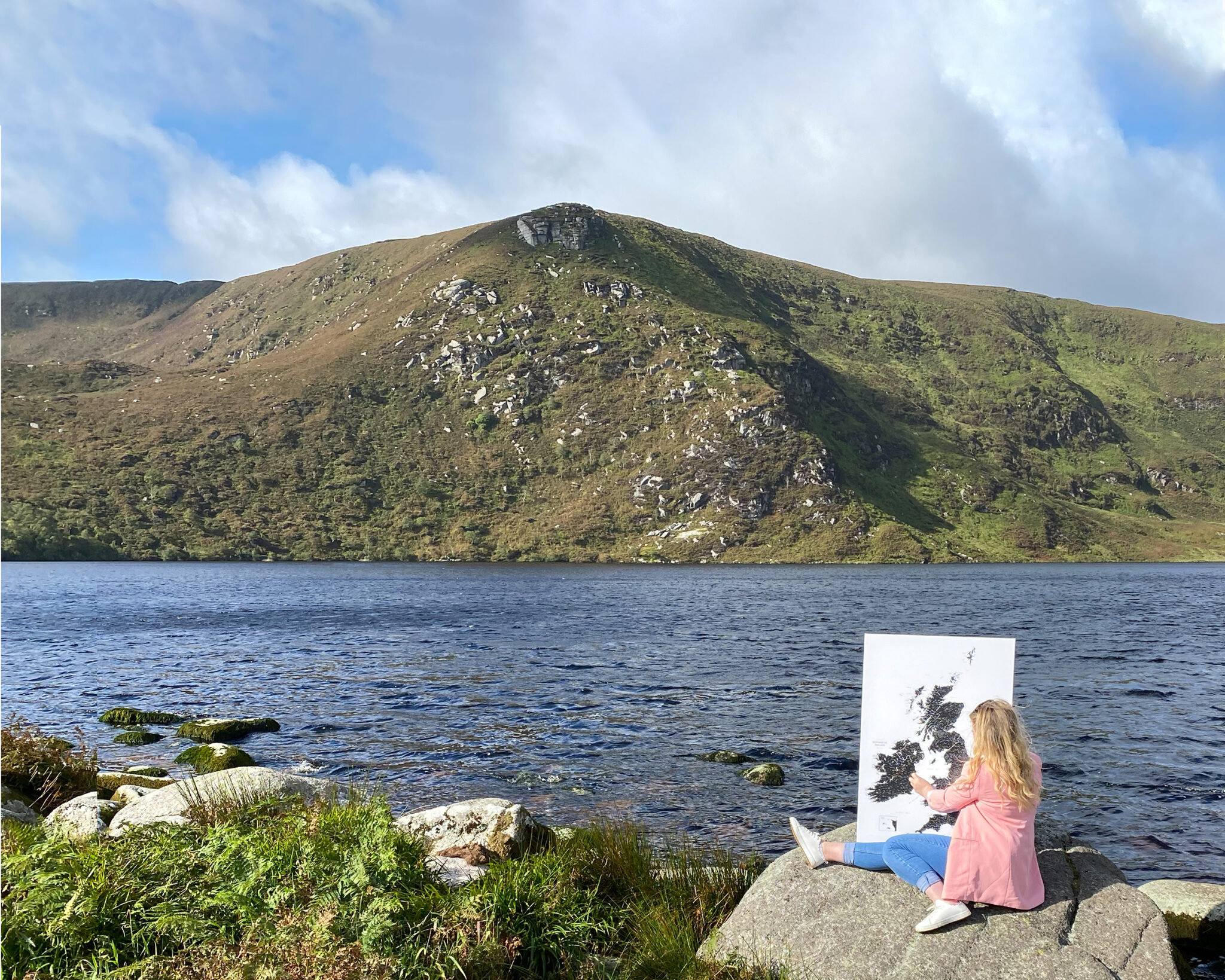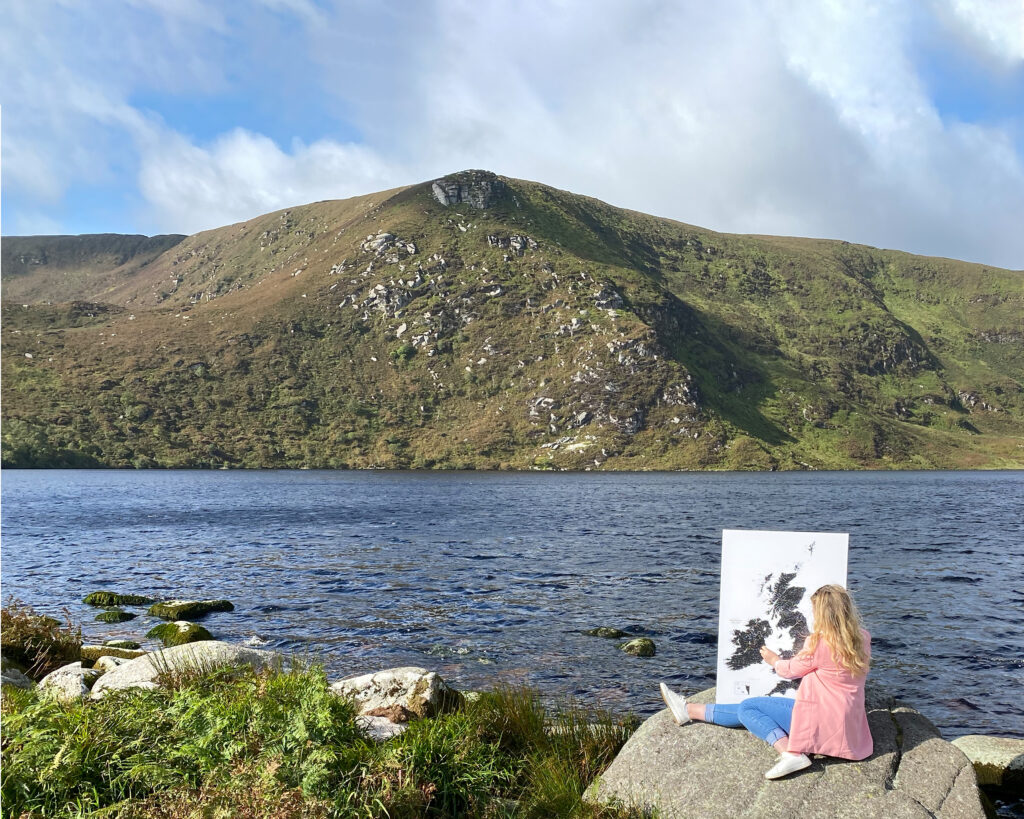 My Future Plans with my Ireland and UK Pin Map Board
My goal for the year is to travel to all of Ireland's 32 counties and officially pin them off the map! I would love frame my polaroid's around the map using string to connect the photos and pins.
I know what you're thinking…what about the other countries on the map? And don't worry, I havn't forgotten. Unfortunately, international travel is not an option at the moment, however, once it is I can not wait to road trip around the Scottish Highlands, take in the beauty of England's lake district or hike around Snowdonia in Wales. Safe to say, there will be pins all over the map in no time. I can not wait to pin my many adventures <3
Limited Time Discount
Trip Map World have kindly offered my readers a 12% discounted on the Ireland and Uk Push Pin Map! The offer is valid until the 30th of September 2020. To avail of the offer apply the code 'Laura12' at the checkout.
Thanks for reading!
Thanks so much for reading my Trip Map World Ireland and Uk map pin board review. If you do decide to purchase your own trip map be sure to send me a picture on Facebook or Instagram. I'd love to hear how you got on.
I also want to say a big thank you to Trip Map World for giving me the opportunity to collaborate. I love my new map!