Is Budapest Worth Visiting? (The Pros & Cons)
Budapest is a beautiful European destination with so many things to do and see. With it being Hungary's capital, it is not short of cultural activities and eateries. Home to rich history, beautiful architecture, vibrant nightlife, and thermal baths. But with so many other European cities to choose from, you may wonder if Budapest is worth visiting?
In this article, we will discuss the pros and cons of travelling to Budapest to help you make the best choice for you!
This post may contain affiliate links which means we make a commission at no extra cost to you
Pros of Visiting Budapest
Let's dive into some of the favourite reasons why Budapest is often a favourite destination for many tourists. From its stunning sights to its warm and inviting culture. I have listed below some note-worthy reasons why you should add Budapest to your European Bucket List.
1. Budapest's History and Culture
Budapest is a great representation of when old meets new. Walking around the Buda side of the city is quite literally like going back in time. Everywhere you look, you can see signs of the past, from Roman ruins to medieval castles. Whereas, the pest side of the city has a more modern twist, an exciting nightlife scene, modern eats from around the world and groovy street art.
2. The Food in Budapest is delicious
If you are a foodie then you will love Budapest. It offers a vibrant food scene, with something for everyone. From traditional Hungarian Dishes like goulash, a meaty stew seasoned with paprika, and lángos, a deep-fried flatbread topped with cheese and sour cream.
To delicious international cuisine, such as Italian, Asian and more. There is one thing I can guarantee, you will not be disappointed with Budapest's food options.

Oh! And I almost forgot to mention, if you are keeping things budget-friendly then keep an eye out for some street food vendors. They offer some delicious and affordable options to keep you going while exploring the city. Karavan Street Food Market is one of my personal favourite places to grab a bite while in Budapest.
Where to eat in Budapest
Szimpla Kert: If you are looking for a unique food experience head to Szimpla Kert on a Sunday. Here you can enjoy an authentic Hungarian Dish while sitting in the oldest ruin bar in the city.
Central Market Hall: Looking to experience some local cuisines? Then the Central Market is the place for you. From fruits to sweets to traditional Hungarian sausages, you can find it all here.
New York Café: If you're on the hunt for something a little more fancy then why not check out the New York Café? A rather popular spot, servicing a range of food options including their Dobos cake, a Hungarian sponge cake layered with chocolate buttercream and topped with caramel.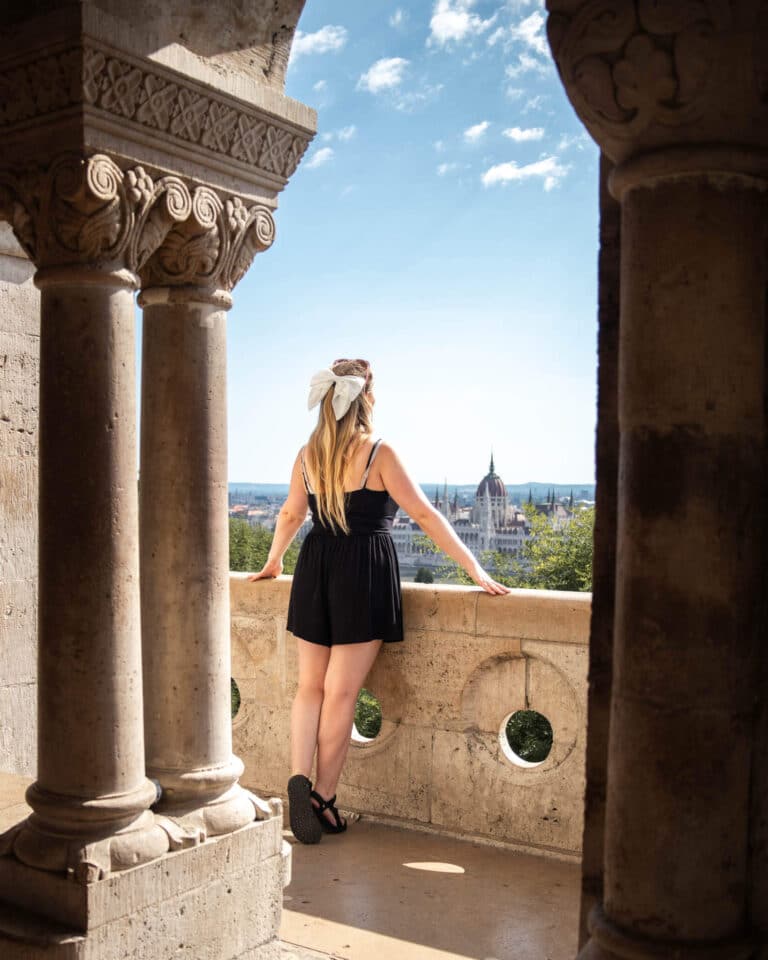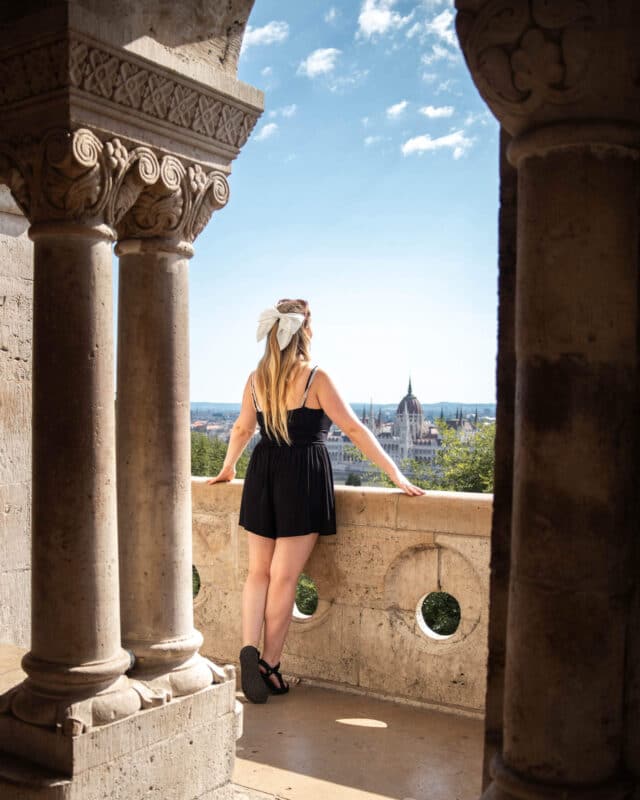 3. It's Fairytale Like Appearance & Greenery
Another pro of visiting Budapest is the magical feeling as you walk around. The Buda side of the city quite literally feels like something out of a childhood storybook. From the stunning beauty of Fisherman's Bastion to the vast grounds of Buda Castle. It is honestly one of my favourite fairytale places in Europe.
The city also has a lot of green spaces from Margaret Island, with its lush green parks, quaint gardens, and medieval ruins. It's a great way to escape the hustle and bustle of the city.
To Gellért Hill which boasts incredible views of the city. The true Budapest gems is a lovely place to spend half a day gazing out at famous landmarks such as the Hungarian Parliament and Chain Bridge. It really allows the skyline to come to life.
4. It has Unique Attractions
Budapest is not short of unique attractions which makes it the perfect addition to your Europe Itinerary.
The Thermal Baths: The city is known for its famous thermal spas such as the Széchenyi, which is one of the largest spa complexes in Europe, to the lesser-known spas like Veli Bej Thermal Bath. Budapest is truly a city that allows you to relax and unwind. Or, boogie if you choose to do so. (Here's a link to the bath parties).
Ruin Bars: Another famous thing to do in Budapest is visit one of the many ruined bars. Party the night away in what was once an abandoned building. These bars truly have a lot of character offering a very unique nightlife experience. Nothing like I have seen anywhere else in Europe. Szimpla Kert is the biggest and most popular ruin bar so arrive early if you are looking to experience it.
Oh! And don't be surprised if the sun is rising when you leave 🤣
Caving Beneath the City: Did you know that underneath Budapest lies a cave system that you can explore? This is one of my favourite things to do in the city. Take an adrenaline-filled tour through the Budapest cave system. Crawl through narrow passages, wearing an overalls and and a head torch. It's an experience not to be missed.
Chair Lift with Incredible Views: Budapest is not somewhere I expected to find a Chair Lift, granted it is not located directly in the city centre but Zugliget Chairlift offers an incredible view of Budapest and beyond. I definitely recommend adding it to your Definitely for when you're in the city.
You can reach the Zugliget Chairlift by taking Bus 291 from the Széll Kálmán tér metro station and getting off at the János-hegy stop.
The journey will take about 20 minutes. Once there, the ticket to the chairlift costs 1400 HUF (approximately €5) for adults for a one-way trip.
The hours of operation are from 10 AM to 3 PM daily, except on Mondays.
5. It is Budget-Friendly
Not only is Budapest a fun and beautiful city to explore it also is rather budget-friendly for its visitors. The city offers a range of low-cost, yet quality accommodations, from cosy hostels to comfortable budget hotels.
Dining in Budapest can be a surprisingly affordable experience, with tasty street food and inexpensive local eateries offering traditional Hungarian dishes.
Public transport is easy to come by and quite affordable costing as little as €1 for a single ticket.
There are many FREE attractions in the city from walking tours, and city parks to famous landmarks. And while, some things may be a little bit on the expensive side, for example, the Thermal Baths you can make it a little more affordable by going to the lesser-known spas.
Related Post: How much 4 months backpacking Europe cost me
6. Vibrant Nightlife
We already touched on this briefly but Budapest has quite a vibrant nightlife scene. From quirky abandoned buildings aka ruin bars. To a range of rooftop bars, such as 360 Bar (delish cocktails) and Corvin Club which boasts a rooftop cinema; there's no shortage of places to enjoy the city's lively atmosphere.
For those looking for something a little more sophisticated, don't worry there's something for you too. Wine Bars featuring local and international wines, Jazz Clubs with live performances and Opera Houses to name a few.
Whether you're looking to party all night or simply enjoy a cocktail with good conversation, Budapest has something for everyone. And the best part? It won't break your wallet!
Inside Tip: Don't forget to check out the Budapest Boat Tours, especially at night. The Hungarian Capital really knows how to present a nighttime display with all its major landmarks lit up beautifully. It's one of my favourite things about the city.
Cons of Visiting Budapest
Now, while Budapest is known for its budget-friendly activities, exciting nightlife and picturesque streets. It does, like all other cities have its downside. And these cons can impact a visitor's experience so I thought I would highlight some.
1. Language Barrier
I have been to Budapest a handful of times, and honestly have never had any problems getting around despite the fact that I don't speak Hungarian. The people are generally very nice and happy to help regardless of there being a language barrier.
However, this is something to consider when visiting the city for the first time. Sometimes there can be communication difficulties may come into play. To avoid this I recommend learning some key phrases before you visit.
Not only will this help you navigate and get around it is also important to be polite and considerate towards the locals. It shows them that you care about their culture and traditions. I've highlighted some key terms down below.
Köszönöm (Thank You)
In English, this translates to "Thank you" and it's pronounced as "ko-so-noem". It's always good manners to thank people, and in Hungary, you'll find plenty of opportunities to say Köszönöm.
Szervusz (Hello/Goodbye)
This is a common way to say either "hello" or "goodbye". It's pronounced "ser-vus". Although it can be used at any time of day, it's more commonly used in informal settings.
Szia (Hi/Bye)
This is another versatile word that can be used to say either "hi" or "bye". It's pronounced "see-ya" and is less formal than "Szervusz".
Hol van a WC? (Where is the bathroom?)
This phrase might be very useful in many situations. It translates to "Where is the bathroom?" and it's pronounced "hole van a vay-tsay?".
Egészségedre! (Cheers/To your health)
This phrase is perfect for when you're enjoying Hungary's famous wines or beers. It means "Cheers" or more directly "To your health", and it's pronounced, "Eg-esh-sheg-ed-re!".
Hogy hívnak? (What is your name?)
This phrase would come in handy while introducing yourself or getting to know new people. It translates to "What is your name?" and is pronounced as "hodge hee-vanak?".
3. It's Busy
Budapest has seen a spike in popularity in recent years and with this comes over tourism. Some of the city's main tourist attractions tend to be packed with people as early as 10 am. So, if there is somewhere you really want to see without the crowds I suggest waking up super early.
In the summer I got to Fisherman's Batsion at 7.30 am, there were very few people for the first half hour but that quickly changed making it harder to get that iconic picture of the parliament in the background without fighting the crowds.
Planning your visit during the off-peak season or choosing to explore lesser-known attractions can be a solution to avoid crowds and still enjoy the beauty of Budapest.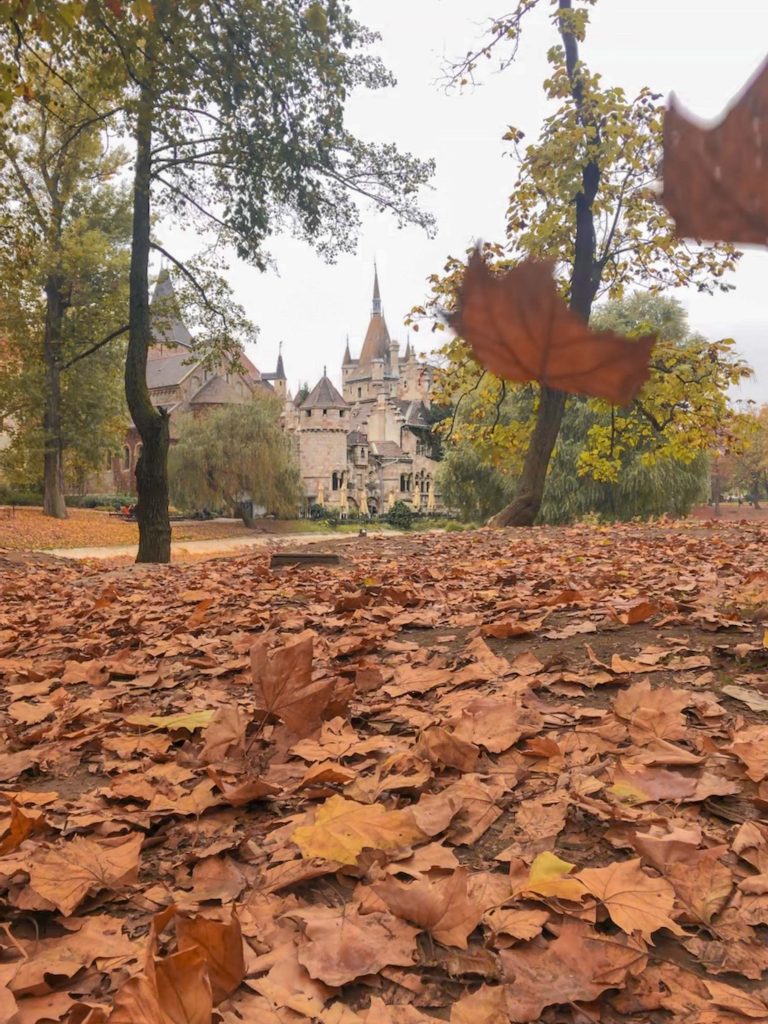 2. The Currency
The currency in Hungary is the Hungarian Forint (HUF). And if you are planning to visit just Budapest, you will not have any issues with this as you can withdraw a small amount of cash before visiting.
Besides, most places accept card transactions.
However, if you are backpacking or travelling through Europe it can be a con to have to constantly convert money in between all the currencies. Especially, with the rates changing day by day.
And yes, you will get by with a card, there are some circumstances where you will need cash. For example, some of the ruin bars are cash only and public toilets tend to charge a fee in cash too.
I also tried to get into the 360 bar in the summer months and was turned away because I did not have cash for the 'entry fee'. This, however, did not seem to be an issue when I was there the Autumn previous so perhaps this depends on the night.
Tips for Visiting Budapest
Budget-Friendly Tips: Take advantage of the free walking tours available in Budapest to learn about the history and culture of the city.
Also, try to eat at local markets and food stalls for authentic Hungarian cuisine at a reasonable price.
The city is extremely walkable, so try to limit the number of public transport you get to keep costs down.
Solo Female Travel Tips: Budapest is considered to be a relatively safe destination for solo female travellers. However, it is always important to use common sense and be aware of your surroundings.
I recommend staying in well-lit and central areas at night and avoiding walking alone in quiet or isolated areas.
If you do want to venture out at night I recommend making friends in hostels or group tours. That way you can feel safer as part of a group.
I have been solo in Budapest twice now and never really felt threatened or unsafe. The place that I felt slightly uneasy was outside the train station but that is common in a lot of major European Cities.
Taxi Tips: When taking a taxi in Budapest, make sure to only use licensed and metered taxis.
Avoid getting into unmarked or private cars offering rides as they may overcharge you. And unfortunately, even cars that appear to be 'taxis' may not be legit.
This is a common scam in Budapest, one I unfortunately fell for on my first visit to the city. Try not to get caught out by using taxi apps and check for licenses before getting in.
Instead, try to use Taxi apps such as Bolt, which acts similar to Uber but with registered taxi drivers.
Attraction Tips: Don't be afraid to explore some of Budapest's lesser-known attractions like cave tours and the Zugliget Chair Lift. They are a lot of fun and a way to escape the crowds.
Visit in the Off-Season: Budapest is a lot of fun in the summer months but it is busy. I visited in October one year and had a completely different experience. I love it!
Top 10 things to do in Budapest
Next, I wanted to show you the top things to do while in Budapest. This will be the ultimate deciding factor in seeing if you think Budapest is worth visiting. If there are attractions that you really want to experience then why not give them a try?
Fishermans Bastion:
If you only had time to visit one attraction in Budapest I would recommend that be the Fishermans Bastion. It is just like a fairytale movie backdrop, which offers outstanding views of the city's skyline.
This neo-Gothic and neo-Romanesque style terrace is located on the Buda side of the Danube on Castle Hill. And you can quite literally see all the famous landmarks from it. From Margaret Island, Pest to the east, and Gellért Hill.
And the best thing about it is, that entry is FREE. Meaning you can enjoy all its beauty without having to dive into your budget for the trip.
Buda Castle:
Buda Castle, once the home of the Hungarian Kings is a site to be seen. Perched on top of Castle Hill, the grounds are the ultimate playground for those interested in history and culture. I'm not gonna lie, some elements of the building do not seem like a castle but more 'museum' 'like. However, walking around the less busy parts transports you into elements of a Disney storybook.
Much like the other attractions on Castle Hill, there is a phenomenal view of the Budapest Skyline, admire the beauty of the Parliament, Chain Bridge and Gellért Hill from afar.
After exploring the castle grounds, take a leisurely stroll along the cobbled streets of the Castle District, dotted with quaint houses, charming cafes, and fascinating museums. This is a part of Budapest that doesn't get nearly enough attention.
Hungarian Parliament Building:
Correct me if I am wrong but Budapest is home to one of the most beautiful parliament buildings in the world. It's also the 3rd largest in the world too.
It is definitely somewhere you want to check out while exploring the Hungarian Capital. You can get up close and personal with it and really get to see its size with your own eyes.
It is also possible to take a guided tour of the building allowing you to fully appreciate its historical and architectural significance.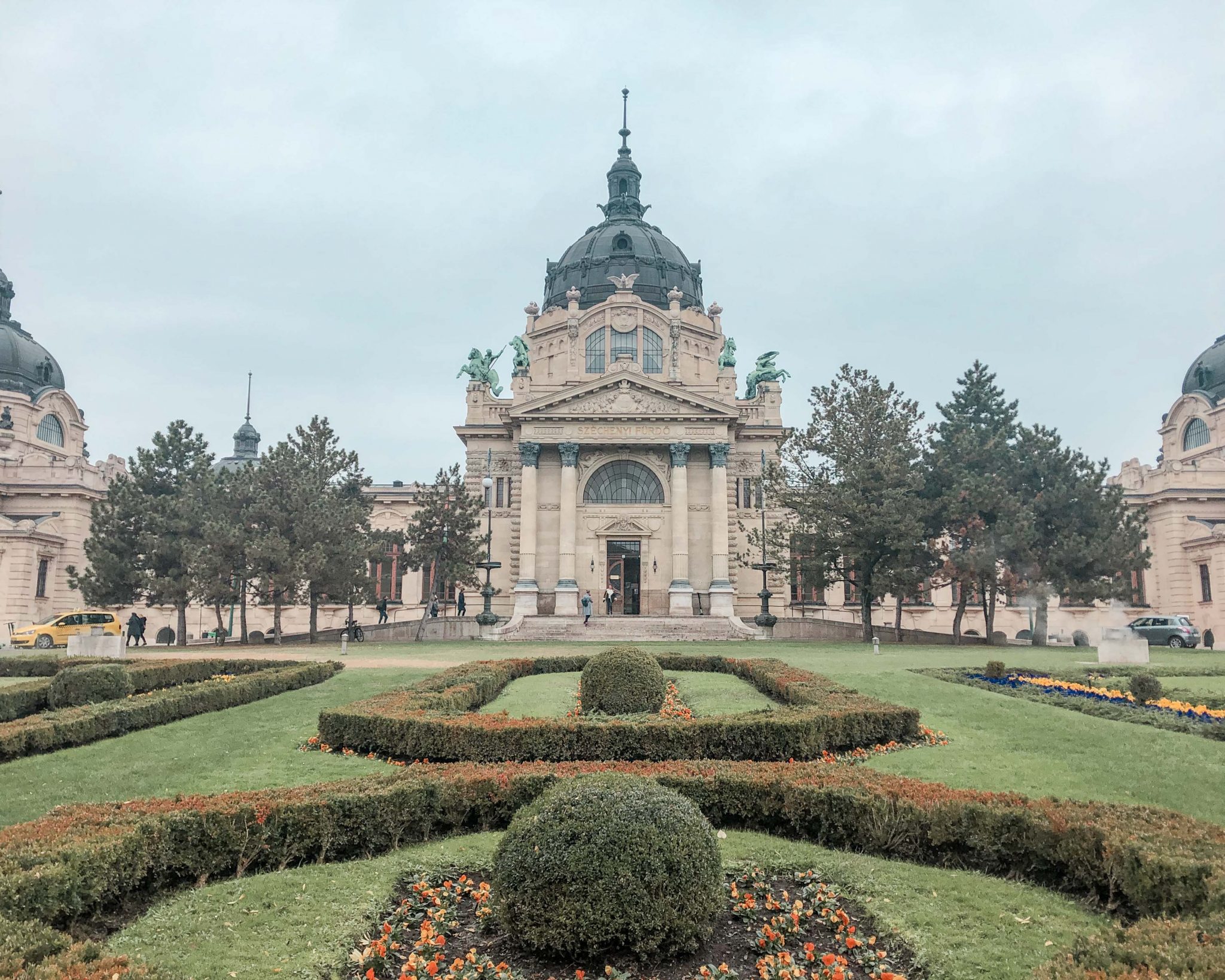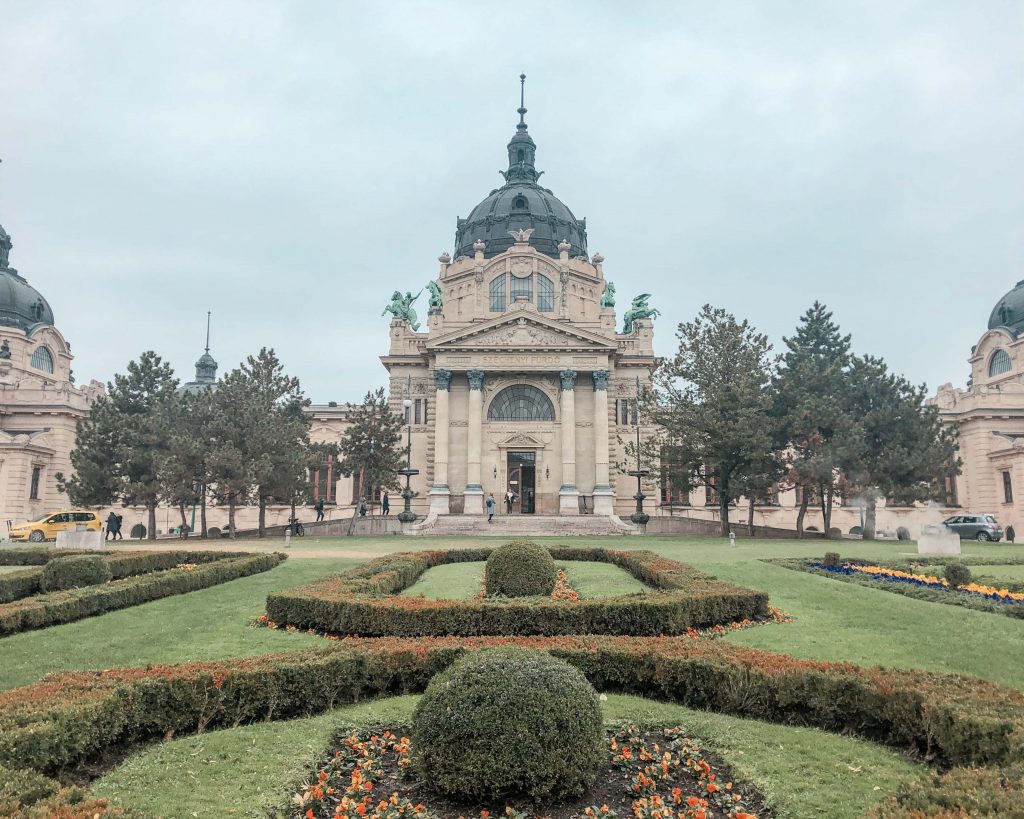 Thermal Baths
Budapest is world-renowned for its thermal baths, and a visit to the city would not be complete without experiencing one.
The Széchenyi Thermal Bath, located in the city park, is the most popular and largest of its kind in Europe.
For a less crowded experience, try the lesser-known Király Thermal Bath provides a peaceful retreat that dates back to the Ottoman era.
Whichever you choose, thermal baths in Budapest provide relaxation and rejuvenation, a perfect antidote to a day of sightseeing.
Shoes on the Danube
When visiting a new place it is important to pay your respect to the destination's past. The Shoes on the Danube is a sad memorial tribute to the Hungarian Jews who were forced to take off their shoes before being shot into the Danube during World War II.
The memorial features 60 pairs of iron shoes scattered along the river's edge, symbolising the shoes left behind by the victims.
The site is a sombre reflection of Budapest's tragic history during the war, leaving a deep impact on visitors.
A walk along the Danube to this historical site is a humbling experience that will make your visit to Budapest more meaningful.
Central Market Hall
A foodie's heaven, brimming with stalls selling a variety of goods – from fresh produce, meats, and cheeses, to traditional Hungarian pastries and spices.
The second floor offers an array of souvenirs that make perfect mementoes or gifts.
This vibrant marketplace provides an authentic window into Hungarian culture and cuisine, making it a must-stop on your Budapest itinerary.
Don't miss the opportunity to taste local specialities like goulash or lángos while you're there.
The Ruin Bars
The Ruin Bars in Budapest are a unique and unforgettable feature of the city's nightlife. These bars are set in the ruins of abandoned buildings, stores, or lots and are known for their eclectic and bohemian vibe.
Each one offers a different experience, so you can choose based on your preference. I know we already discussed them but here are a reminder of some of my favourites.
Szimpla Kert, the original ruin bar, is filled with quirky décor and a lively atmosphere.
Instant and Fogasház have been merged into a massive party complex with multiple dance floors playing different music genres.
Mazel Tov offers a more laid-back setting with its Middle-Eastern cuisine and live music.
Boat Tours on the Danube
Seeing Budapest from the waterfront is an experience you will not regret, especially at night.
Boat Tours on the Danube offer breathtaking views of the city's iconic landmarks, including the grand Parliament building, the scenic Buda Castle, and the historic Chain Bridge, all beautifully lit up in the evening.
Some tours also provide dining options, allowing you to savour delicious Hungarian cuisine while navigating the serene waters.
Or, party the night away with your favourite beverage in hand.
Caving Tours
Caving Tours in Budapest offers an exciting adventure for those seeking something out of the ordinary.
Beneath the city lies a vast network of caves, formed by the thermal waters that Budapest is famous for. Palvolgyi-Matyashegyi cave system is the most extensive in the city, providing a thrilling exploration opportunity for both beginners and seasoned spelunkers.
On these tours, you can crawl, climb, and scramble through narrow passages and vast caverns, all under the guidance of expert cavers.
It's a unique way to discover a different side of Budapest and a must-do for adventure seekers.
Walk the Chain Bridge
Walking across the Chain Bridge is another unmissable experience in Budapest. As the first bridge to connect Buda and Pest, the two parts of the city, it holds significant historical importance.
A stroll across the bridge offers an awe-inspiring view of the Danube, especially at sunset, and provides a perfect vantage point for photographing the city skyline.
Where to stay in Budapest
When it comes to accommodation options in Budapest, there's something for every budget:
Budget Option – Wombat's CITY Hostels: For budget travellers, Wombat's CITY Hostels is an excellent choice. Known for its clean rooms and social atmosphere, it's a popular choice amongst backpackers. It's also conveniently located, making it easy to explore the city. It's one of my favourite hostel stays in Europe.
Mid-Range Option – Casati Budapest Hotel: For a mid-range budget, consider Casati Budapest Hotel. This boutique hotel is situated in the city centre, close to major attractions. The rooms are comfortable and the hotel offers services like a gym and sauna.
High-End Option – Aria Hotel Budapest: If you're looking for luxury, Aria Hotel Budapest is a top choice. This 5-star hotel offers plush rooms, a rooftop bar with city views, an indoor pool and an on-site restaurant. The hotel's location in the heart of the city means you're just a short walk away from the city's main attractions.
Is Budapest a good place to visit?
All in all, Budapest is 110% worth the visit. Whether you're a history enthusiast, a foodie, a nightlife lover, or a budget backpacker, the city has something for everyone. Its rich heritage combined with its modern, vibrant culture makes it an irresistible destination for any traveller.
So, pack your bags, book your tickets, and get ready to immerse yourself in the magic of Budapest.