Is Budapest Cheap? (A 2023 Cost Breakdown)
So, you're planning a trip to the stunning capital of Hungary, but you have one question before you commit and book your flight. 'Is Budapest Cheap to Visit?'. Well, in this post we are going to break it down.
Let's take a look at just how much a trip to Budapest costs, from accommodation and food to transportation and sightseeing. This guide will be your one-stop shop for all things costs related.
I have also provided a table of just how much I spent on my recent trip to Budapest.
Section 1: Budget for Budapest Accommodation
Accommodation plays a big role in any travel budget and Budapest is no different. However, the beauty of this city is that it caters to everyone – from backpackers on a shoestring budget to luxury seekers who want nothing but the best.
Let's dive in and see what to expect when it comes to the cost of accommodation in Budapest. Whether you're seeking a hostel dormitory or a 5-star suite.
Average Cost of Accommodation in Budapest
Luxury Travel: Those looking for a splash of luxury can expect to pay around € 250+ per night at a 5-star hotel.
Mid-Range Hotel: If you're looking for something a bit more comfortable, the average cost of a mid-range hotel is around €100-€150 per night.
Budget Hotel: For those on a budget, there are plenty of budget hotels available for around €50-€80 per night but sometimes these tend to be further away from major attractions.
Hostels: Hostels are the most budget-friendly option, with prices ranging from €25 to €45 per night for a dormitory bed. Private rooms in hostels will cost you around €50-65 per night.
Cheap Accommodation in Budapest
If you're on the hunt for pocket-friendly accommodations, Budapest won't disappoint. Here are a few options that are not only affordable but also come highly recommended by past guests.
Wombats Hostel: Located in the heart of Budapest, this hostel offers both dormitory and private rooms at affordable prices. It also has a bar and communal areas for socializing. I have stayed here twice and loved it both times.
Marco Polo Top Hostel: Known for its friendly staff and clean facilities, Marco Polo Top Hostel is another great choice for budget-conscious travellers. A night here will set you back about €15 (off-season) and €40 (peak season).
Ibis Budapest City: If you prefer a hotel over a hostel, Ibis Budapest City is worth considering. It's a budget hotel that doesn't compromise on comfort. The average cost per night is around €75-100.
Remember, prices may vary depending on the season and availability. Always book in advance to secure the best rates!
Tips on Finding Cheap Place to Stay in Budapest
Book in Advance: Accommodation prices in Budapest can skyrocket during peak tourist seasons. To ensure you get the best deal, try to plan your trip and book your stay well in advance.
Compare Prices: Use online comparison sites to check the prices of different hostels, hotels, and apartments. Sites like Booking.com, Expedia, and Airbnb can help you find the best deals.
Consider Location: Staying in the city centre may be more expensive, however, staying further outside the city isn't always cheaper. Consider the cost of transportation to and from your accommodations before booking.
Look for Package Deals: Sometimes, travel agencies offer package deals that include accommodation, meals, and excursions. These can often work out cheaper than booking everything separately. Check out companies such as lastminute.com and Travelocity for package deals.
Be Flexible: If you have a flexible schedule, consider travelling during off-peak seasons to save on accommodation costs. You'll also avoid the crowds and enjoy a more authentic experience
Stay in Hostels: Hostels are a great option for budget travellers, offering dormitory-style rooms and communal spaces for socializing. They can be found all over Budapest with prices starting at around €30 per night. Check out my guide on the top hostels in Europe for some inspiration.
This post may contain affiliate links which means we make a commission at no extra cost to you
Section 2: Budapest Food and Drink Prices
The next thing you need to consider when determining your Budget for Budapest is the cost of food and drink. Budapest is known for its mouth-watering national dishes, energetic boat party's and famous ruin bars. So, it is safe to say food and drink are a highlight of any Budapest Itinerary.
How much is a meal in Budapest?
Breakfast: In Budapest, a typical breakfast at a local café would cost around 1,000-1,500 HUF (€2.5/3), which includes pastries, eggs, coffee, or tea.
Lunch: In a local eatery or bistro where a soup, main course, and a drink would cost somewhere between 1,500-3,000 HUF (€3-5). If you opt for a more high-end restaurant, expect to pay around 5,000-7,000 HUF (€15-20).
Dinner: This is usually the most expensive meal of the day. In a local restaurant, you can expect to spend around 3,000-5,000 HUF (€8-15) for a main course. However, in fancier restaurants, prices can go up to 10,000-12,000 HUF (€25-30) per dish.
Street Food: If you are looking to keep costs down then why not check out Budapest's incredible street food scene? You can find bites for as cheap as 500-1,000 HUF (€1.5-3). They usually have a range of food, from delicious Hungarian sausages to langos (deep-fried flatbread). If you're looking for something a little heavier then expect to pay slightly more.
Budapest Beer Prices
Budapest is a city that loves its beer, and you'll be able to find a pint to quench your thirst without breaking the bank.
Local Beer: If you're in one of the city's many bars or pubs, a pint of local beer, such as Dreher or Borsodi, will usually set you back around 500-600 HUF (€1.5-2).
Imported Beer: For international beer enthusiasts, imported beers are slightly more expensive, somewhere in the range of 800-1,000 HUF (€2.5-3).
Craft Beer: Budapest also has a burgeoning craft beer scene. Expect to pay anywhere from 1,000-1,500 HUF (€3-5) for these artisanal brews.
All these prices are only estimates
Where to Find Traditional Hungarian Dishes
If you're in Budapest and looking to try some traditional Hungarian dishes, you're in luck. The city is teeming with restaurants that serve authentic local cuisine.
Langos: This deep-fried flatbread is best enjoyed at local street food markets. Check out Karavan Street Food, located in the Jewish Quarter, for some of the best Langos in town. This typically costs around 500-800 HUF (€1.5-2.5), depending on the toppings.
Goulash: This hearty stew is a staple of Hungarian cuisine. Most traditional Hungarian restaurants will have it on their menu, but for an exceptional experience, visit 'Getto Gulyas' in the 7th district. Expect to pay 1,500-2,500 HUF (€4.5-7.5) for Goulash.
Dobos Torte: For dessert, make your way to 'Auguszt Cukrászda', a historic pastry shop in Budapest, to try Dobos Torte, a Hungarian sponge cake layered with chocolate buttercream and topped with caramel. Dobos range from 500-1,000 HUF (€1.5-3) each.
Section 3: Transport Prices in Budapest
Another element you need to consider when determining if Budapest is cheap enough for you Budget in the cost of transportation. Budapest has a fantastic transport system, with a variety of options to choose from including busses, trams and taxis.
Here's a brief overview of the current prices (at the time of writing):
Single Ticket: This costs 450 HUF, which roughly translates to about €1.30.
30-Minute Ticket: If you're planning to use multiple modes of transport in a short period this could be a good option, costing 530 HUF or approximately €1.6.
60-Minute Ticket: For longer journeys, the 60-minute ticket might be more economical at 750 HUF, equal to around €2.2.
They also have multi travel day options, you can check the prices out here but in my opinion you will not need it as Budapest is an extremely walkable city. The only time I used public transport was taking part in my caving tour and visiting the Zugliget Chairlift (one of my favourite hidden gems).
Are Taxi's Cheap in Budapest?
Ok, so what happens when you are in a rush? You frantically need to get somewhere while in Budapest but don't want to break the bank. Well, I have some good news for you, while Budapest does not have Uber, their taxi service tends to be rather affordable.
All taxi drivers need to have a license and are regulated by the government. The base fare when entering a taxi is 1000HUF (2.90€), with an additional 400HUF (€1.15) charged per kilometre. They also charge a waiting rate of 100HUF(€0.30) per minute.
If you decide to get a taxi from the Airport expect to pay around 9000HUF (€25), depending on traffic conditions and the exact location of your destination.
Tips on keeping transportation cheap in Budapest
To keep your travel expenses low in Budapest, consider utilizing the local bike-sharing system, known as MOL Bubi. It's an affordable and eco-friendly alternative to taxis or public transportation.
For short trips around the city centre, the first 30 minutes of each ride are free. After that, small fees apply, making it still a cost-effective solution for longer journeys.
Lastly, walking is not only free, but it also allows you to truly soak in the city's charm and discover hidden gems you might miss otherwise.
Budapest is an extremely walkable city, yes your step count may be high and your feet may be sore at the end of the day but the memories and experiences you will gain are priceless. Plus, it's a great way to burn off all of that delicious Hungarian food you'll be indulging in.
Section 4: Average Prices in Budapest for Attractions & Activities
Visiting Budapest is not just about exploring the city, but also about immersing yourself in its rich culture through the various attractions and activities it offers. Below is a list of some of the cities main paid attractions and their cost.
Szechenyi Baths: This beautiful thermal bath complex is one of the largest in Europe and a must-visit when in Budapest. The entrance fee varies depending on which package you choose, with the basic ticket costing around 5600HUF (€16) for weekdays and 5800HUF (€17) for weekends.
Parliament Building Tour: The iconic Parliament building is a popular tourist spot, and for good reason. The guided tour costs around 5000HUF (approximately €16) for EU citizens and 10000HUF (approximately €32) for non-EU citizens.
Danube River Cruise: A great way to see the city from a different perspective, a Danube river cruise can cost anywhere between 2000HUF (€6) for a basic one-hour tour to 7900HUF (€23) or more for a luxury dinner cruise.
List of 11 Cheap Things to Do in Budapest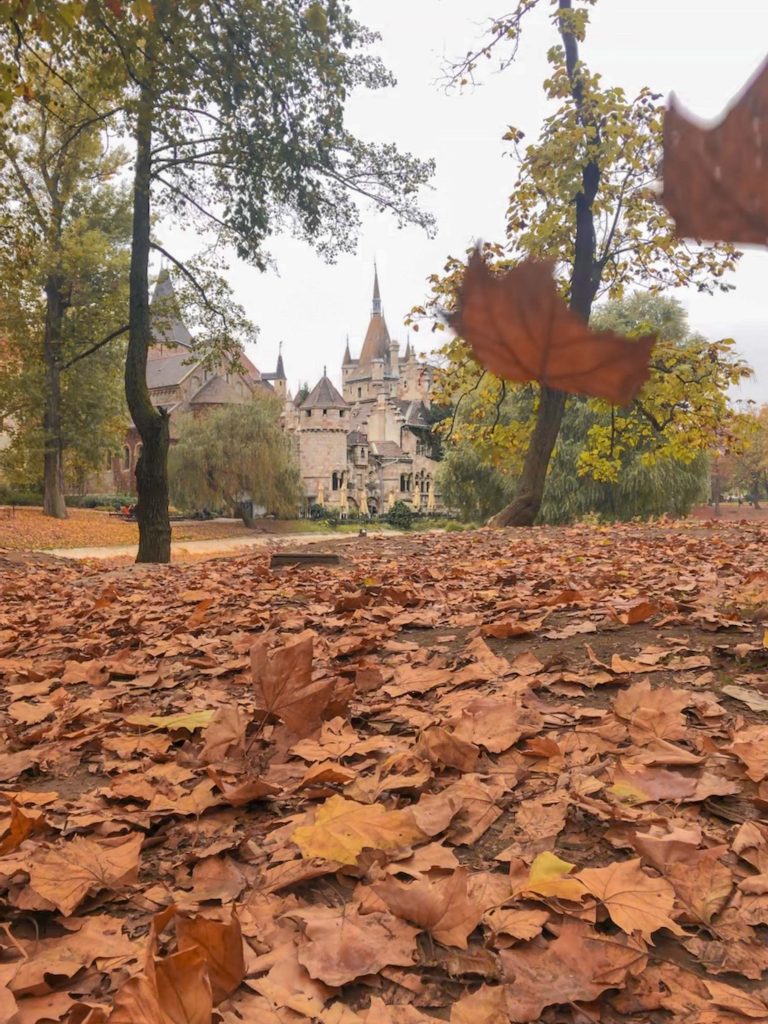 1. Budapest City Park: 
The Budapest City Park is a haven for budget travellers. If you are looking for a tranquil green space to explore, then this is the perfect spot for you. Take some time to admire the beauty of Vajdahunyad Castle, or take a leisurely stroll around the picturesque lake, or just take a minute to yourself to relax.
For those planning a trip to Budapest in the winter months, you may be lucky enough to witness the frozen lake and stunning scenery.
The famous Szechenyi Thermal Bath are also located in the park, and while they do cost to visit, they are rather affordable for a spa experience. Also, they are a MUST when visiting Budapest for the first time.
---
2. Discover Gellért Hill: 
If you're up for a little more adventure, put on your comfy shoes and head towards Gellért Hill. While it does require a bit of a hike, believe me, the views from atop are worth every step. You won't have to spend a dime relish in the panoramic view of Budapest's stunning skyline, the winding Danube, and the city's remarkable architectural marvels. If you're lucky, you might even catch a glorious sunset painting the city in golden hues.
Moreover, tucked beneath the hill, you'll find the historic Gellért Hill Cave Church which has witnessed the tumultuous past of the city. And did I mention the grandeur of the Liberty Statue that stands tall at the top, symbolizing freedom and offering a constant reminder of Hungary's tumultuous past?
---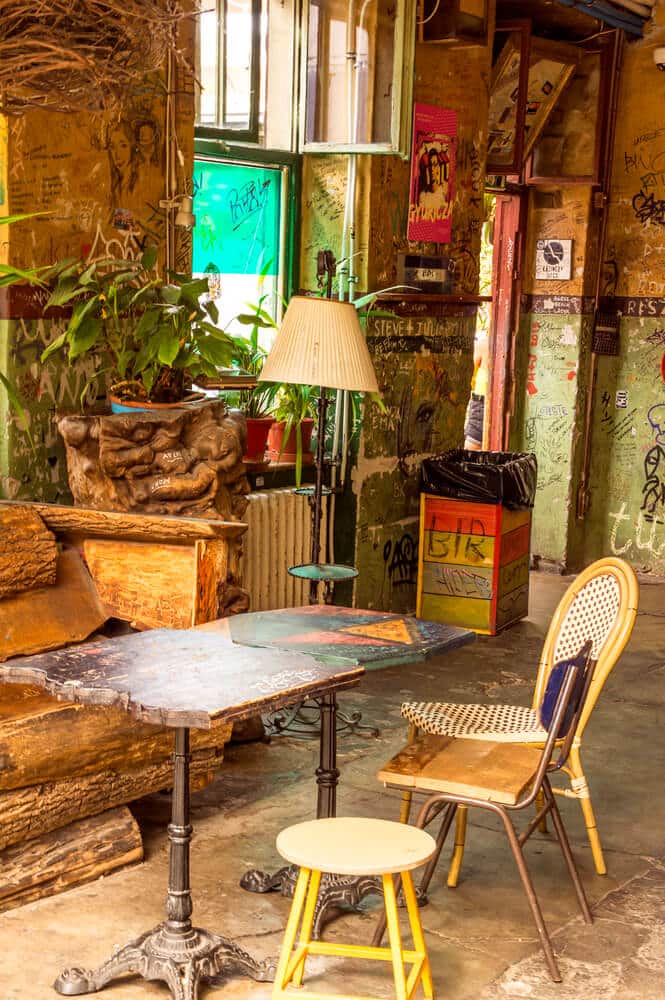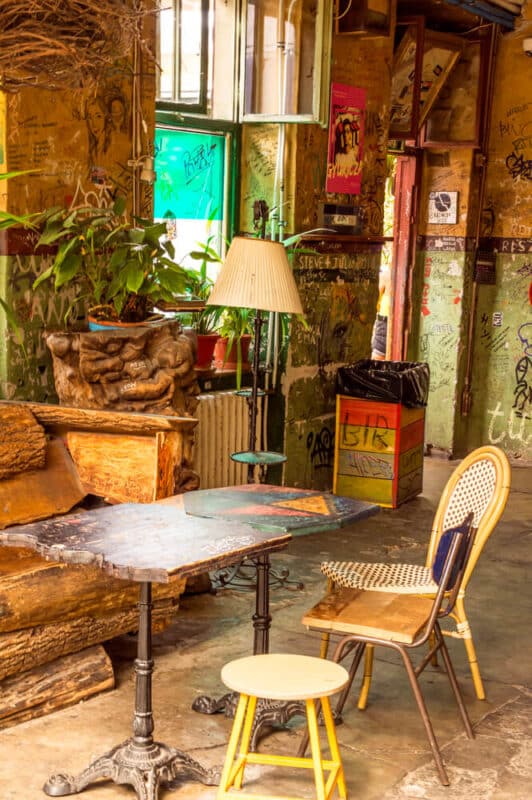 3. Explore the Ruin Bars: 
Even if you're travelling on a budget, Budapest's famous ruin bars are an experience you won't want to miss. These are some of the most famous aspects of the city. A truly unique pub experience, featuring abandoned buildings, factories, or warehouses.
It is no wonder travellers from all over the world keep on coming back. Budapest's nightlife is one of the best in Europe.
From chill vibes during the day to lively DJ sets at night, there's always something happening. And the best part? The prices are surprisingly pocket-friendly.
Whether you're ordering local beers, and wines, or trying out the traditional Hungarian Palinka, these ruin bars will add a spark to your Budapest adventure without burning a hole in your wallet.
---
4. Discover Budapest's Street Art:
If you're a traveller on a budget, Budapest's colourful street art is another must-do that won't cost a dime. Take some time to walk around the city's districts, admiring some of the talented work displayed by famous street artists. Each tells a unique story about the city's history, culture, and the local's way of life.
These wall murals quite literally turn the city into an open-air museum, one of my favourite things about this activity is you can explore at your own pace.
Keep an eye out for the rubrics cube, my favourite mural in Budapest.
---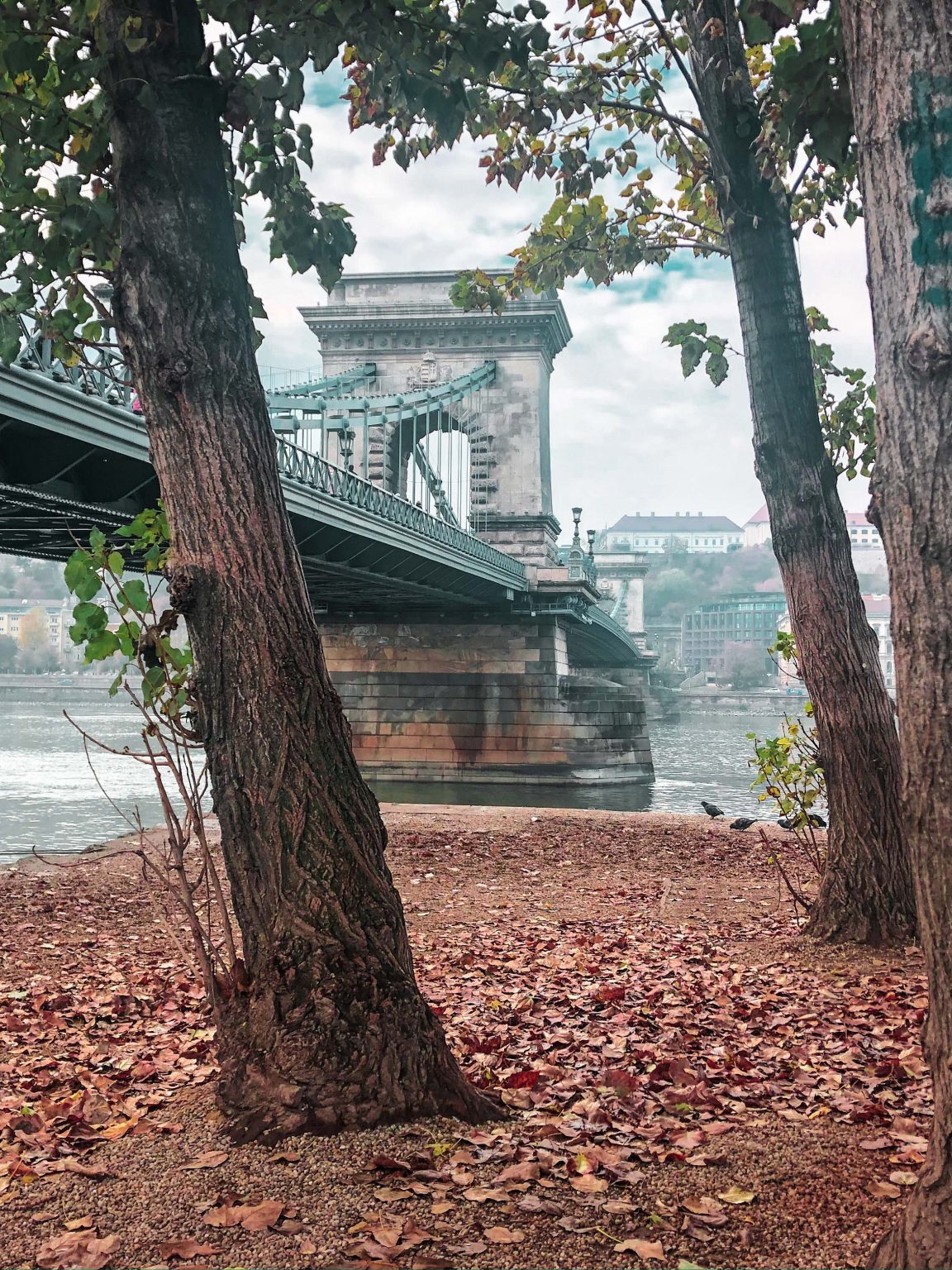 5. Take a Stroll Along the Danube:
For those travelling on a budget, a walk along the iconic Danube River presents an unbeatable opportunity to soak in the beauty of Budapest. This isn't just a leisurely stroll; it's a journey through the city's historical heart, and guess what? It's absolutely free.
As you walk, you'll marvel at the sight of the majestic Hungarian Parliament Building, an architectural masterpiece that stands proudly on the river's bank. A bit further, you'll come across the symbolic Chain Bridge, a testament of Budapest's resilience and progress.
Not to forget, the captivating Buda Castle sitting on the higher bank, offering magnificent views if you're up for a little climb. One of the most meaningful landmarks in Budapest also lies on the banks of the Danube, the Shoes on the Danube is a memorial for the lives lost in the war.
---
6. Explore Margaret Island: 
Next on our no-cost journey is the tranquil oasis of Margaret Island, right in the heart of the bustling city. Surrounded by the gentle flow of the Danube, this island offers a peaceful retreat – a place to unwind amidst nature, without reaching for your wallet.
The island's vast parkland is dotted with stunning flower gardens, enchanting musical fountains, and even some surprising wildlife. If you're up for a leisurely stroll, the island's 5.3-kilometre rubber-coated jogging track is perfect.
Or maybe you're in the mood for some history? Venture towards the ruins of a 13th-century Dominican convent and marvel at the island's ancient past.
As the day fades away, the rhythm of the island changes, the light softens and you might find yourself experiencing one of the most serene sunsets of your life – right in the midpoint of the Danube.
---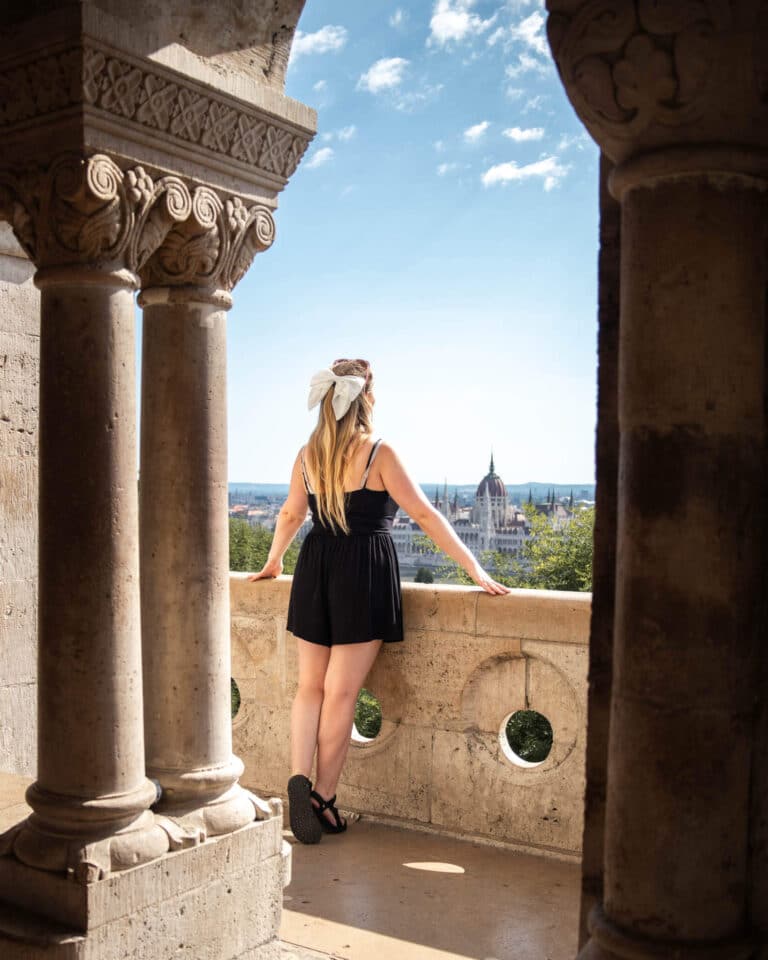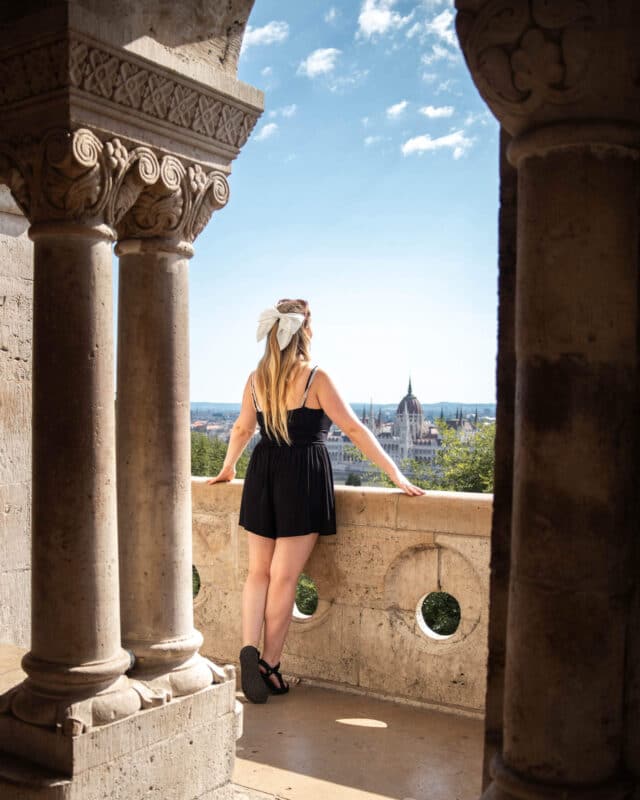 7. Uncover the Charm of the Castle District:
The next stop in our cost-free adventure is the enchanting Castle District. Picture this – cobblestone streets lined with quaint houses, showcasing hues of pastel colours, and rich history etched in every corner. It's like stepping into a fairy tale, and guess what? It's absolutely free to explore!
As you wander through the narrow streets, you'll find yourself beneath the magnificent Buda Castle, a UNESCO World Heritage site that reigns supreme over the city. The architectural brilliance of the castle blends harmoniously with the panoramic city views, creating a sight that remains etched in memory.
Don't forget to stroll down to the Matthias Church & Fisherman Batsion with its striking gothic architecture, telling tales of the past.
---
8. Free Walking Tours – A Budget Traveler's Best Friend:
If you're travelling on a budget, free walking tours are a fantastic option. They are a fantastic way to explore the city without having to eat too much into your budget.
Generally, the tours are led by locals who are passionate about their city and history, offering insights you won't find in guidebooks.
It is also a great way of getting a feel for the city on the first day you arrive. Test out where you would like to explore more.
---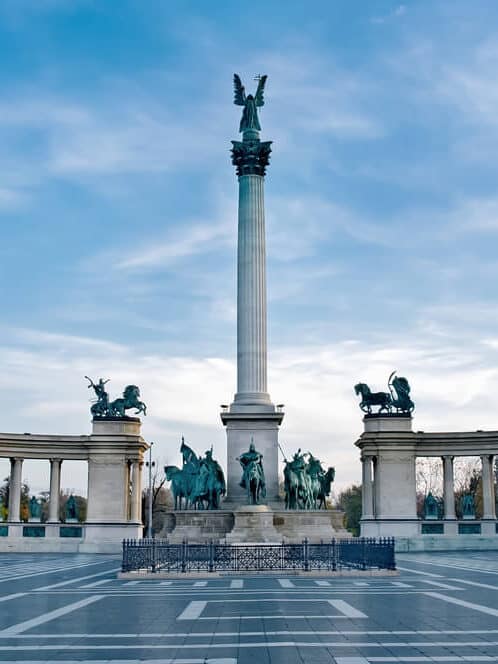 9. Discover Heroes' Square:
I couldn't leave out the wonderful Heroes' Square. Imagine this – you're standing in one of Budapest's largest squares, surrounded by iconic statues depicting the Seven Chieftains of the Magyars and other important national leaders.
Just like in the Castle District, you'll be struck by the sheer beauty of the place.
The square is also home to the Museum of Fine Arts and the Palace of Arts, so if you were looking for an extra activity these are great options,  But it's not just about the buildings and statues here. 
The Square itself is a symbol of the country's pride in its history and the heroes of Hungary's past. 
---
10. Snap a Picture at the Chain Bridge:
Just wait until you see the Chain Bridge! This iconic suspension bridge is a must-visit spot in Budapest, especially for the camera-happy among us.
Connecting the sides of Buda and Pest across the River Danube, the bridge offers breathtaking views of the cityscape.
Its majestic stone lions and stunning architecture make it an ideal backdrop for your travel photos.
Plus, at night, the illuminated bridge against the dark river is just uber-romantic. Whether you're a photography enthusiast or just love capturing memories, the Chain Bridge is a spot you'll definitely want to hit.
---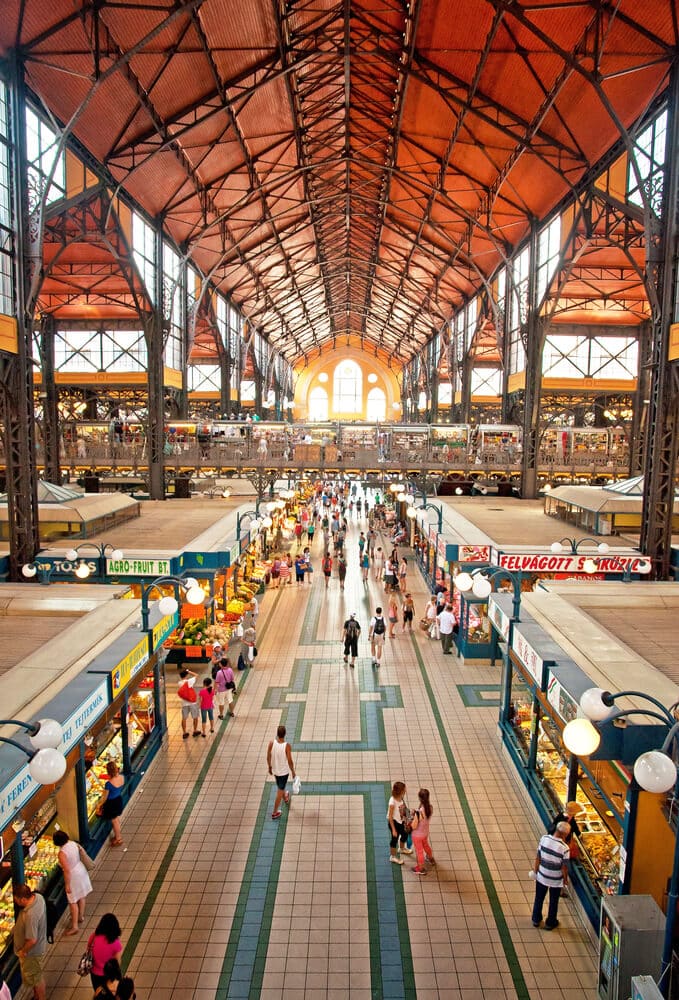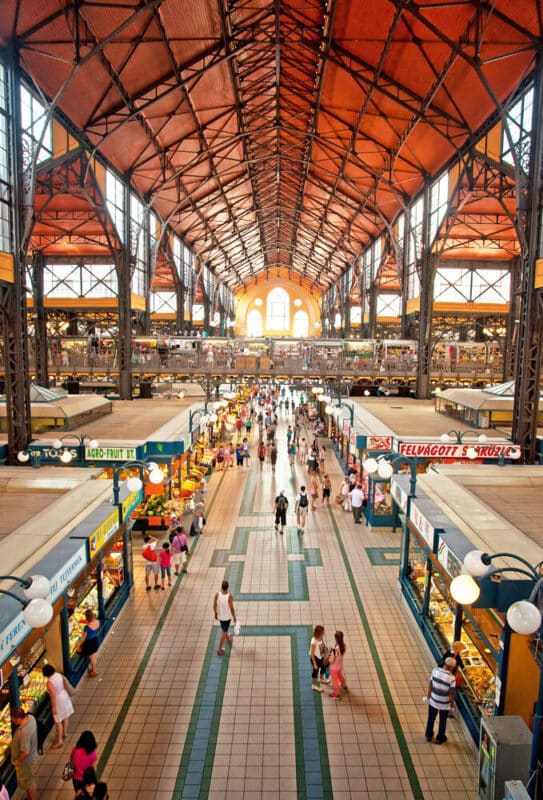 11. Visit the Central Market Hall: 
The Central Market Hall is a paradise for savvy travellers looking to experience Budapest's vibrant culture without overspending. 
Here you can find an array of local goods, from fresh produce, and traditional Hungarian spices to artisan crafts and souvenirs. It's a great spot to pick something up for loved ones out have to break the bank
Foodies will particularly love the opportunity to sample authentic local cuisine at extremely affordable prices.
Whether you're picking up ingredients for a picnic in the City Park or hunting for unique, budget-friendly keepsakes, the Central Market Hall offers an authentic slice of Budapest life that won't strain your wallet.
---
Section 5: The Breakdown of My Budapest Trip Cost
I spent 4 months backpacking across Europe and took careful note of how much I spent on the trip so I could report back with a budget for each destination. Below is my exact spending while in Budapest for 5 days. It is important to note, I didn't do too many paid activities as this was my 4th time in the city and I cooked most of my own meals. So, if you do intend on visiting you may need to increase your budget according to your spending habits.
Hostel Stay (4 Nights): €84
Food: €79
Alcohol: €26.31
Activities (Just the chair lift): €10.12
Transport: €39.62
Total: €239 (€48 a day)
Section 6: Why is Budapest so Cheap?
Budapest is often considered a budget-friendly destination due to a number of factors.
The cost of living and the value of the local currency, the Hungarian Forint, compared to popular currencies like the Euro or US Dollar, makes it more affordable for tourists.
Moreover, the local economy is designed to accommodate a wide range of income levels, creating a substantial number of options that cater to budget travellers.
Whether it's the cost of food, accommodation, or tourist activities, you're likely to find that your money goes a lot further in Budapest than in many other European capitals.
But with that being said, while Budapest may seem affordable to tourists, that is not always the reality for locals. The average salary in Hungary is significantly lower than in other European countries, making it difficult for locals to afford the same luxuries and experiences that tourists may enjoy at a fraction of the cost.
Section 7: Tips for Visiting Budapest Cheap
If you're planning on visiting Budapest and want to stay within a tight budget, here are some tips to help you save money!
Consider Public Transport: Budapest's public transport system is efficient and affordable, reducing the need for taxis. You can travel by metro, tram, or bus to reach most parts of the city.
Eat at Local Markets: Local markets, like the Central Market Hall, offer a variety of fresh and inexpensive Hungarian dishes.
Free Walking Tours: There are several free walking tours that provide an excellent overview of the city's history and culture. Remember to tip your guide according to your budget!
Take Advantage of Free Attractions: Budapest has many free attractions, such as parks and historical monuments, that can be enjoyed without spending a penny.
Visit in the Off-Season: Budapest experiences peak tourist seasons during the summer and Christmas holidays, resulting in higher prices. Consider visiting during the off-season to get better deals on accommodation and activities.
Stay in Hostels: Hostels are a budget-friendly option for accommodation, especially for solo travellers. They also offer a great opportunity to meet other travellers and share tips on how to save money.
Use Discount Cards: Many cities offer discount cards that provide discounted or free entry to popular tourist attractions and transport options. Check if Budapest has a similar option before you arrive.
Bring a Reusable Water Bottle: Instead of constantly buying bottled water, bring a reusable water bottle and fill it up at public drinking fountains found throughout the city.
Section 9: Cost of Flights to Budapest
So, you've decided to take a trip to the beautiful city of Budapest. You've planned your itinerary and figured out how to do it all on a budget. But, one vital piece of the puzzle remains, and that's your flight. The cost of flights will vary depending on when and where you're booking from. But don't worry, I've compiled some estimates to give you a general idea of what to expect.
From New York City, USA: You can find round-trip flights ranging from $450 to $750.
From London, UK: Prices for round-trip fares generally fall in the range of £50 to £200.
From Sydney, Australia: Expect to pay between AUD 1,000 and AUD 1,500 for a round-trip ticket.
From Tokyo, Japan: Round-trip flights usually cost between ¥60,000 and ¥120,000.
From Johannesburg, South Africa: You can get a round-trip ticket for between ZAR 7,000 and ZAR 12,000.
Of course, these are all estimates, for finding the best flight deals I recommend using skyscanner and be flexible with your dates.
Section 8: Is Budapest Cheaper than Other European Cities
Yes, Budapest is generally cheaper than many other European cities. While it's true that prices have been steadily climbing over the years, especially in the more touristy areas, you can still find plenty of good deals.
The cost of living in Hungary is still relatively low, which means you can enjoy local meals, public transportation, and accommodation for less than what you'd pay in cities such as Dublin or Paris.
That said, it's always a good idea to budget wisely and keep an eye out for discounts and deals to maximize your savings.
Section 9: Budapest Cheap FAQ
How expensive is Budapest?
Budapest is quite affordable when compared to other European cities. On average, you can expect to spend around 15000 HUF (Hungarian Forint) per day, which includes meals, transportation, and sightseeing.
If you opt for budget-friendly options, you could manage to bring down your daily costs even further.
However, it's also possible to indulge in more luxurious experiences, which will naturally incure a higher cost. At the end of the day it all comes down to your spending habits.
Can you visit Budapest on a Budget?
Absolutely! Visiting Budapest on a budget is quite feasible and doesn't mean you'll miss out on a memorable experience. The city is abundant with free or low-cost attractions.
You can explore the city's history at the Buda Castle Quarter, stroll along the picturesque Danube promenade, or simply take in the city vibes at one of the numerous parks.
Food and accommodation prices are also considerably lower than in many other European cities. If you plan your trip wisely and are willing to do some cost-saving research, you'll find that Budapest offers great value for the money.
How much will I spend after 2 days in Budapest?
If you're planning to spend two days in Budapest, your expenses will largely depend on your budget and preferences. However, on average, you can expect to spend around 30000 HUF, which includes meals, sightseeing, and transportation. This estimate assumes you're choosing moderately priced restaurants and using public transportation. Remember, this is just an estimate and the actual cost could be less if you're thrifty or more if you prefer luxury. Planning ahead, looking for deals, and being mindful of your spending can help you save money and enjoy your Budapest experience without breaking the bank.
Sure, it's possible to have a budget-friendly trip in Budapest! The city is brimming with affordable and even free attractions. You can delve into Budapest's rich history at the Buda Castle Quarter, wander the scenic Danube promenade, or simply soak in the city's ambience at one of the many parks.
Compared to many other European cities, Budapest offers more affordable food and accommodation options. With careful planning and some cost-saving strategies, you'll discover Budapest is quite a bargain.
How much will I spend after 2 days in Budapest?
The amount of money you'll spend on a two-day trip to Budapest largely depends on your budget and tastes.
But to give you a ballpark figure, you can expect to spend around €200-350, including accommodation, meals, sightseeing, and transportation.
Of course, this comes down to personal spending habits but it is definitely doable for this price.
How much would it cost to spend one week in Budapest?
A week-long stay in Budapest will undoubtedly offer a more immersive experience, allowing you to explore the city's hidden gems at your own pace.
Depending on your budget and personal preferences, the average cost for a week can range from €500 to €1500. This estimate includes accommodation in a budget or mid-range hotel, meals at moderate to high-end restaurants, public transportation, and entrance fees to various attractions.
As you can see, the cost varies greatly as it is nearly impossible to suggest a budget without knowing individual circumstances and travel style.
Should I book a trip to Budapest?
Yes, without a doubt, Budapest is a city that is worth the visit. It is a fun, safe and unique place to explore with an array of things to see and do. You could be busy for days! The city is known for its stunning architecture, delicious food and thermal baths. Whether you're a solo traveller, couple or family, Budapest caters to all types of travellers. And is sure to make lasting memories for those who decide to visit.
Conclusion: Is Budapest Cheap?
In conclusion, Budapest offers a cost-effective travel experience compared to many other European cities. Despite gradual price increases, particularly in tourist hotspots, Budapest continues to offer value for money.
The lower cost of living in Hungary allows for more affordable local eating experiences, public transport, and accommodation than you would typically find in cities like Dublin or Paris.
However, it's important for travelers to budget wisely and be on the lookout for discounts and deals to make the most of their money.
As always, try to walk as much as possible, eat at local restaurants, and be open to exploring beyond the popular tourist spots for a truly budget-friendly experience.