Is there Uber in Budapest? (A 2023 Guide to Getting Around)
Planning a trip to Budapest can be a difficult task. As someone who has fell in love with the Hungarian capital (visiting over 4 times) I often get asked by readers what the most convenient way is to get around. Many people assume that hopping into an Uber is a readily available option when in a rush to go from point A to point B. This, of course, is with Uber's increasing global popularity and expanding presence in major cities. To be honest, I can see where they come to that conclusion. But, is there Uber in Budapest? Let's find out!
The Short Answer: Is Uber in Budapest?
I would love to say yes, Budapest does have Uber and send you on your way to explore the stunning city but unfortunately, it is not that easy. Much like, in Ireland, the popular ride-share service was banned in Budapest in 2016 due to taxi drivers' concerns that it was damaging their workforce.
This has led to great confusion among tourists as many of us have grown to presume that Uber operates in most major cities. However, in Budapest, this is not the case.
Why does Budapest Not Have Uber?
The main reason for Uber being banned in Budapest is due to protests held by traditional taxi drivers in 2016. The feel that their livelihood was at stake and argued that Uber was infringing on their trade, which would lead to unfair competition.
The Hungarian Government sided with the traditional taxi drivers and decided to put a ban on all Uber services but don't worry in this guide we look at alternative transport methods while in Budapest.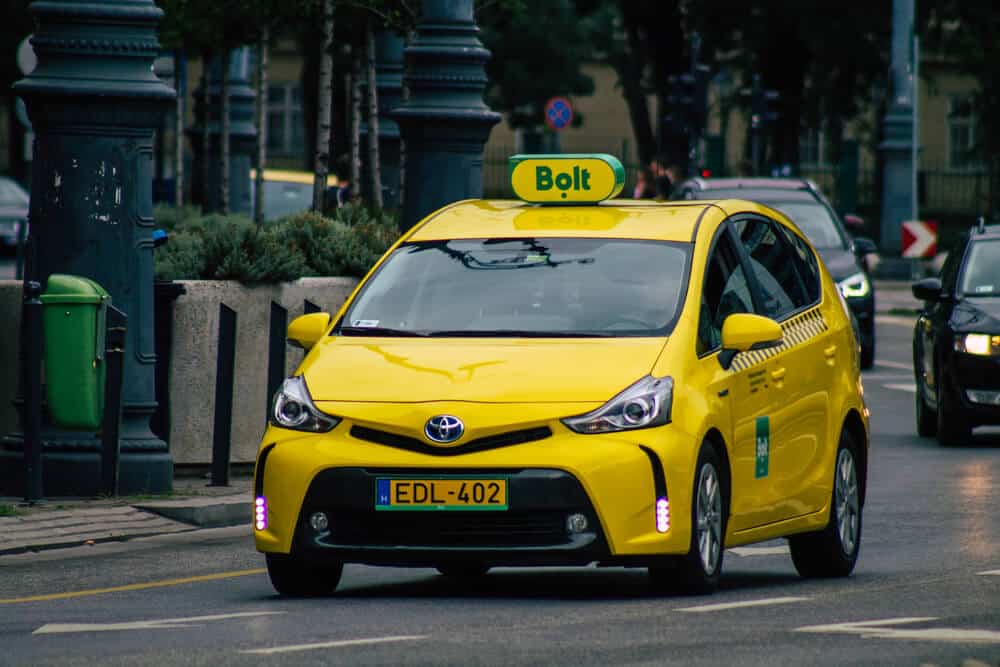 This post may contain affiliate links which means we make a commission at no extra cost to you
Section 1: Taxis in Budapest – FAQ
Welcome to our "Taxis in Budapest – FAQ" section. Here, I aim to answer your most common queries about taxi services in Budapest. My goal is to provide you with a comprehensive guide, shedding light on Budapest's unique taxi scene, and helping you navigate it with ease. Whether you're a local looking for commuting options or a traveller trying to understand the ins and outs of Hungarian transportation, this FAQ is for you. Let's dive in!
Is there an Uber Alternative in Budapest?
Yes, there are several alternative services to Uber that operate in Budapest.
One of the most popular is Bolt (formerly known as Taxify), an Estonian rideshare company that operates in many countries across Europe and Africa. However, it is important to note that Bolt operates a little differently in Budapest. You see, as rideshares were banned altogether in the city, bolt drivers have to be registered taxi drivers.
Additionally, traditional taxi services are readily available throughout the city, with several reputable companies to choose from. For example, Főtaxi and City Taxi are two of the most trusted names in Budapest's taxi industry.
How do you order taxis in Budapest?
Using an app: As mentioned above, the main alternatives to Uber in Budapest is Bolt, Főtaxi and City Taxi, all of which have a designated app that allows you to order a taxi with ease.
I personally, use Bolt when in Budapest, as I like the way they give you an estimated journey cost before getting into the taxi.
By Phone: One of the most common methods is through a phone call to the taxi company. This traditional method is reliable; however, it may require some basic knowledge of Hungarian.
Most taxi companies, such as Főtaxi and City Taxi, also have English-speaking operators, so don't be too concerned about language barriers.
Hail a Taxi: Alternatively, you can hail a taxi directly from the street. However, it's important to note that as per Hungarian law, taxis can only stop in designated areas, so look out for taxi ranks in this circumstance.
Are taxis easy to get in Budapest?
Yes, on my few trips to Budapest, I never had anything difficulty getting a taxi. I always try to order using an app however, I did notice in most places across the city the taxi ranks are full of drivers waiting to pick up passengers. Therefore, I don't think you'll have any problems while visiting.
Are Taxis in Budapest Safe?
Taxis in Budapest are generally safe and reliable. All legitimate taxis are yellow, display the fares clearly, and come equipped with a taximeter.
They follow a regulated fare system, so passengers should not be overcharged. It's always a good practice to ensure that the taxi driver starts the meter at the beginning of the journey.
Also, using taxi services from reputed companies, such as Bolt, Főtaxi, or City Taxi, can add an extra layer of safety and reliability.
However, for extra safety, I would advise you to always remember to check for the taxi's license number and driver's ID, which must be displayed in the car.
I did encounter a taxi scam once while in Budapest, which I will touch on more later on in the post.
How Much are Taxis in Budapest?
Taxi fares in Budapest are officially regulated and are generally affordable. At the time of writing, the base fare when entering a taxi is 1000HUF (2.90€), with an additional 400HUF (€1.15) charged per kilometer. They also charge a waiting rate of 100HUF(€0.30) per minute.
The fare is the same day and night, and there are no extra charges for luggage. However, these prices can change, so it's always a good idea to check the most current rates online or with the taxi driver.
How Much is a Taxi From Budapest Airport to the City Centre?
A taxi ride from Budapest Airport to the city centre typically costs around 9000HUF (€25), depending on traffic conditions and the exact location of your destination.
This fare shouldn't increase too much as all taxis in Budapest are regulated. It's a convenient choice after a tiring flight as taxis are available round the clock outside the terminal. They offer comfortable cars and professional service, with many drivers able to converse in English.
How else can I get from Budapest Airport to the City centre?
Apart from taxis, there are several other ways to get from Budapest Airport to the city centre.
One convenient and budget-friendly option is the airport shuttle service, which offers door-to-door transportation to anywhere in Budapest costing around 3000HUF (€8.60) per person. It's a shared ride with other passengers, so it may take longer than a taxi, but it's a good option for those on a tight budget.
Public transport is also available in the form of buses and trains. The bus route 100E runs from the airport to Deák Ferenc tér, which is the city's central square. The journey takes around 35 minutes and costs 2200HUF (€5.83) per person. This is a very convenient method as you can use you debit cards as a ticket.
Or, you could opt into renting a car for those who prefer the flexibility and freedom to explore at their own pace. There are numerous car rental companies available at Budapest Airport.
Some of the most trusted ones include Avis and Hertz. These providers offer a wide range of vehicles to choose from, meeting the needs of solo travellers, families, and large groups.
It's advisable to book your rental car in advance to ensure availability and potentially secure better rates.
Can you pay by card in Taxi's in Budapest?
Yes, paying by card is generally accepted in taxis in Budapest. Most taxi companies in the city are equipped with card payment machines, allowing passengers to pay conveniently using their debit or credit cards.
However, some taxi drivers may claim to have a 'broken' card machine, which is why I advise asking if they take a card before entering the vehicle.
Do you Tip Taxi Drivers in Budapest?
Tipping taxi drivers in Budapest is not obligatory but is certainly appreciated. A tip of around 10% of the fare is considered a polite gesture for good service.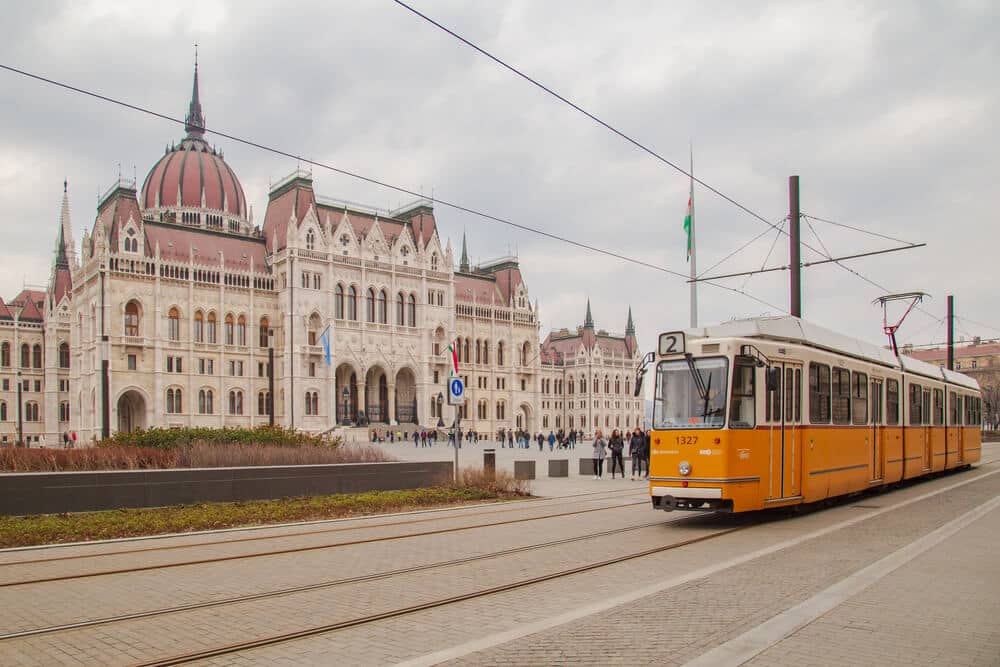 Section 2: Getting Around Budapest Without Uber
Navigating Budapest without the convenience of Uber may initially seem challenging. However, Budapest boasts an excellent transportation system that provides various means to explore this beautiful city.
This section will guide you through the alternative transportation options available in Budapest, ensuring your travel experience remains comfortable and hassle-free.
What is the best way of getting around Budapest?
Public transport, including buses, trams, and metro, is a budget and eco-friendly way of getting around Budapest. They cover a comprehensive part of the city and some suburban areas. You can check out their timetables and fares on their website.
Budapest is also an extremely walkable city, I'd advise walking as many places as possible and building your Budapest Itinerary in a way that allows you to do so.
The use of scooters are becoming increasingly popular in Budapest, you can rent them by downloading the Lime app on your smartphone.
For trains, the Hungarian State Railways (MÁV) operates most services, connecting Budapest with other major towns and cities. All necessary information like schedules, ticket prices, and booking options can be found on their website.
Should I rent a car in Budapest?
Renting a car in Budapest is generally not recommended for tourists. While it offers flexibility, the city's efficient public transport system, coupled with occasionally heavy traffic and difficult parking, makes driving more of a challenge than a convenience.
Moreover, Budapest's historic and compact city center is best explored on foot or by using public transportation. If you do choose to rent a car, ensure you're familiar with the local driving laws and parking regulations to avoid any unwanted fines.
Conclusion to Uber in Budapest
To summarize, while Uber is not present in Budapest, there are plenty of alternatives to help you get around the city. The city's extensive public transportation network is both affordable and efficient.
On the other hand, the walkability of the city makes exploring on foot a delightful experience, it is a wonderful city full of many things to see and do, from its fairytale like buildings to its vibrant nightlife.
Planning on spending a few days in Budapest? Check out my FREE resources to help plan your trip!
Planning a trip to Europe? Here's some post to help with your planning!