4 Day New York Itinerary: Discover NYC's Top Attractions & Hidden Gems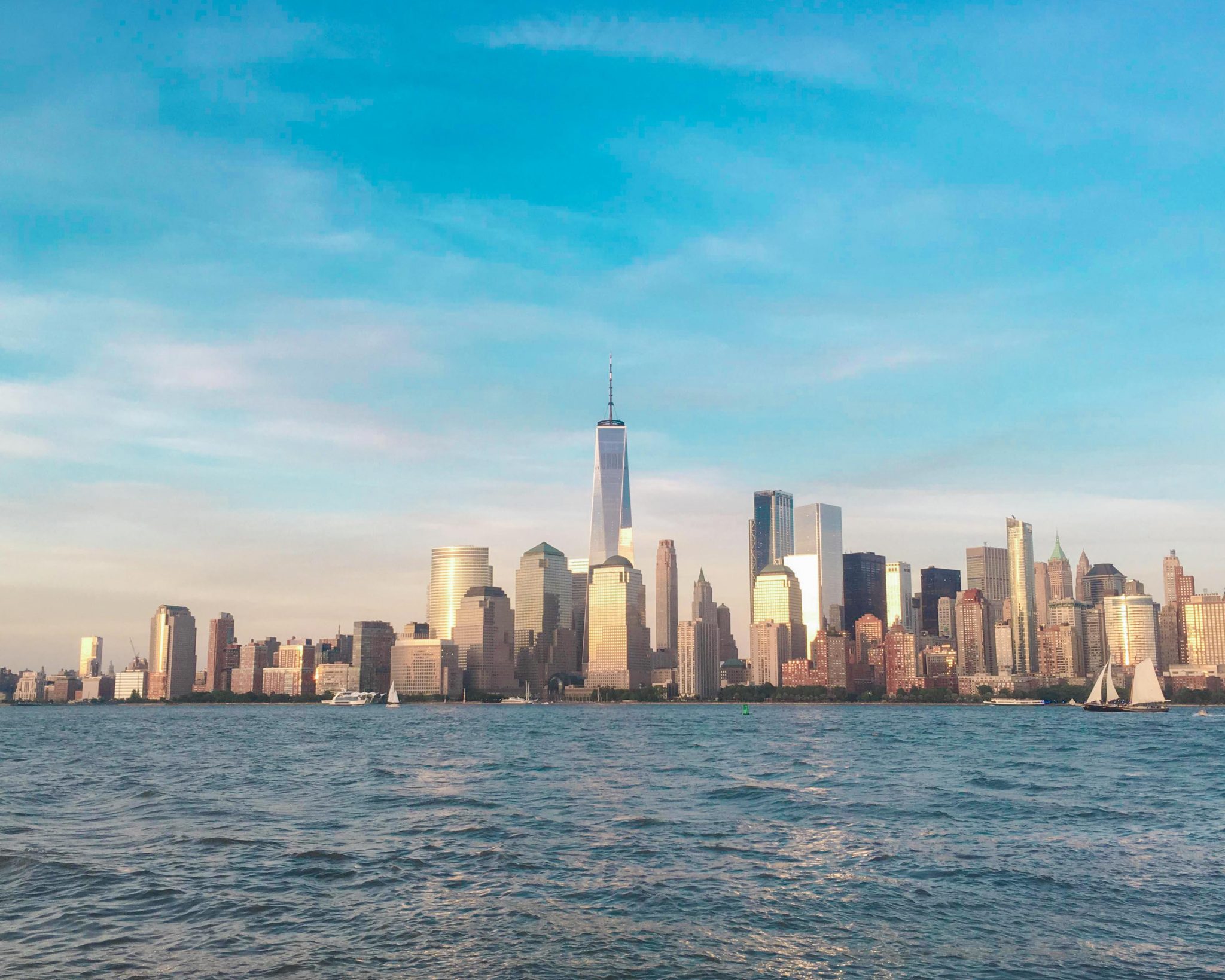 This post may contain affiliate links which means we make a commission at no extra cost to you
4 Day New York Itinerary: Discover NYC's Top Attractions & Hidden Gems
New York is one big city, with over 15 miles in Manhattan alone! Making it rather difficult to navigate around, especially for those on their first visit. That is why I have decided to put together the ultimate 4 day New York Itinerary for those looking for a carefree way to explore the Big Apple.
Who is this itinerary for? Well, Just about anyone looking for insider tips on 4 days in NYC!
Throughout this post, I will feature all of New York's must-see attractions, some tip-top secret hidden gems and some practical tips and advice. We will dive deep into a step by step guide on how to spend each day with a carefully planned out itinerary featuring most attractions that are within walking distance of each other. I have even included a map of each day to allow readers to go on a self-guided tour of New York City hassle-free!
This guide will also give details on solo female travel in New York, Budget Travel (PSST… The only way I know how to travel and first-timers tips and advice. So, if this sounds like the perfect guide for you, stay tuned because we are just about to have a whole lot of virtual fun!
4 Days in New York – Day 1: Mid-Town Manhattan – Iconic Skyscrapers, Scenic Parks & Must-See Attractions
The first day of our 4 days in New York City lets us explore the streets of mid-town Manhattan. From iconic buildings, scenic parks and NYC Must-See Attractions. So, start packing your walking shoes because after reading this guide you'll be running for the airport.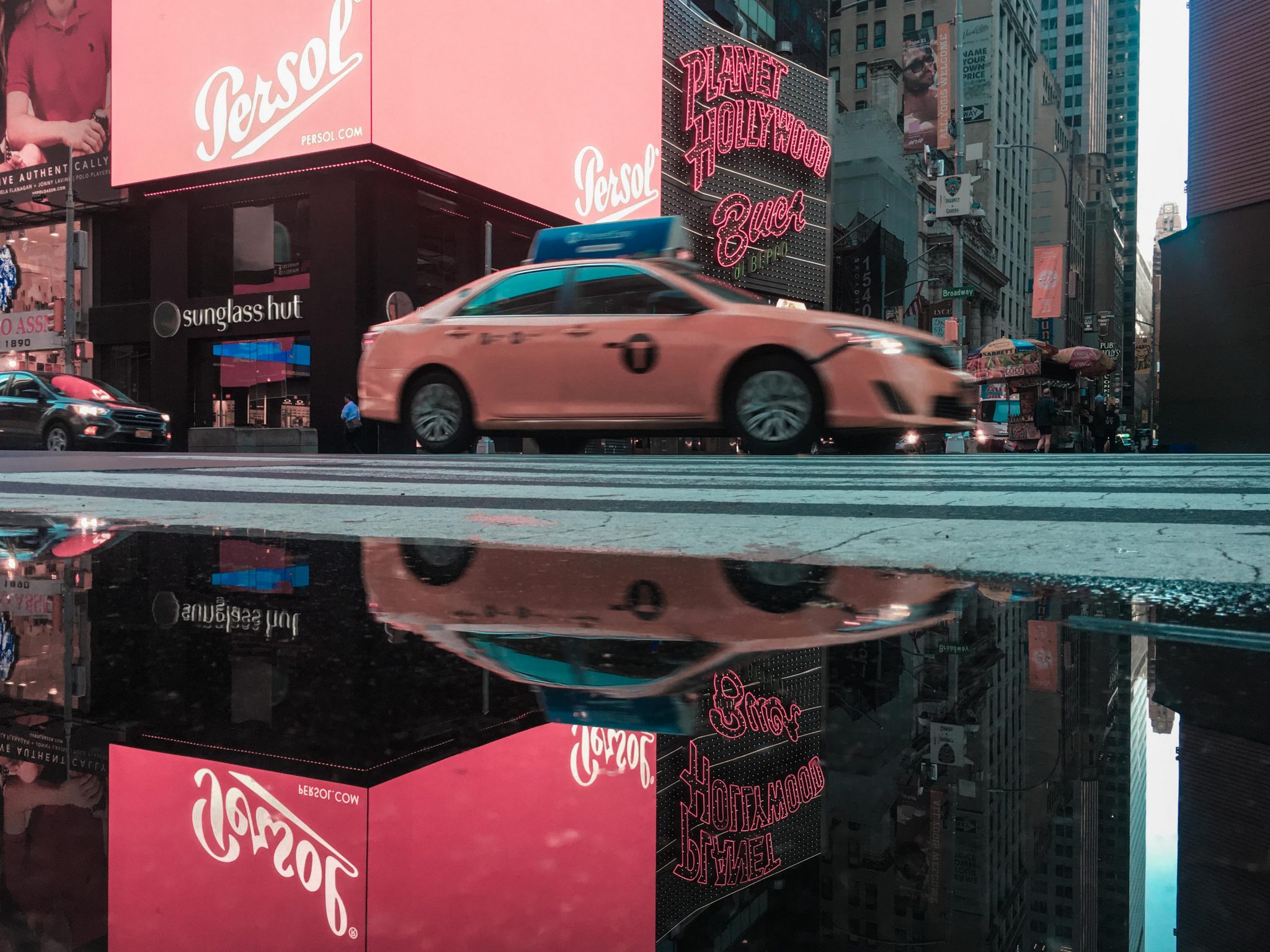 Stop 1: Times Square
Our New York Itinerary starts off bright and early with a stop in one of the most visited places in all of New York, Times Square. Yes, it's Cheesy, yes, it's touristy and yes, it is a whole load of fun.
Once you arrive, take a moment to watch the screens flash before your eyes and let it sink in that you have in fact made it to NEW YORK CITY. What can I say, Times Square is a busy spot, with an average of 330,000 visitors each day. Making it the ideal location for some time lapse action.
Want to see Times Square without any crowds? Then I'd highly suggest paying a visit in the early hours of the morning. The above photo was taken at 5am and I basically had the whole place to myself. I did come across a commuter or two but nothing to the extent of the crowds seen both in the busy hours of the day and at night.
Budget Tip for Times Square: It is important to note that Times Square is one of the most expensive places to eat in Manhattan. If you are looking for a little bit of breakfast to kick start the day, I'd advise walking a little further away from all the action. Otherwise, you will be paying an outrageous price for a small bit of food. This is something I wish I knew before my first trip to New York.
Related Post: California to New York Road Trip Itinerary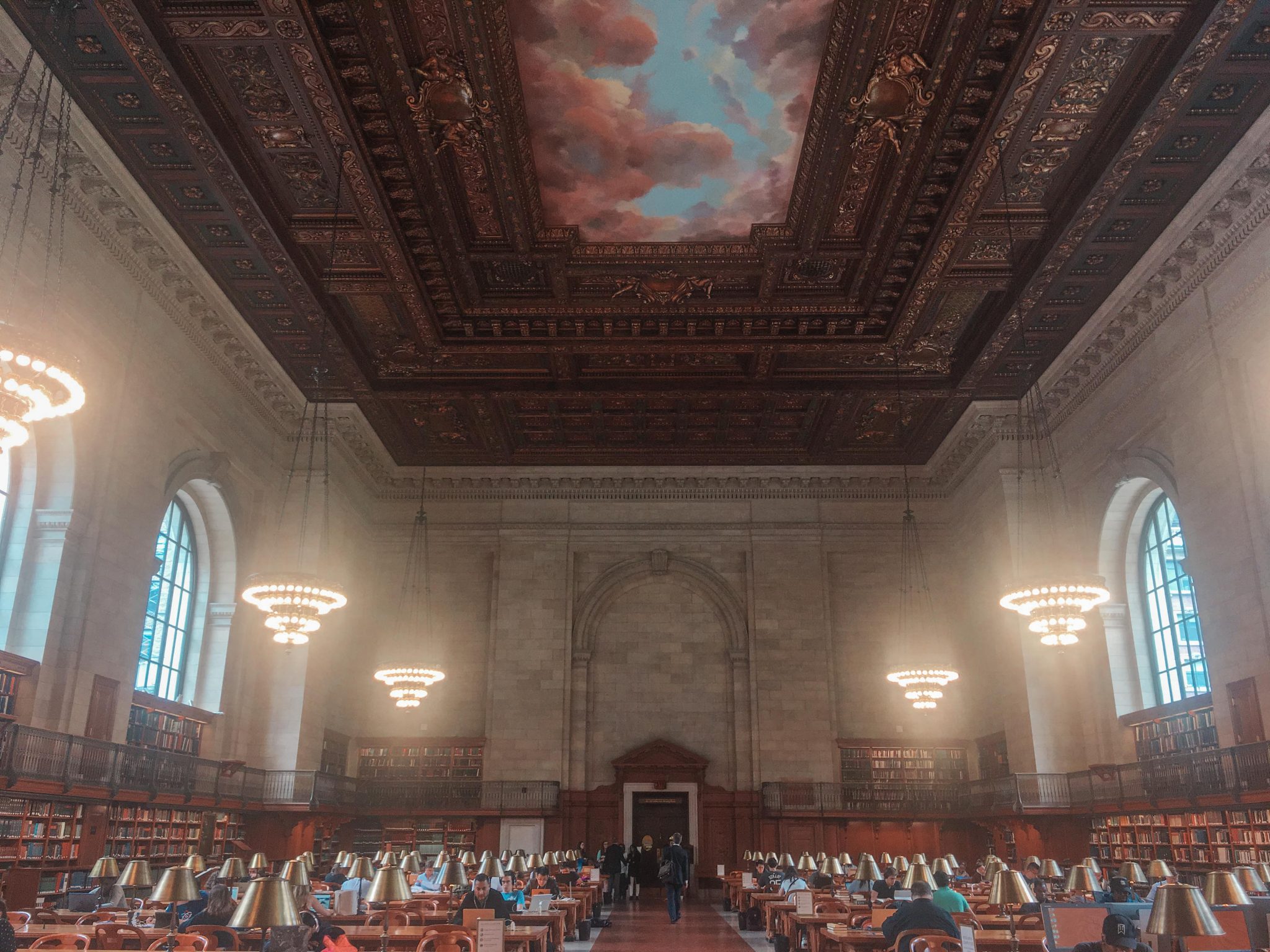 Stop 2: New York Public Library
Next on the list is the New York Public Library. If you are anyway like me and much sooner read online recourses, watch movies or basically do anything else except read a book. It can be hard to picture yourself voluntarily walking into a library while on vacation. In saying that, the New York public library is an attraction not to be missed. Especially for those book worms out there!
The building's exterior is absolutely stunning, in fact, it is hard to believe it is placed right in the middle of New York City. It is of the Greek style architecture called 'Beaux-Arts' and gives visitors the travelling back in time feeling.
The inside of the building is no different, with huge chandeliers hanging from the ceiling, fairytale-style staircases and beautifully detailed rooms. My favourite is the famous 'Rose Main Reading Room' which is pictured above.
The best thing about the New York City Library is that it is 100% FREE to enter.
Insider Tip: The library has free public bathrooms for its visitors. I'll go into a little more detail on the restrooms in New York a little later in this post.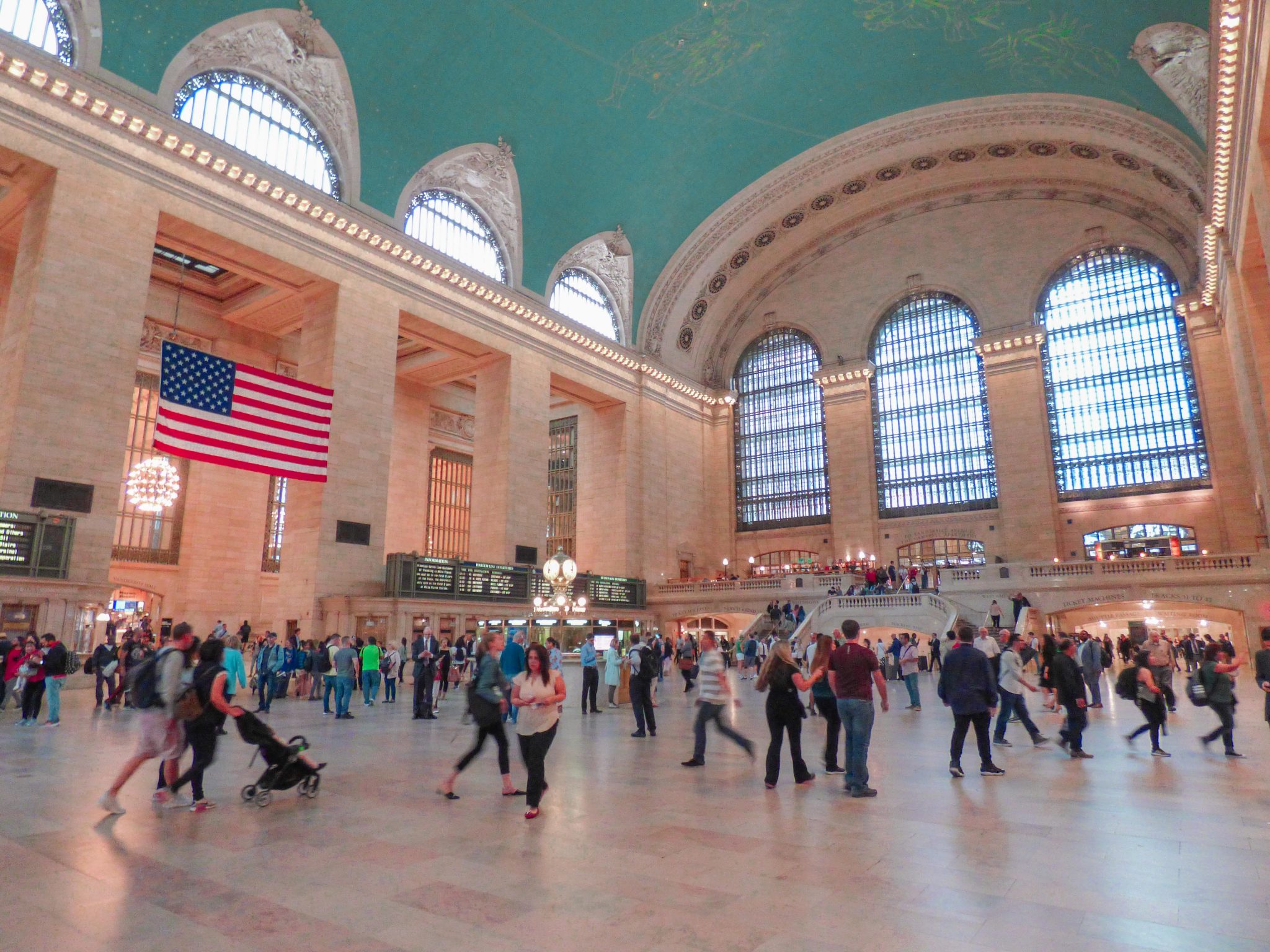 Stop 3: Grand Central Station
Just a quick 5-minute walk from the New York city library lies another one of New York's world-famous building, Grand Central Station. Similar to the library, the station's unique architecture is of the Greek Beaux-Arts Style.
Grand Central Station is listed as one of the top 10 visited tourist attractions in the world with nearly 22 million visitors each year. And… that does not include commuters :O
Not only is the station a leading tourist attraction, a world-renowned transport facility and an outright gorgeous building it is also one of Hollywood's most famous filming locations.
It is clear why a visit to Grand Central Station is one of the best things to do in New York City. Once you arrive, I advise heading into the main concourse room and walk up the famous steps featured in most movies. There, you could easily stand for hours watching the commuters rush on by.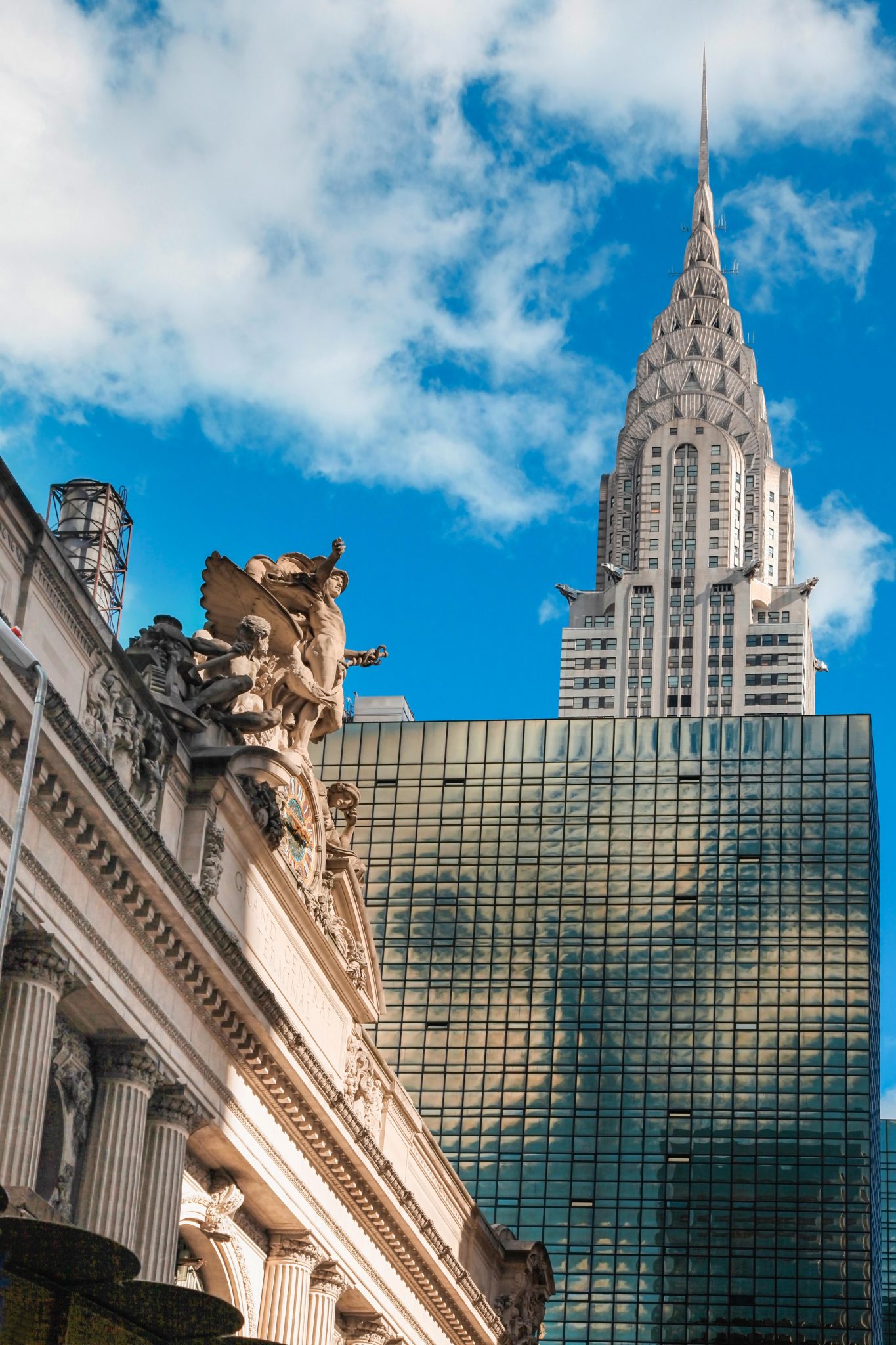 Stop 4: The Chrysler Building
When leaving Grand Central Station, don't forget to look up. You may be surprised at what you see. *Hint* *Hint* It's the Chrysler Building.
I don't have much information on the Chrysler building other than it being one of the nicest skyscrapers in mid-town Manhattan. I just love the detail on the top of the building. It reminds me of a crown or tiara…the royalty of New York so to speak.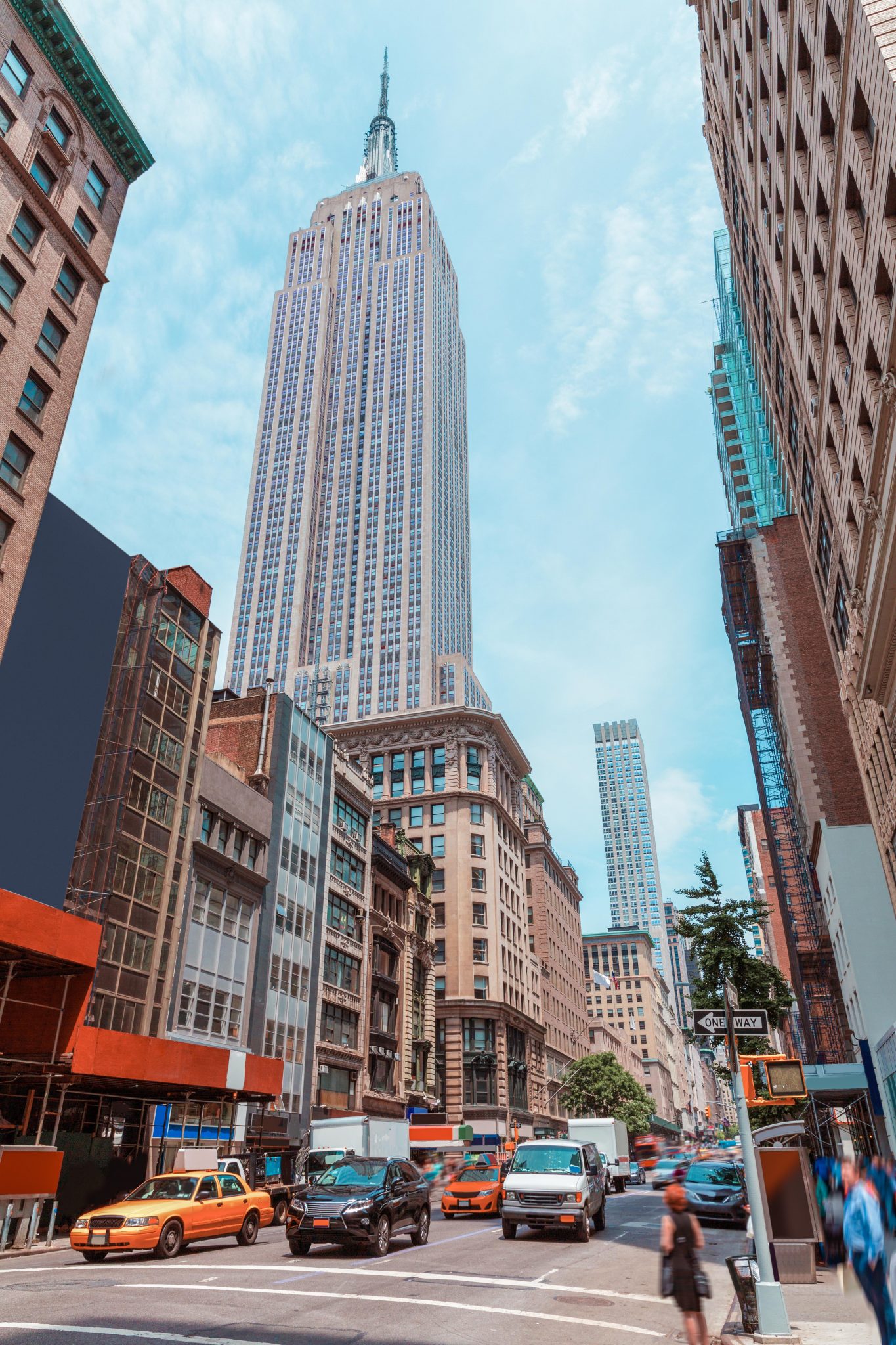 Stop 5: Empire State Building
Once you have finished staring high in the sky at the Chrysler building it is time to find the tallest building in all of mid-town Manhattan. And perhaps one of the most iconic buildings in all of New York City. That's right, you guessed it, it's the Empire State.
The Empire State is pretty much the symbol of New York. It is known by people all over the world, even those who have never shown a great interest in the big apple.
Can I go inside the Empire State Building? The Empire State consists of mostly offices, there is however an observation deck at the top of the building which is open to the public. Although this is not my favourite viewpoint in New York City it is most definitely worth the visit for first-timers. Particularly, those who are not on too tight of a budget. If you do decide to pay a visit to the Empire States observation deck, be sure to purchase tickets ahead of time to avoid disappointment.
What makes the Empire State Building Unique? Well, this is something I found out by accident. I was going for a nighttime stroll in Liberty State Park in New Jersey when the tip-top of the famous skyscraper began to sparkle in the night sky.
Each night, following sunset, the Empire State twinkles on the hour every hour until dawn. And as if that wasn't cool enough, the prime colours displayed changes each night, sometimes marking special occasions like the 4th of July (red, white & Blue) and St. Patricks Day (Green, White & Orange). If you are curious what colour the building is displaying tonight and what that colour means, click here.
Related Post: EMPIRE STATE BUILDING OR TOP OF THE ROCK?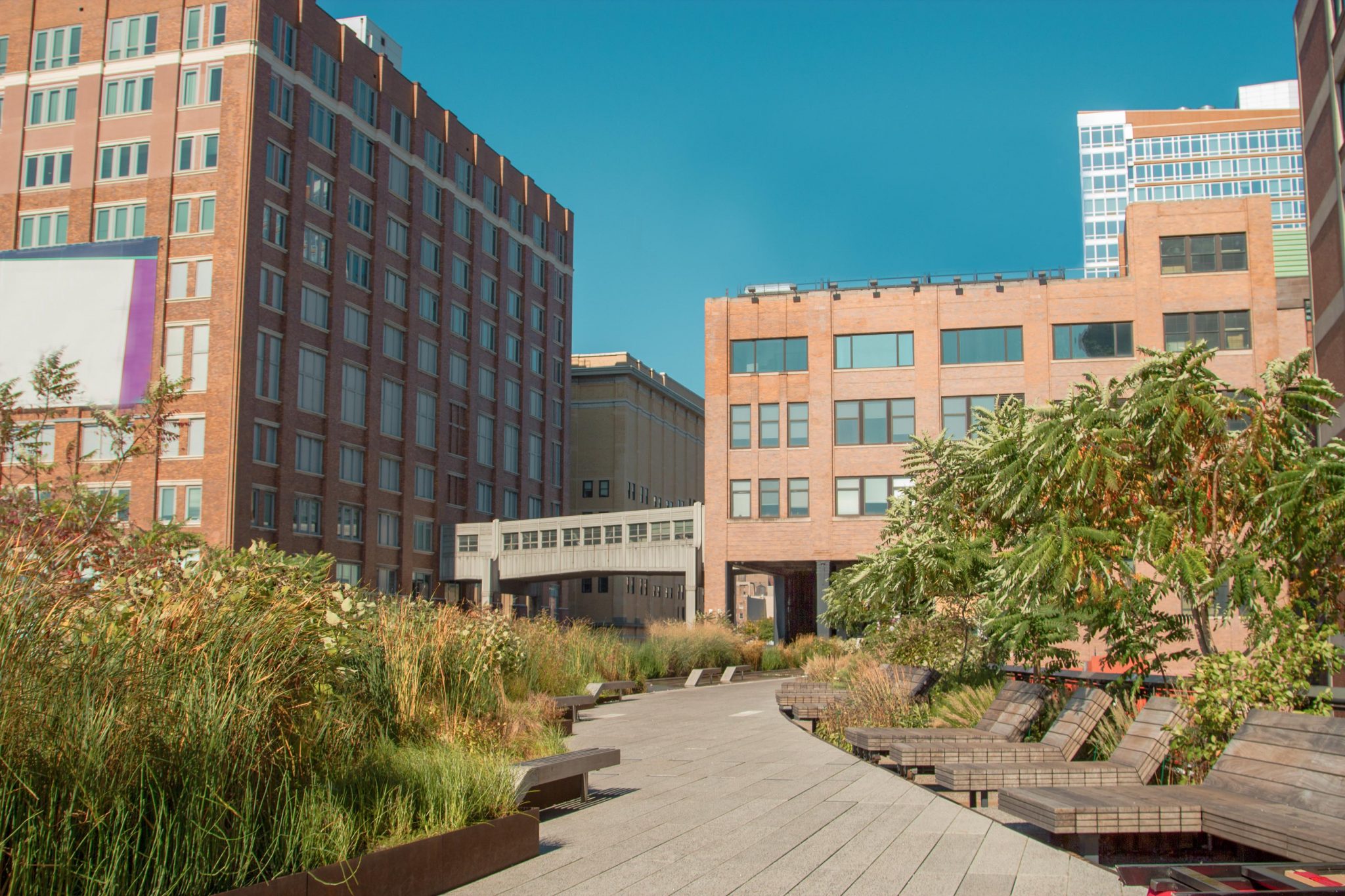 Stop 6: The High Line
The High Line quickly became a beloved part of New York City when it opened in 2009. The elevated city garden is 1.45 miles long and follows the route of an old abandoned railway line.
I'd highly advise taking a stroll along the walkway while taking in the cityscape and surroundings. It is also a great spot to have a bite to eat, sit on a park bench and just watch the world go by.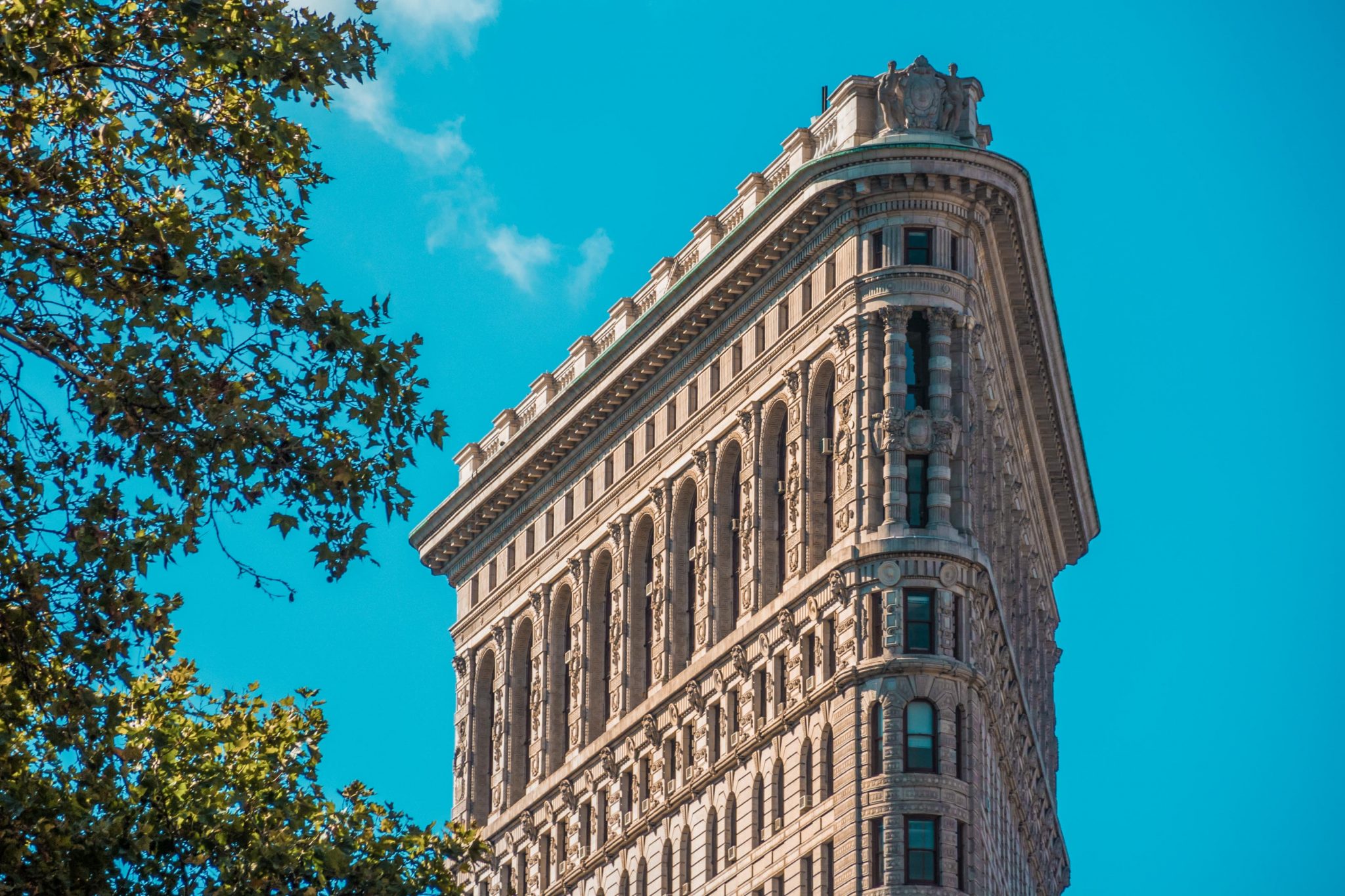 Stop 7: Flat Iron Building
The next stop of the day is another one of NYC's famous buildings, you've seen it in all the movies, it's featured in millions of backdrops and it has visitors intrigued by its unique design.
The Flat Iron Building was built in 1902 and was one of three skyscrapers in New York at the time. The building soars 20 floors high and is angled on a triangular block formed by the meeting of Fifth Avenue, Broadway and East 22nd Street.
I must admit the Flat Iron is a rather tricky one to photograph, as there are so many elements that need to be taking into consideration, the angle, the suns position and the distance. So, if you're looking for a picture-perfect image be sure to take the above into consideration.
If you are looking for somewhere nice to grab a bite to eat, I'd highly advise checking out the Chelsea Markets. There is a large range of food options, from fast food, sit down meals and take away items.
New York Itinerary 4 days Map: Day 1
Four Days in New York – Day 2: Central Park, Broadway & Hidden Gems
On our second day in New York City, we will pay a visit to the world's most famous city park, see an outstanding performance on broadway and explore one of New York's best-kept secrets.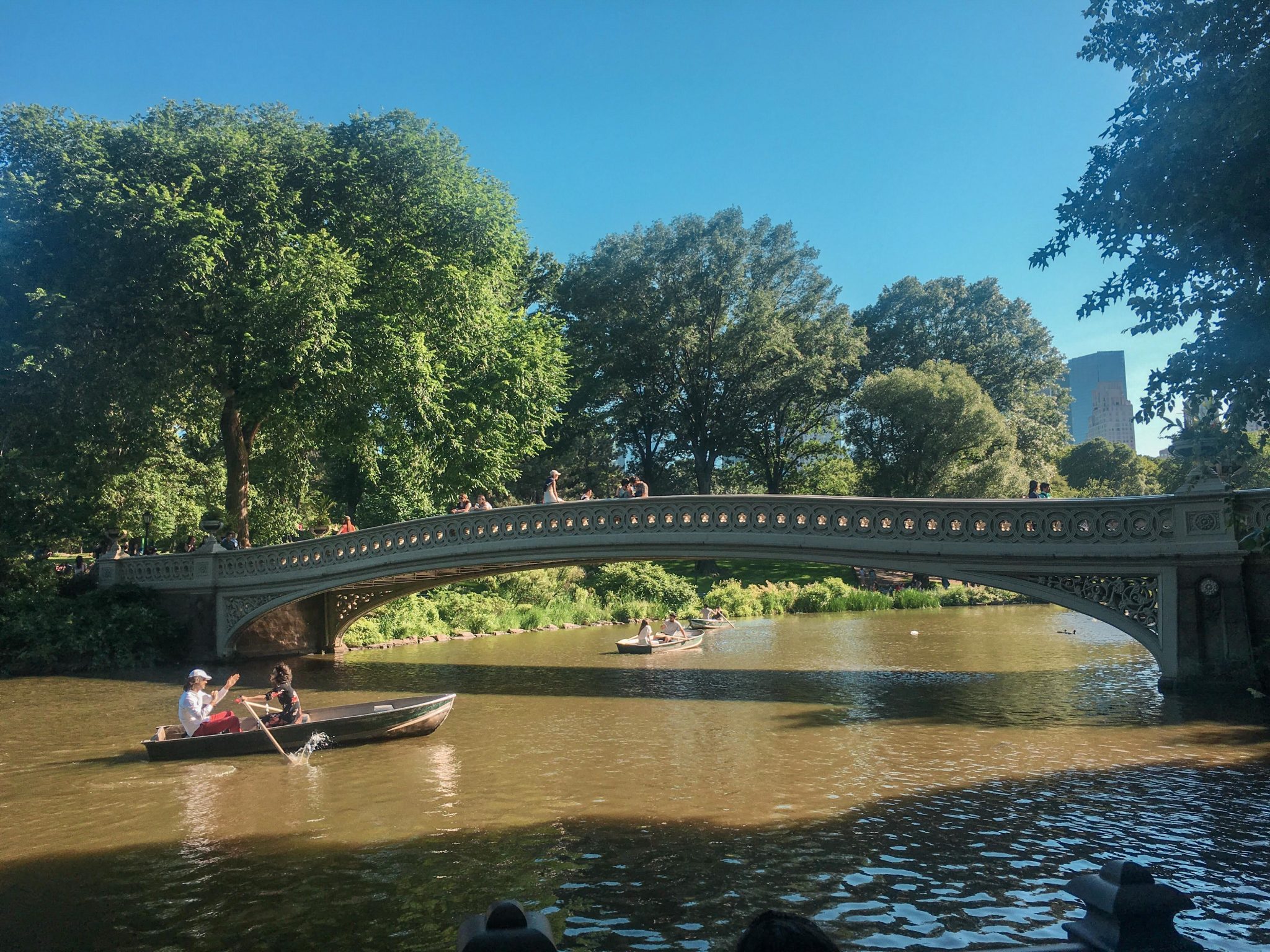 Stop 1: Morning Cycle in Central Park
Start the second morning of our 4 days in New York City off bright and early with a cycle in Central Park. This is the perfect way to clear the mind and get ready for a day of exploring. It takes 45 to 60 minutes to do a loop of the park but please allow time for breaks and picture taking. I'd highly advise booking your bike rental now as it is much cheaper online!
If you do not want to cycle, it is, of course, possible to visit the park on foot. Just allow for more time to explore.
Below is a list of the major highlights in Central Park:
Strawberry Fields: This is where the Imagine Mosaic lies in tribute to former Beatles member John Lennon. This is very popular among music lovers and buskers.
The Great Lawn: Is a famous spot for people to sit and chill on a hot summers day. It is in the centre of the park, alongside the turtle pond.
The Metropolitan Museum of Art: Or the Met for short is the top spot in New York City for Art enthusiast and it is located in the Centre of Central Park.
Belvedere Castle: This fairytale style castle is located on the Great Lawn right in the middle of central park. It is home to exhibit rooms, an observation deck and the official central park weather station.
Bow Bridge: This is the iconic bridge seen in most photos of central park. It is the main reason tourist enter the park. And is the perfect spot for those insta worthy snaps. It is also common in the Summer and Spring months for visitors to rent paddle boats to row in the lake and under the bridge.
Bethesda Terrace & Fountain: This is a section of the park is possibly the most famous all thanks to blockbuster movies deciding to film there.
Stop 2: Stroll Down 5th Avenue & Perhaps do a bit of Shopping.
Spend as long as you please exploring our next stop. 5th Avenue is New York's most popular shopping streets and attracts millions each year. The street runs down the whole length of Manhattan and is home to some of the world's most expensive retail stores.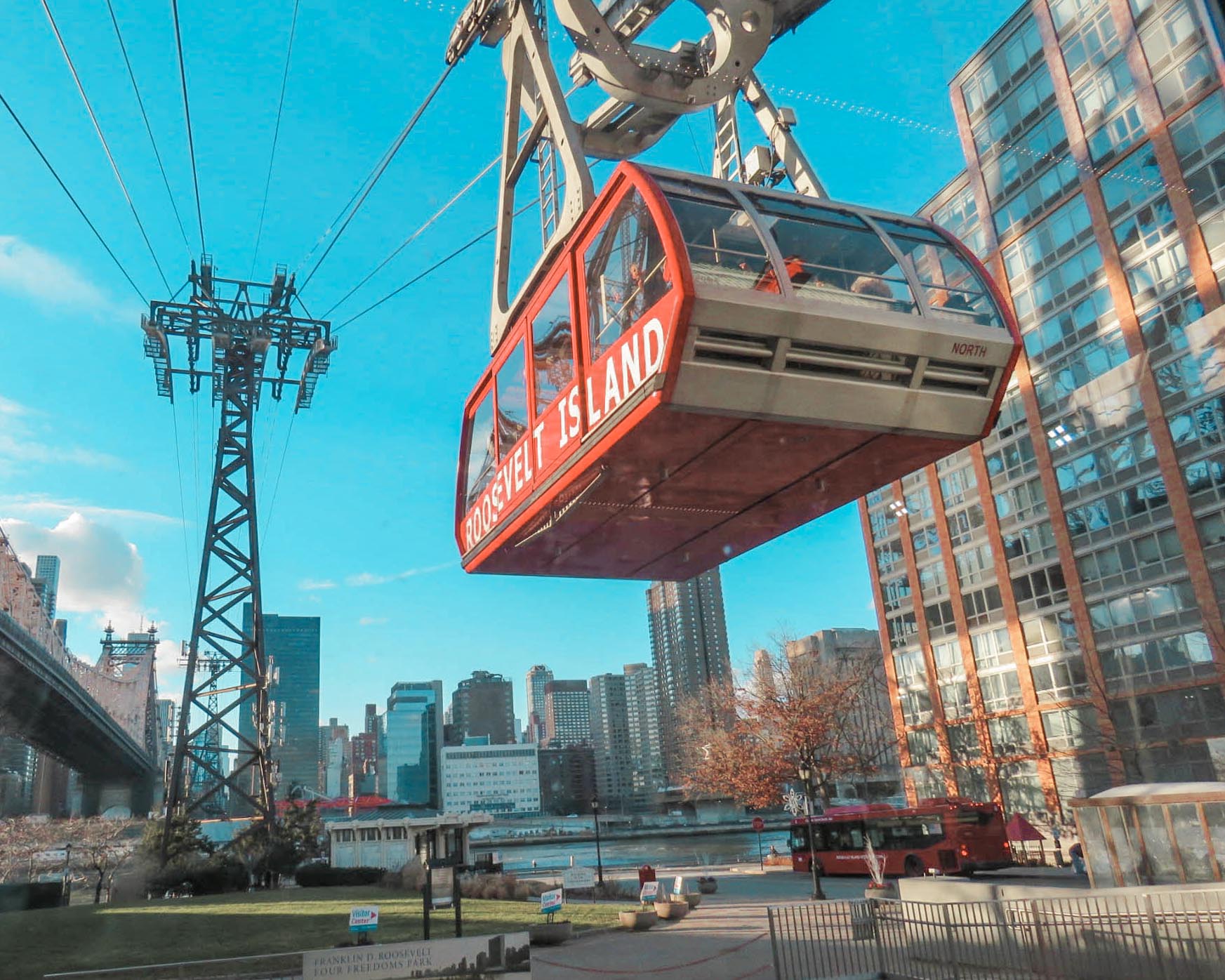 Stop 3: Roosevelt Tramway
The next stop is one of my favourite hidden gems in all of NYC. Not many tourists know that there is a cable car right in the middle of Manhattan that transports guest too and from Roosevelt Island.
A return journey will set you back $4.50 and is available by using the subway card. Roosevelt Island is a small skinny Island in the middle of Manhattan and Queens. As visitors make their way towards the Island they are presented with a pretty neat view of the city.
Upon arrival on the Island, guests can choose to take a stroll or avail of the free shuttle bus that drives around to the varies parts of the Island. Including the four freedom park, small pox's hospital ruins, the Blackwell island lighthouse and some stunning views of Manhattan.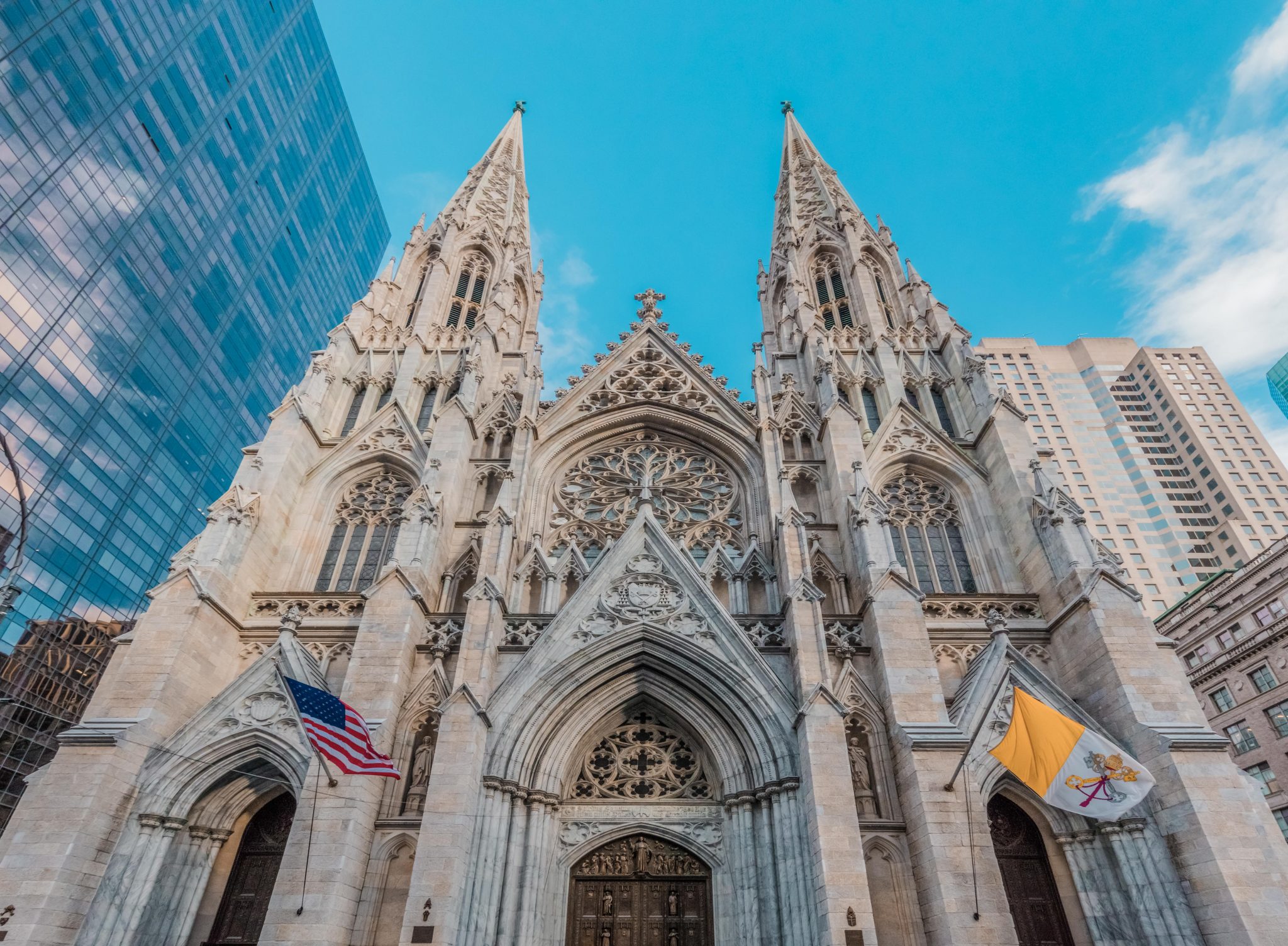 Stop 4: St. Patricks Cathedral
Another great addition to New York is the Neo-Gothic Roman Catholic Cathedral, Saint Patricks Cathedral. The style of architecture used in the church is really unique to any other building in the iconic city.
Stop 5: The Intrepid
If you have an interest in visiting an American military Sea, Air and Space museum then consider paying a visit to the Intrepid. The museum features real-life scale military crafts and allows visitors to experience an aircraft carrier, see the first-ever space shuttle, the fastest jets in the world and enter a cold war submarine.
I'd advise booking your tickets now to avoid disappointment and avail of the best prices.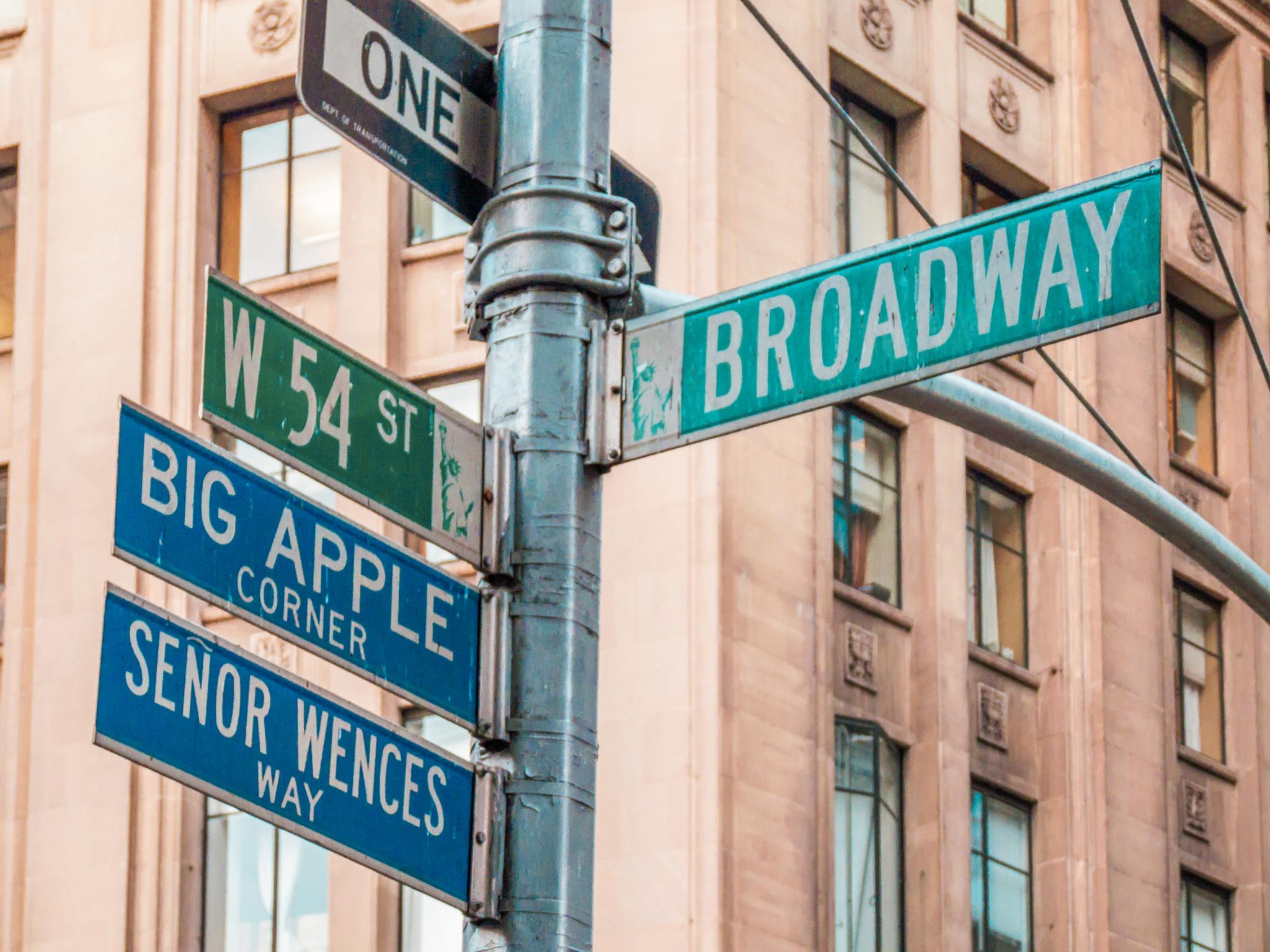 Stop 6: A Broadway Show
Now, I know broadway shows can be a little pricey and certainly do not fit with a 'budget trip' to New York City. However, going to see a show live on broadway is a once and a lifetime opportunity and if you can afford to stretch the budget, I highly recommend you do so.
Broadway Budget Tip:
If you really want to see a broadway show but don't want to break the bank doing so. Considering booking tickets to the Matinée, this is the same show but it is on during the day rather than in the evening. Tickets to the matinée shows tend to be a little bit cheaper.
You could also attempt to purchase tickets directly from the box office on the day of the show or the day before. At these times, tickets are sometimes sold at a discounted rate.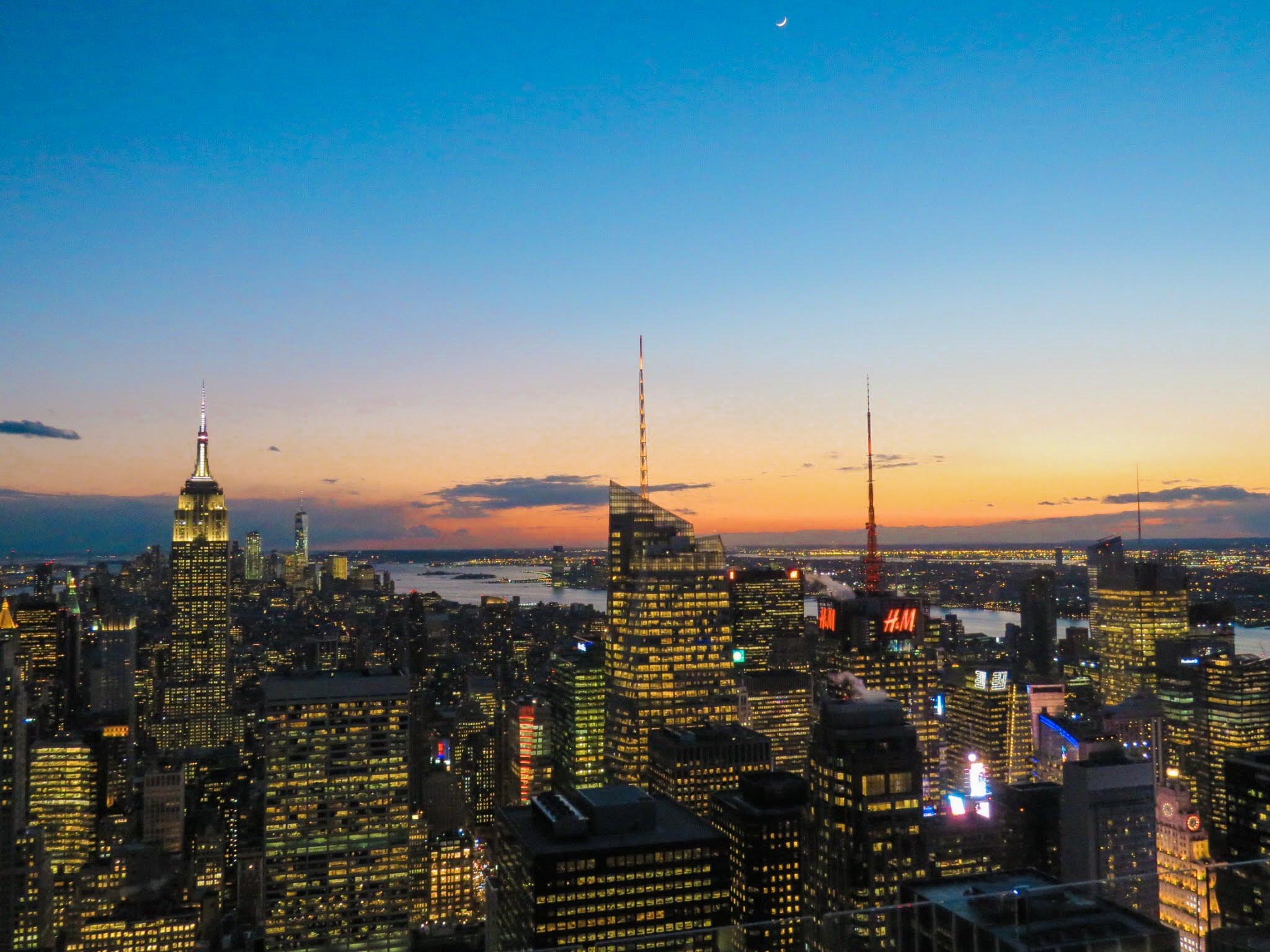 Stop 7: The Top of the Rock
The final stop of day 2 brings us to my favourite observation deck in all of New York, the Top of the Rock. A visit to the top of the Rock is one of the top things to do in New York at night. Visitors soar 850 feet in the air and are presented with 360 views of New York City and beyond.
Visitors board the elevator, otherwise known as the 'Sky Shuttle' an are transported to the 70th floor of the Rockefeller Centre in under a minute. I distinctly remember my ears popping on assent.
At the top, there are 2 indoor and outdoor observation decks that offer views of Central Park, the Empire State, the World Trade Centre and more.
I'd highly recommend going up just before sunset, that way you can see the city at day time, sunrise and nightfall. Book your tickets now for flexible time slots.
4 day itinerary NYC Map: Day 2
4 Days in New York City – Day 3: The Financial District
On day 3 of our 4 days in NYC, we will explore the Financial District of Manhattan, home to world-famous buildings, streets and businesses.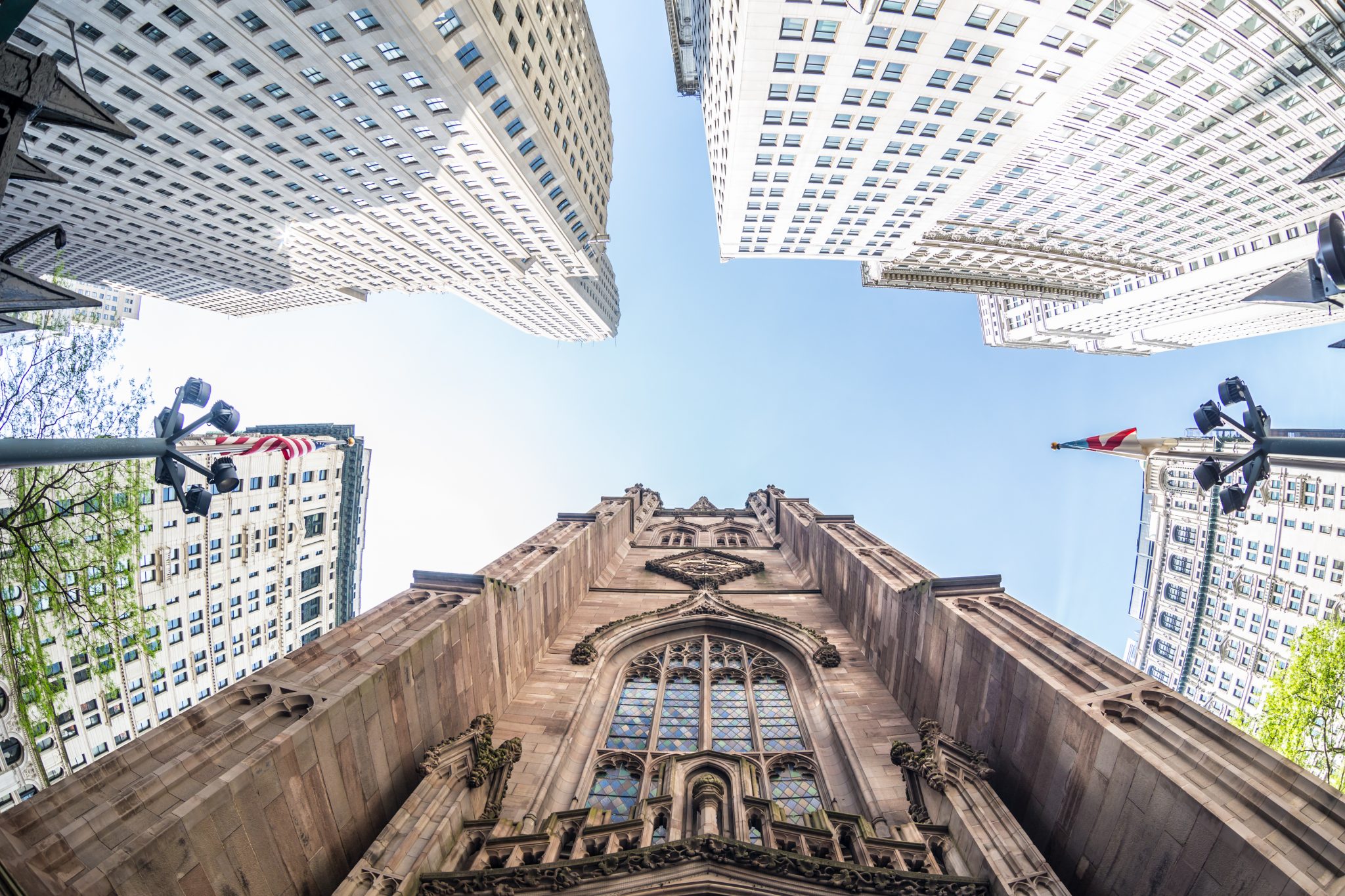 Stop 1: The Charging Bull, Federal Hall & Trinity Church
Start the morning off bright and early by exploring the streets of the Financial District, there are some attractions worth stopping by for a quick picture opportunity.
The first one being New York's favourite resident, the Charging Bull. The bull is so famous that it is common to see a line of tourist patiently waiting to get a snap with the symbol of Wall Street. Even if you are not willing to wait in line, it is still worth walking by to see the bull. You'll be in for a shock because the statue is HUGE!
Once you have finished taking pictures of the bull walk towards Federal Hall for another quick snap. Federal hall was the first historic building of the Financial District and is of the Greek Revival style architecture.
A short walk from Federal Hall lies Trinity Church, another building that doesn't quite fit into New York's modern design but is most definitely worth the visit.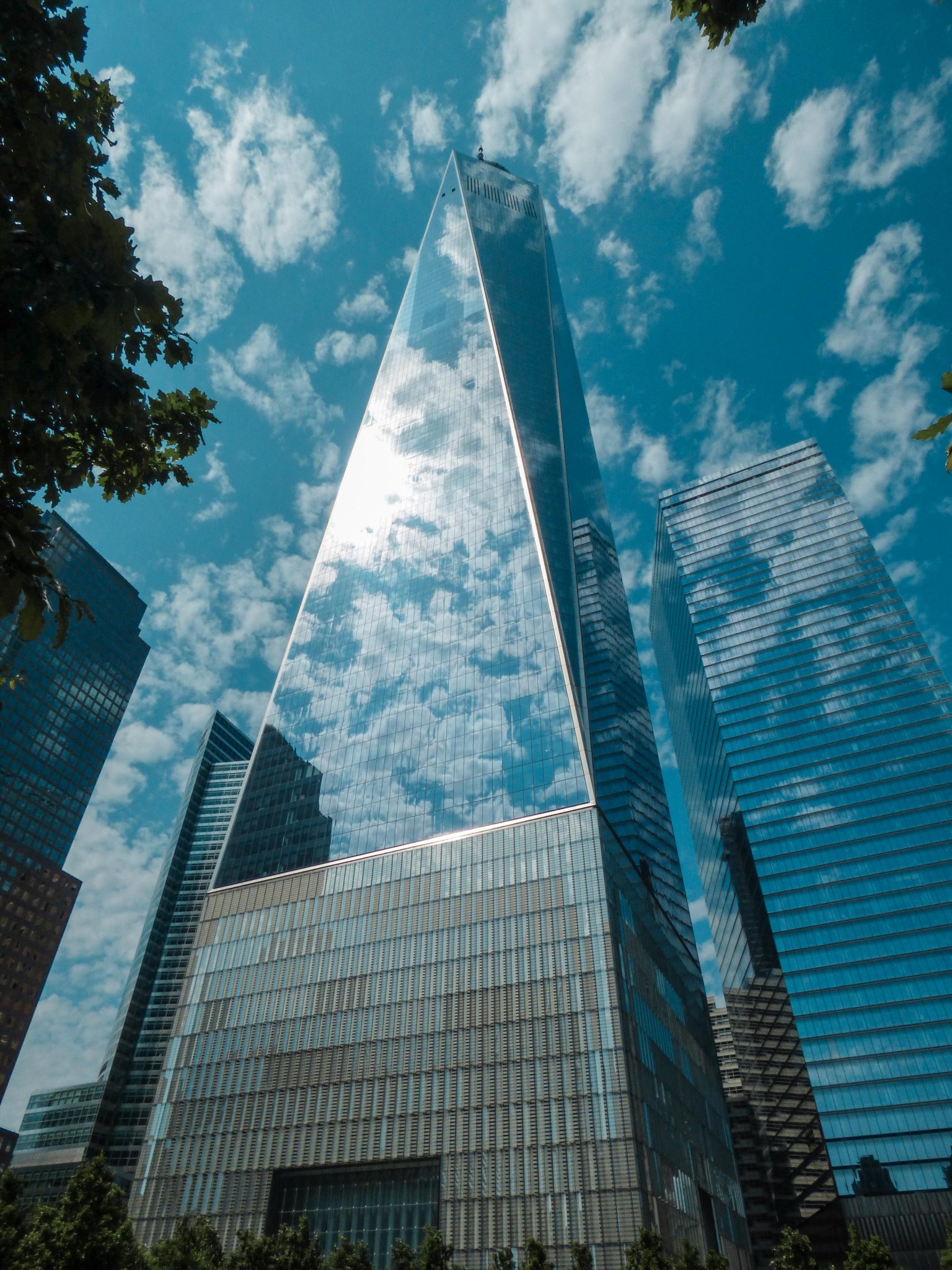 Stop 2: World Trade Centre
Next on the list is the One World Trade Centre located in the centre of New York's Financial District. The trade centre was built in in 2006 after the devasting attack on the original world trade centres, the twin towers on September the 11th 2001.
The One World Trade centre is now the tallest building in all of the United States and is 94 stories high. It can be seen from nearly every angle in lower Manhattan and one of NYC most popular buildings.
Similar to the Top of the Rock and the Empire State Building, the One World Trade has an observation deck open to the public. I have personally never gone up to it but I have been told that the views are phenomenal. Book your tickets online today.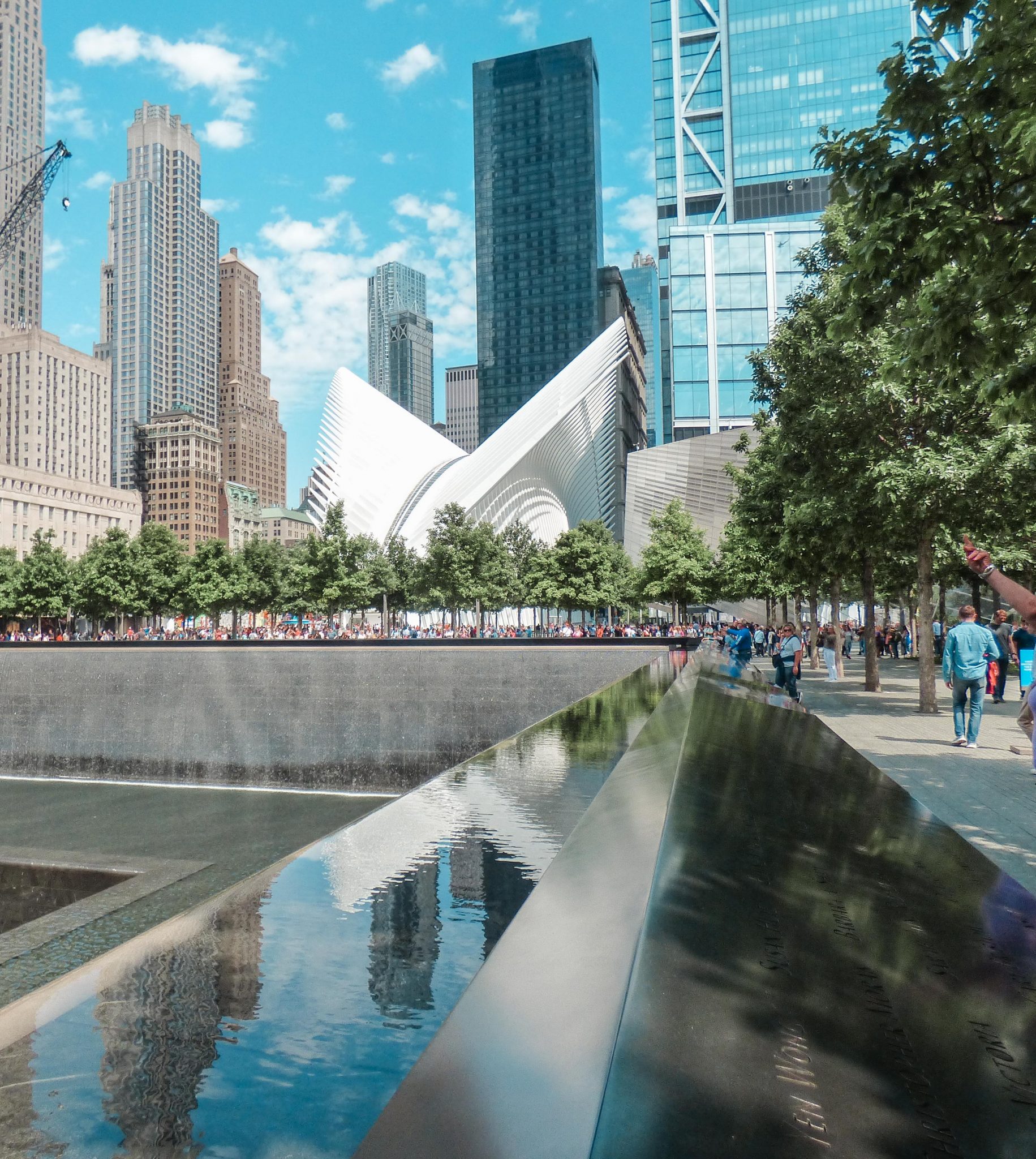 Stop 3: 9/11 Memorial
Once you have finished taking pictures of the One World Trade Centre it is time to pay your respect to all the lives lost on September 11th 2001. The 9/11 Memorial is simple a breathtakingly beautiful tribute of two mirroring pools that lay on the footprint of where the twin towers once stood tall. The pools are surrounded by a list of name of the people who lost their lives on that tragic day. It is heartbreaking to see, yet a vital stop while in New York.
Stop 5: Westfield Shopping Centre
Once you have finished paying your respect at the 9/11 memorial, start heading towards the Westfield Mall. The shopping facility is home to over 120 retailers and is possibly one of the most beautiful shopping facilities I have ever seen.
Insider Tips: The Westfield Mall is a great place to stop by for a bit of shade from the sun, a bathroom break and some FREE WIFI.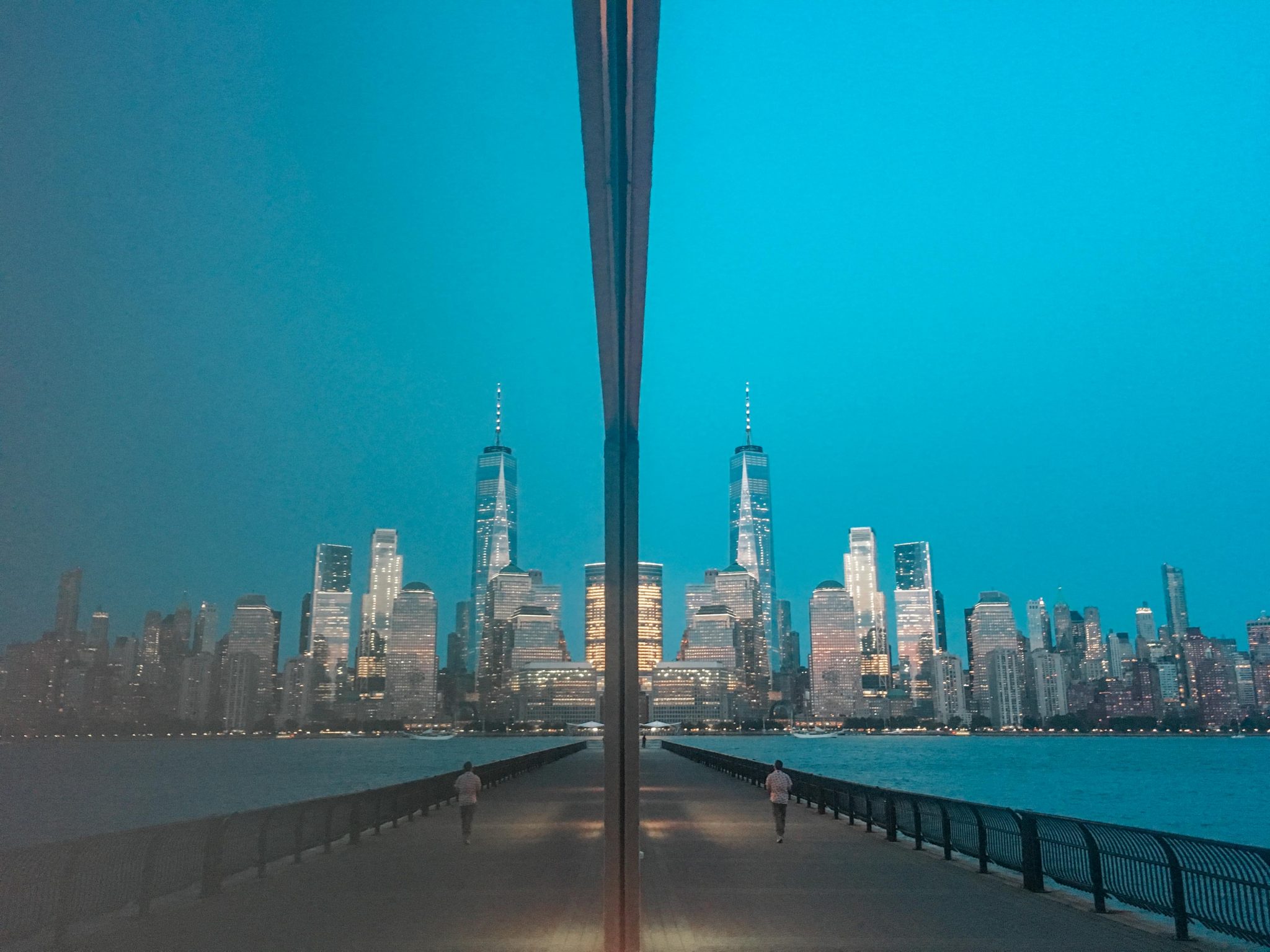 Stop 6: Exchange Place
Once you have taken a little break from all the walking, it is time to jump on a path train to New Jersey. The good news is the train platform is located on the bottom floor of the Westfield Shopping centre making it easy to find.
The next spot on our New York off the beaten path location list is once again in the state of New Jersey. It's possibly my favourite spot to view the Manhattan Skyline. Exchange Place is located in the centre of Downtown New Jersey and is often referred to as "Wall Street West" as many financial companies have set up there.
Path trains running from Westfield Shopping Centre to Exchange Place cost $5.50 for a return journey and only takes 8 minutes to arrive. I will attach a google maps link for directions.
Exchange place is one of my favourite places to view the New York City skyline. I'd advise going over for sunset to admire the sun setting upon the iconic skyscrapers.
4 day NYC Itinerary Map: Day 3
New York Itinerary: Day 4 – The Streets of Brooklyn
So, we have reached our final day in New York. After 3 action-packed days, the final one will be that little bit more chilled. Start the day off exploring Brooklyn and all its glory. Then get up close and personal with Lady Liberty. And finally, end the day with another epic view of the Manhattan Skyline.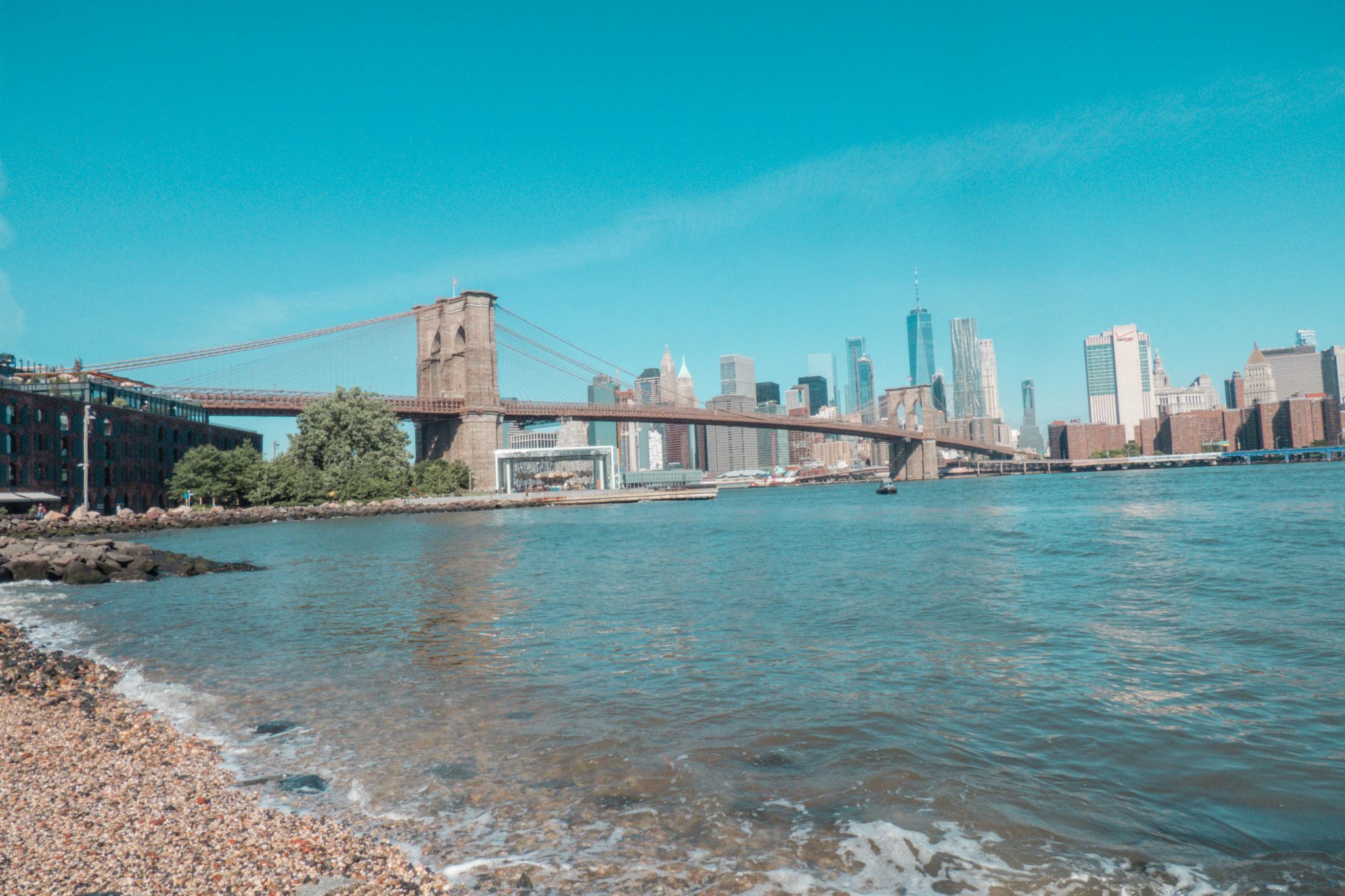 Stop 1: Explore Brooklyn Water Front
One of my FAVOURITE places in all of New York City is BROOKLYN <3 And the below places is why!
The Brooklyn waterfront is home to some outstanding views of Manhattan, the Hudson River and the Brooklyn Bridge. It is a nice peaceful place to spend an hour or two just exploring and enjoying the views.
Here are some of my favourite spots along the river:
The Brooklyn Bridge Park: The park is the ideal place to leave the noise of Manhattan behind. It hosts some amazing views of the skyline and of course the Brooklyn Bridge. Throughout the summer months, free Kayak sessions and fitness classes are held in the park for the public to enjoy.
Empire Fulton Ferry Park: A short walk from the Brooklyn Bridge Park is the Fulton Ferry Park which is home to yet another amazing view of the Brooklyn Bridge. In fact, this park allows walkers to get up close and personal with the bridge without having to be walking on it. I literally fell in love with this park and easily spent an hour finding different angles to take a photo of the Brooklyn Bridge. What makes this park even better is, it is also home to an amazing view of the Manhattan Bridge too.
Pebbles Beach: Now, once you have captured a few perfect pictures of both bridges, start to walk towards the Manhattan Bridge. To the left of the footpath lies the stunning Pebbles Beach. It is a great place to sit down on the steps and watch as the waves from the Hudson wash up on the shore. Who knew peaceful places like this existed in New York City?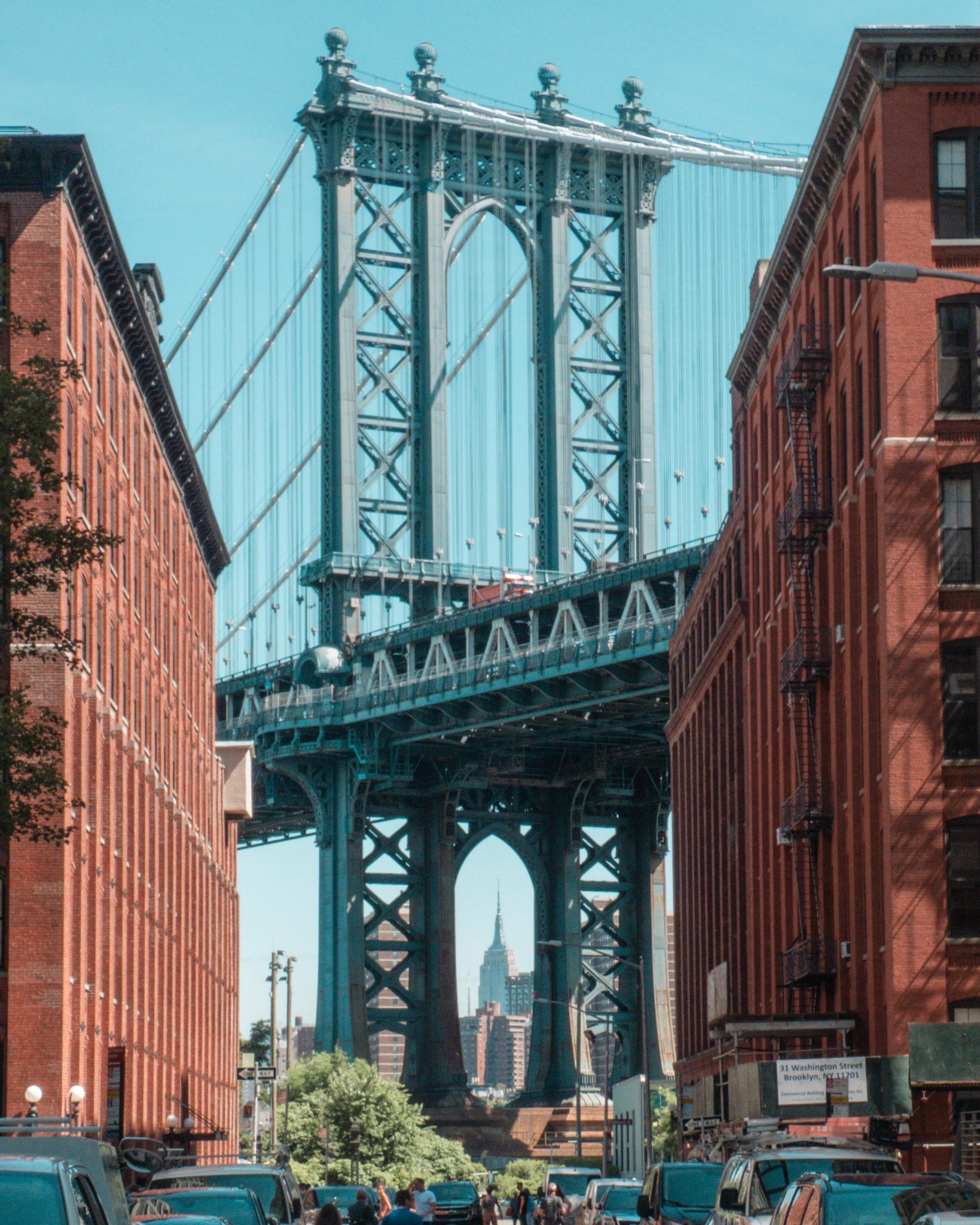 Stop 2: Explore the Street of Dumbo
Once you have finished exploring the Brooklyn waterfront, start to walk towards Dumbo. Dumbo is a great place to visit the famous Flea Markets, enjoy the free weekly concerts and enjoy the view of Manhattan.
One of my favourite places in Dumbo is Washington Street. Here, the Manhattan Bridge inlines perfectly with the famous Empire State Building. Creating a picture-perfect moment.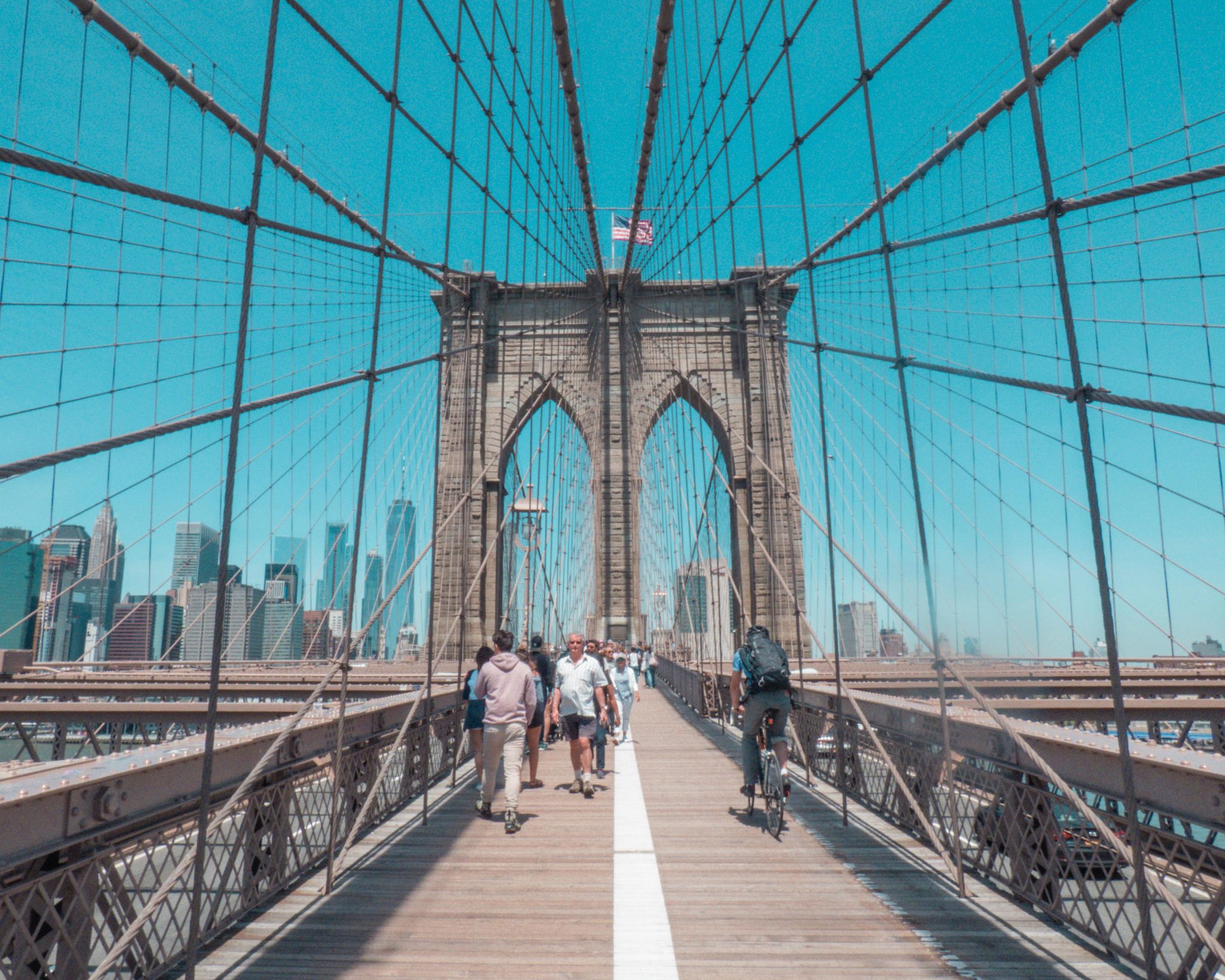 Stop 3: Walk Across the Brooklyn Bridge
It's time to get those bucket lists out because the next stop on our itinerary is one of the most popular things to do in NYC! I would suggest planning to spend 45 to 60 minutes walking across the bridge, as you will be stopping for pictures every chance you get.
It can be a little bit tricky to find the walkway of the bridge, as the start is positioned a little further away from the waterfront than expected. The starting point of the Brooklyn Bridge Walkway can be seen on Google Maps.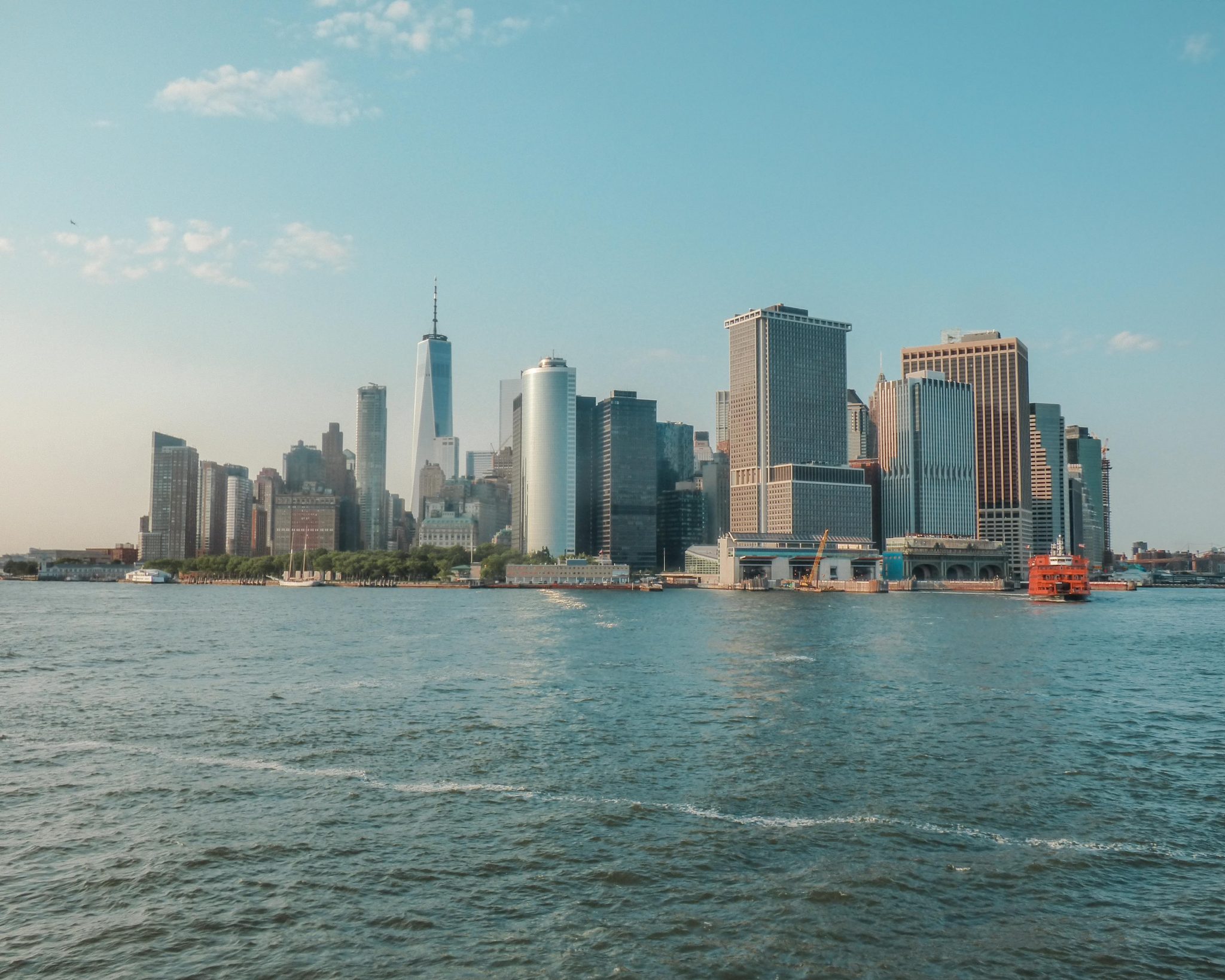 Stop 4: Battery Park & The Staten Island Ferry
Once you have completed your walk across the Brooklyn Bridge it is time to head towards the docking station for the Staten Island Ferry. I'd suggest walking through Battery Park for a more scenic route.
The Staten Island Ferry is a FREE boat ride over to you guested it… Staten Island. But…the Island is not the reason for boarding the boat. As you sail along the Hudson you will see the perfect view of the Statue of Liberty. But..
There is also an awesome view of the New York City skyline as the boat departs from Manhattan.
Insider Tip: Ride the ferry before mid-day for the perfect pic of the Statue of Liberty. In the evening time, the sun causes the statue to come out as a silhouette in pictures.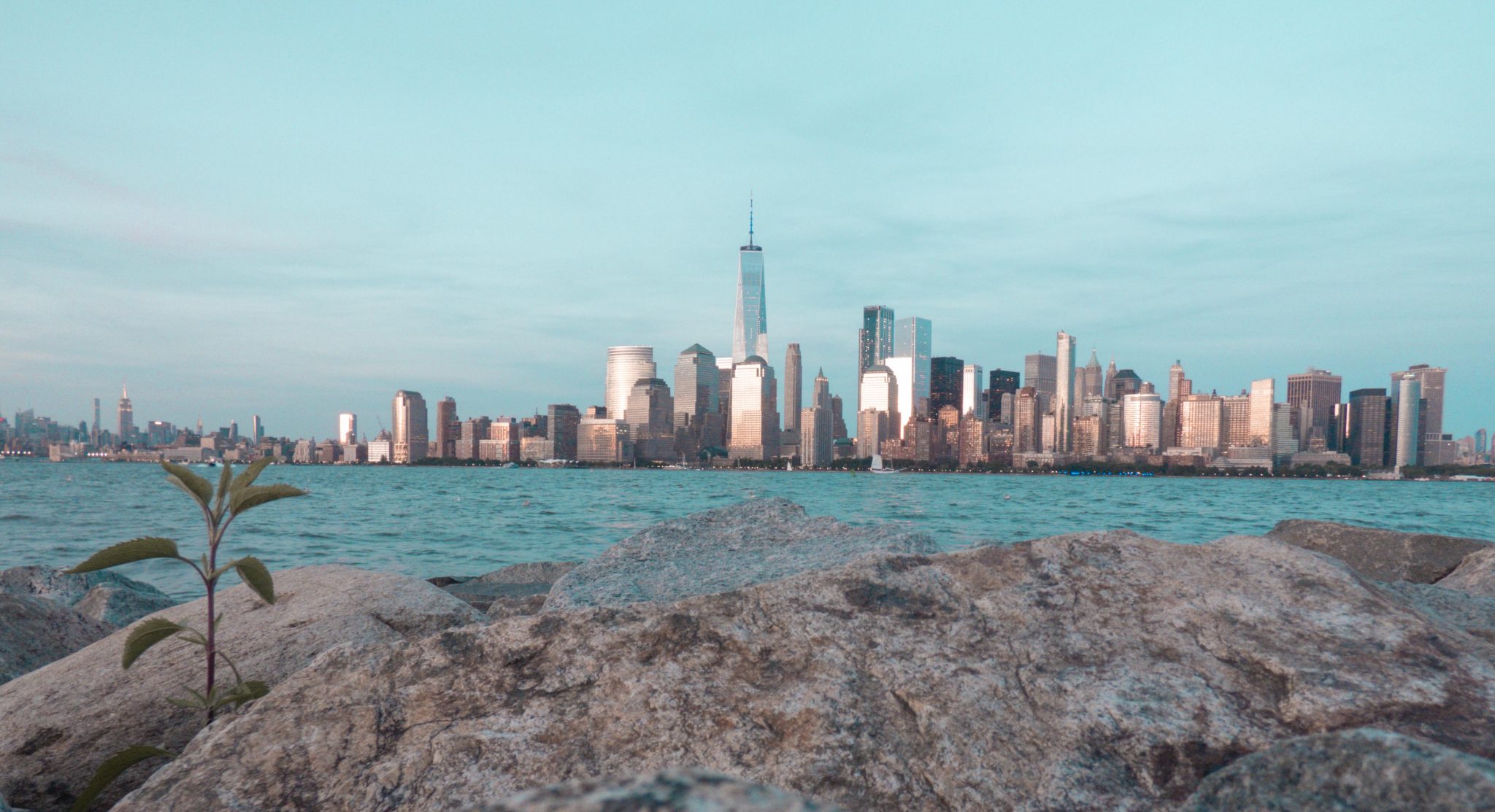 Stop 5: Liberty State Park
The final stop on our 4 days in New York takes us out of the hustle and bustle of the city and offers phenomenal views of NYC from afar. It's time to board the Statue Cruises located in Battery Park, Lower Manhattan.
The cruise first drops visitors off at Ellis Island for an up-close and personal view of the Statue of Liberty. It then continues on towards Liberty State Park.
Liberty State Park offers outstanding views of the NYC skyline, the Statue of Liberty and the Hudson River. On the park grounds lies a tribute to the lives lost on the 11th of September 2001. It is also home to the old New Jersey Railroad Terminal that was used up until 1967.
Liberty State Park is another great place to watch the sunset as seen in the video below.
4 day trip to New York Map: Day 4
Have 5 days in New York or More? Here, is a list of some things I like to do in NYC that did not make the itinerary.
Free Walking Tour: A guided FREE walking tour is one of the best ways to see New York City. Especially for those on their first visit. Not to mention it is super affordable. Don't forget to give the tour guide a little tip at the end to say thanks for their time and hard work.
Become a member of a New York TV Show: I have been lucky enough to be a live studio audience member of both the tonight show starting Jimmy Fallon and Live with Kelly. If you would like to find out how you too could experience this, check out my How to get tickets to Jimmy Fallon post.
Getting to New York City from the Airport
There are two possible airports that offer easy access to Manhattan. Those being JFK and Newark Airport. Below I will highlight the most convenient ways to get to the city from both airports.
Uber, Lyft or Taxi: So, the most direct and possibly quickest way to get from both airports to New York City would to avail of taxi services. This is however, a very expensive approach. If you need door to door drop then this is the one for you. However, if you're willing to spare a bit of time getting from A to B I'd recommend staying clear of this approach.
Shuttle Bus: The next option requires booking a ticket on port authorities official shuttle bus service. By filling it your flight details and booking your ticket ahead of time you are basically ensuring you have away of getting to and from the airports. The driver will wait for you if your flight is delayed, drop you to the front door of you accommodation and the service runs 24 hours a day. It's really a win win!
Public Transport: Those travelling from JFK may find it difficult to make it to the city with public transport. This is most likely the most budget friendly approach but definitely the most time consuming. And requires a fair bit of planning. Those travelling from Newark Airport need to first take the AirTrain to the Newark Liberty International Airport Station. Then transfer onto the New Jersey transit train that is going towards New York Penn Station.
How to get from JFK Aiport to New York City
There are several ways to get from JFK Airport to New York City, including taking a taxi, a shuttle service, or the public transportation system.
One option is to take a taxi, which can be found outside of the baggage claim area at JFK Airport. The ride to Manhattan will take about 30 minutes, depending on traffic, and will cost around $65, plus tolls and gratuity.
Another option is to take a shuttle service, which can be booked in advance or found outside of the baggage claim area at JFK Airport. The shuttle will take you to a designated location in Manhattan, such as your hotel or a nearby subway station. The cost of a shuttle will vary depending on the company and the destination, but it is generally less expensive than a taxi.
Finally, you can also take the public transportation system to get from JFK Airport to New York City. The New York City subway system has a station at JFK Airport, which can be accessed via the AirTrain. You can take the AirTrain to the Howard Beach subway station, where you can transfer to a train into Manhattan. The cost of the AirTrain and subway is $7.75, and the ride to Manhattan will take about an hour.
Overall, the best option for you will depend on your budget and your final destination in New York City.
Getting Around New York City
Walk: Believe it or not, New York is actually quite a walkable city. Yes, it is extremely big but if you plan accordingly (by using this itinerary) you will only need to get public transport on days 3 and 4 to the finical district and Brooklyn. This will save you a lot of money!
The Subway: There are so many different subway routes throughout New York that it is easy to get from A to B using public transport. I always like to download google maps to use offline. I use the directions feature to tell me what train to get. A one way subway journey will cost $2.50 and a 7 day pass costs $29.00 (at the time of writing) so if you plan on using the subway quite often this may be a great option for you.
Uber or Lyft: New York Yellow Taxi's are extremely expensive, therefore, if you need to avail of a taxi service, I'd highly recommend Uber or Lyft. Of course the subway is much cheaper but it does not offer door to door service.
Hop on hop off: One way of getting around the city is to avail of the Hop on Hop off Bus Service. This will bring you around to all the major tourist attractions in the city.
Bike Around New York: You can also opt in to biking around New York City. At the time of writing a one day pass costs $12 and a 3 day pass costs
$24.
Where to stay in New York
While travelling in New York, I have always stayed with Family. I do, however, suggest for those of you travelling on a budget to consider staying with the HI Hostel Group. I have stayed with them in varies cities across America and they never disappoint. Always clean, nice staff and have fun environments.
When to Visit New York (with a weather guide)
New York get's pretty consistent seasons, which is good for those planning trips at certain times in the year. I'll attach below an average temperature guide for each month. This in turn, will make it easier to pack for the month you plan to visit the Big Apple.
All information was summarised from the CurrentResults website.
| | | |
| --- | --- | --- |
| Month | Temperature (fahrenheit) | Temperature (celsius) |
| Janurary | 38° to 27°F | 4° to -3°C |
| Feburary | 42° to 29°F | 5° to -2°C |
| March | 50° to 35°F | 10° to 2°C |
| April | 71° to 54°F | 16° to 17°C |
| May | 71° to 54°F | 22° to 12°C |
| June | 79° to 64°F | 26° to 18°C |
| July | 84° to 69°F | 29° to 20°C |
| August | 83° to 68°F | 28° to 20°C |
| September | 75° to 61°F | 24° to 16°C |
| October | 64° to 50°F | 18° to 10°C |
| November | 54° to 42°F | 12° to 5°C |
| December | 43° to 32°F | 6° to 0°C |
Tips and Advice for Those Planning a Trip to New York City
Safety Tips: I understand that many people travelling to New York for the first time may be a little scared about staying safe while exploring the Big Apple. Like when visiting any big city it is important to always have your wits about you and make smart choices.
Solo Travel Tips: My most recent trip to New York was as a solo traveller. I really enjoyed this trip as I could go to all the places I wanted to without having to consult anyone else. At no point throughout the trip did I feel unsafe or scared of my surroundings. I do have one tip for those planning a solo trip, always be sure to tell a friend or family member your plans for the day. That way they can check in with you to make sure that you are safe.
Budget Tips for New York City
New York is an expensive city, one that is hard to visit on a budget. And for those of you who are familiar with this blog will know that I am most definitely a budget traveller. Now, what I mean by that is when it comes to food, accommodation and transport I tend to opt into the most budget friendly options. I do not however restrict myself when it comes to activities, like say fulfilling my life long dream to see a live broadway show. That's just too good to miss!
Food Budget Tips: Consider getting food at 11am that acts as a brunch so to speak, Panera Bread is a great option for this! The portions are rather generous and the food is affordable. For Dinner, try to make your own food whenever possible or opt into buying the 1 dollar pizza's. They HUGE and DELISH! Now, I know this is not the healthiest of options but it keeps your tummy full and bank account happy. As for snacks, I usually buy fruit to keep the cost low and drink water while on the go!
Accommodation Budget Tips: I almost always stay in hostels when travelling solo. It is the easiest way to meet new people but also save some money for activities and experiences. Dorm rooms are extra cheap too!
Transport Budget Tips: I honestly just walk everywhere, I rarely use public transport when abroad unless I am visiting an attraction that is outside the main city. Even if my next stop is an hour and a half away, I usually still decide to walk as you never know what off the beaten things you may come across on your travels. However, in saying that, if walking isn't your scene I think city bikes is the next best budget friendly option in New York. Or maybe purchase the 7 day subway pass if you are willing to spend a little bit more.
Liked the Post? Pin it for later so it is easier to find again!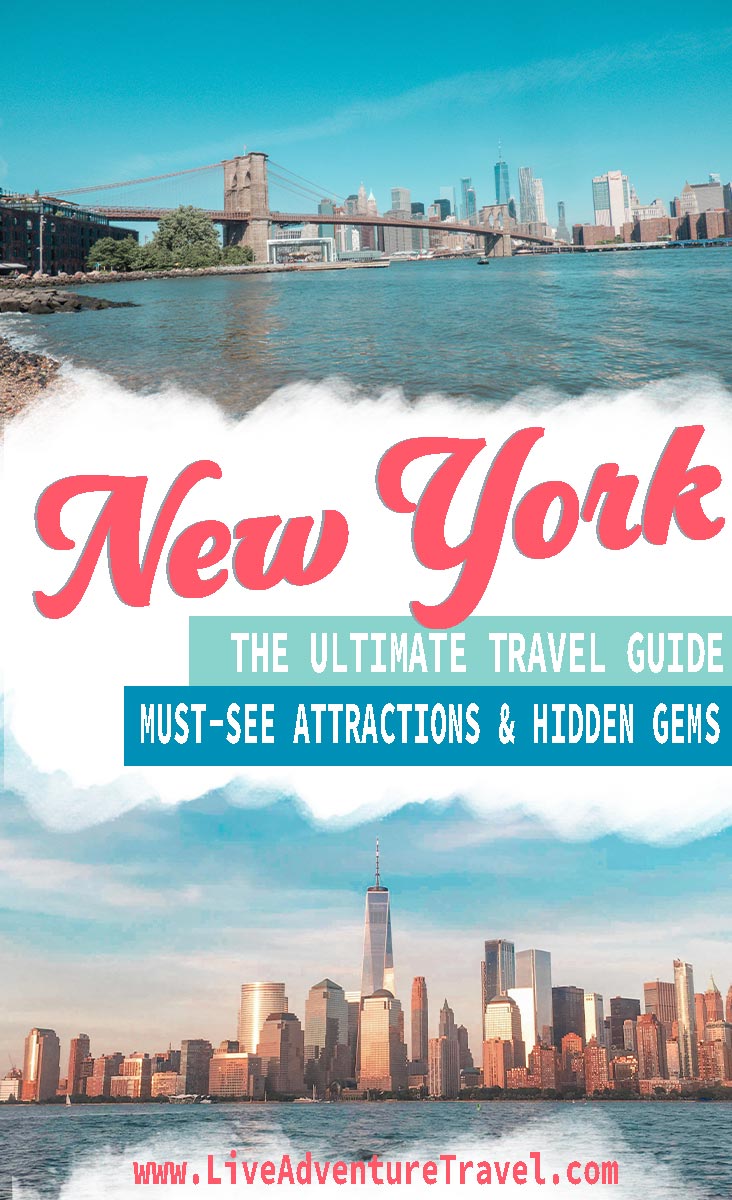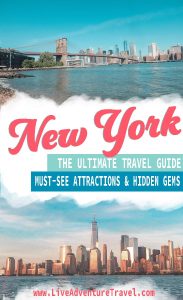 If you enjoyed this blog post be sure to check out my vlog down below for extra inspiration for your New York Trip!
Thanks for Reading and I hope you enjoyed. If you have any further questions be sure to reach out to me on Facebook or Instagram. As Always, happy travels and see you in the next blog!
Thanks for Reading!
I hope my San Francisco blog came in handy and helped you plan your trip to the iconic US city. One of my trips to New York was part of a coast to coast road trip with Trek America. If you two are including New York in your US road trip be sure to check out my packing list here.
I have linked some of my favourite stops from my American road trip down below:
Disclaimer: This post may contain affiliate links, meaning I may make a small commission at no extra cost to you.