Is there Uber in Rome? (A 2023 Guide to Getting Around)
Planning a trip to Rome can be a difficult task. As someone who has fallen in love with the Italian capital after visiting on my 4-month trip across Europe. I often get asked by readers what the most convenient way is to get around. Many people assume that hopping into an Uber is a readily available option when in a rush to go from point A to point B. This, of course, is with Uber's increasing global popularity and expanding presence in major cities. To be honest, I can see where they come to that conclusion. But, is there Uber in Rome? Let's find out!
The Short Answer: Is Uber in Rome?
The answer is….kind of.
You can use the Uber app while visiting Rome but it's not as straightforward as you may think. Unlike in other major cities such as New York, London or Paris, where Uber is deeply integrated into the transportation system, Rome has a rather complicated relationship with the ride-sharing service.
Uber launched in Rome back in 2014 and quickly gained popularity as an alternative to traditional taxis. However, much like other European cities such as Dublin and Budapest, this created some tensions with the existing taxi drivers who felt threatened by the competition.
As a result, the Uber app was allowed to stay in operation with some key restrictions, making it a more limited option for getting around the city.
How Uber Works in Rome
Uber has a range of budget-friendly options such as UberX to UberPool, however, due to strict taxi laws in Italy these services are not allowed.
Visitors and Locals can however still available of other options such as Uber Black, Lux, and Van. So, while you can still use Uber when in Rome it may not be the most cost-effective way of getting around the city but don't worry, that is why I have written this post. To help you navigate the streets of Rome with ease.
Uber Black: This is the most premium service offered by Uber. It's essentially a luxury taxi and comes with a higher price tag.
Uber Lux: Similar to Uber Black, this option offers high-end vehicles such as Mercedes or Audi sedans for those looking for a more luxurious ride.
Uber Van: As the name suggests, this option is perfect for larger groups of up to 6 passengers
The Pro's and Cons of Using Uber in Rome
Pros of Using Uber in Rome
✅ Convenience: With Uber, you can request a ride at the click of a button. The app is user-friendly and you do not need to wave down a taxi or understand Italian to get to your destination.
✅ Safety: All Uber rides are tracked, and details of the driver and vehicle are provided to the rider. This ensures that your safety is not compromised.
✅ Comfort: Uber offers a range of car options, from luxury vehicles to vans, ensuring a comfortable ride regardless of your group size or preference.
Cons of Using Uber in Rome
❌ Cost: Uber can be more expensive than traditional taxis or public transport, particularly the premium services such as Uber Black and Uber Lux.
❌ Availability: Due to local regulations, the cheaper Uber options like UberX and UberPool are not available in Rome.
❌ Surge pricing: During periods of high demand, Uber's prices can increase substantially. This can make getting around the city quite expensive.
Why does Rome Not Have Uber?
Rome does not offer services like UberX and UberPool due to stringent local regulations and the strong influence of taxi unions.
The Italian Court ruled that these services constitute unfair competition to local taxi services. The licensed taxi drivers argued that Uber services did not comply with the city's regulatory framework and had an unfair advantage by not adhering to the same strict rules.
Therefore, only the more expensive Uber options like Uber Black, Uber Lux, and Uber Van are operational in Rome, allowing for a certain level of competition but still maintaining the traditional taxi service's dominance in the city's transport landscape.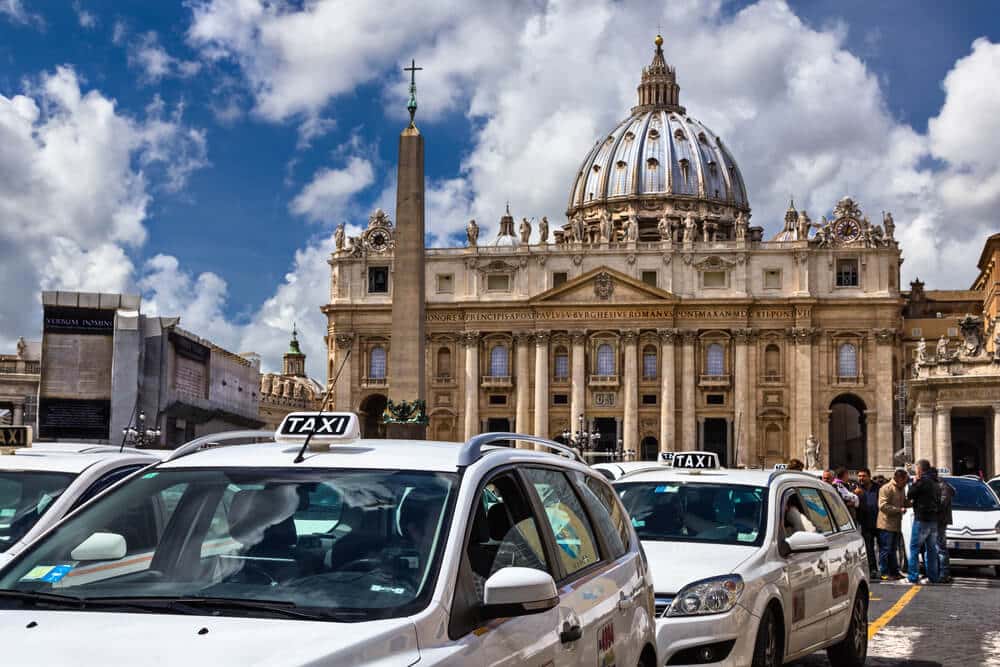 This post may contain affiliate links which means we make a commission at no extra cost to you
Section 1: Taxis in Rome – FAQ
Welcome to our "Taxis in Rome – FAQ" section. In this part, I will answer the most common questions about taxi services in Rome. My aim is to give you a comprehensive guide that illuminates the unique aspects of Rome's taxi scene, assisting you in navigating it successfully.
Whether you're a local exploring transportation options or a traveller trying to grasp the complexities of Italian transportation, this FAQ is designed for you. Let's get started!
Is there an Uber Alternative in Rome?
Yes, Rome does offer an Uber alternative known as FreeNow (formerly MyTaxi).
FreeNow is a widely used rideshare app that operates similarly to Uber. It allows users to order a taxi with a push of a button on their phone.
The app also features real-time tracking, fare estimates, and cashless payment options.
It's worth noting that FreeNow fares are regulated by local taxi services, which means there's no surge pricing during peak hours, making it a more predictable and often more affordable option than Uber.
Another bonus is that FreeNow taxis are licensed, ensuring you have a professional driver aware of all the city's routes and regulations.
Pros and Cons of using Free Now over Uber:
Pros of Using FreeNow Over Uber:
✅ No Surge Pricing: Unlike Uber, which increases fare rates during peak hours, FreeNow offers consistent pricing. This makes budgeting for transportation much easier.
✅ Licensed Drivers: All FreeNow drivers are licensed taxi operators. They have thorough knowledge of the city's roads, regulations, and best routes to take.
✅ Regulated by Local Taxi Services: FreeNow is regulated under local taxi laws, providing an extra layer of security for riders.
Cons of Using FreeNow Over Uber:
❌ Limited Luxury Options: Unlike Uber, which offers luxury options like Uber Black and Uber Lux, FreeNow primarily focuses on standard taxi services.
❌ Lack of Price Competition: Since FreeNow fares are regulated and fixed, there isn't a competitive market that might lead to lower prices as seen with Uber.
How do you order taxis in Rome?
There are many convenient ways to order a taxi while visiting Rome. I have listed the most popular methods below.
Using an app: In Rome, the key alternatives to Uber are apps like FreeNow, and It Taxi, all of which feature user-friendly interfaces that make ordering a taxi a breeze.
I personally use FreeNow when in Rome, as I appreciate being able to see the estimated fare before boarding the taxi.
By Phone: Another common method is to call a taxi company directly. This method is reliable, but keep in mind that speaking some basic Italian could be beneficial.
Most taxi companies, such as Radio Taxi, also may have English-speaking operators, for those worrying about language barriers.
Hail a Taxi: Lastly, you can hail a taxi directly from the street. However, according to Italian law, taxis can only stop in designated areas, so keep an eye out for taxi ranks in this case.
Are taxis easy to get in Rome?
Yes, taxis are generally easy to get in Rome, especially in popular tourist areas such as the Colosseum, Vatican City, and the Spanish Steps.
Most taxi ranks are conveniently located near major landmarks and transport hubs, making it easy for travellers to find a ride. However, during peak hours or special events, there might be higher demand, leading to longer waiting times.
Using taxi apps can be beneficial in such instances, as they allow you to book a taxi in advance and avoid potential wait times.
Are Taxis in Rome Safe?
Yes, taxis in Rome are generally safe and reliable. The drivers are required to follow strict regulations and most of them are professional and courteous.
However, it is always recommended to use licensed taxis – they are white with a taxi sign on top and an official number on the side.
Also, ensure that the meter is running to avoid any disputes over fares.
For added safety, especially during night hours, it may be preferable to book a taxi through an app or over the phone rather than hailing one off the street.
How Much are Taxis in Rome?
Taxi fares in Rome are generally reasonable and are regulated by the city. The base fare starts around €3 during the daytime, and is slightly higher at nighttime and on Sundays.
The total cost depends on the distance travelled and the time taken for the journey.
It's important to note that there are additional charges for luggage, trips to/from the airport, and waiting time.
Always ensure that the taxi has a functioning meter and that it's turned on at the start of your journey to avoid any discrepancies.
How Much is a Taxi From Rome Airport to the City Centre?
A taxi from Rome's Fiumicino Airport to the city centre typically costs around €48. This is a fixed rate and includes luggage, so the price should remain the same regardless of traffic conditions or the exact destination in the city centre.
However, do note that this fixed rate only applies to licensed white taxis. When you exit the airport, look for official taxi signs to ensure you are using a licensed service.
How else can I get from Rome Airport to the City centre?
Other than taxis, there are several options to get from Rome's Fiumicino Airport to the city centre.
By Train: The Leonardo Express is a non-stop train service that runs between the airport and Rome's main Termini station. It costs €14 for a single ticket and takes around 32 minutes.
By Bus: There are multiple bus services available from the airport to various destinations in central Rome, with fares starting at €5.90. However, the journey can take longer due to traffic conditions.
By Shuttle: Private shuttle services can also be arranged in advance for a fixed price, usually starting at €13 (return) per person.
By Car Rental: If you prefer to have your own mode of transportation, car rental options are available at the airport with various companies such as Hertz, Avis, and Europcar.
Can you pay by card in Taxi's in Rome?
Legally, all taxis in Rome are supposed to accept card payments but that does not mean all do.
It's best to ask the sriver before you get in the car if it is possible to pay by card. If they say no simply decline the ride and take the next abible taxi.
Do you Tip Taxi Drivers in Rome?
Tipping taxi drivers in Rome isn't mandatory, however, leaving a few quid as a way to say thanks would definitely be appreciated.
In this circumstance, a general rule of thumb would be to round up the fare to the nearest euro for shorter trips, or for longer journeys, a tip of 5-10% is considered generous.
Tips for getting Taxi's in Rome
Book in Advance: During peak seasons, the demand for taxis can be high. It's a good idea to book in advance to avoid waiting or being late for your plans.
Use Authorized Taxis: Always ensure you are getting into an authorized taxi. You can identify these by the white colour and the official taxi sign on the roof.
Know Your Route: Having a general idea of your destination and route can help prevent being taken on a longer, more expensive route.
Keep Your Belongings Secure: Keep your luggage and personal belongings within your sight at all times during the taxi ride.
Check the Meter: Make sure the driver starts the meter when you start your journey to avoid any disputes regarding the fare.
Ask for a Receipt: Always ask for a receipt at the end of your journey. This can be helpful if you need to make a complaint or if you leave something behind in the taxi.
Be Aware of Extra Charges: Some taxi drivers might charge extra for night rides, luggage, or trips outside the city. It's best to ask about any extra charges before starting your journey.
Be Polite and Respectful: Remember to always be polite and respectful towards your driver. A simple thank you at the end of your journey can go a long.
Section 2: Getting Around Rome Without Uber
Navigating Rome without the convenience of Uber may initially seem challenging. However, Rome boasts an excellent transportation system that provides various means to explore this beautiful city.
This section will guide you through the alternative transportation options available in Rome, ensuring your travel experience remains comfortable and hassle-free.
What is the best way of getting around Rome?
When visiting Rome there are many ways to get around the city. I have listed some of the main modes of transport below.
Underground: The underground system in Rome is called the Metro. It has three lines (A, B, and C) that connect most of the city's main attractions. Tickets can be purchased at vending machines inside stations or tobacco shops. They typically cost €1.50 for a single journey and are valid for 100 minutes.
Buses: Rome's bus system is extensive, with over 350 lines covering almost every corner of the city. You can buy tickets at vending machines inside the buses or at tobacco shops. Buses run from 5:30 am to midnight, and some night lines operate throughout the night.
Scooters: Renting a scooter is a popular option for tourists in Rome. It allows you to explore the city at your own pace and avoid traffic congestion. Lime is one of the leading scooter rental companies in Rome, with various pick-up and drop-off locations throughout the city.
Bicycles: With over 250 kilometres of bike lanes, cycling is an excellent way to explore Rome. There are many bike rental companies in the city.
Walking: Rome is best explored on foot, and it's the perfect way to take in all the city has to offer. You can join a walking tour or explore at your own pace using a map. Just remember to wear comfortable shoes as some of the streets are quite uneven.
Hop-On Hop-Off Bus: If you prefer a guided tour with stops at major attractions, then the Hop-On Hop-Off bus is a good option. You can buy tickets at various locations throughout the city, and they are valid for 24 or 48 hours depending on the package you choose.
Should I rent a car in Rome?
Renting a car in Rome is generally not recommended for tourists. While it offers the flexibility of moving at your own pace, the city's heavy traffic, narrow streets and exorbitant parking fees make driving more of a hassle than a convenience.
Moreover, Rome's historic city centre, filled with pedestrian zones and narrow alleys, is best explored on foot or by using public transportation. If you do choose to rent a car, ensure you're familiar with the local driving laws and parking regulations in Rome to avoid any unnecessary fines.
Section 3: Useful Information Before Trip to Rome
Where to stay in Rome:
Rome provides a myriad of accommodation options suitable for all budget levels.
Luxury: For those looking to splurge, areas such as Piazza di Spagna and Via Veneto host high-end hotels with luxurious amenities and excellent service. These areas are also centrally located, with many attractions within a short walking distance. Hotels such as Hotel Hassler and Hotel Eden are popular choices in this category.
Mid-range: If you're looking for a comfortable stay without breaking the bank, consider areas like Trastevere or Monti. These neighbourhoods offer a mix of boutique hotels and affordable guesthouses with easy access to major sights and authentic local experiences. Some notable options include Hotel Santa Maria, and Hotel Duca d'Alba.
Budget: For budget-conscious travellers, the Termini area in Rome offers a range of affordable guesthouses and budget-friendly hotels. While not as charming as other areas, it is conveniently located near the central train station and provides easy access to public transportation. Some popular options include YellowSquare Hostel. This is where I stayed and love it. It was one of my favourite hostels in Europe.
Tips for Visiting Rome for the First Time
Plan Ahead: Rome is a popular tourist destination year-round, so it's wise to book your accommodation and tickets to major attractions in advance to avoid long queues and sold-out situations.
Dress Appropriately: When visiting religious sites like the Vatican and many other churches in Rome, remember to dress modestly. Shoulders and knees should be covered.
Stay Hydrated: Rome can get quite hot, especially in the summer. Carry a reusable water bottle with you. You'll find plenty of public water fountains around the city where you can refill for free.
Learn Basic Italian Phrases: While many Romans speak English, knowing a few basic Italian phrases can be helpful and is appreciated by the locals.
Beware of Pickpockets: Like many tourist-heavy cities, Rome has its fair share of pickpockets. Always be mindful of your belongings, especially in crowded areas.
Explore on Foot: Rome is best experienced on foot. Take time to explore its narrow cobblestone streets, you never know what hidden gem you might stumble upon.
Top 10 Things to Do in Rome
Visit the Colosseum: As one of the New 7 wonders of the World, the Colosseum is a must-see. This ancient amphitheatre, once the hub of Roman public spectacles, oozes history.
Stroll through the Roman Forum: Near the Colosseum, you'll find the Roman Forum. Once the heart of the Roman Empire, this sprawling ruin offers a glimpse into ancient life.
Marvel at the Pantheon: This remarkably preserved monument dates back to AD 120. The dome, still the world's largest unreinforced concrete dome, is particularly impressive.
Climb the Spanish Steps: A great spot for people-watching, the Spanish Steps are a favorite meeting point for Romans and tourists alike.
Throw a coin in the Trevi Fountain: One of the city's most iconic landmarks, the Trevi Fountain is a Baroque masterpiece. Tradition says that throwing a coin in ensures a return to Rome.
Explore Vatican City: Visit St. Peter's Basilica, marvel at the Sistine Chapel, and explore the Vatican Museums.
Discover Trastevere: This charming neighbourhood offers winding streets, gorgeous piazzas, and an array of local eateries.
Sample authentic Italian cuisine: From pizza to pasta, gelato to espresso, Rome's culinary scene is an adventure in itself.
Visit the Capuchin Crypt: This slightly eerie attraction houses the skeletal remains of 3,700 bodies believed to be Capuchin friars.
Relax in Villa Borghese: One of Rome's largest public parks, it's the perfect place to relax after a day of sightseeing.
Conclusion to Uber in Rome
While Rome does to some extent have Uber it is not the most cost-effective way to explore the city. Consider walking as much as possible, as you'll get to take in all the sights and sounds of this beautiful city.
Alternatively, you can also use public transportation, such as the metro and buses, which are very reliable and budget-friendly.
I hope you have the BEST time in Rome. It's such an incredible city to explore.
EUROPE TRAVEL GUIDES
Fairytale Places in Europe
2 Week Europe Itinerary
3 Week Europe Itinerary
How much my 4 Month Europe Trip Cost
Best Hostels in Europe (My Personal Reviews)
How big Texas is compared to Europe (I'm Shocked)