2 days in Yellowstone National Park Itinerary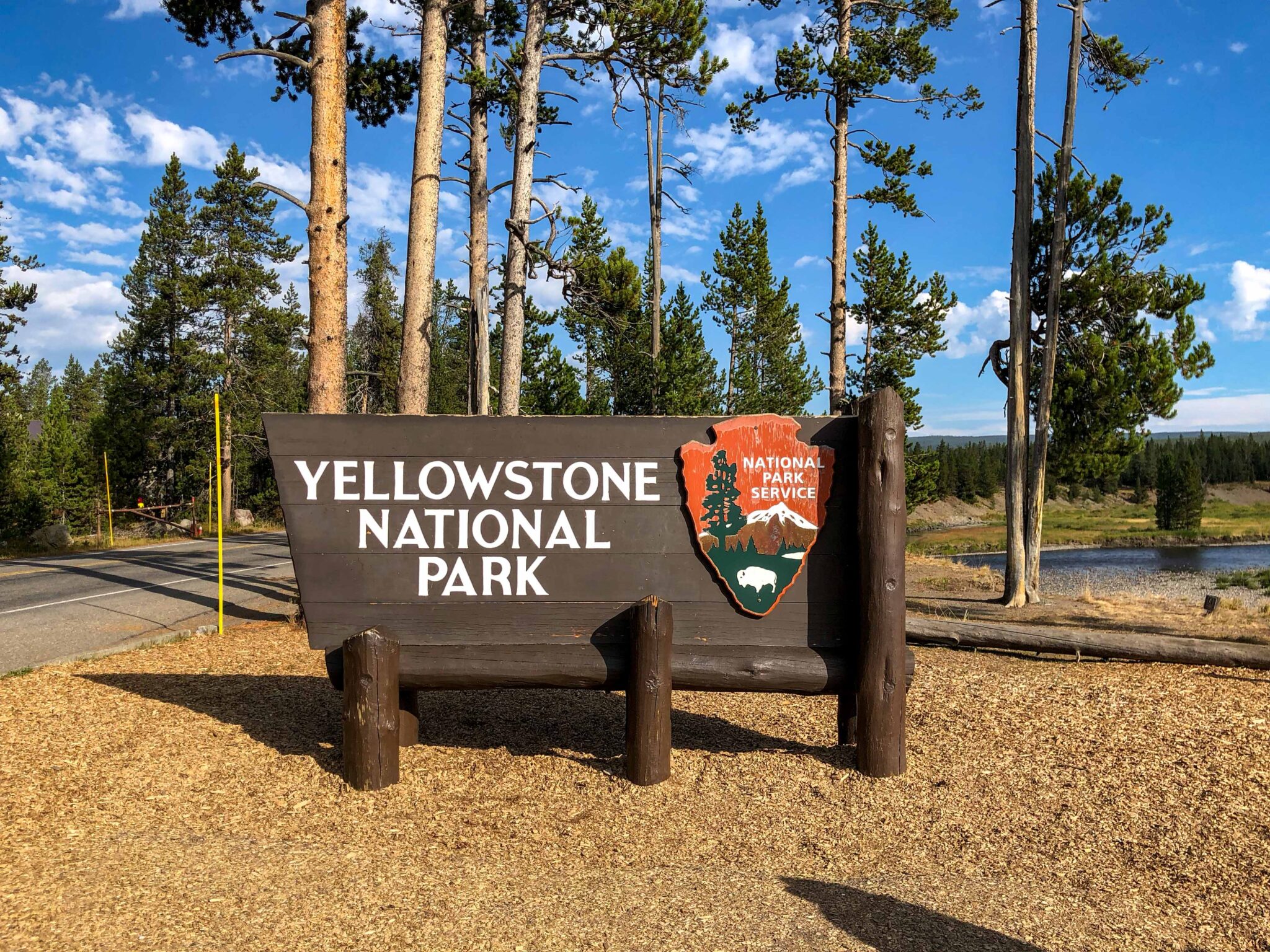 This post may contain affiliate links which means we make a commission at no extra cost to you
2 days in Yellowstone National Park
No matter where you are from in the world, odd's are you have heard about the breathtaking beauty of Yellowstone National Park. Yellowstone is one of the most iconic landscapes on the planet, a natural playground for hikers, explorers and outdoor lovers. It is the perfect addition to a US Road Trip. It can be hard to see all of which Yellowstone has to offer in a short period of time, however, this itinerary will guide you through the highlights. So, if you are a little bit stuck for time but still dream about ticking Yellowstone National Park off your US Bucket List then keep on reading because this 2 Days in Yellowstone itinerary is perfect for you!
Yellowstone 2 Day Itinerary: Know Before You Go!
Yellowstone is unique, it is home to erupting geysers, beautiful flowing waterfalls and some of the most diverse natural landscapes in the world. Planning a trip to Yellowstone for the first time can be tricky. There is so much to see and do and it is easy to get overwhelmed. That's why I have put together a quick guide on things you need to know before visiting Yellowstone National Park.
Getting to Yellowstone:
The easiest way to get to Yellowstone National Park is by driving. Unfortunately, Yellowstone is not really near any major towns or villages making it a little bit difficult to fly into. However, with that being said there are a few smaller airports within Yellowstone's proximity, such as Yellowstone's own airport located in the West of the Park and Jackson Hole Airport located near the neighbouring national park of Grand Teton.
Is it safe to drive around Yellowstone:
Yes, Yellowstone is completely safe to drive around, however, a motorist must be alert for any wildlife in the area. While travelling through Yellowstone it is common to see traffic congestion due to a Bison standing in the middle of the road. It's important to take note of this for timing purposes too.

If you would prefer to avoid driving there are plenty of 2 days Yellowstone tours worth checking out.
Best Time to Visit Yellowstone:
Yellowstone National Park is open to the public all year round, however, it becomes increasingly harder to experience all the attractions in the winter months due to road closers. With that being said, the winter is a great time to experience cross country skiing, snowshoeing and other winter activities.

I'd recommend visiting Yellowstone in the Spring and Summer months, as the weather is much nicer and it is easy to access all the attractions. However, please note that the park is much busier at this time.
Yellowstone 2 Day Itinerary: Day 1
We are going to kick start our Yellowstone Itinerary by entering the National Park through a gateway town called Cody located in the state of Wyoming. This driving route takes just over 3 hours to complete, however, it is full of incredibly scenic viewpoints along the way. It may also be a good idea to take out that road trip playlist to have a listen to some epic tunes as your drive.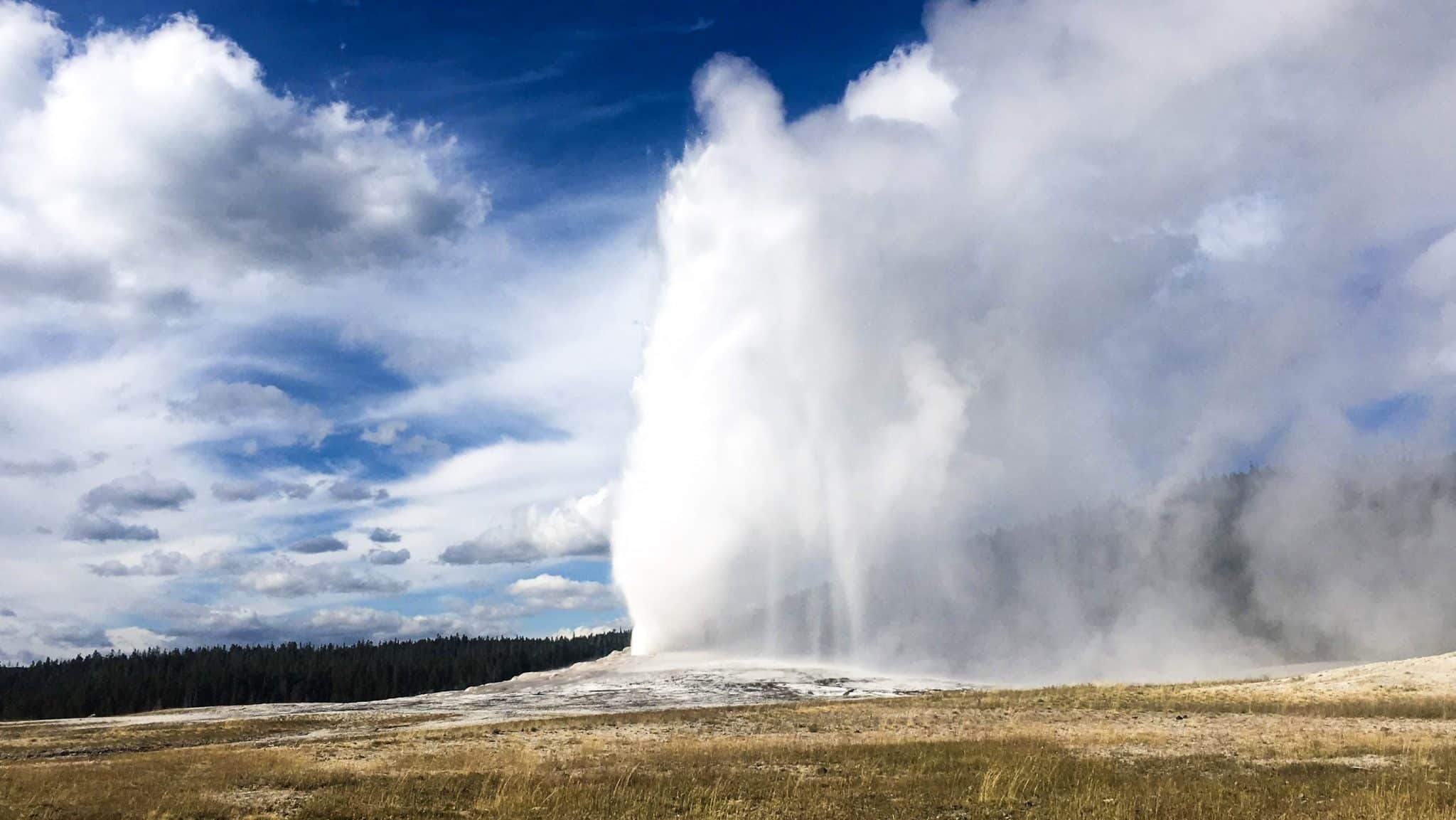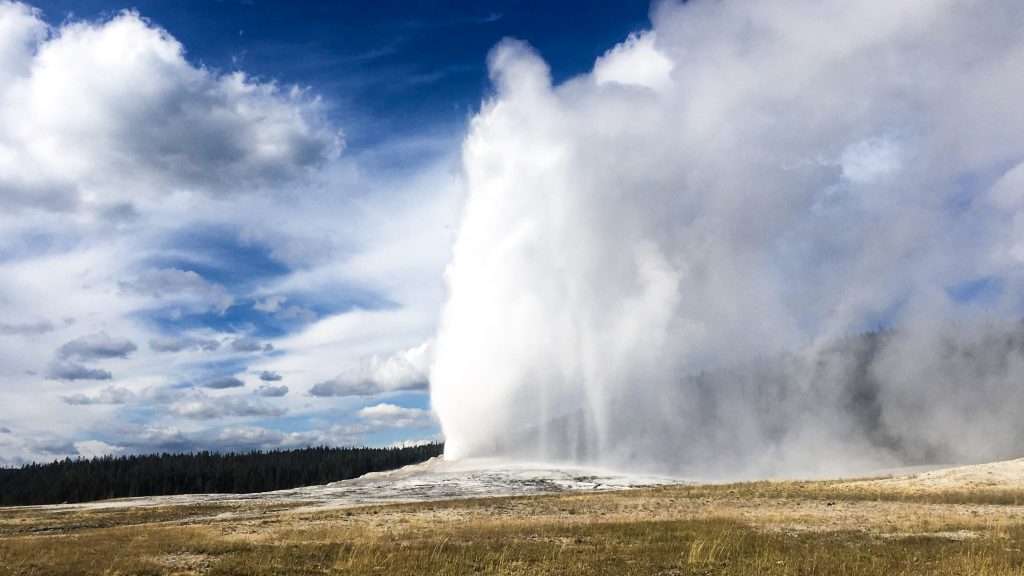 First Stop: Old Faithful
The first stop on our 2 days in Yellowstone itinerary is one of Yellowstone's most famous attractions, Old Faithful.

Old Faithful was the first of nearly 500 of Yellowstone's Geysers to be named. The geysers typically erupt in intervals, ranging from 44 to 125 minutes, with an average of 90 minutes. The eruptions can reach anywhere between 90 to 184 feet. It is a truly magnificent thing to watch. Let's just say, Old Faithful really knows how to put on a show.

I would recommend spending one to two hours in the Old Faithful area, depending on the predicted eruption time. Once you witness Old Faithful erupt in front of your own eyes, I'd recommend exploring the area some more. It is possible to walk around Old Faithful and see many more beautiful geysers along the Upper Geyser Basin Trail. Just be mindful of timing as the trail stretches for 4.5 miles. The visitor centre is also a great place to visit for some factual information about Yellowstone and specifically, Old Faithful.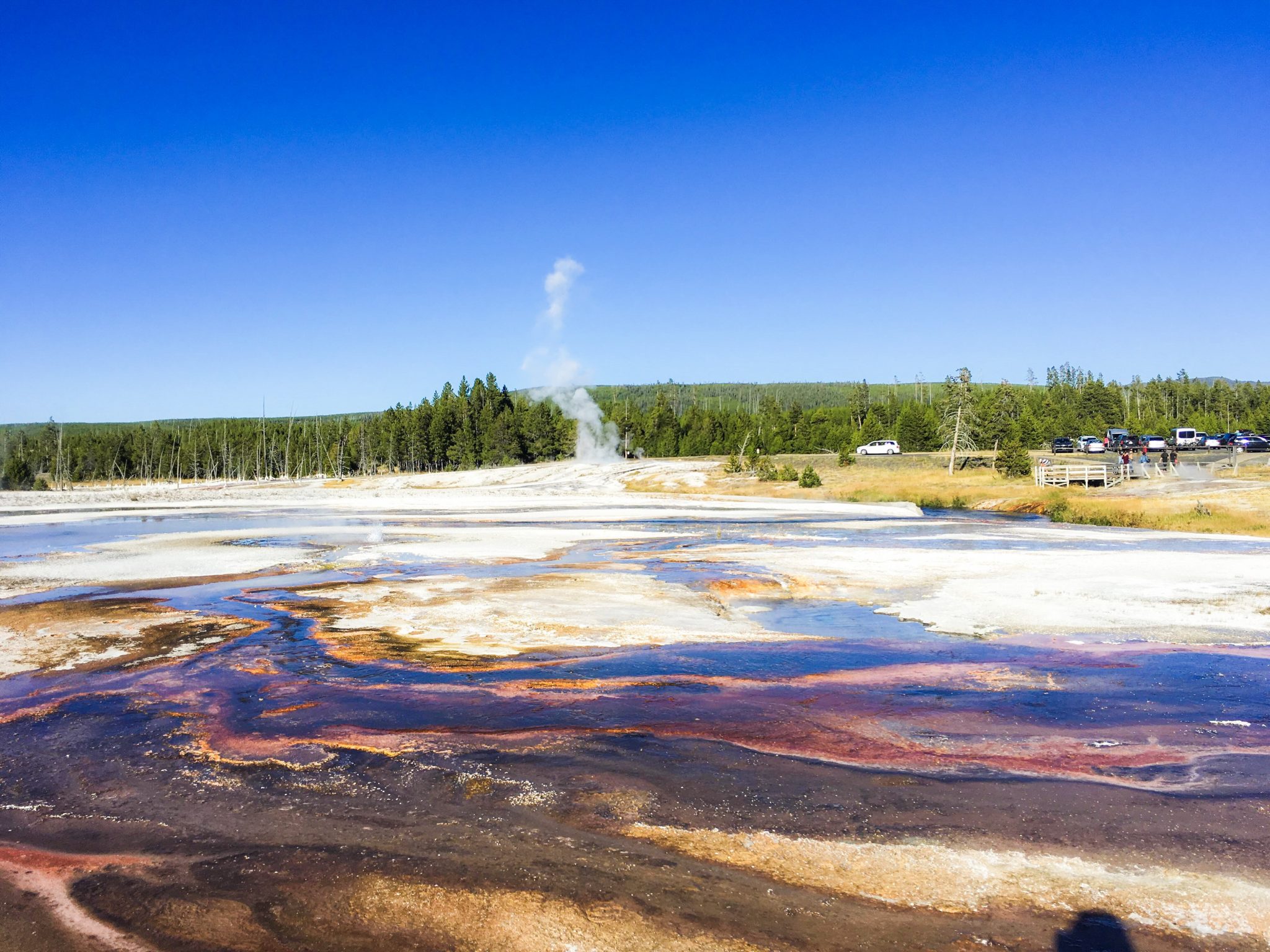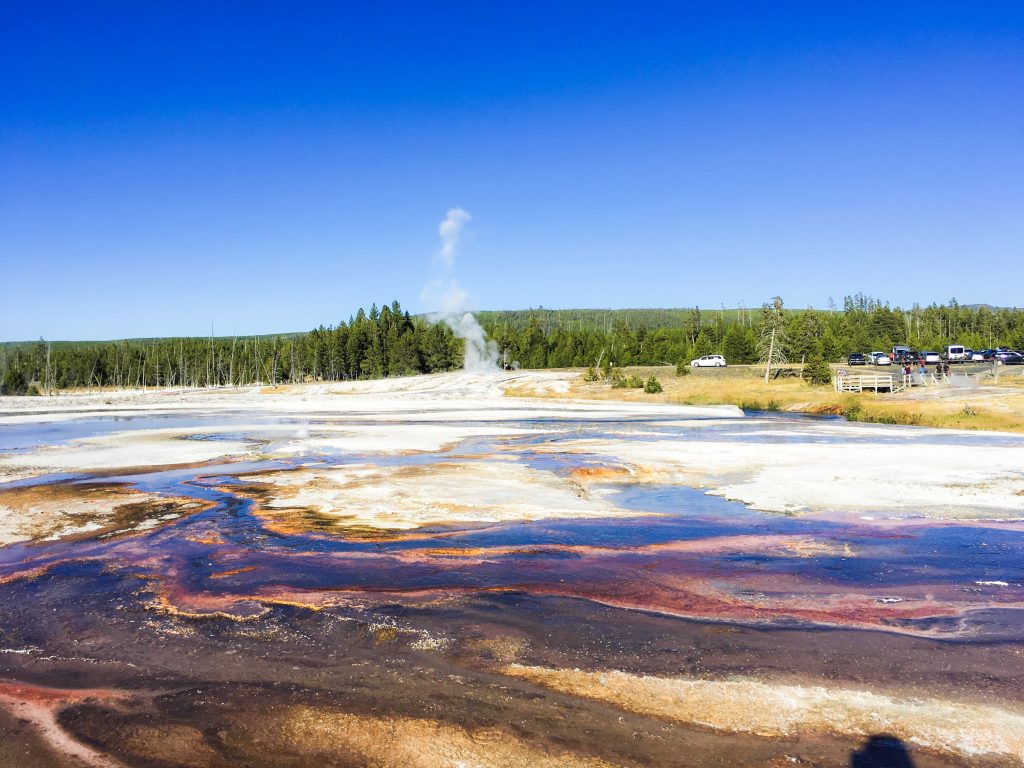 Stop 2: The Black Basin Trail
A short distance from Old Faithful lies the Black Basin Trail, offering views of some smaller geyser with regular eruption patterns. Highlights from the trail consist of Rainbow Pool, Sunset Lake and Emerald Pool.
The trail lasts for half a mile and is an easy flat walk. It is the ideal place to go for a nice leisurely stroll taking in the viewpoints along the way. I'd recommend spending half an hour to 40 minutes exploring this trail.
It is possible to walk from Old Faithful to the Black Basin on a 1 and a half mile trail, taking approximately a 30-minute to walk. Alternatively, It's a 4 minutes to drive away, with parking on site.
Following your visit to the Black Basin, it would be a good idea to stop for a bite to eat. I'd suggest bringing a packed lunch as food can be rather expensive in Yellowstone. Just remember Yellowstone is part of Bear Country so always be careful with food and keep it locked up and stored when not in use.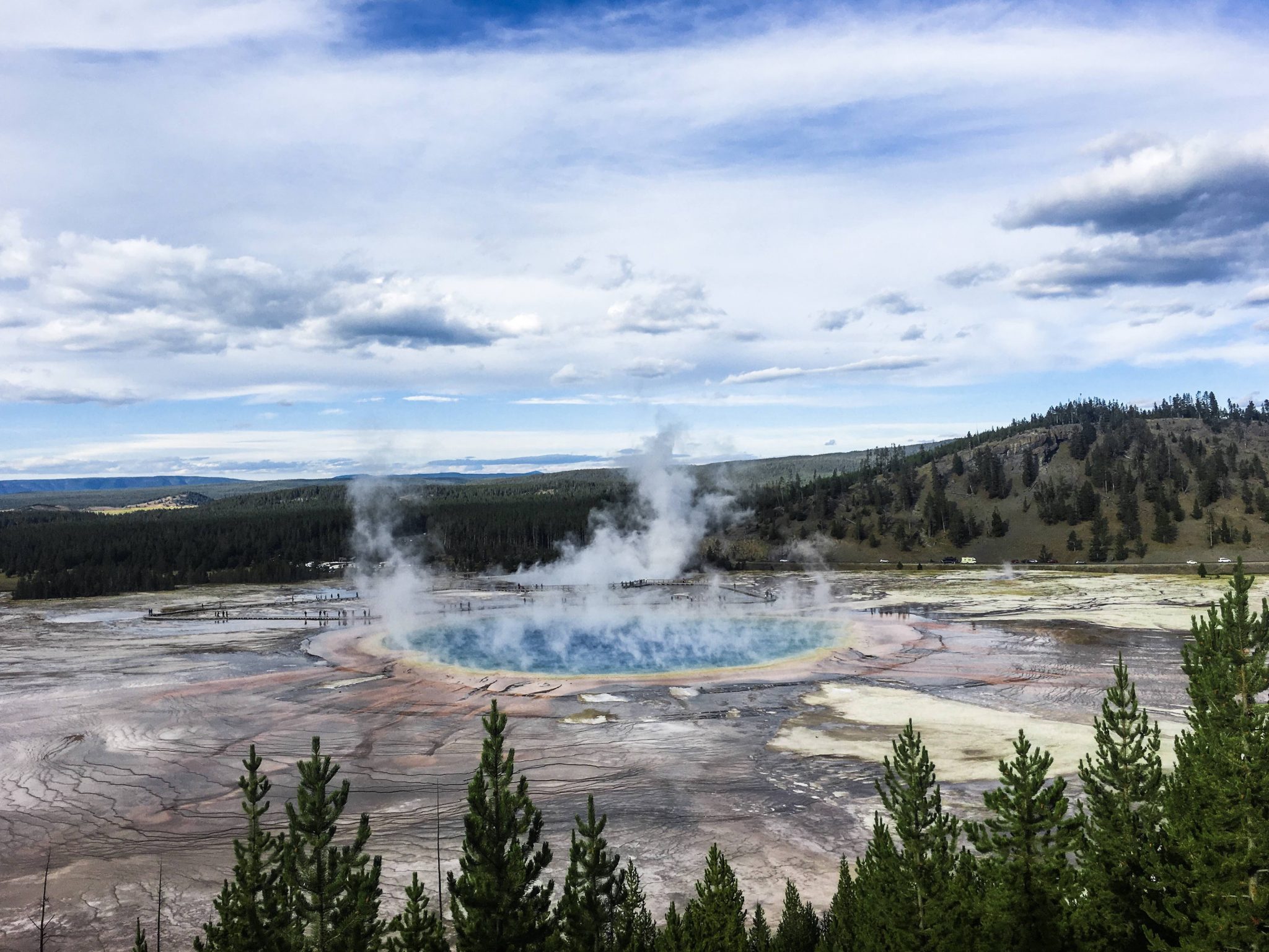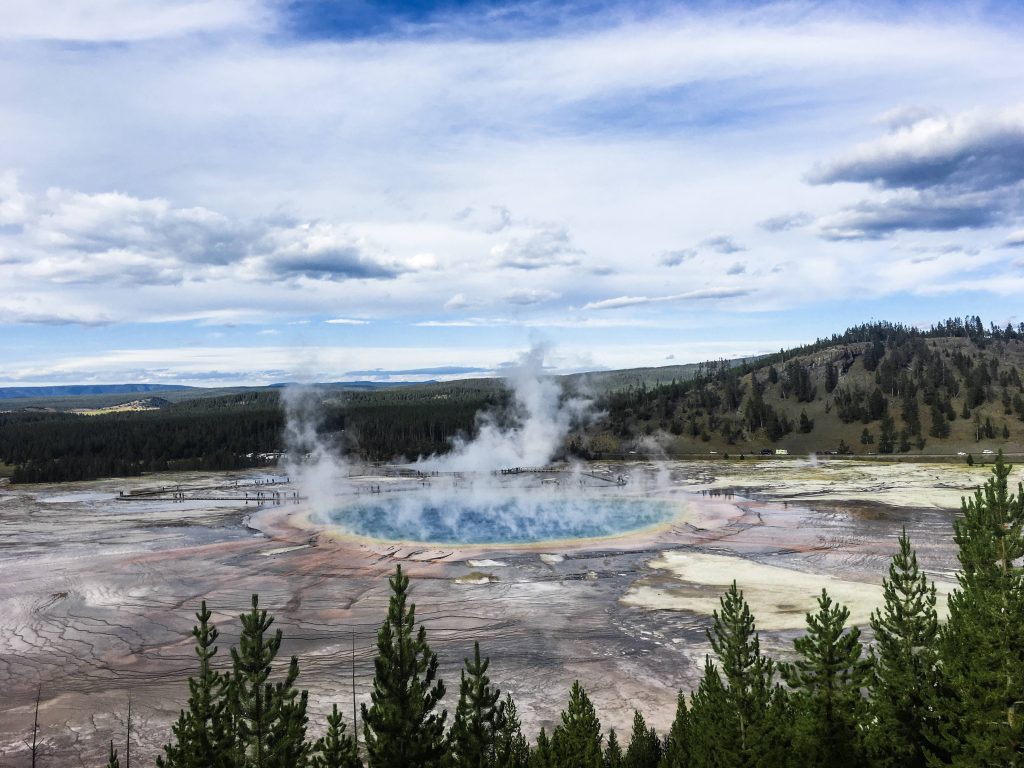 Stop 3: Grand Prismatic Spring
The next stop on the Yellowstone itinerary is one with a truly spectacular view. The journey begins at the Fairy Falls Trailhead. The trail passes over the fire hole river and continues until it reaches a viewing platform of the Grand Prismatic Spring.
The Grand Prismatic Spring is one of the top spots at Yellowstone National Park. So much so, that the viewing platform and trail was built back in 2017, due to the number of visitors attempting to climb what was originally an unofficial trail. Just to catch a glimpse of the Grand Prismatic Spring from a height.
The Spring presents viewers with lovely orange, yellow and green tones. The crystal blue water can, at times, reach temperatures of 188 degrees. I'd suggest spending an hour to an hour and a half exploring the area, it is possible to hike to Fairy Falls from this trail.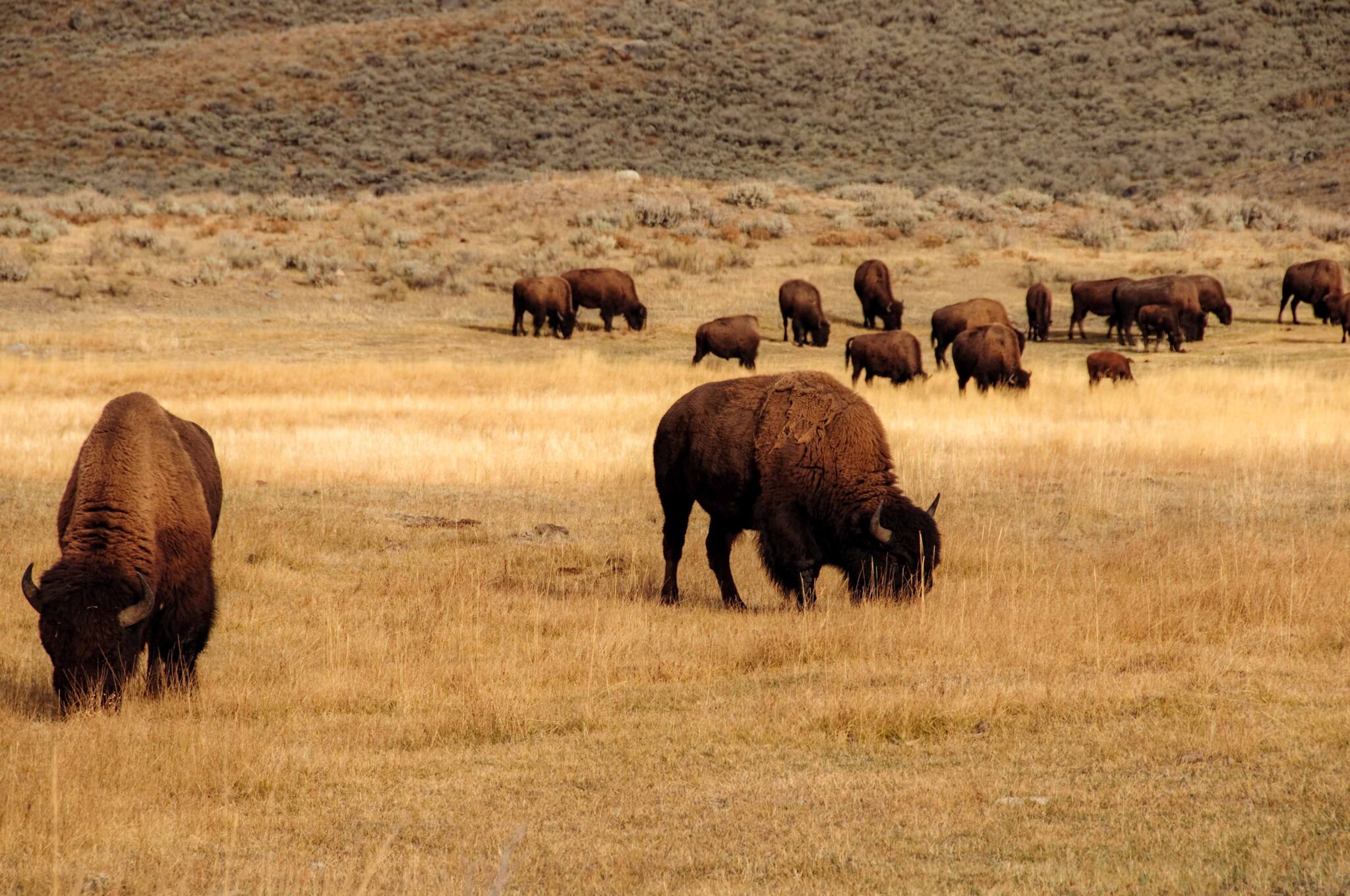 Stop 4: Wild Life Spotting & Scenic Drive
The 4th stop of our Two Days in Yellowstone Itinerary has us driving along the Yellowstone Loop. This is a lovely scenic driving route and it the ideal places to spot some of Yellowstone's captivating wildlife, such as Bears, Bison, Buffalo and Moose. Depending on time, it could be a good idea to stop at any scenic spots that catch your eye while driving. It's time to relax and wind down for the night.
Night 1 in Yellowstone
After exploring the beautiful Yellowstone Loop it is time to head home for the night. On my trip to Yellowstone, I camped in Grant Village Campground, regardless of your accommodation style I'd recommend finding a spot to do a little bit of stargazing. I promise you will not regret it. It is also important to note that the food in Yellowstone can be rather expensive. It can be a good idea for those on a budget to bring their own food along with them. Just be mindful that Yellowstone is part of bear county and any unused food must be stored in appropriate containers.
2 days in Yellowstone National Park: Suggested Time Table for Day 1
Please note that this is a suggested timetable and may vary depending on time and flexibility. With this timetable, it is presumed that you will be arriving in Yellowstone on the first day our itinerary begins.
| | |
| --- | --- |
| Stop/Attraction | Time Spent |
| Breakfast/Get Ready to Go | 7:30 am |
| Drive to Yellowstone | 8.30 am (3 hours from Cody) |
| Old Faithful | 11.30 am (Spend 1/2 hours) |
| The Black Basin Trail | 1.30 pm (Spend 1 hour) |
| Lunch | 2.30pm (Spend 1 hour) |
| Grand Prismatic Springs | 3.30 pm (Spend 2 hours) |
| Drive the Yellowstone Loop | 5.30 pm (Spend 1 hour) |
| Dinner\Home for the Evening | 6.30 pm |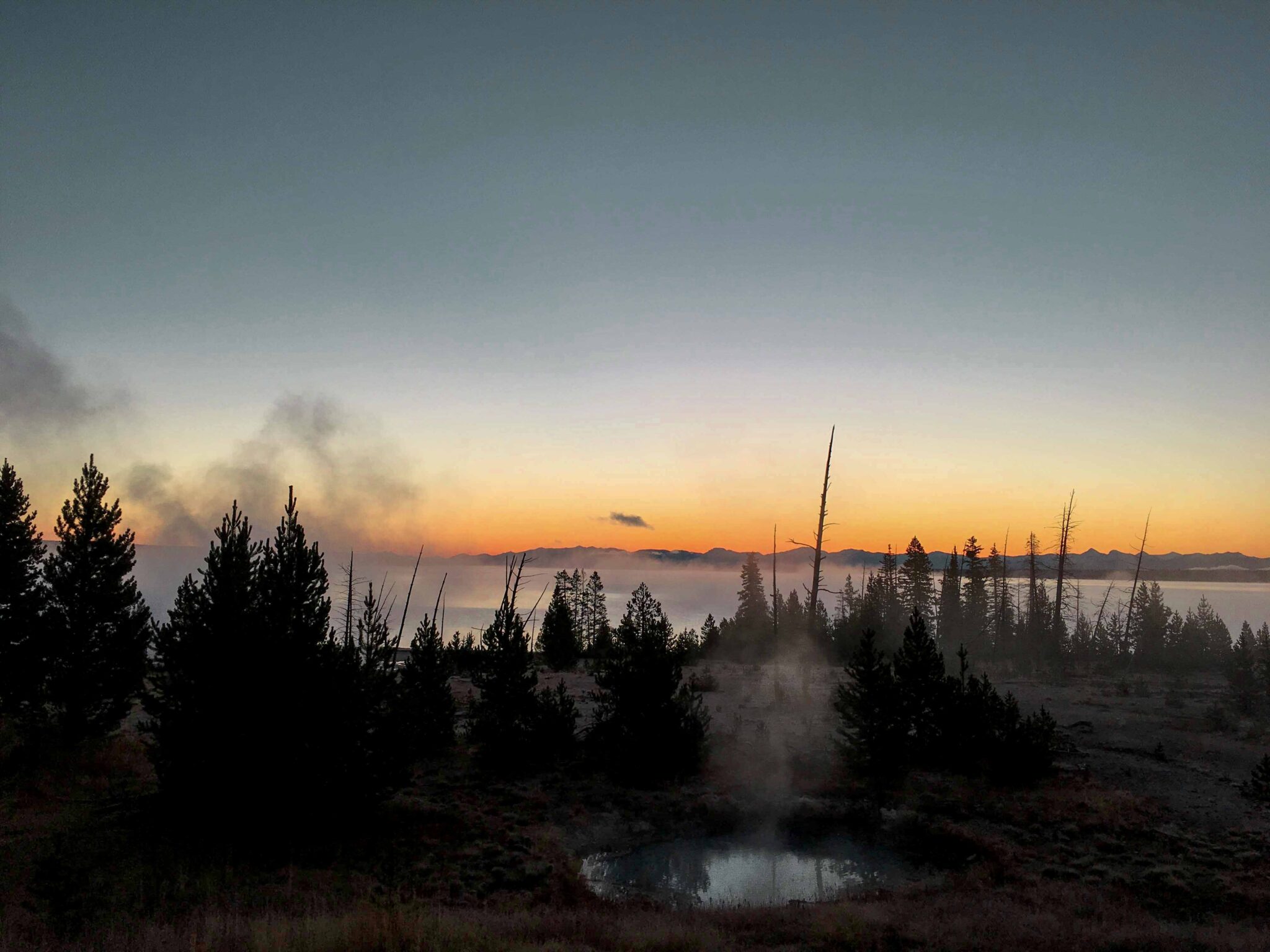 2 Day Yellowstone Itinerary: Day 2
The second day of our 2 days in Yellowstone Itinerary has us waking up at the crack of dawn for a breathtakingly beautiful sunrise. We are then going to spend the day exploring some of the most scenic locations in the park.
Stop 1: The West Thumb
Rise and Shine! I'd recommend setting an alarm before sunrise and heading towards the West Thumb Geyser Basin. The Geyser faces Yellowstone Lake and is one of the best places to watch the sunrise at Yellowstone National Park.

It is magical watching the sun begin to rise as the steam from the thermal pools fills the air. Just be prepared and wrap up warm. Yellowstone tends to be FREEZING in the early hours of the morning.

Highlights in the area include Abyss Pool, the Fishing Cone and the view of Yellowstone Lake. It is a good idea to a little longer after sunrise to see some of these awesome geysers.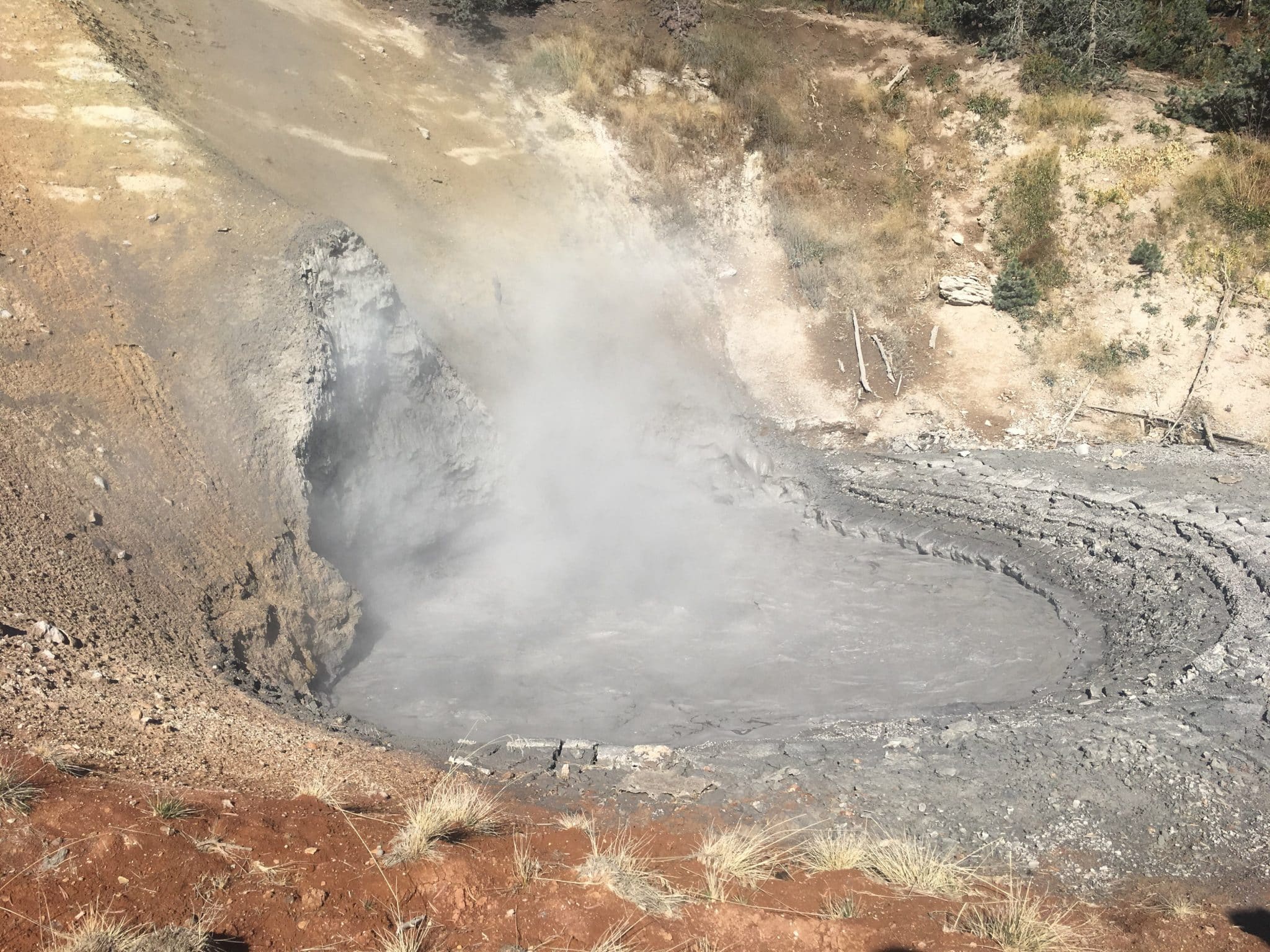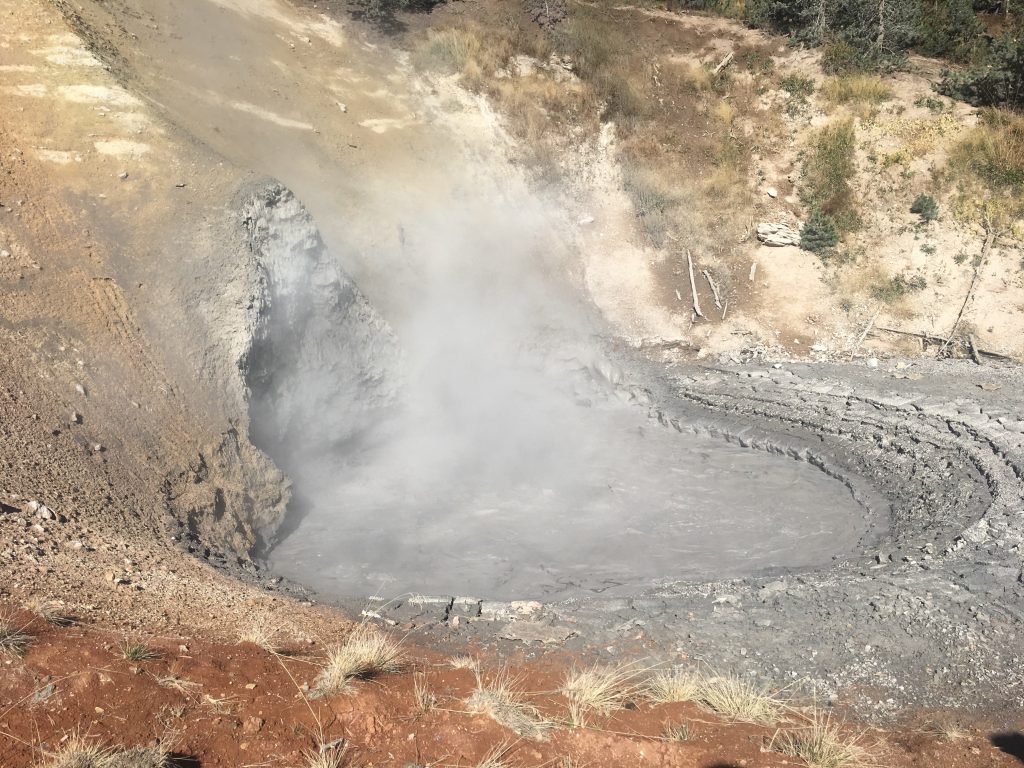 Stop 2: The Mud Volcano
A 40 minute drive from the West Thumb Geyser Basin lies Yellowstone's Mud Volcano.
In the 19th century, the rumbles from the Mud Volcano could be heard from over half a mile away. When it erupted, it shook the ground and splattered mud all over the surrounding area.
Luckily today, the volcanos activity is a lot calmer and the eruption left some extremely interesting spots to explore along the trail.
The trail last for 3/4 of a miles, some points of interest include the Mud Caldron, the Sizzling Basin and the Dragons Mouth Spring. Just a little heads up the smell of sulphur is rather strong along this trail.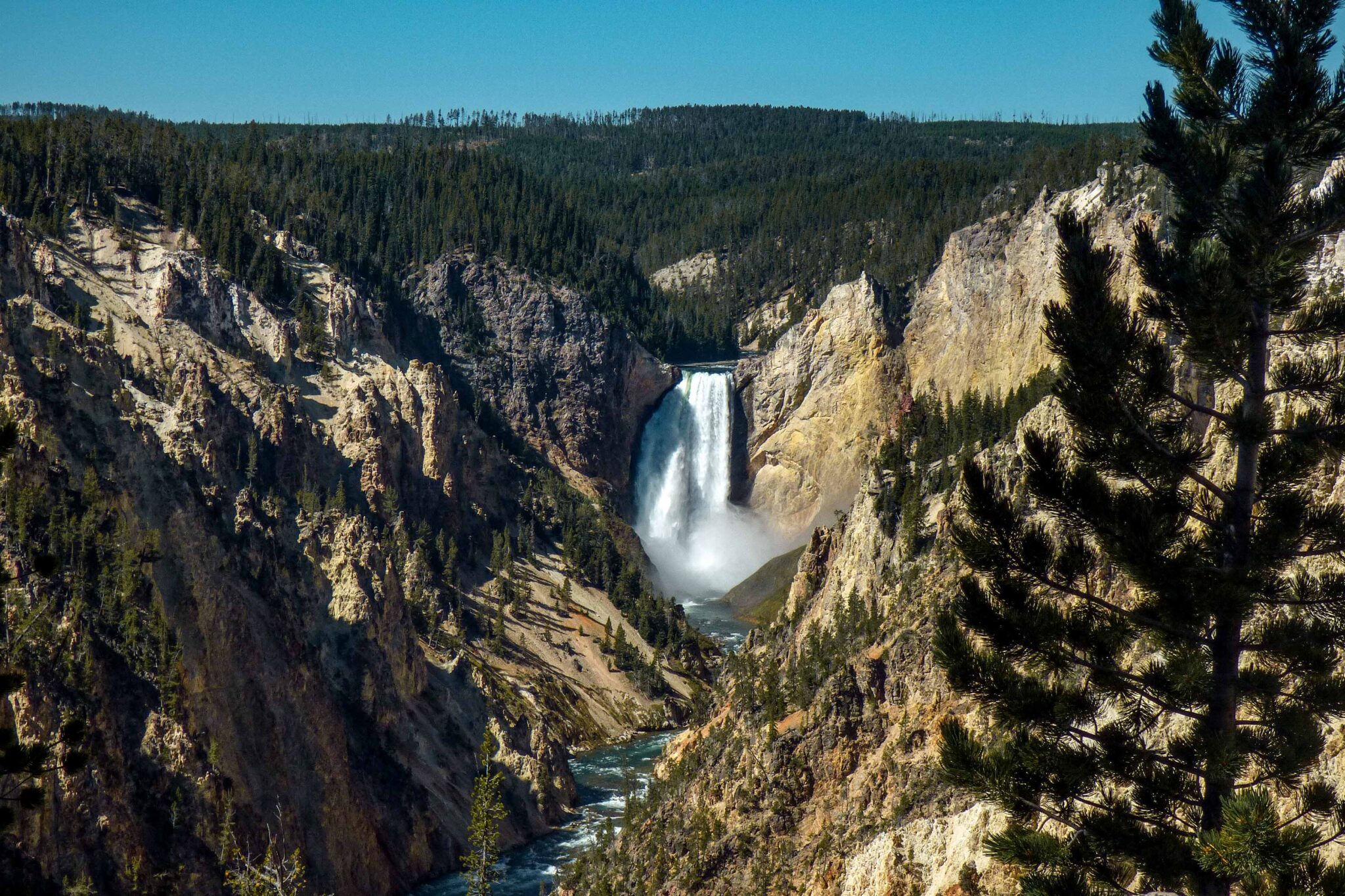 Stop 3: The Grand Canyon of Yellowstone
Following a walk around Yellowstone's Mud Volcano head towards Artist Point. The scenic drive typically takes 20 minutes. Having the opportunity to see a 180 view of the Yellowstone Grand Canyon is an absolute must. The viewpoint is outstandingly beautiful. This an extremely popular spot in Yellowstone and can at times be quite crowded. The view, however, is worth the crowded battle.

Yellowstone's Lower Falls is a truly magnificent waterfall. Once done exploring the startling viewpoint, have a lookout for a small wooden Ribbon Lake Sign. Walk on past the sign, from that point on a trail map will appear showing some further walking options.

If time allows, walk about 10 minutes up the Point Sublime Trail. The trails bring you through an uphill forest area. Not long into the trail, there is a stunning view of the Canyon. This particular trail is also a lot less popular, a great way to avoid the crowds and gear a little off the beaten path. Once reaching the viewpoint, it is possible to turn back around and return to the parking lot.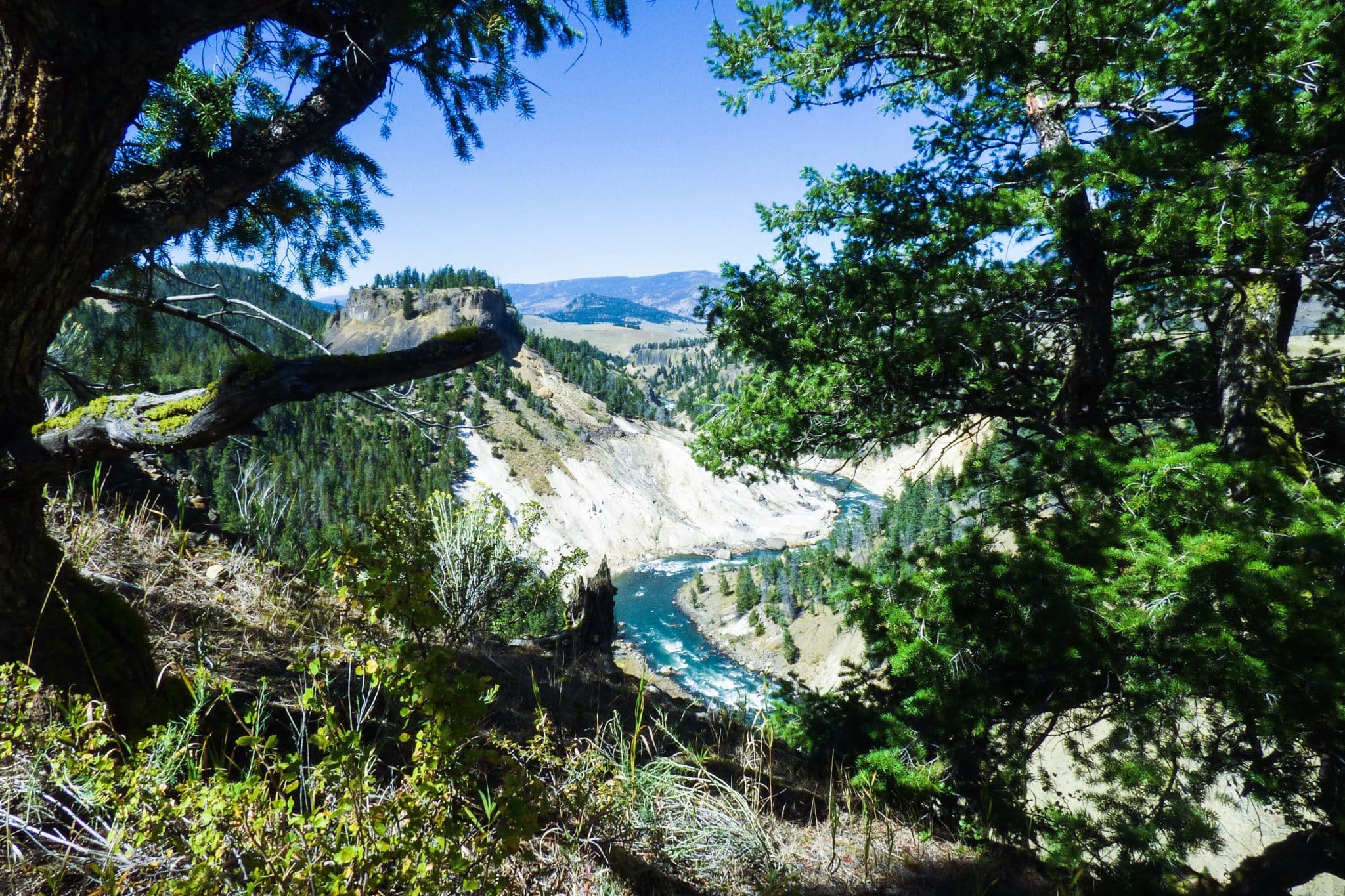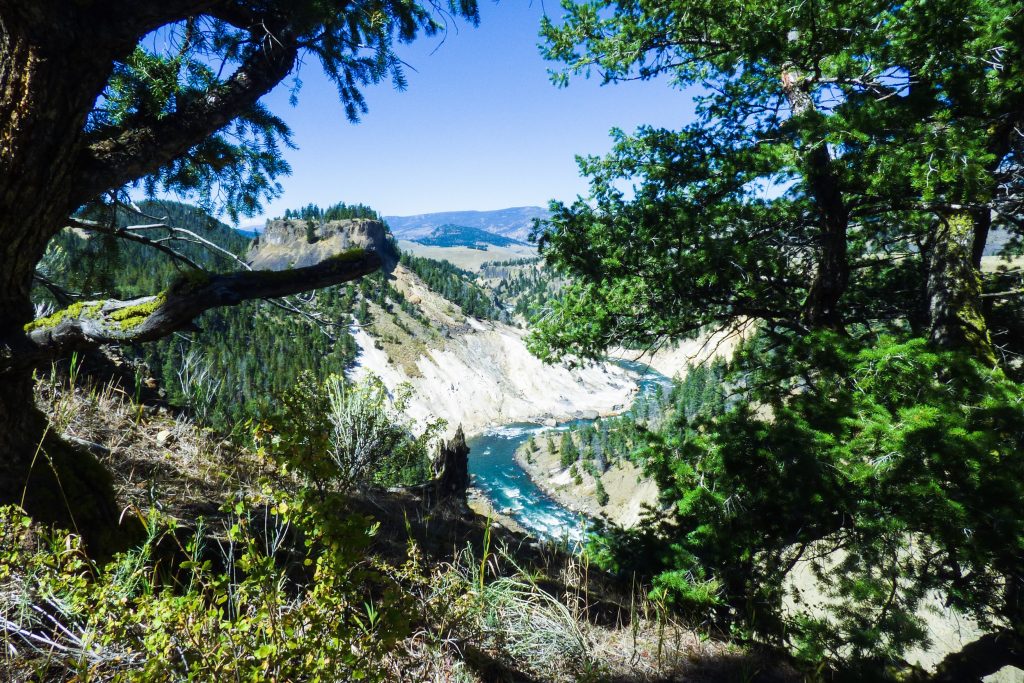 Stop 4: Calcite Springs Lookout
To get an alternative view of the Canyon of Yellowstone be sure to stop at the Calcite Springs Lookout Point. The view is located a 40-minute drive away from Artist Point and offers a beautiful view of Yellowstone River. The viewpoint is far less crowded and is a nice place to stop to stretch the legs while admiring the view.
After a morning of wonderful viewpoints, it is time to stop for a quick bite to eat. Calcite Springs Lookout is a great spot to doso.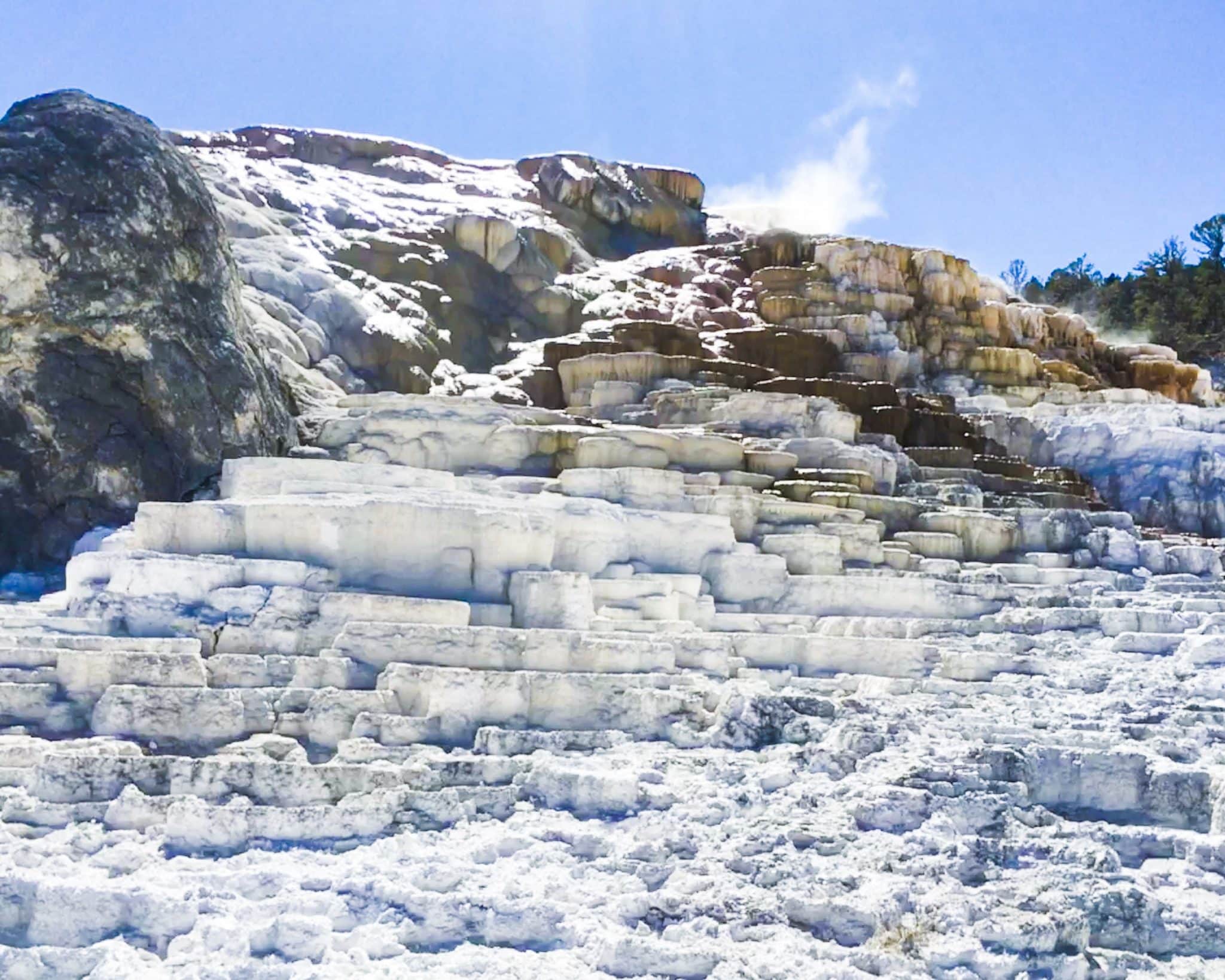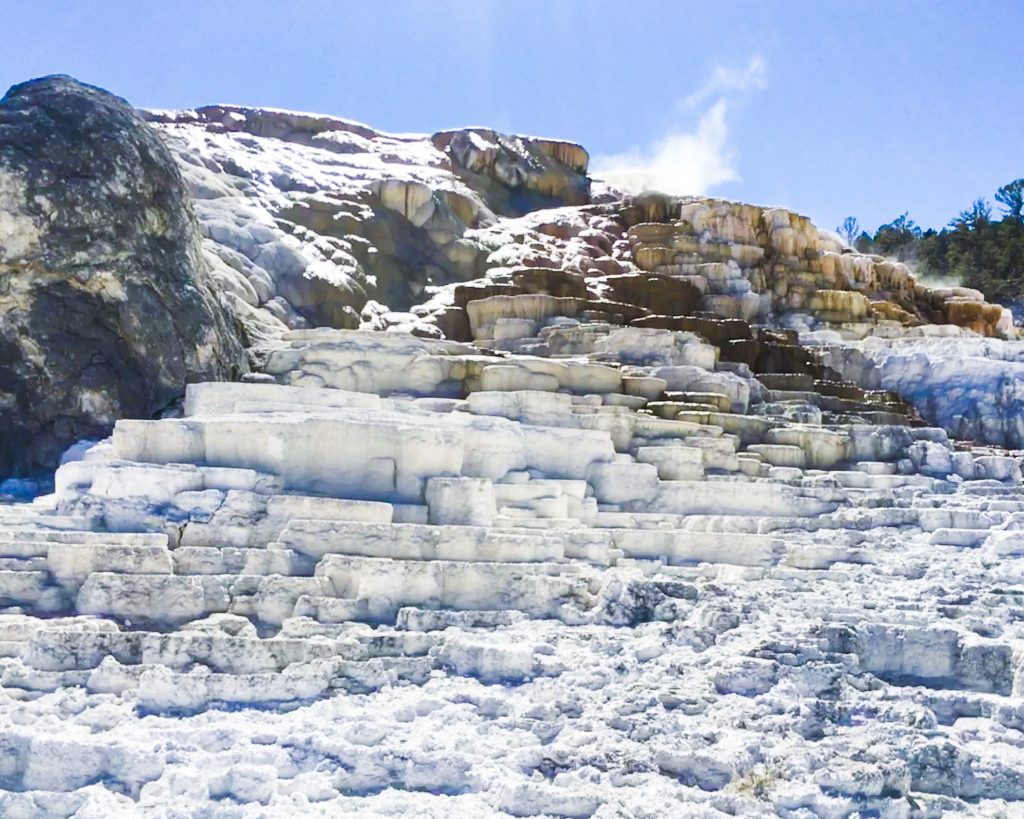 Stop 5: Mammoth Hot Springs
Following some yummy lunch, the next stop on the itinerary is Mammoth Hot Springs. The springs are a 40 minutes drive from Calcite Springs Lookout Point.
I highly recommend visiting Mammoth Hots Springs as they are unbelievably unique to Yellowstone. I have never seen anything like it. The area has two designated boardwalks, the lower and upper with over 50 hot springs to view.

The Lower Boardwalk consists of highlights such as the Liberty Cap, Palette Spring and the Devils Thumb. While the Upper Boardwalk is popular for Orange Spring Mound, Bath Lake, Prospect, Angel and White Elephant Back Terrace.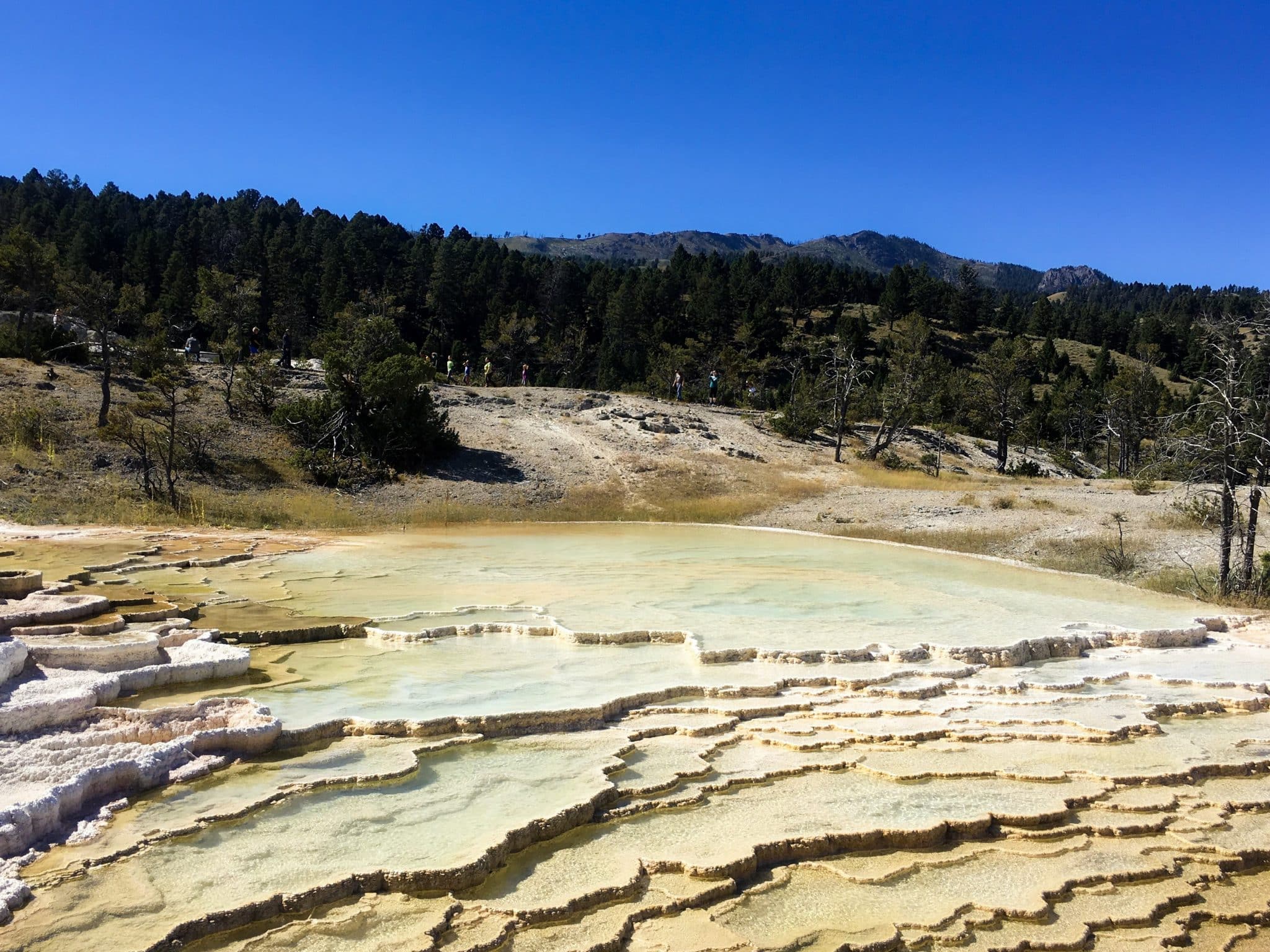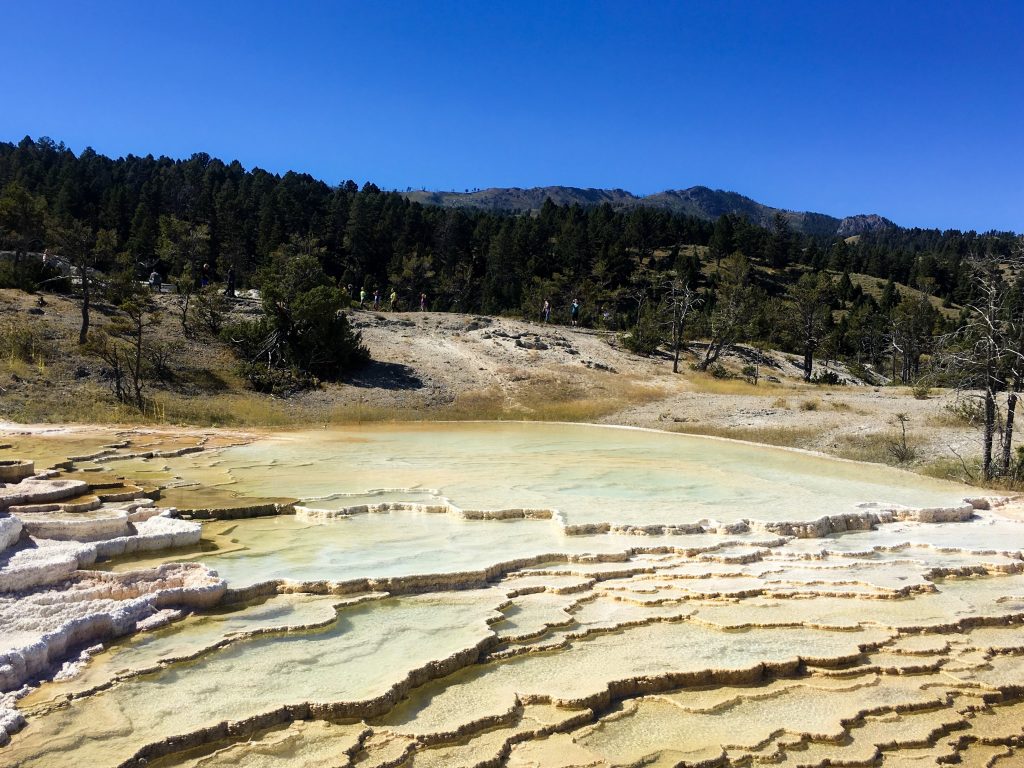 2 Day Itinerary for Yellowstone – Day 2 Suggested Timetable
| | |
| --- | --- |
| Stop/Location | Time Spent |
| Sunrise at West Thumb | 6.00 am (Time of Year Depending)(Spend 1/2 hours) |
| Mud Volcano | 9.30 am (Spend 1 1/2 Hours) |
| The Grand Canyon of Yellowstone | 11.00 am (Spend 1 1.2 hours) |
| Calcite Springs | 12.30 pm (Spend 1 1/2 Hours) |
| Lunch | 2.00 pm (Spend 30 minutes) |
| Mammoth | 3.30 pm (Spend 2 hours) |
| Dinner/Return Home | 5.30 pm |
Yellowstone National Park 2 Day Itinerary Map
I hope you enjoyed this 2 days in Yellowstone Itinerary. Above is a interactive map with all of the mentioned stops highlighted with a pin. I hope this comes in helpful when planning your trip to Yellowstone National Park.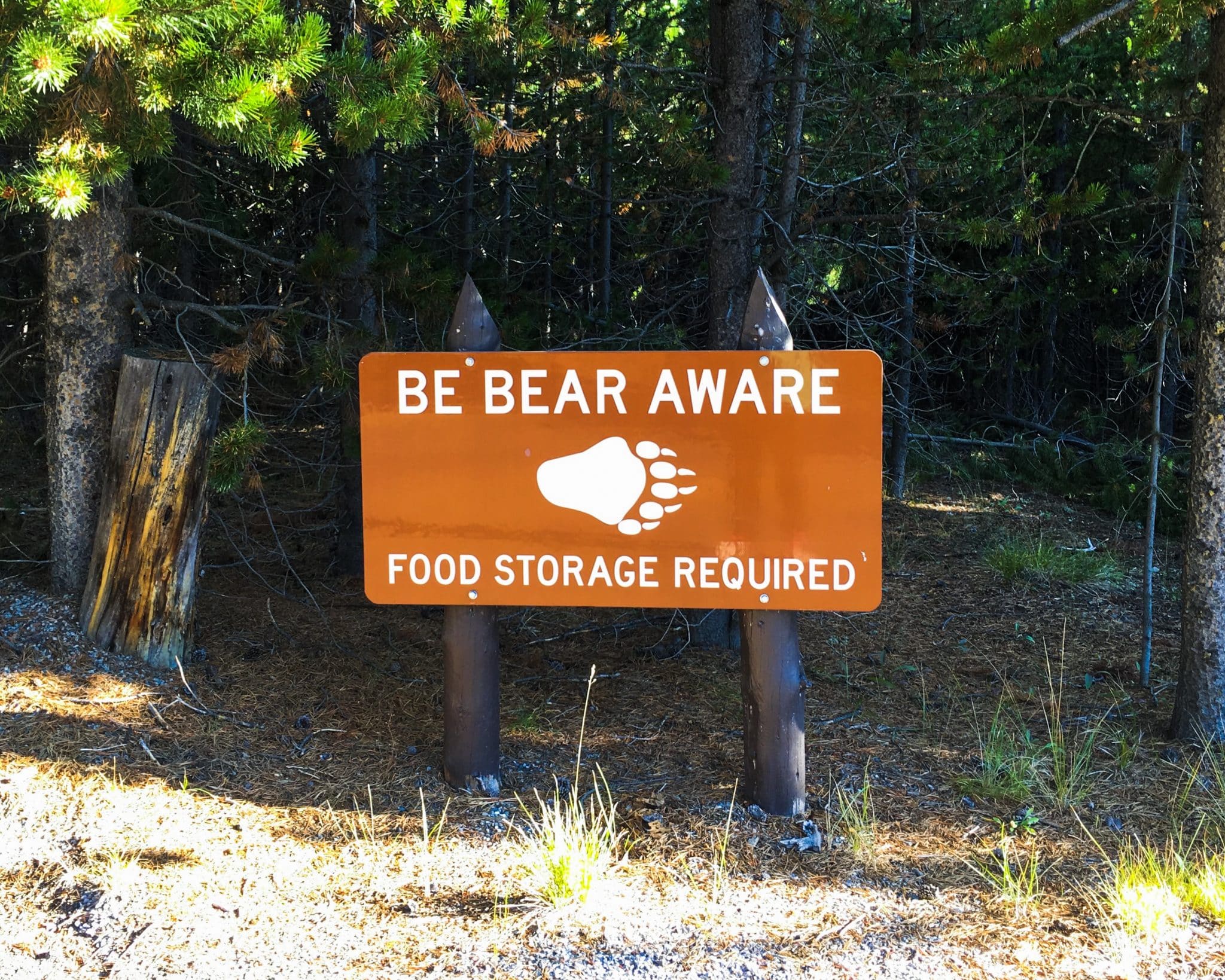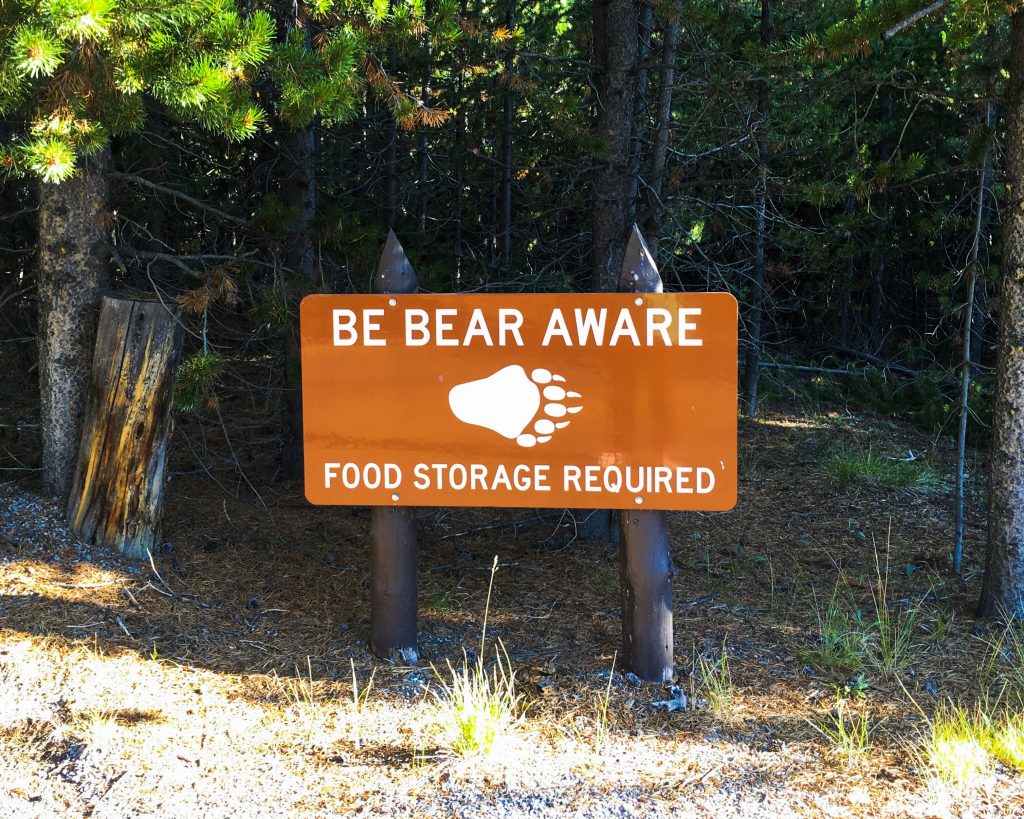 Tips before visiting Yellowstone National Park
Entrance Fee: To enter Yellowstone National Park costs $35 per private vehicle, $30 per motorcycle and $20 per individual.
Winter in Yellowstone: In the winter time, Yellowstone turns into a winter wonderland. Just be mindful that not all roads and facilities are open at this time. For more information check out the Yellowstone in Winter page.
Camping: For those wanting to camp in Yellowstone I'd recommend Grant Village Campground. The Summer rate for 2019 is $31. The camp grounds are near the West Thumb Geyser Basin and Yellowstone Lake.
Packing: Yellowstone can get extremely cold at night and then rather hot in the day time. I'd therefore recommend bringing some layered clothing. Making it easy to add or take off clothes when needed. Be sure to check out my road trip packing list.
Food Storage: Yogi Bear doesn't only exist on the television screen. Yellowstone is the home to many grizzly and black bears. Therefore it is extremely important to store any food or personal items that smell in bear proof storage units.
DO NOT! Leave food or smelling items in your tent. Unless you are hoping to get up close and personal with Yogi in real life.
Bear Spray: Another way to avoid an encounter with Yogi, is bringing along some bear spray. It's a good idea to always be prepared. Be Bear Aware!
Bug Spray: Those adored by mosquitos. I suggest bringing bug spray to avoid an itchy situation.
Sun Protection: It's always important to protect your skin, particularly when spending regular time in the great outdoors.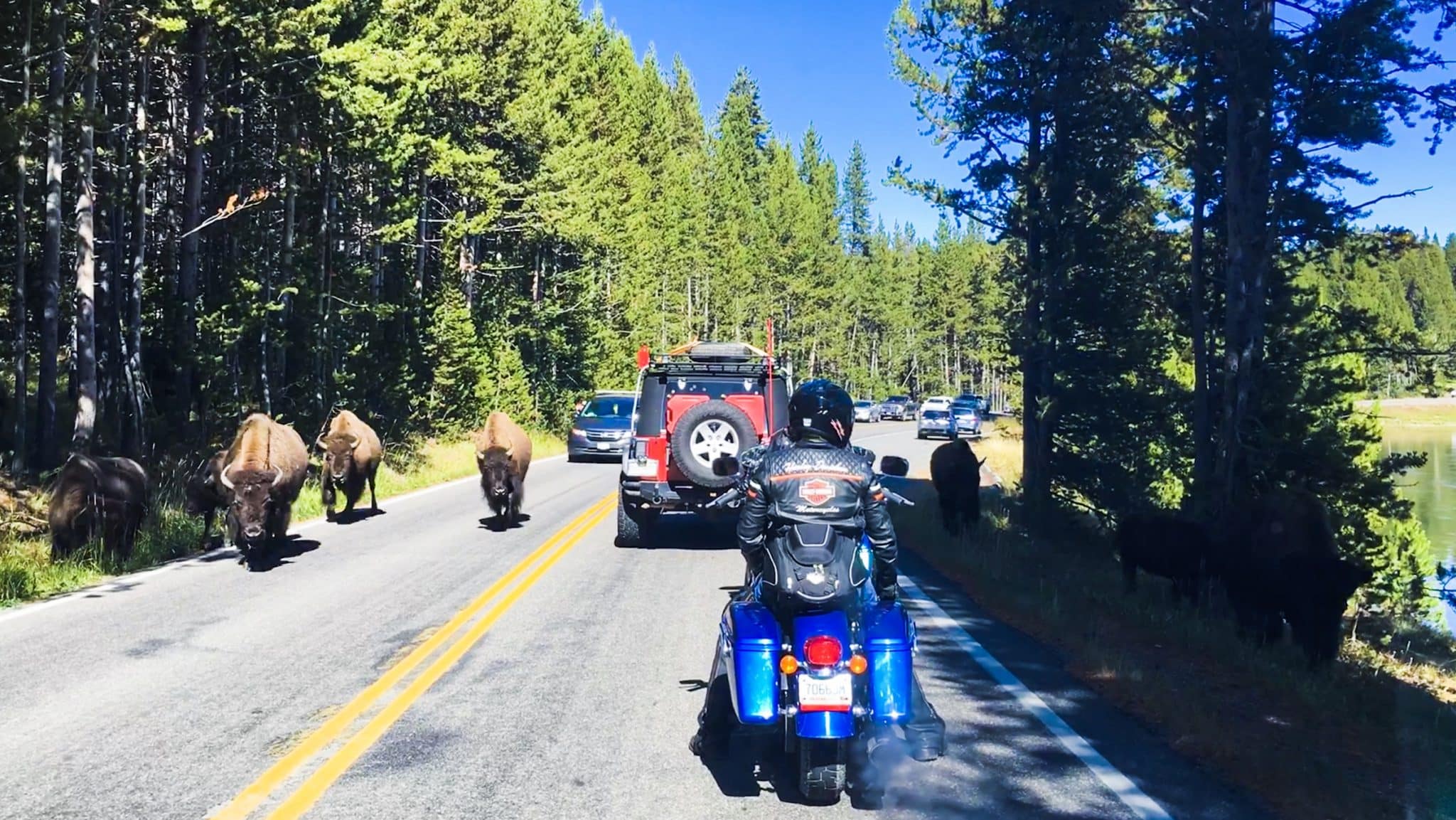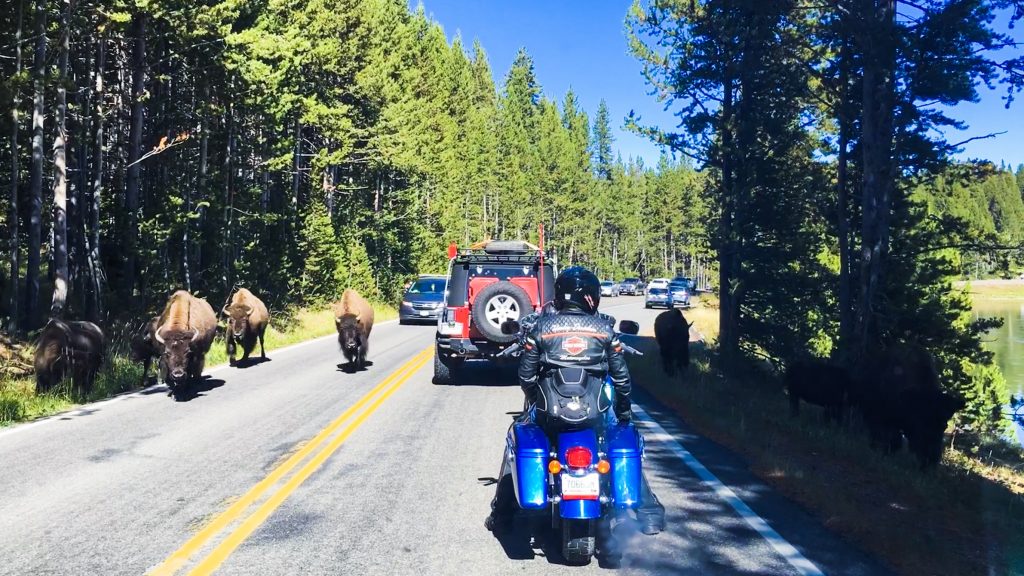 Driving in Yellowstone National Park
The time frame between each stop on this itinerary may seem a little far fetched for those who have never visited Yellowstone before. However with that being said, it is almost 99% guaranteed that you will in-counter some wildlife trying to cross the road while driving in Yellowstone. Causing massive traffic jam. If this happens on your visit. Just take your time. It is all part of the experience.
See photoed above, a herd of Bison walking along Yellowstone's roadside. We where easily held up for 30 minutes waiting for the herd to pass. It was however super cool to watch. There was easily 15 to 20 Bison.
Yellowstone is connected via two loops, all the stops on this itinerary are located on these loops or within proximity of one of the loops.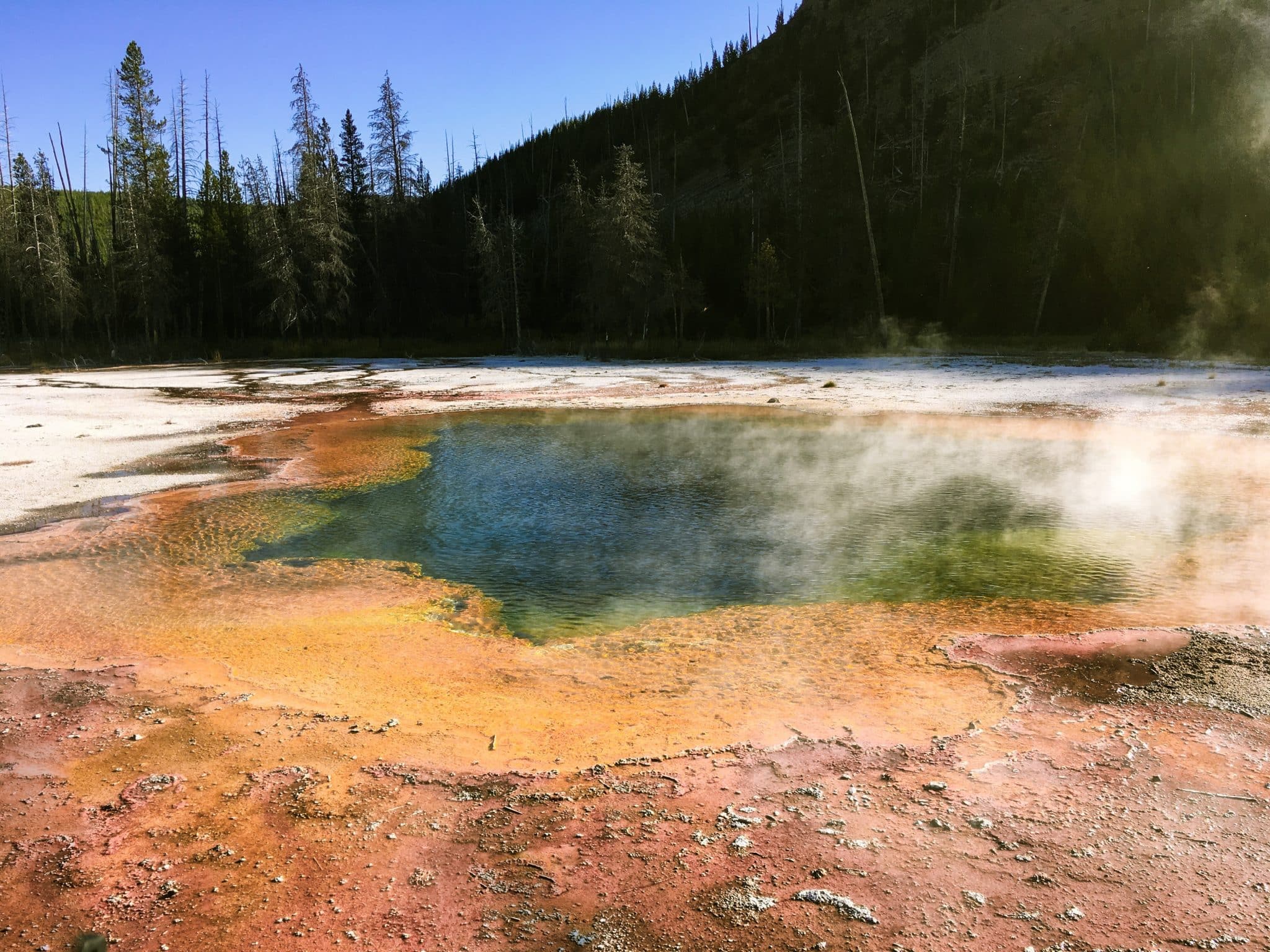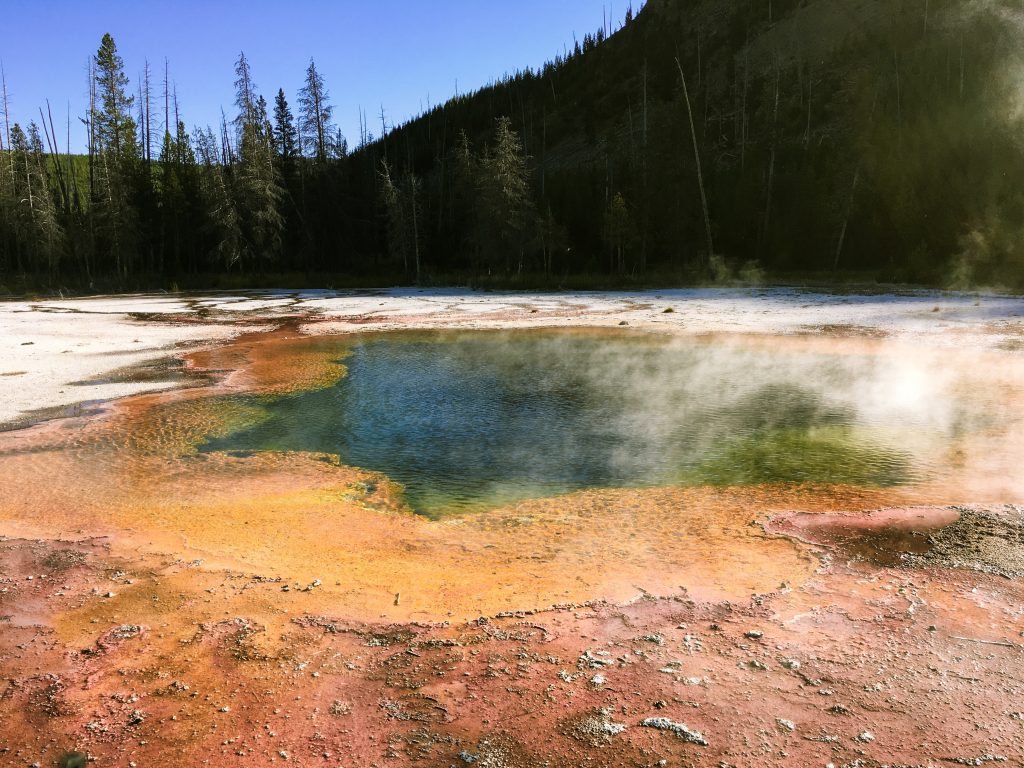 1 Day in Yellowstone Itinerary
Are you wondering what to see in Yellowstone in just 1 day? Yellowstone is a wonderful place, a place where it is simply not possible to explore in just one day. However, with that being said, if you have the opportunity to stop by Yellowstone, even just for 24 hours. I'd 100% recommend it.
I have put together a bonus timetable for those a little stuck for time. Please be mindful, that this timetable will only allow quick stop offs in each location and further exploration may not be possible. It is also a very heavy itinerary, with a lot of driving, so be sure to get plenty of rest before attempting.
Before Sunrise: Wake Up\Breakfast
Sunrise (6.00am) – The West Thumb (Spend 45 minutes)
*30 minute drive to Old Faithful*
7.15am Old Faithful (spend 90 minutes)
8.45am The Black Basin Trail (Spend no more than 1 Hour)
9.45am Grand Prismatic Spring (Spend 1 hour)
*@ 11.00 1 Hour Drive to Mammoth*
12.00pm Mammoth Springs (Spend 1 hour)
1.00pm Small Packed Lunch
*@ 1.30pm 45 minute drive to Calcite Springs*
2.15pm Calcite Springs View (Spend 30 minutes)
*2.45pm 40 minute drive to Grand View*
3.30pm Grand View\The Grand Canyon of Yellowstone (Spend 40 minutes)
*4.10pm 20 minute drive to Mud Volcano*
4.30pm Mud Volcano (Spend 1 hour)
5.30pm Dinner Time
Disclaimer: I personally did not travel this route. It is just a suggested timetable. At times, the roads can get congested at Yellowstone due to wildlife and may cause a delay in schedule, resulting in missing some stops.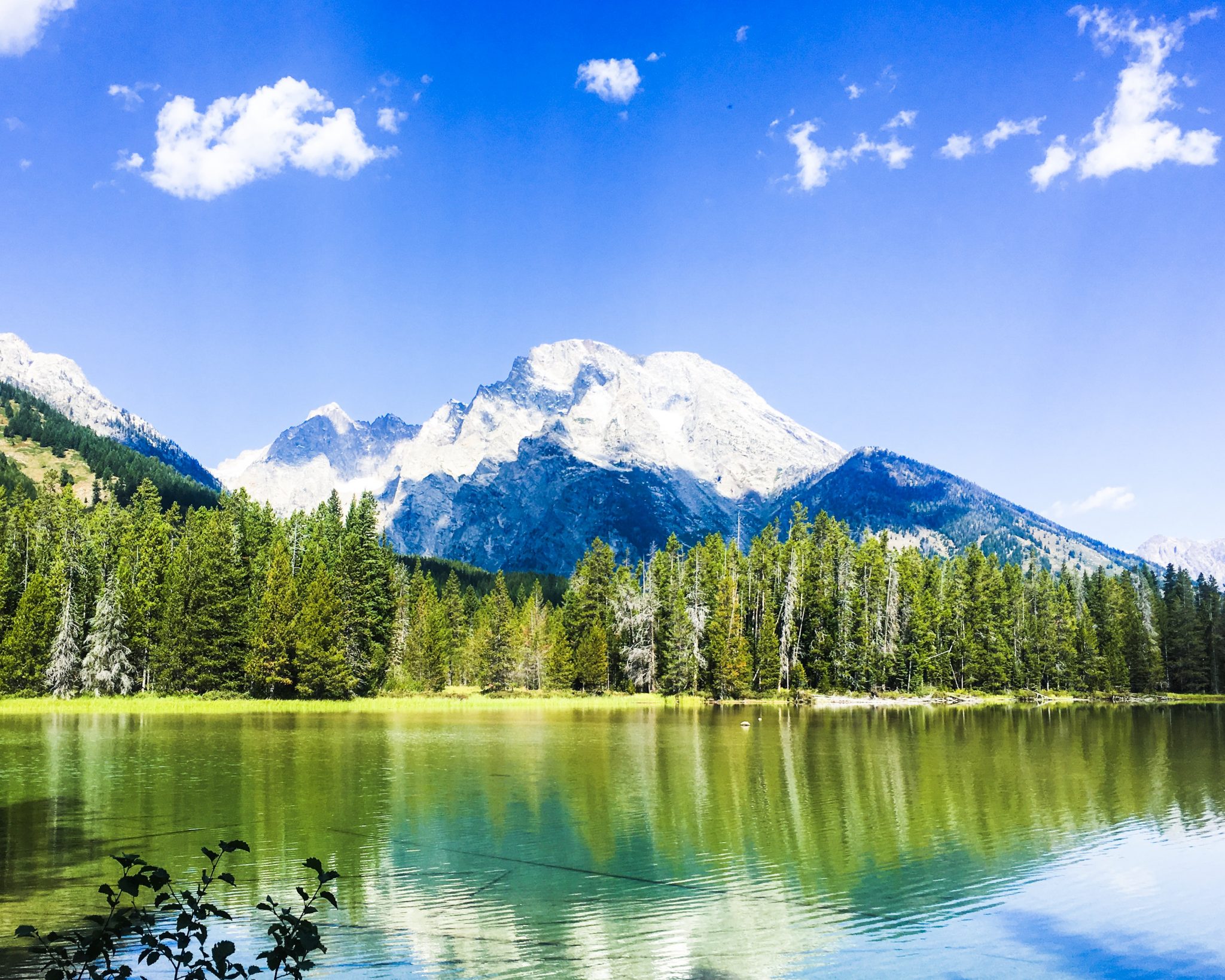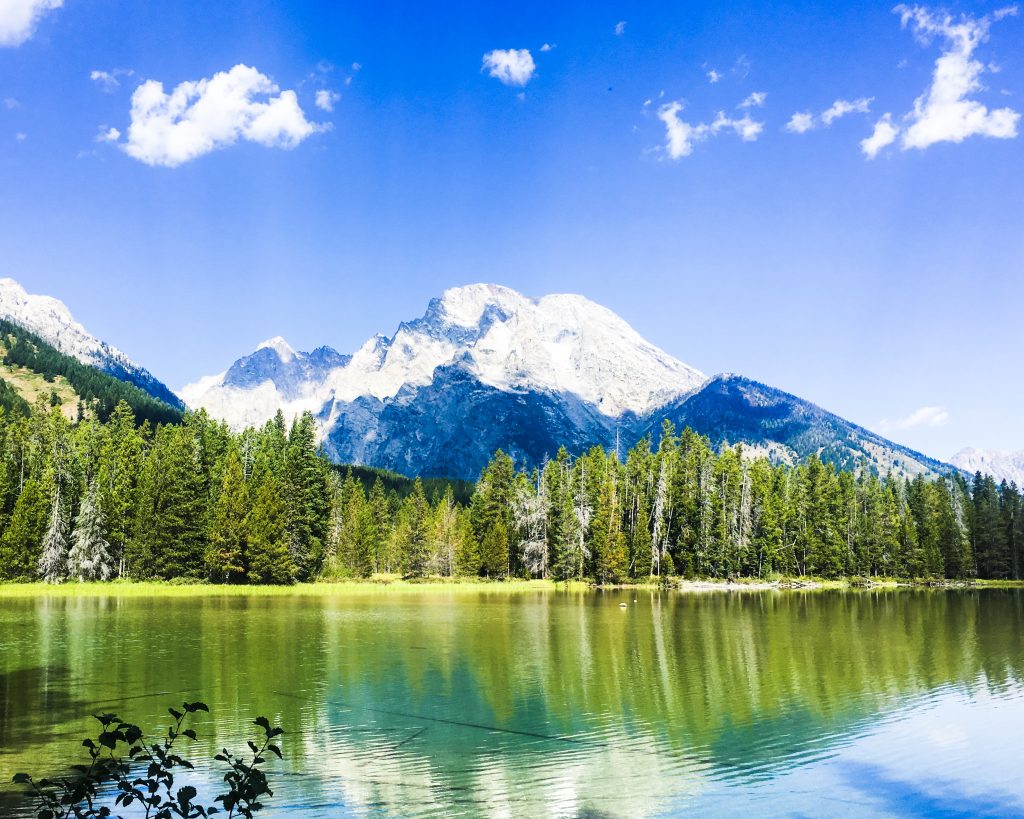 Grand Teton National Park
Those on a road trip of the state of Wyoming. Yellowstone neighbouring National Park, Grand Teton is 100% worth the visit. Grand Teton is famous for it's captivating scenery, beautiful wildlife and snow capped mountain tops.
While on my USA coast to coast road trip, I was lucky to visit Grand Teton after exploring Yellowstone. I was spent one day hiking both String and Jenny Lake. Please free to check out my Itinerary for hiking the Grand Tetons.
Thank you for reading my 2 Day Itinerary for Yellowstone
And… That's a wrap. I hope this itinerary helped you decide things to do in Yellowstone for your 2 day trip. I hope you have the best time on your adventure and as always thanks for reading.
PIN ME FOR LATER