One Day Hiking Grand Tetons: Jenny Lake & String Lake
Not a day goes by where I don't dream about being back in Grand Teton National Park. I was in awe as I wandered around the park for the first time. Taking in the soaring mountain tops and glistening lakes.
Without a doubt, Grand Teton National Park is one of the most picturesque parks in North America, attracting over 4.2 million people each year. Grand Teton is famous for its captivating scenery and endless wildlife. The Tetons landscape is adored by hikers, outdoor activists and photographers alike.
In August 2018, I was lucky enough to catch a glimpse of the astonishing park and spent one whole day hiking Grand Tetons on two stunning trails, around String and Jenny Lake. Two amazing routes for day hikes at Grand Teton National Park. After reading this post, I promise that you will want to add Grand Teton to your US Bucket List.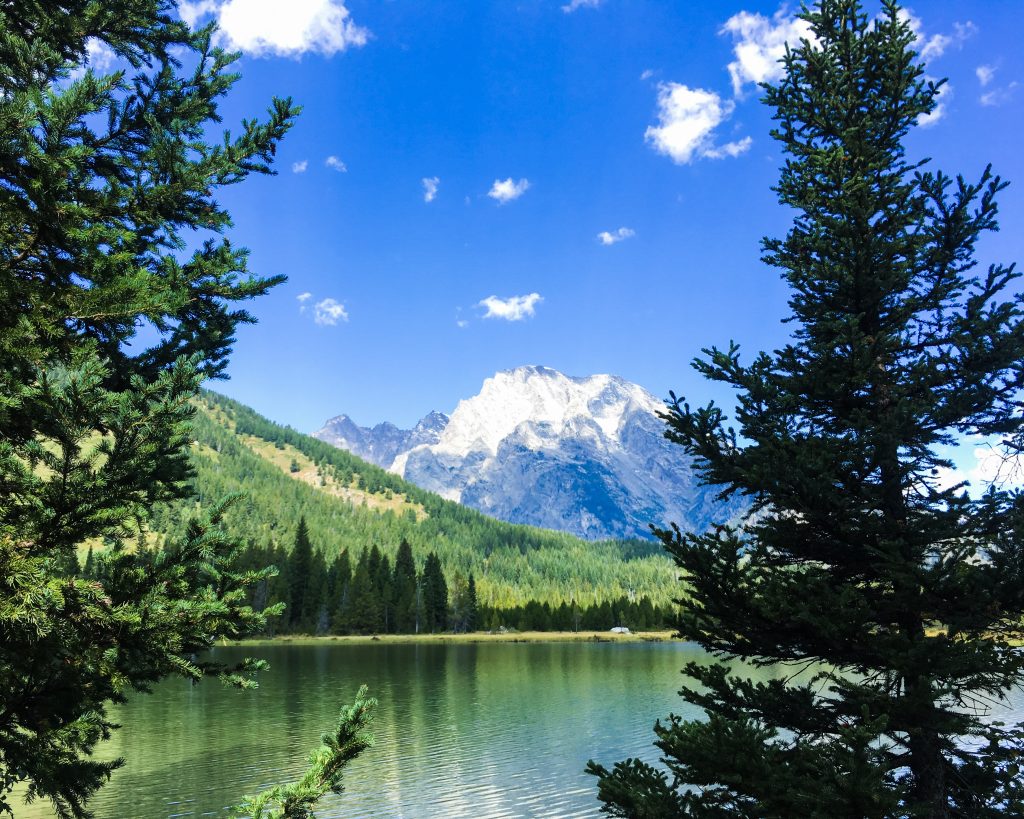 Hike Number 1: String Lake
After spending two nights camping in Grand Tetons neighbouring National Park, Yellowstone. My Trek mates and I woke up before sunrise and headed on our way, we where more than excited to begin hiking Grand Tetons National Park.
We began our first hike of the day at String Lake. The String Lake Trailhead begins at the lakes picnic area, continuing through the beautiful forestry. As we ventured through the tree's we were lucky to see a family of deer prancing by. It was mesmerising to watch, as mother looked after her newborn babies.
The forest section of the trail continued for 1.4 miles and features some outstanding viewpoints of the surrounding mountains.
As it was early in the day, the sun had not yet peaked over the mountain tops, therefore creating a picture perfect reflection onto String Lake. I fell in love with evergreens and snow-capped mountains.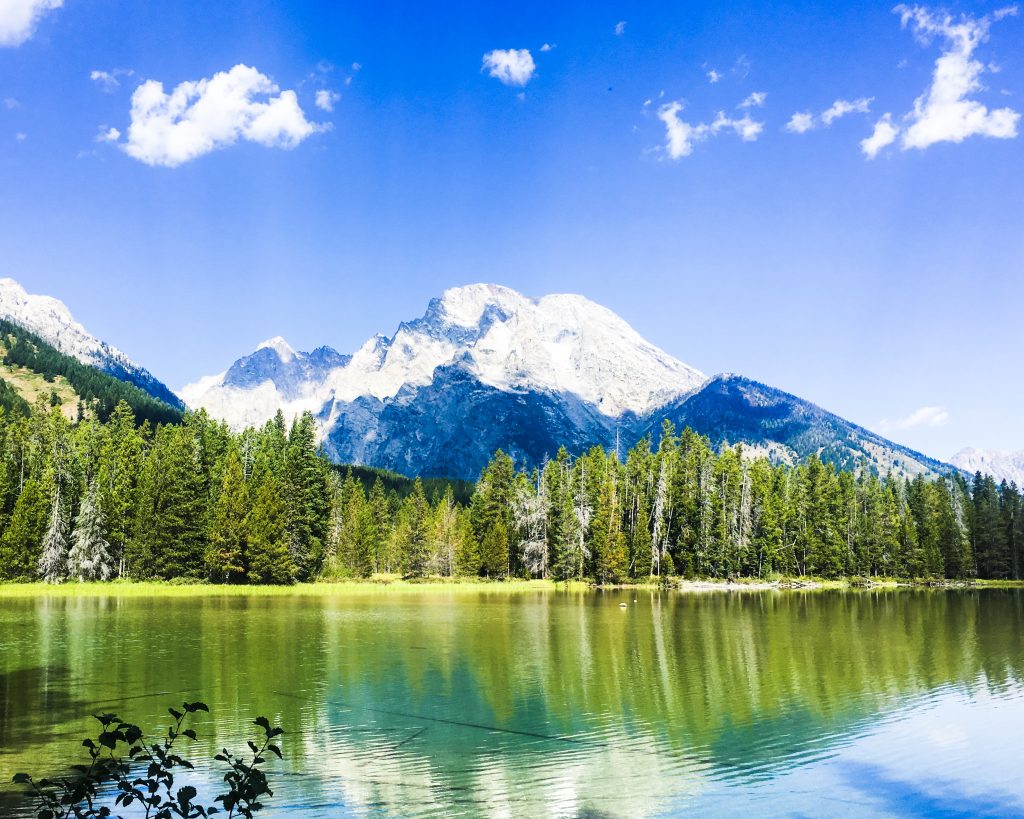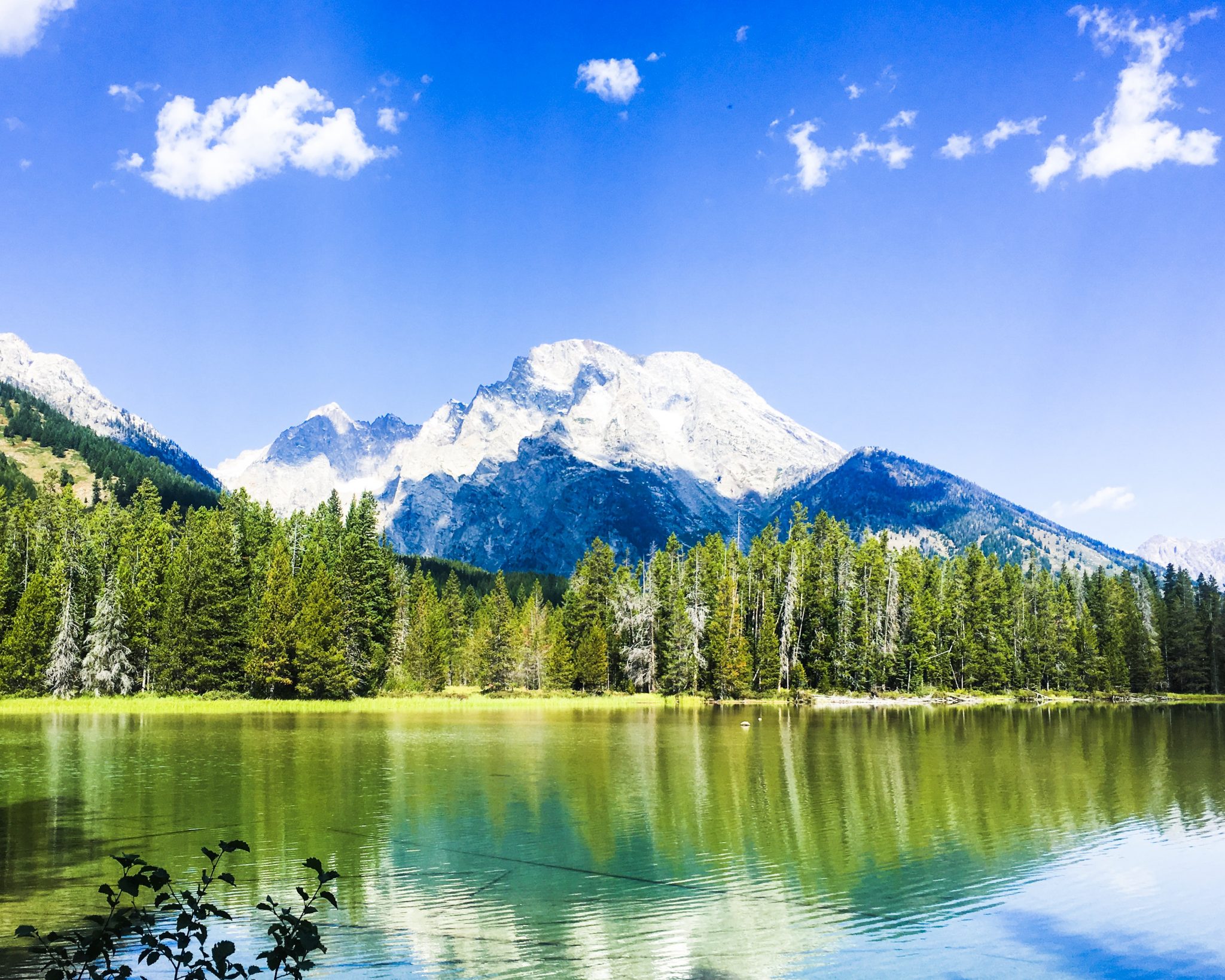 As we continued to walk the trail, we were met by a bridge that connects String Lake to Leigh Lake. Here, we had the option to continue on the String Lake Trailhead or divert and walk along the East shoreline of Leigh Lake. 
We decided to cross the bridge and continue our loop of String Lake. At this point the trail begins to tilt slightly upwards, however, the incline is quite gradual, with the hike falling into the category of easy to moderate.
As the trail began to gear upwards, we were no longer able to see the lake. The trail continues on a straight path for about one mile.
The Birds-eye Viewpoint
Initially, we thought we had walked the wrong way and had to rely on our good old friend, Mr Google Maps.
Tip: Some of the trails are visible on Google Maps and most of the time they are a lot easier to read than the official trail guides.
After a bit of reassurance from Google, we continued to walk down the path and within a few minutes, the Lake was within view again.
We were presented with a beautiful birds-eye view of String Lake.
As we neared closer to the lake, the trail began to turn downhill at a rapid pace.
The closer we got to the water, the more phenomenal the view became. Towards the end of the string lake loop, we were presented with an outstanding view of Mount Moran peaking over the Lake String Trailhead.
The best part about this hike is the tranquillity. It is nice to take a moment to appreciate all the beauty Grand Teton has to offer.
* Tip Time: Get there early, I read that this is quite a popular trail, we, however, avoided the crowds by arriving as early as possible*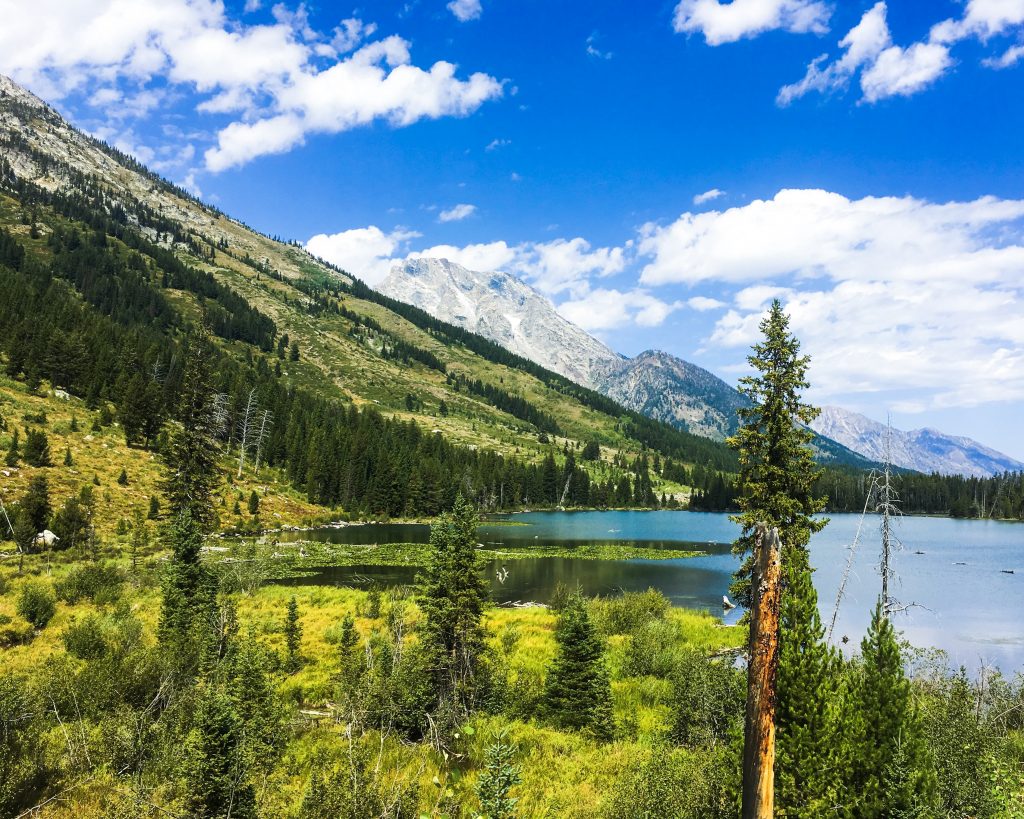 The trailed ended right back where it started, at the picnic area.
We took some time to sit back, have a bite to eat and rest the legs, before jumping into the ice-cold water.
String Lake is said to be one of the best swimming spots in all of the Grand Tetons.  So those of you planning a trip, It may be a good idea to bring along some swimwear.
*WARNING: String Lake is FREEZING! However, once your body gets used to the temperature, it can be rather refreshing*
Hiking Grand Tetons part 2: Jenny Lake
Following an enjoyable long rest period and a swim, it was time to start hiking again. We hopped in our van and drove towards Jenny Lake. If you are planing a day of hiking Grand Tetons I would 100% suggest combing both these hikes.
The Jenny Lake Trailhead was my favourite hike in Grand Teton National Park. The views from the trail are breathtaking and wildlife spotting opportunities are endless.
We parked the van at the parking lot by the Jenny Lake Visitor centre, It was quite crowded and difficult to find a spot. However, This area provides easy access to the hiking trails, boat rides and the stunning views around Jenny Lake.
*For those of you that don't want to worry about finding a parking spot and have some extra time. It is a 3-mile walk from String Lake to Jenny Lake, which can be seen on the official String Lake Trailhead Map* 
Jenny Lake Trailhead
When we arrived we took note of the possible trails at Jenny Lake. Some of us expressed an interest in visiting the Hidden Falls and Inspiration Point and therefore decided to hike the Jenny Lake Trail Head.
We began our ascent at the Jenny Lake Visitor Centre, first admiring the views of the lake from ground level.
We then continued upwards, walking towards the Hidden Falls.
As we hiked we came across a massive Moose hiding in the trees. It was amazing. I had never seen a Moose before and was blown away at how big he was.
*Hiking Tip: This trail was a lot more strenuous than the String Lake trail and I would recommend appropriate footwear.*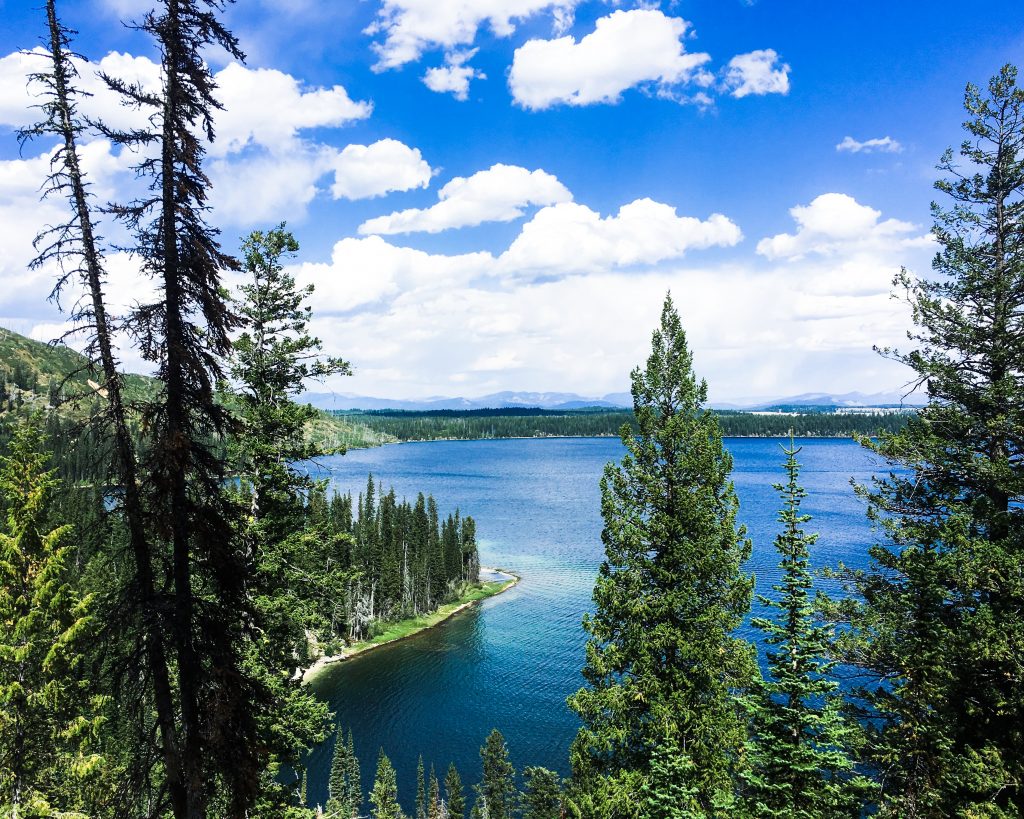 This was honestly the longest and steepest part of the hike but the Jenny Lake Trailhead hosts some phenomenal views of the national park. The picture below is one of my favourite from my trip.
The Jenny Lake Shuttle Boat
For those of not wanting to do any major hiking, there is an option to take the shuttle boat across Jenny Lake.
Information on the Jenny Lake Shuttle Boat:
A one-way journey costs $9 and a return journey cost $15 dollars and runs frequently throughout the day.
The boat operates from mid-May till late September.
The boat transports passengers from the east to the west of the lake.
Once the boat docks, visitors are free to explore the surrounding area, hiking to Hidden Falls, Inspiration Point and Cascade Canyon.
* Tip: If you do decide to take the boat across, I recommend hiking back down, the capture some the amazing viewpoints*
Hiking to the Hidden Falls
For those walking,  when the trail slightly to the left. At this point, hikers option to walk towards the Hidden Falls or Inspiration Point.
For those getting the boat. There are trails leading up to Hidden Falls and Inspiration Point from the dock.
We decided to visit the falls first, the falls where pretty powerful. In fact, we could hear them before we could see them!
They were tucked away neatly into the side of the Mountain and flowed down into a beautiful river. After capturing a few snaps of the waterfall, we walked towards Inspiration Point.
Hiking to Inspiration Point
Inspiration point offered a large panoramic view of Jenny Lake. It was really nice to sit on the rocks before the point and take in the view of the lake and beyond. In the distance, I could see some surrounding mountains, it was one stunning site.
After taking in the views, we decided to hike back down the mountain. We were uncertain how long it would take to complete the full Jenny Lake Loop so we returned back down the same way. Eagerly rushing, as we were all craving some well-deserved ice cream (for those curious, Ice cream is sold in the visitor centre).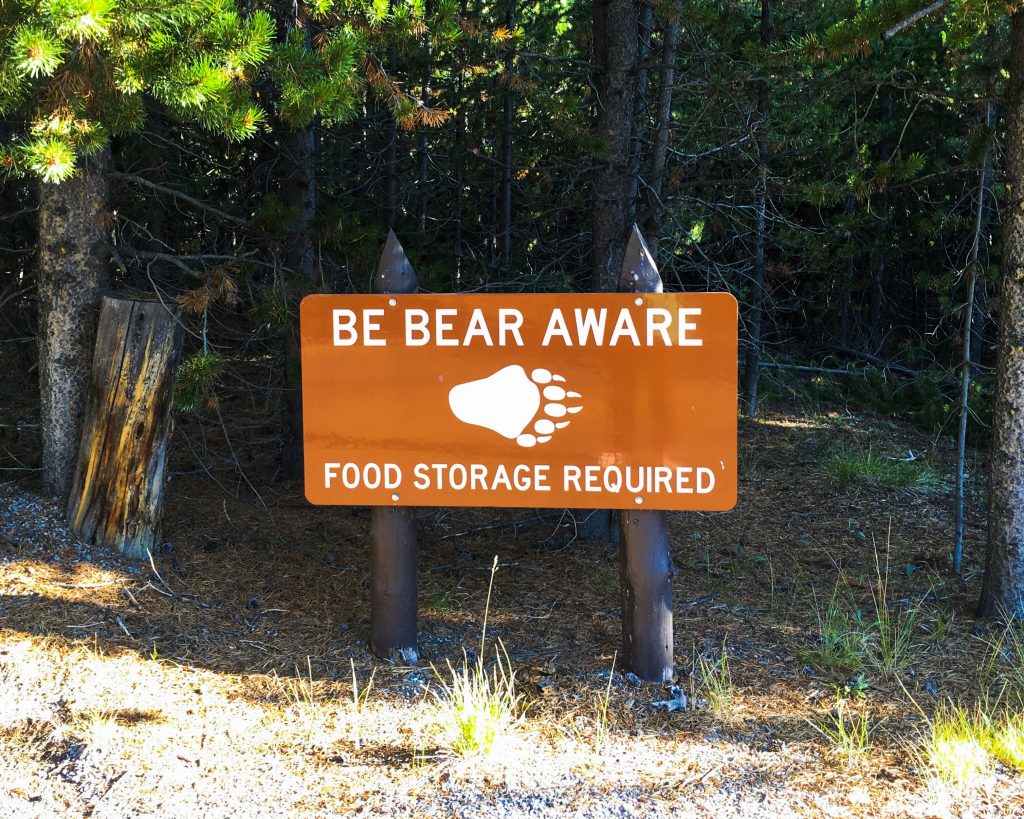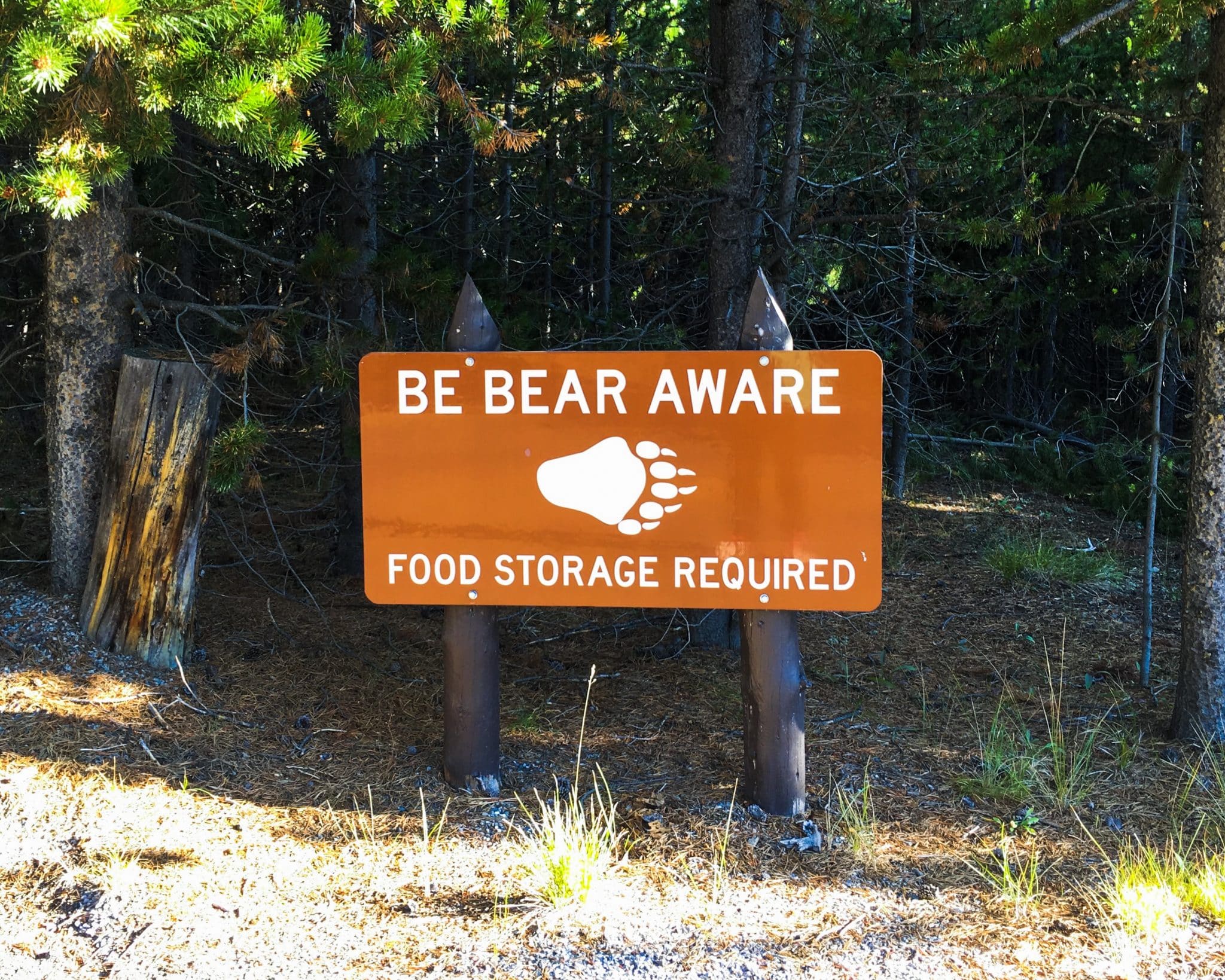 It took a little over 2 and a half hours to complete the Lake Jenny Trailhead.g
Tips before visiting Grand Teton National Park
Weather: Grand Teton's temperatures can be a little unpredictable. I'd advise packing layers and taking them off as the day goes on. I started the day off in a pair of jog pants and three sweaters and finished the day in a pair of shorts and a tank top.
Bear Spray: I'd advise bringing bear spray. Grand Teton is apart of bear country and it is a good idea to always be prepared. Be Bear Aware!
Bug Spray: If your like me and absolutely adored by mosquitos. I advised packing some well-needed bug spray to avoid an itchy situation.
Food Storage: Due to the high level of bears in the area. Hikers and campers are required to store food in provided food storage units.
Sun Protection: I'd advise bringing sun protection as some of the trails are quite open, exposing hikers to regular sunlight.
Entrance Fee: It costs $35 per vehicle, $30 per motorcycle or $20 per person to enter Grand Teton, National Park. For a Grand Teton annual pass, it costs and $70. More information can be found here.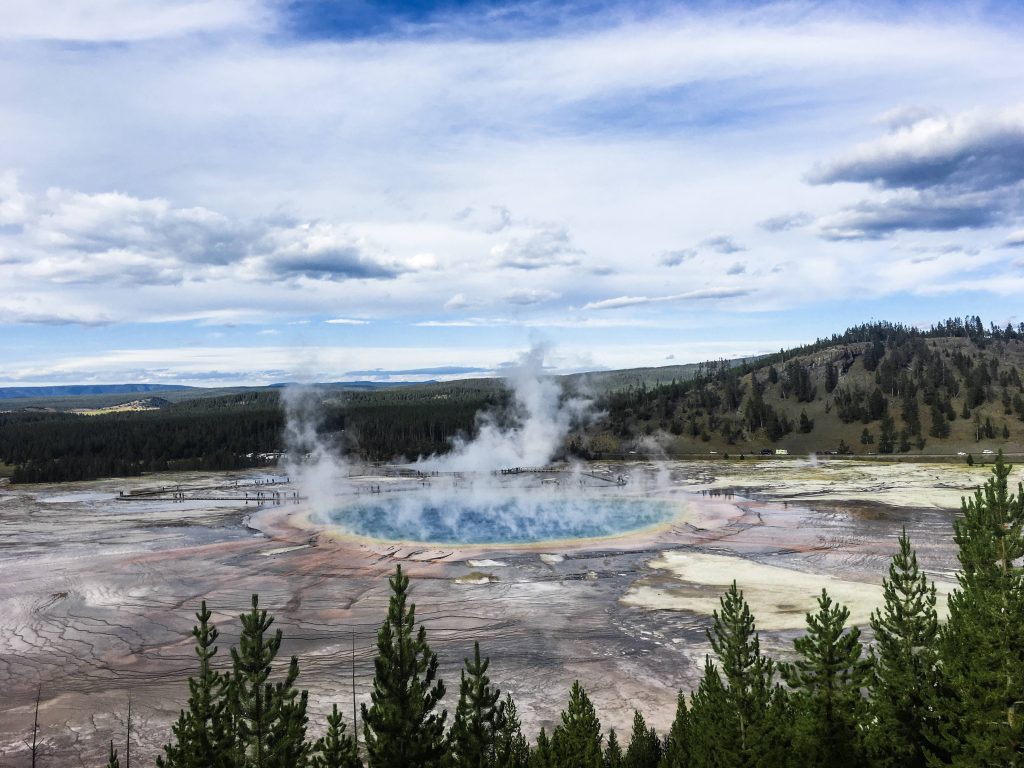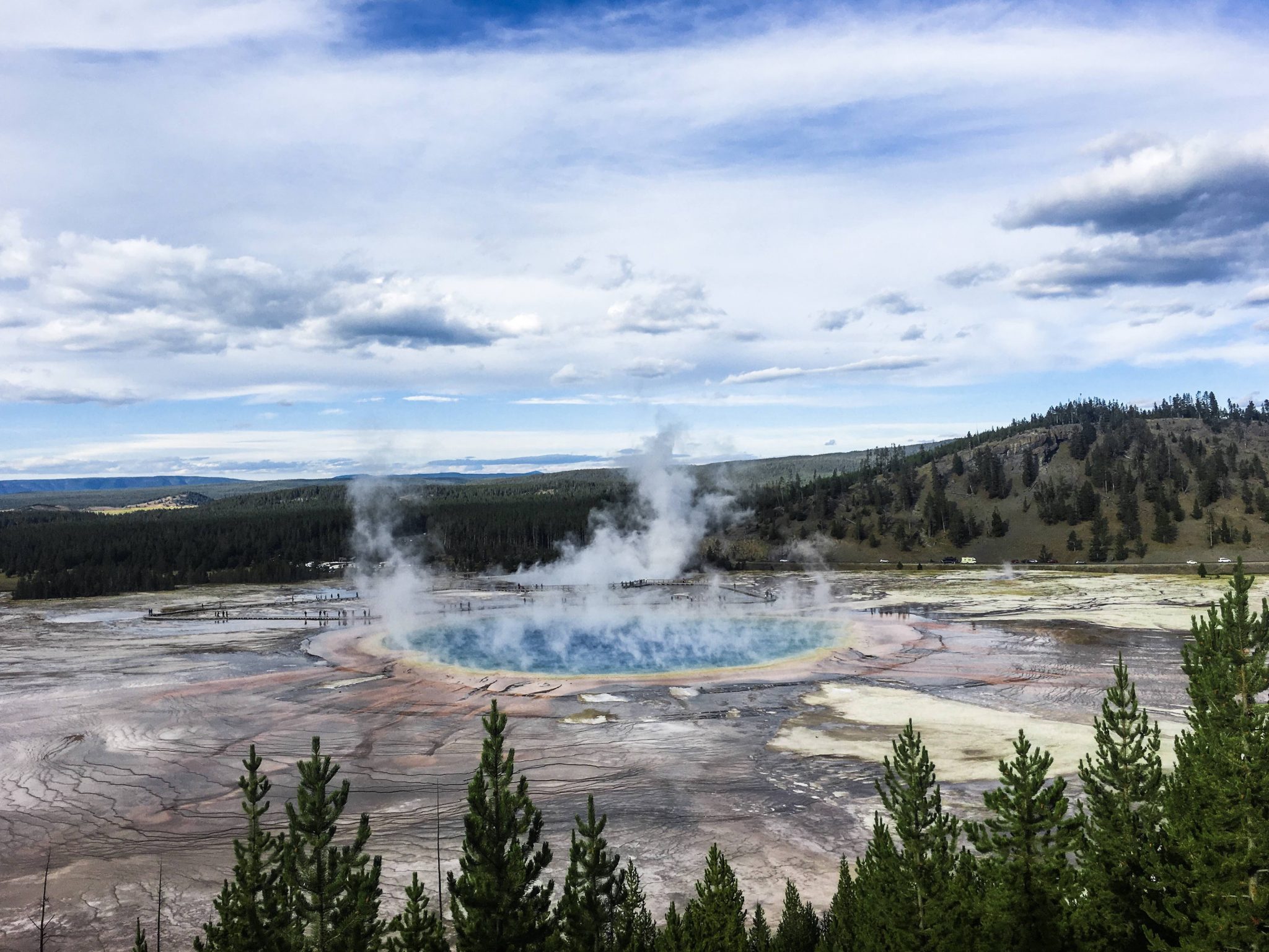 Places Near Grand Teton National Park
This was part of my US coast to coast road trip with Trek America, before visiting Grand Teton we spent two nights camping in Yellowstone National Park.
Following our time hiking Grand Tetons, we set up camp  in Jackson Hole, Wyoming a boarding town to the Teton range. Jackson is a great place to enjoy rafting down snake river, watch the Cow Boy Shootout and walk around a real American Cowboy Village. It's a really neat town, I loved visiting and exploring Jackson.
For those of you looking to do a mini road trip, it is it easy to combine Yellowstone, Grand Tetons and Jackson into a 5-day itinerary. It is a fantastic trip with action-packed activities, numerous hikes and beautiful scenery.
PIN ME FOR LATER
Disclaimer: This page contains affiliated links. Meaning I may make a small commission. At no extra cost to you.