The Stairway to Heaven, Ireland: A 2021 Guide to Hiking Cuilcagh Mountain
Ireland is full of amazing scenic hiking trails just waiting to be explored. And back in 2017, Cuilcagh Mountain, otherwise known as the Stairway to Heaven, Ireland went viral on social media. Since then the beautiful boardwalk trail has become one of the most popular hiking trails on the island of Ireland with thousands of people flocking to Cuicagh Mountain to catch a glimpse of the trails beauty with their own eyes.
Today's guide will highlight everything you need to know before hiking the Stairway to Heaven Ireland in 2021. So, if you are planning a trip to Cuilcagh Mountain be sure to keep on reading as we address getting to the Stairways, parking, organised tours, the trail length, difficulty and more.
Where is Ireland's Stairway to Heaven?
The Stairway is part of the Cuilcagh Legnabrocky Trail located in County Fermanagh, Northern Ireland. The mountain ascends 655 metres above sea level. And, is arguably one of the most beautiful walking spots in Ireland.  The boardwalk continues all the way up to the mountain's summit in a stairs format. Giving off the illusion that the stairs are reaching for the sky or for heaven, as the name suggests. The top of the stairway is a host to phenomenal views of Fermanagh and beyond. Making you feel as if you're on top of the world.
How to get to the Stairway to Heaven Ireland:
From Dublin: It takes approximately 2 hours and 15 minutes to drive from Dublin to the Stairway, making it the perfect location for a day trip from Dublin. And 100% a great addition to any Dublin Itinerary.
I will attach a link to 3 possible routes on Google Maps, just be mindful, the shortest route contains tolls. 
From Galway: Galway is a 2 hour and 45-minute drive from Cuilcagh Mountain. Much like the drive from Dublin, the fastest route contains tolls, as seen on Google Maps. 
*Those driving from Dublin or Galway please be mindful, when crossing over the border from the Republic of Ireland to Northern Ireland the speed indication changes from kilometres to miles*. 
From Belfast: The Stairway is 2 hours and 15 minutes away from Belfast as seen on Google Maps.  Some routes pass by Enniskillen, a lovely town, ideal for stopping off for some breakfast or lunch depending on the time of day.
Where is the best place to Park at Ireland's Stairway to Heaven?
With the growing popularity if the stairway, parking can be a bit of a nightmare, particularly on the weekends or in the summer months. Those driving have two options.
The Marble Arch Caves Car Park: The caves car park is located 1km away from the stairway (cost 5 pounds or euros). It's best to arrive early in the morning to avoid disappointment.
The car park is an easy walk up a country road. Just check what time the car park closes at, as this changes throughout the year.
The Legnabrocky Car Park: The official car park is past the caves on the left. It's small in size and sometimes difficult to get a space. They now offer online pre-booking, it costs 6 pounds and is valid for 3 hours.
Are there any organised bus tours to Ireland's Stairway to Heaven?
*Please note all tours have stopped running since March 2020, hopefully when things return to normal they will begin to operate again*
For those of you that don't want to drive, don't worry there is another way. Many tour companies such as Hidden Dublin Tours offer 'Stairway to Heaven Ireland' tour packages from Dublin. Tickets range from 30 to 42 euros. Some tour agencies offer a combined stairway and Marble Arch Caves package. The tours usually have an early morning departure and arrive back in Dublin after 7.30 pm.
Now, Before we go any further, if you are planning a trip to Ireland why not subscribe to my email list for a FREE eBook download with insider tips, an Ireland packing list, a weather guide and more.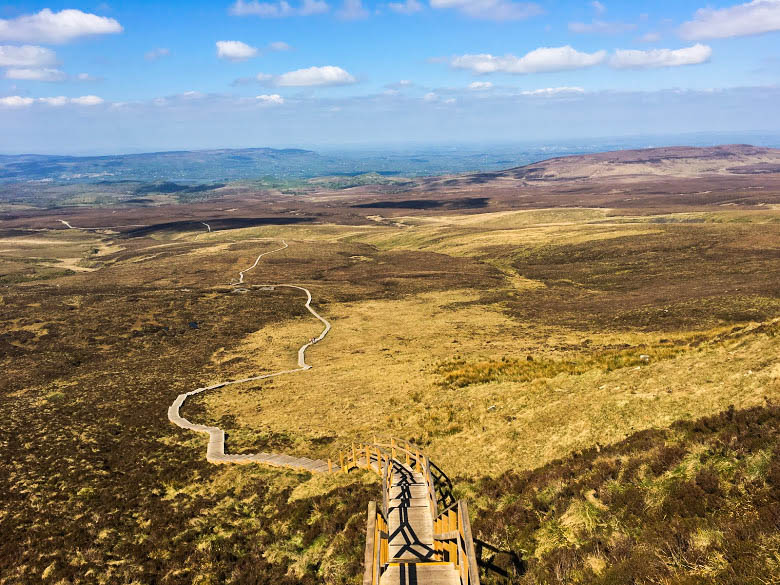 How long does Stairway to Heaven take?
It takes about 2 hours to reach the summit of the Cuilcagh Mountain walk. Once you reach the top of the boardwalk there are two possible ways to hike down the Mountain, both varying in lenght.
The quickest and easiest way, is to return in the same direction as you hiked up, along the boardwalk. A round trip up and down the boardwalk is 14.8 kilometres and takes a little under 4 hours to complete.
The Second option would involve returning via the Ulster Way walking route, this route consists of 20km in total, taking 5 to 7 hours to complete.
I personally walked back down the boardwalk, as I wanted to take many more photos of the amazing view.
However, more information on the Ulster way route can be found on the Active Me Website.
Does the entire hike consist of walking on the boardwalk?
No, the hike begins at the Legnabrocky car park on a long gravel path of 5.8km. At this point the boardwalk is nowhere to been seen, hikers can, however, come in contact with some lovely wildlife and a cute little river along the way. Coming to the end of the gravel road, hikers will be presented with a beautiful view of Cuilcagh Mountain, further up the path the boardwalk begins. The boardwalk continues for another 1.6km, this is where the true beauty of the hike can be seen, higher up the boardwalk, hikers are presented with views of Fermanagh and Lough Atona.
Fun Fact: Lough Atona was formed in the last Ice age almost 13,000 years ago.
Does hiking the Stairway to Heaven walk require a certain level of fitness?
Yes, those wanting to hike the trail need to have at least a moderate level of fitness as the vast majority of the trail is of upward terrain or stairs for that matter.
The hike can get intense at times, however, it is possible to make stops along the way for a break, to take a picture or admire the view. 
How many steps is the stairway made up of?
The stairway is made up of four hundred and fifty steps. FOUR HUNDRED AND FIFTY! You deserve a good olde pat on the back once you've finished and your legs are sure to be aching once at home. With all that considered. The Stairway to Heaven is still 100% worth it!
Do I need to wear hiking boots?
This completely depends on the time of year and the weather conditions on the day. I completed this hike on a summers day and the boardwalk was dry. I therefore, only wore a pair of runners or sneakers.
However, on a wet wintery day, the boardwalk may be slippy. In that case, hiking boots would be ideal to prevent slipping and causing an ankle injury.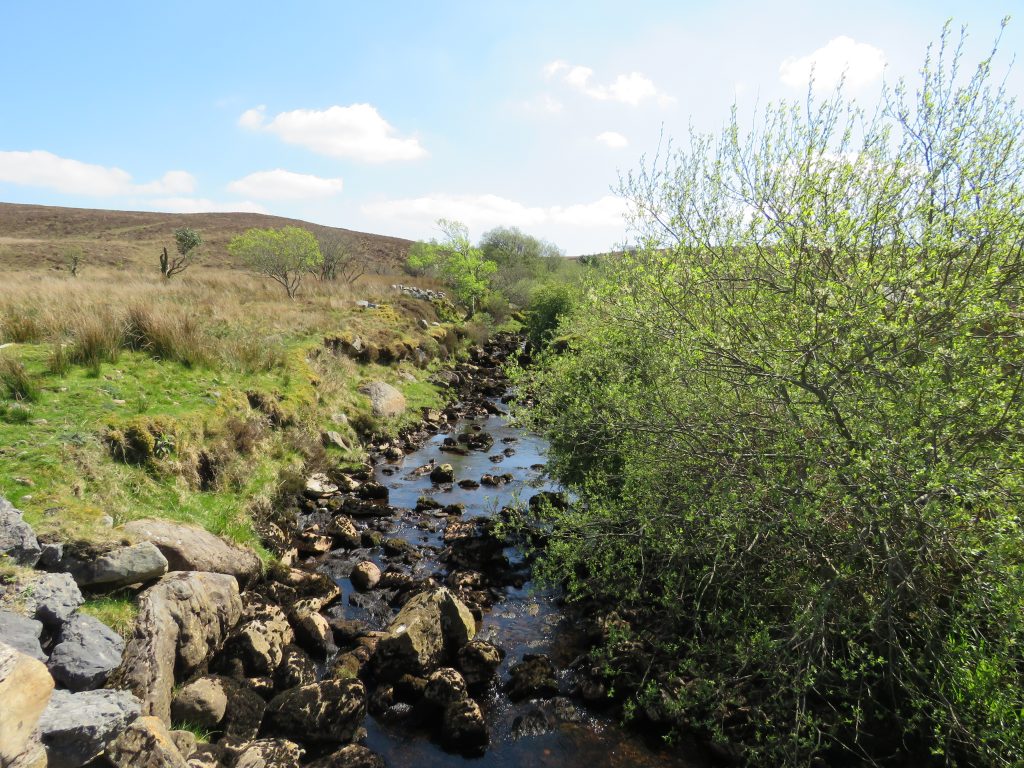 Tips and Advice Before Hiking the Stairway to Heaven Ireland:
Weather: No matter where you go in Ireland, it is always a good idea to look up the weather first. Ireland is known for getting 4 seasons in one day. Don't be surprised if the day starts off sunny and warm and ends with a snowstorm and -4 degrees. 
What to wear hiking in Ireland? I'd advise wearing gym clothes for any hike in Ireland. Comfort is extremely important. If there is a chance of rain, consider bringing waterproof overall's.
You can check out my packing for Ireland post for a more detailed account on what to bring and wear in Ireland.
What to bring: It's always a good idea to bring a camera on any hiking trail and I promise this one is no different. Be sure to bring your camera or smartphone to capture some stunning scenery.
Packed Lunch: Call into a local supermarket on the way and for some treats at the mountain's summit. The best type of lunch, one with a view
Arrival Time: If you are hoping to park in the main car park I suggest arriving early, particularly in high season and on the weekends. The Stairway is often packed in the summer months.
Is There Anything Else to do Near Stairway to Heaven Ireland?
The Marble Arch Caves:The caves are 1km away from the Cuilcagh Mountain car park. Explore the magic of the underground for as little as 11 pounds per adult and 7 pounds 50 per child.  
Enniskillen is a 30-minute drive from the stairway. It's the perfect place to grab a bite to each before the drive home or maybe even stay the night.
And there you have it
I hope everyone found the information above about the Stairway's to heaven helpful. I originally posted this post back in 2017 as a diary entry. As the years went on and I received more and more questions about the Stairway's. I decided to turn it into an informative post for my reader. And therefore added the questions section that I regularly update. I didn't however want to pert with the original post so if you want to read a step by step diary of my experience continue on reading.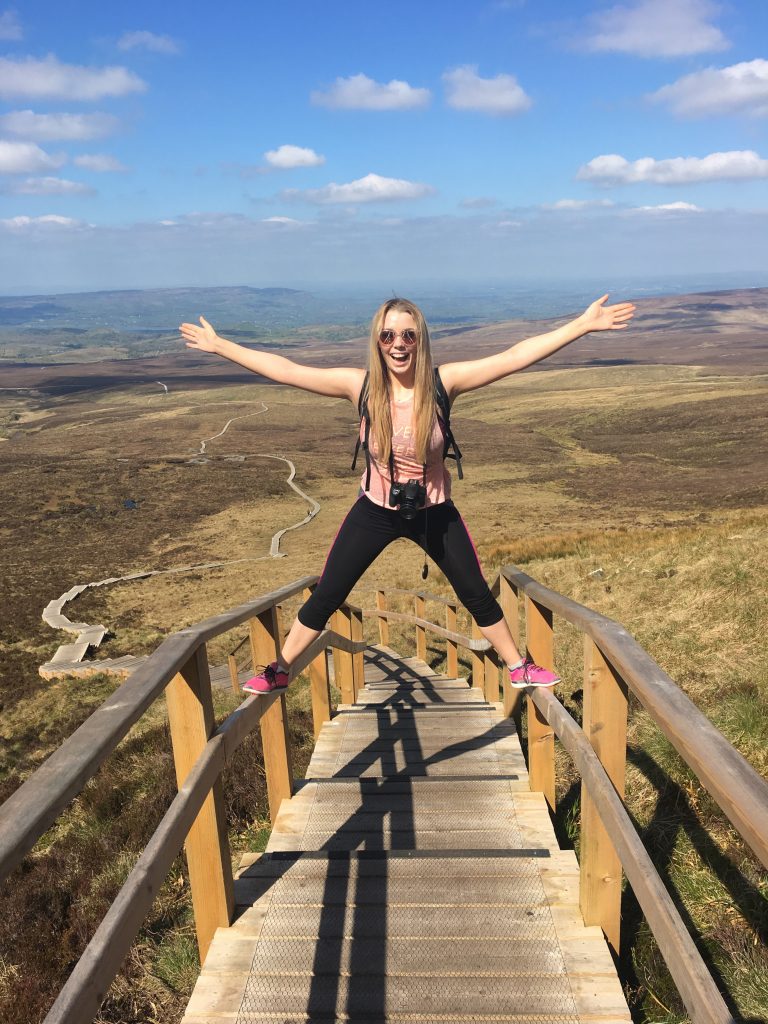 A Journal of my hike up Ireland's Stairway to Heaven
There is nothing I enjoy more than discovering new cultures, exploring new countries and experiencing different places. However, travelling isn't always about jumping on a plane to a new foreign destination. Sometimes there is plenty to discover, explore and experience right on your front doorstep. I love finding new things to see and do in the place I call home, 'Ireland'. So in April 2017, I ventured on a day trip into the sky (Literally). I decided to go on a road trip up to County Fermanagh with my friend Lauren. We wanted to tackle 'Cuilcagh Mountain' otherwise known as 'Irelands Stairway to Heaven'.
And So We Begin … Irelands Stairway to Heaven
We started our day off with a two hour long car journey. Safe to say our legs where in need of a good old stretch. And Hey! I can't think of a better way to do that other than climbing 450 steps! ?
The Cuilcagh carpark is connected to the boardwalk by stoney trail. Along this trail we saw some pretty rivers, some cute wildlife and luckily a great blue sky.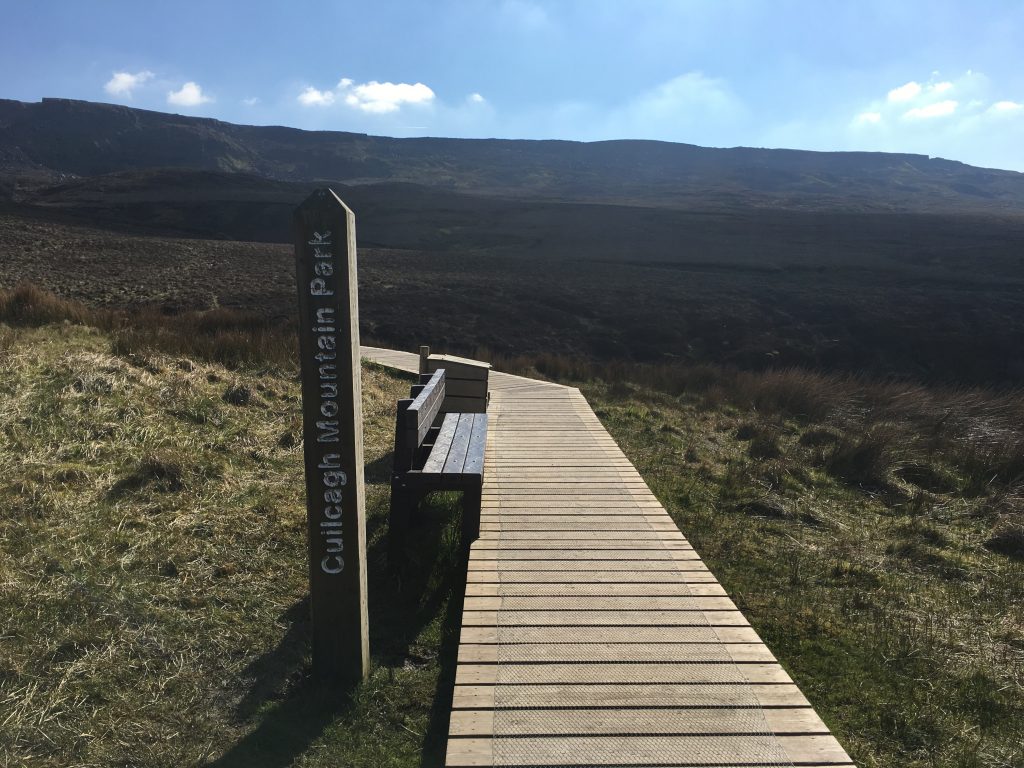 'Follow the yellow brick road … '
As we approached the boardwalk we could already see the beautiful 'Cuilcagh Mountain' before us. The boardwalk reminded me of something out of the Wizard of Oz, you just need to substitute the yellow brick road for a wooden boardwalk.
The 'Cuilcagh Mountain' is located on the border of County Fermanagh Northern Ireland and County Cavan in the Republic of Ireland. It is the highest mountain in both counties with a height of 2188 feet. With views for miles and miles once you reach the summit.
Onwards to the Stairway to Heaven …
We continued to follow the path of the boardwalk until we came to the stairway. I have never been so excited to climb several stairs before. We put one foot in front of the other and began our ascent. About half way up we paused to take in the beautiful views. To the left of us was a glacier formed lake, lake Atana, to the right was the the boardwalk we just walked and beyond was the breathtaking views of County Fermanagh. It truly was an amazing sight. 
Related Post: The Cliffs of Moher | Everything You Need to Know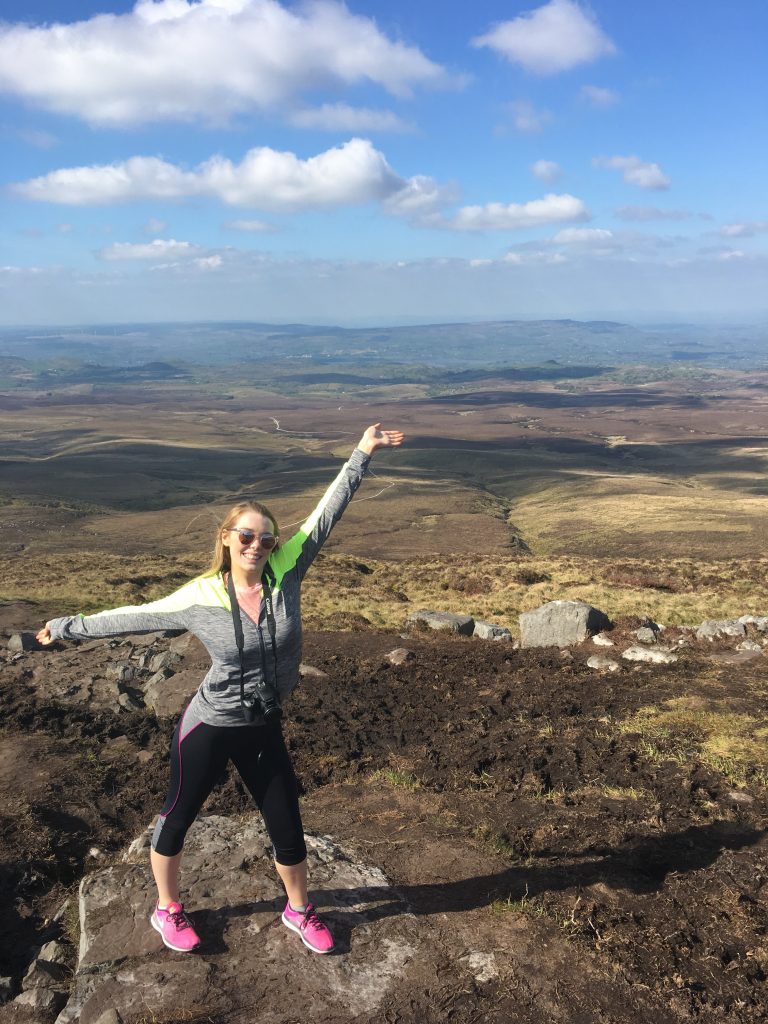 On Top of the World …
After taking our short pit stop we continued on. The higher we got the better the views. Once we reached the summit, we celebrated by taking photographic evidence. A victory photo of sorts. We then more importantly found the perfect spot to eat our lunch.
Ignoring this daring sign: The Stairway to Heaven Fermanagh It's basically asking you to disobey it. 😉  
We couldn't of asked for better weather, while we sat on a rock at the top of the summit, munching on our well deserved lunch. After lunch we started our decent down the mountain, which is a lot easier then walking up it. It was a lovely walk, one I'd defiantly do again. If you have any questions regarding this walk don't hesitate to ask me in the comment box below. Until next time. Slán go fóill.
Planning on staying a few days in Ireland? Check out some more of my posts that will help you organise your trip!
Thanks for reading!
I hope you enjoyed this post and have an amazing time on your trip to Ireland. If you need any help with your planning feel free to message me on Instagram or Facebook 🙂

PIN ME!