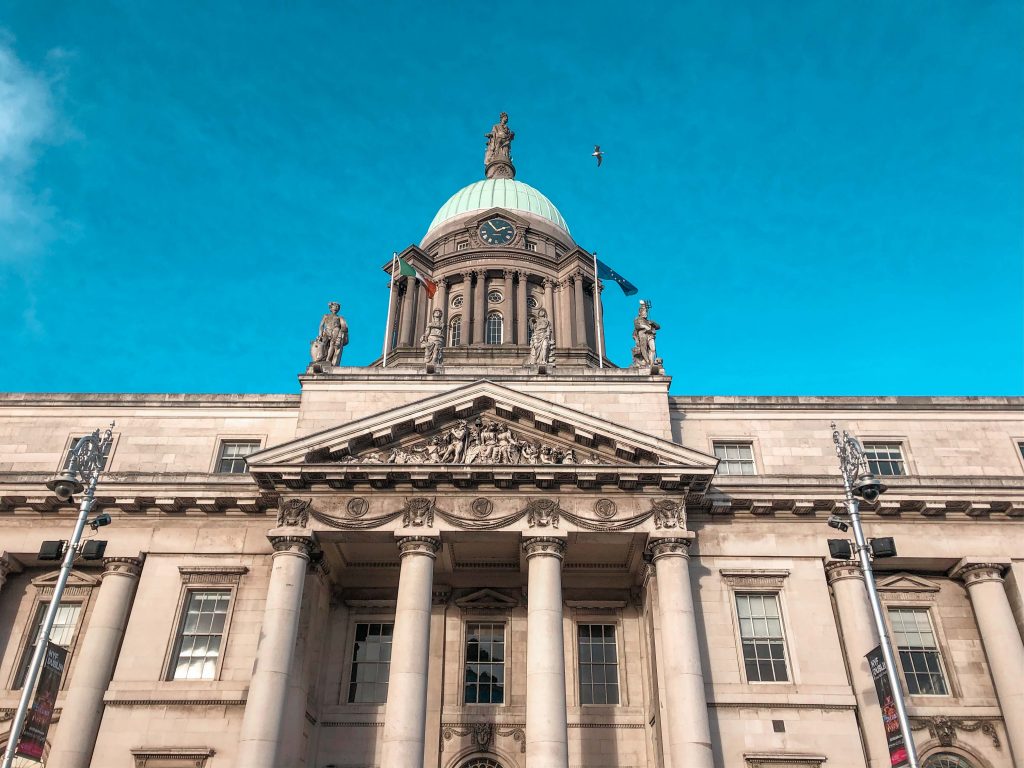 2 days in Dublin? Is that enough time to explore Ireland's Capital city? Of course! Especially when you have a local like me as your virtual tour guide 😉
It has just dawned on me! I have spent my whole life living in Dublin. Yet, I had never written an itinerary on how to have an AWESOME time in my home city. Until now that is.
Now, I must admit, I wouldn't consider myself an expert in many things, but I do like to think that I have some level of expertise when it comes to my home town. So, that is why I have decided to put together an expert guide on how to explore Dublin in 2 days.
A 2 Day Dublin Itinerary – Day 1: Jails, Castles & Pubs
On the first day in Dublin will take a look at some of the most historic attractions on the south side of the city. I tried to come up with the most time-efficient way to explore Dublin over 2 days. As a result, all attractions on day one are within walking distance from each other.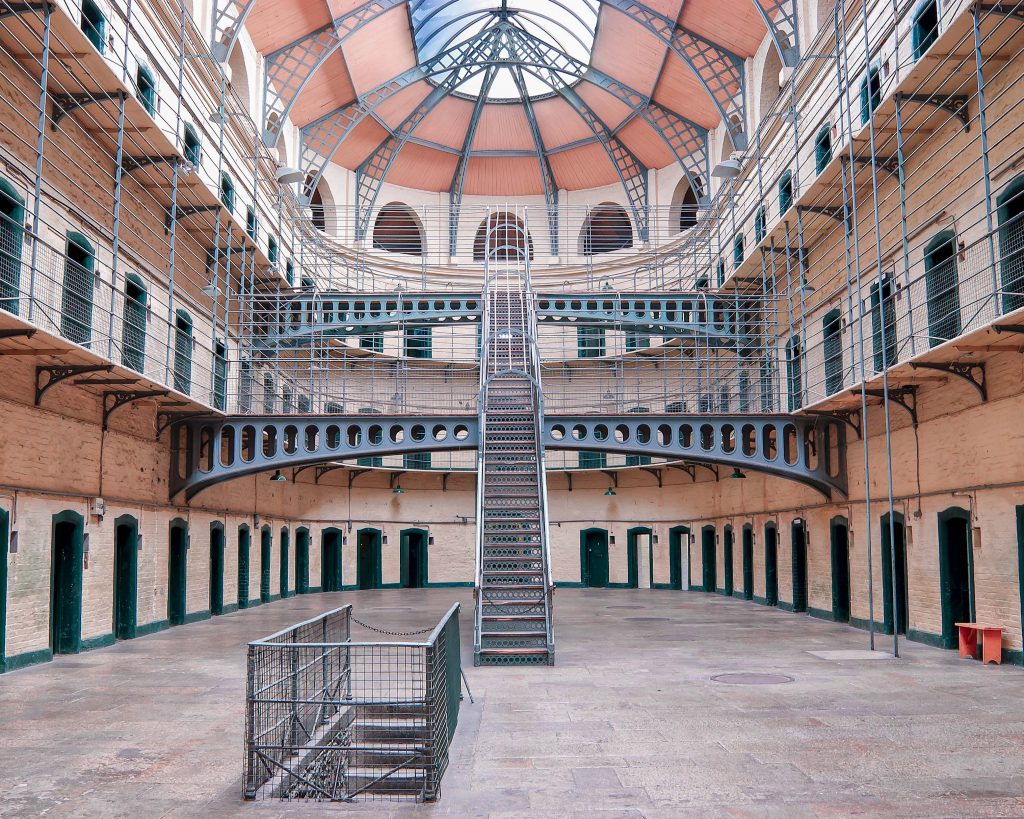 Stop 1: Kilmainham Gaol
The first stop on our Dublin itinerary is none other than Kilmainham Gaol. Ireland has an extremely historic past and in the fight for independence, the country fell on troubled times. Kilmainham Goal played a major role in Ireland's history and is certainly a must-see attraction when visiting Dublin.
Kilmainham was used to house some of Ireland's most famous figures during the Irish Civil War, the Anglo Irish War, and 1916 rising. The jail was patrolled by British troops and saw the execution of my political Irish leaders.
However, the range of crimes the prisoners committed varied deeply with some being sentenced for the likes of robbing a loaf of bread. Whereas, others were on trial for murder.
Kilmainham Gaol closed its doors as a prison back in 1924 and now serves as an interactive museum for people to learn about Ireland's troubled past.
Price: This AWESOME experience will set you back €8 and is totally worth the money! Please note that Kilmainham Jail is an extremely popular attraction that is likely to sell out fast. Book quite some time ahead to avoid disappointment.
*Pro Tip: Between 9:15am-9:30am each morning cancelled tickets are rereleased for the public to purchase*
Opening Times: The Gaol is open from 9.30am to 6pm
Duration: I recommend 1 hour and half exploring Kilmainham Gaol.
---
Next Stop: Dublinia & Christchurch Cathedral
Getting There: The next stop on our Dublin itinerary is Dublinia. It takes 30 minutes to walk from Kilmainham to Dublinia. I promise this is the longest walk of the day.
For those of you who would prefer to take public transport to the attraction hop on the 13 or the 40 bus for a 15 minute journey.
Stop 2: Dublinia
Now it's time to dive even further into Ireland's past with Dublinia, another interactive museum highlighting Ireland's Viking and Medieval past. This was probably one of my favourite places to visit as a child, I think I have been over 5 times.
I still distinctly remember being told as a child how the name Dublin came about. It is adapted from the Irish word 'Dubhlinn'. Dubh is the Irish name for the colour 'black' and 'linn' is the name for 'pool'. It came from the black tidal pool that was formed when the river toddle meets the river Liffey.
Price: The Dublinia experience will set you back €10 (€9 for students) and is located inside Synod Hall in Christchurch Cathedral. The experience is FREE on the Dublin Pass. I will explain the Dublin Pass in more detail at the end of the itinerary.
Opening Times: It is open 7 days a week. From 10 am to 5.30 pm (March to September) and 10 am to 4.30 pm (October to February).
Duration: I recommend spending anywhere from 1 hour to 1 hour and half exploring Dublinia.
---
Next Stop: Christchurch Cathedral
Getting There: It's literally less than a minutes walk.
Now, Before we go any further if you are planning a trip to Ireland why not subscribe to my email list for a FREE eBook download with insider tips, an Ireland packing list, a weather guide, and more.
Stop 3: Christchurch Cathedral
So, technically Dublinia is located in Christchurch Cathedral, however, you do need to cross the road to enter the Cathedral part. The Church is one of two medieval churches in Dublin with Saint Patrick's (PSSSST: Our next stop) being the 2nd.
Christchurch is one of Ireland's longest operational buildings, It is truly beautiful inside and out. Guided tours of the Cathedral run Monday to Saturday. They teach visitors about the history of Christchurch and include a climb up to the Belfry for a chance to try to ring the bell.
Price: Tickets cost €7 per person and once again this experience is FREE on the Dublin Pass.
Opening Times: Tours run Monday to Friday at 11.00, 12.10, 14.00, 15.00, and 16.00. On Saturdays at 14.00, 15.00 and 16.00 and self-guided tickets can be purchased on Sundays.
Duration: The tour takes about 45 minutes to complete and then I recommend leaving an extra 5 to 10 minutes to take pictures of the outside.
---
Next Stop: Saint Patricks Cathedral
Getting There: Saint Patricks Cathedral is a 7 minute walk from Christchurch.
Related Post: One Day in Dublin
Stop 4: St. Patricks Catedral
Stop 4 on our two days in Dublin itinerary is another seriously beautiful church is St. Patricks Cathedral. The garden grounds are a lovely place to sit down and relax on a summer's day. It is FREE the enter the church. They also offer a guided tour (I personally have not tried this yet).
Even if you don't give the tour ago, I do 100% recommend stopping by to check out the garden and the building. After all, it is only down the road from Christchurch.
Price: Tickets for the guided tour cost €8. However, if you are a Dublin Pass ticket holder the tour is FREE.
Opening Times: The church is open from 9am to 5pm.
Duration: I recommend spending a half hour here.
---
Next Stop: St. Stephens Green
Getting There: Stephens Green is a 9 minute walk from St. Patrick Cathedral.
Stop 5: St. Stephens Green
In the heart of Dublin city lies St. Stephens green. The gateway to some of Dublin's must-see attractions. The park is popular among locals, particularly on a hot summer's day. Once the sun is out (and it's warm outside), good luck finding a spot on the grass because the place will be jammers. Stephen's Green is a lovely place to go for a walk in Dublin and the best thing is, it is right in the heart of the city center.
*Jammers: Irish slang for busy aka jammed packed*
Price: FREE
Opening Times: They do close the gates at night time. I'm not 100% sure when and there is limited information online.
Duration: Depending on time commitments you could spend anywhere from 10 minutes to 1 hour.
---
Next Stop: St. Stephen's Green Shopping Centre
Getting There: Walk out of the main park gates and the Shopping centre will be facing you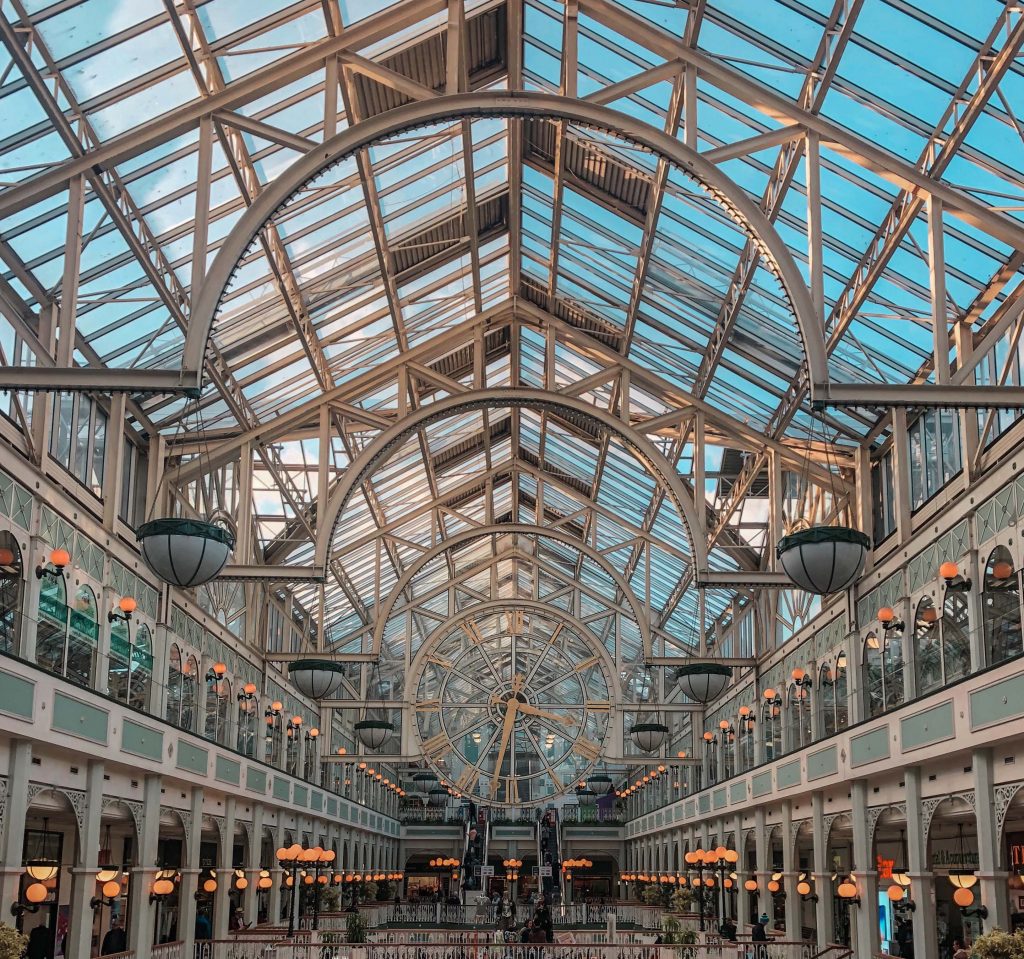 Stop 6: St. Stephen's Green Shopping Centre
The next stop of our 2 day Dublin itinerary is St. Stephen's Green shopping centre. Now, this is just a pit stop, as we have many more attractions to see. BUT…just look at that beautiful design.
Hop on the escalator…then climb one flight of stairs…AND THEN VOILA…lo and behold…that wonderful skylight view.
Price: FREE, unless you can't resist the temptation to buy something 😉
Opening Times: Monday to Friday it is open from 8.30 am to 7 pm and on Sundays, it's open from 11 am to 6 pm.
Duration: Literally 2 minutes.
---
Next Stop: Grafton Street
Getting There: Walk out of the Shopping Centre (the same door you came in) and Grafton Street is the next street over on the left.
Stop 7: Grafton Street
Grafton Street, probably one of the busiest streets in all of Dublin. Hence, not being able to get a decent picture. Grafton Street is one of Dublin's main shopping districts, although the main reason to visit Grafton street isn't to spend some well-earned money. It is to check out Ireland's vibrant busking scene. Performers from all over the country bring Grafton Street to life with their extraordinary talents. One of my favourite thing to do is stand and listen to them perform.
So, please enjoy a pic of St. Ann's church just off a side street about halfway up Grafton.
Price: FREE, however, you can always give the performers a little gift.
Opening Times: Shops close at 7, although, Grafton street has life on it almost 24 hours a day.
Duration: 15 to 30 minutes
---
Next Stop: Molly Malone
Getting There: Molly Malone is located a 1 minute walk from the top of Grafton street. Turn left down Suffolk Street and Molly stands right in front of St. Andrew's church. Check out her location here.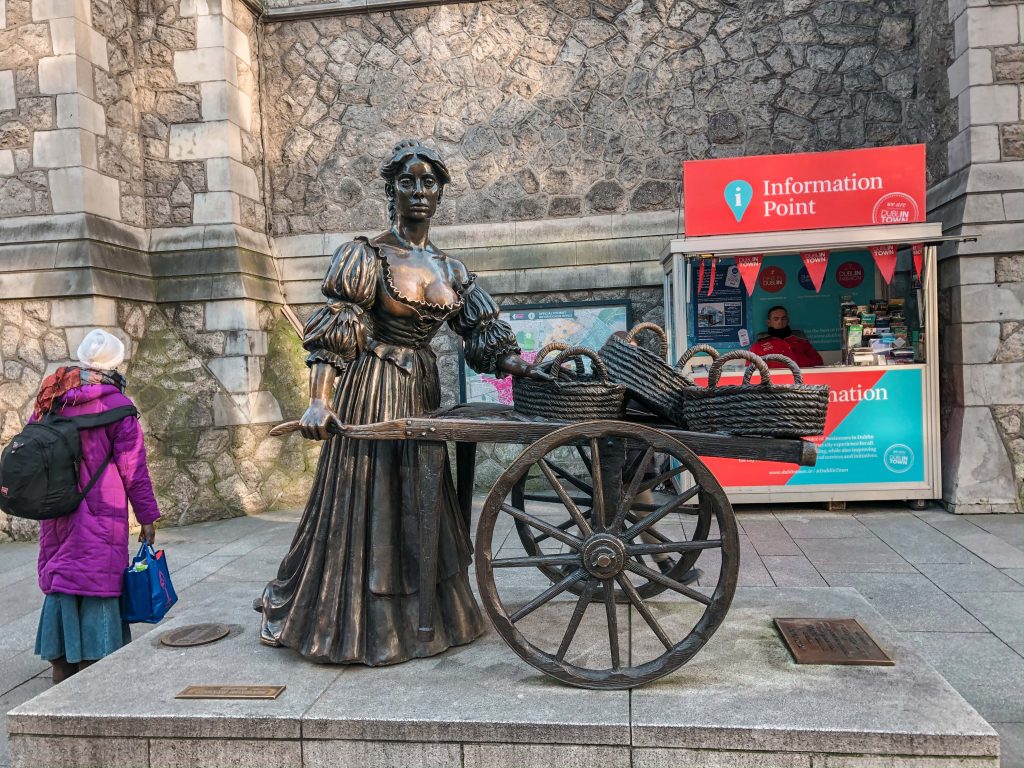 Stop 8: Molly Malone
We Irish are known for storytelling through song and Molly Malone was subject to famous Irish folklore. Later being one of Dublin's most iconic anthems.
The song tells a tale of a 17th-century woman who worked hard on the streets of Dublin, only to die at a young age.
'In Dublin's Fair City where the girls are so pretty, I first set my eye's on sweet Molly Malone. As she wheeled her wheelbarrow, Through the streets broad and narrow, Crying "cockles and mussels, alive, alive, oh"
On Suffolk street lies the famous statue of Molly herself.
Price: FREE
Opening Times: All Day & All Night
Duration: 5 minutes (Although, at time you may need to line up for a pic with Molly).
---
Next Stop: Dublin Castle
Getting There: Dublin Castle is a 9 minute walk from the Molly Malone Statue.
Stop 9: Dublin Castle
As far as Irish Castles go, Dublin castle is very un-castle like (on the outside that is), excluding the record tower photographed above. Nonetheless, the non-castle looking exterior doesn't take away from the significance Dublin castle has on the cities history. Even to this day, the building is still used for both government and public events.
It is possible to take a self-guided tour of the State apartments and exhibitions and/or a 45 minute guided tour of the castle itself particularly the Chapel, Medieval Sections and the State Apartments.
Price: Self-guided tour costs €8 (€6 for students). FREE on the Dublin Pass.
Opening Times: The castle opens from 9:45 to 17:45 with the last admission at 17:15.
Duration: 1 hour to 2 hours.
---
Next Stop: Temple Bar
Getting There: Temple bar is a 4 minute walk from Dublin Castle.
Stop 10: Temple Bar
Now, as a local, I avoid Temple Bar at all costs when it comes to having a drink and some food. It is extremely touristy and well, drinks are extremely overpriced. However, with that being said, it is a cute little area of Dublin that has a lot of Irish character like cobblestones a thrifty shops.
As a tourist, Temple bar is the perfect place to listen some traditional Irish music and indulge in some Irish cuisine. I do recommend at least stopping by to check out the charming cobbled streets and listen to some live music. After all, you could always have a drink or two before heading over.
Price: This all comes down to personal preference and budget.
Opening Times: Shops and restaurant times vary, whereas the pubs are open until the early hours of the morning.
Duration: As long as you like
---
Next Stop: Ha'Penny Bridge
Getting There: 1 minute walk from Temple. Just walk towards the river Liffey and you will see the famous white bridge before you.
Stop 11: Ha'Penny Bridge for Sunset
So, next on our Dublin Itinerary the Ha'Penny Bridge for sunset. Now, Dublin has many beautiful sunset locations but most involve travel outside of the city grounds. So, if you are looking for a good spot to watch the sky change from day to night, the Ha'Penny Bridge is the spot for you. Either way, I 100% recommend catching the sunset at some stage throughout your visit to Dublin. Besides, it's one of the best FREE things to do in Dublin 😉
Once the sun has set, find yourself a good spot for some food and maybe a drink or two. I suggest the elephant castle if you are in the mood for delish chicken wings or Mad Egg for the chance to design your own cheesecake.
2 days in Dublin itinerary: Day 1 Breakdown
Ok, so that brings us to the end of day 1 in Dublin. Above, is a map of all the attractions and sites mentioned in the itinerary. I have also placed each stop into google maps in order to assist you in your self-guided tour of Dublin.
Below is a recap of the stops mentioned in the itinerary and a suggested time frame:
9.00am – 9.30am: Breakfast
9.30am – 11.30pm: Kilmainham Gaol:
12.00pm – 2.00pm: Dublinia, St. Patricks, Christchurch
2.00pm to 3.00pm: Lunch
3.00 to 3.45pm: Stephen's Green, Grafton Street & Molly Malone
4.00pm to 5.00pm: Dublin Castle
Night Time: Sunset on the Ha'Penny Bridge, Explore Temple Bar & Get a bite to eat.

*Please note: the sunset time will change drastically depending on the time of year. For example, the sun can set as early as 4.00 pm in the wintertime, whereas in the summer it can be well after 10.00 pm before it set's*
Dublin Itinerary 2 days: Day 1 – Some more history & a bit of the good stuff
Ok, so for the 2nd day of our weekend in Dublin we will visit some more of the top historic spots in the city. We will also visit the home of the 'good stuff' while having the opportunity to see the best view of Dublin city.
Stop 1: Trinity College
Ok, so the first stop of our second day in Dublin is Trinity College. Trinity is Dublin's leading university and with buildings dating back to the 16th century. It truly is a lovely place to visit and admire the architecture. It also gives many visitors serious 'Harry Potter' vibes.
I'd suggest having a walk around the college grounds before visiting the famous 'long room' and the 'book of kells'.
Once you have finished exploring the Trinity campus head over to the library for a famous view of the 'long room'. On-site lies the 'Book of Kells' exhibition along with the opportunity to see the book on display.
*Please note that the Book of Kells isn't always visible, so be sure to ask before you enter the museums*
Price: Tickets range from 11 to 14 euros.
Opening Times: Open from 9.30am to 5.00pm (times may vary).
Duration: 1 hour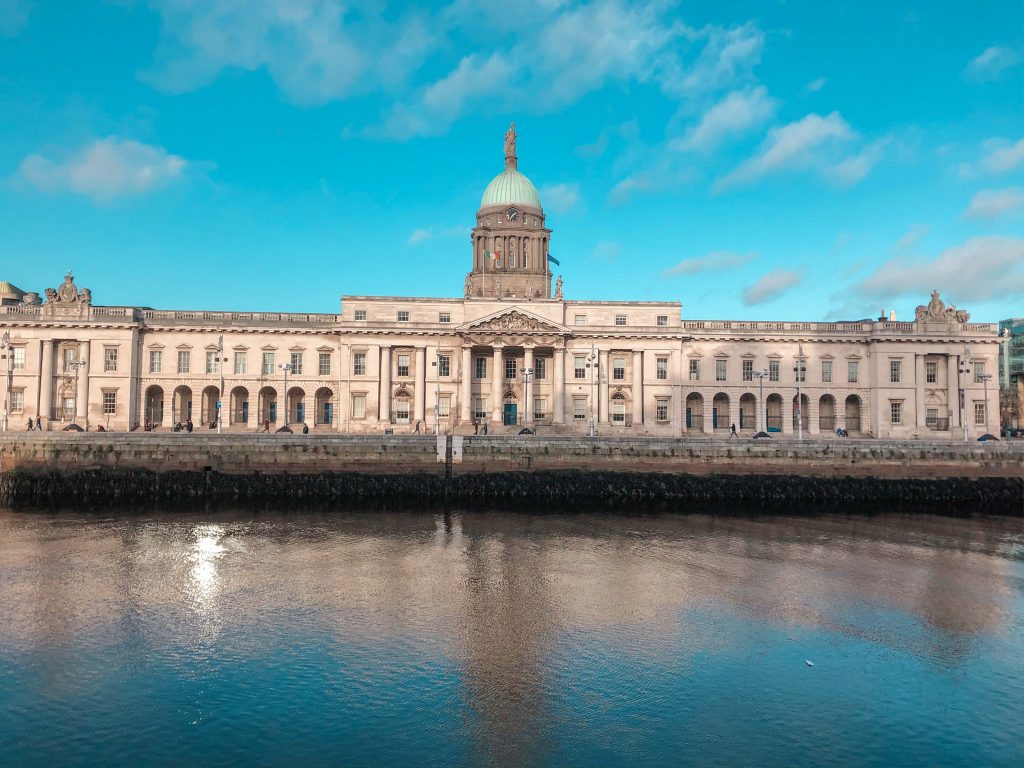 Stop 2: Tara Street for a EPIC view of Costume House
Next, head over to Tara Street for a view of my favourite building in the city, the Custom House. This view is beautiful both during the day and at night. And the viewpoint is possibly one of Dublin's best Hidden Gems.
Continue further up the river to get another beautiful view of the Samuel Becket Bridge and the Convention Centre.
Next Stop and getting there: Now, the next route will deeply depend on how far up the river you choose to walk. The next stop is the Jeanie Johnston Famine Ship. It is possible to either cross the river by the Seán O'Casey Bridge or the Samuel Becket.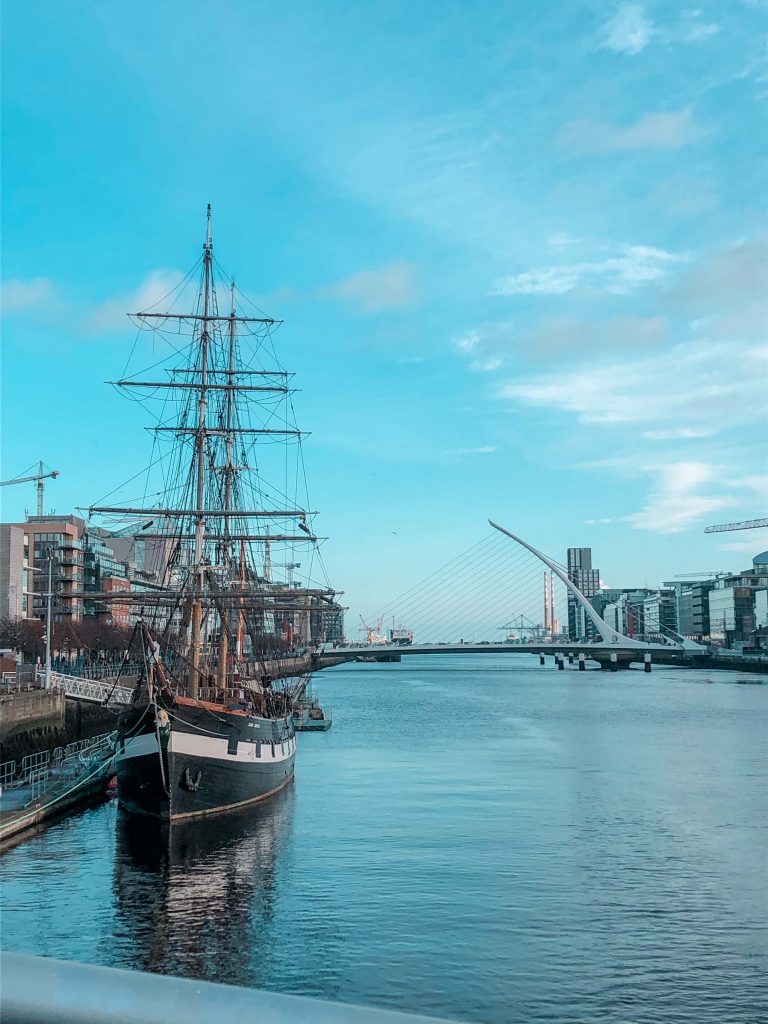 Stop 3: The Jeanie Johnston, An Irish Famine Story & EPIC The Irish Emigration Museum
The Jeanie Johnston: the Irish Famine Story and EPIC The Irish Emigration Museum are both located within minutes of each other. Making them the perfect 2 spots to visit in the one go.
A replica of the Jeanie Johnston lies on the banks of the River Liffey. The tall ship was used during the famine to sail voyages between Co. Kerry and Quebec in Canada. Further down the river (to the left of the Sean O'Casey Bridge) lies the Famine Memorial.
While visiting the Jeanie Johnston, take some time to take part in the Irish Famine Story. The tour brings visitors onboard the famous Famine ship and tell's the story of Ireland's past.
Following the tour, why not give the Epic Irish Emigration Museum the opportunity to go back in time and learn about the lives of those who lived during the famine and had no choice but to emigrate abroad.
Price: The Jeanie Johnston Story costs 11 euro for adults (10 for students). The Irish Emigration Museum is 16.50 for adults and 15 for students. Both experiences are available for FREE with the Dublin Pass.
Opening Times: Shops and restaurant times vary, whereas the pubs are open until the early hours of the morning.
Duration: The Jeanie Johnston Story tour last 50 minutes and the Epic Irish Emigration Museum last 90 minutes. Please note, if you decide to take part in both experiences it will not be possible to do one of the later mention tours due to closing times.
---
Next Stop: GPO
Getting There: The GPO is a 15 minute walk from the Epic Irish Emigration Museum.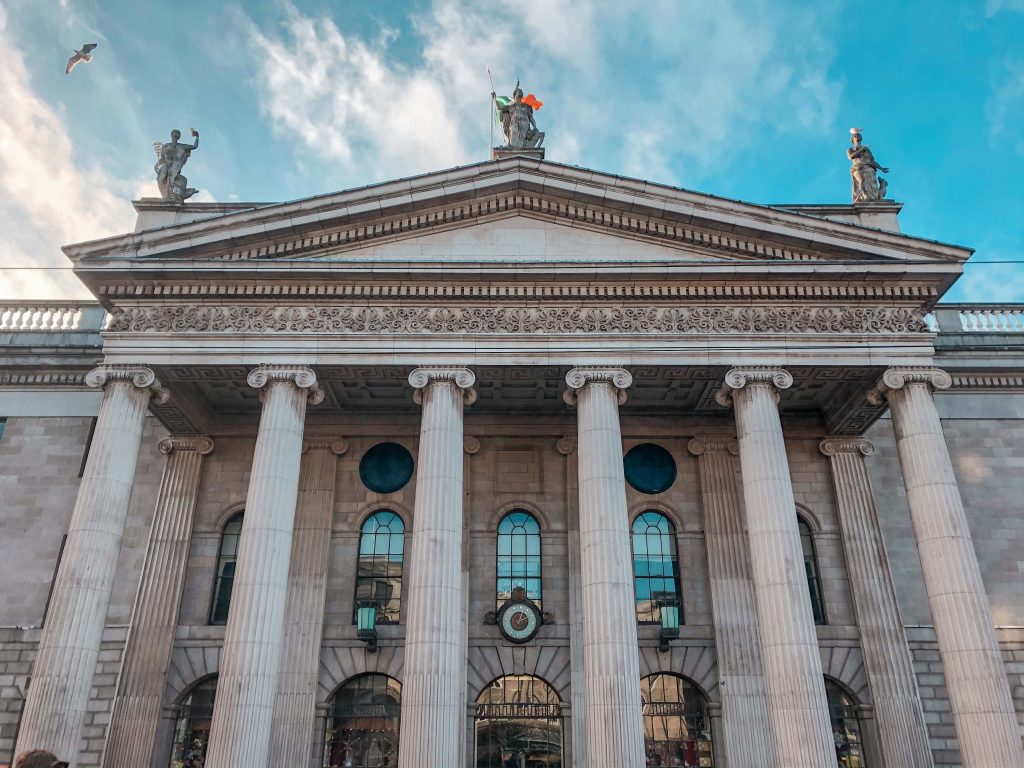 Stop 4: The GPO
Our next stop is another extremely historical spot in Dublin. The GPO short for 'Generally Post Office' was one of the leading buildings in the 1916 rising, the fight that evidentially grated Ireland its independence. If you look really carefully, the bullet shots markings from the war can be seen on the GPO to this day.
An interactive self-guided tour is offered on-site for those who want to learn more about the rising and Ireland's fight for Independence.
Price: The tour costs 14 euro for adults (9.50 for students). Those with a Dublin Pass can access the tour for FREE. Of course, this is completely optional. Nonetheless, it is worth it walking up to the GPO to see the beautiful historic building.
Opening Times: 8:30a.m.–6p.m.
Duration: The self-guided tour lasts 45 minutes. If you choose to do this tour just be mindful that the Guinness Storehouse (mentioned later in the itinerary) closes at 5.00 pm and takes about 2 hours to complete.
---
Next Stop: The Spire
Getting There: It's right beside the GPO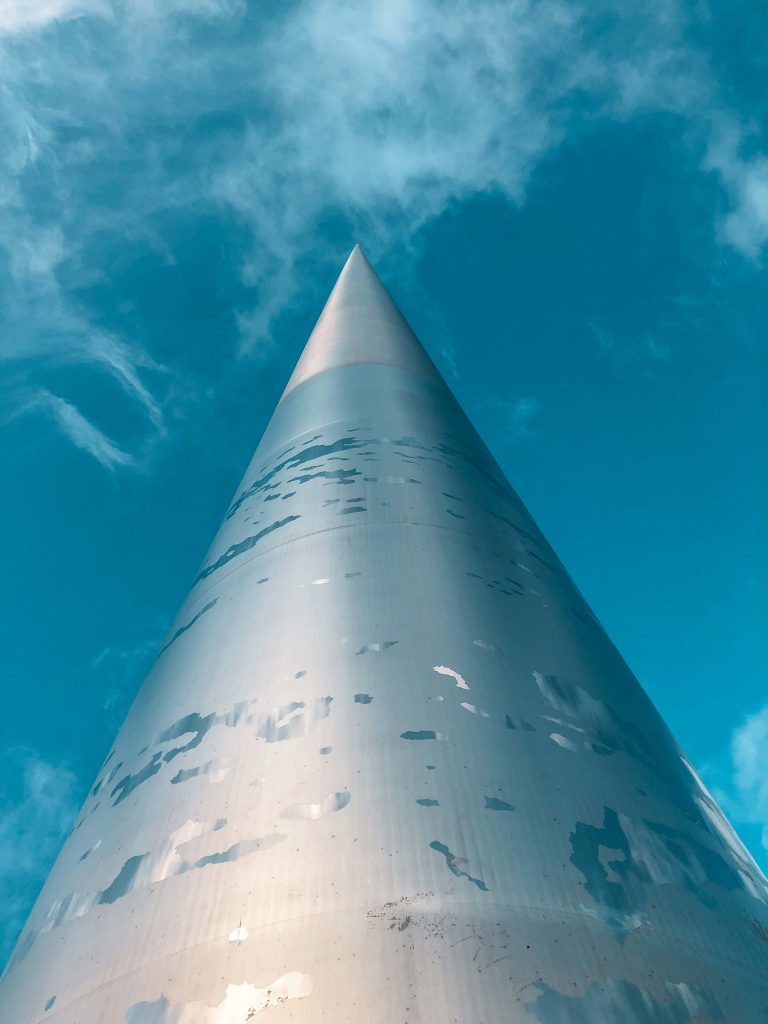 Stop 5: The Spire
Paris has the Eiffel Tower, New York has the Statue of Liberty and in Dublin…We have… drum roll please…the Spire…
The Spire was created back in 2003. Originally, the Irish did what we do best and made several comedic jokes about what was soon to become our capital cities tallest landmark.
With that being said, I have personally grown to love the spire. It's ideal when lost in Dublin, just knowing even with my poor navigation skills, if I walk the spire I will eventually end up on O'Connell Street.
Or, the fact that many years later it is still subject to Irish banter…like turning it into a giant lightsaber for the launch of the Star Wars: The Force Awakens movie.
So, if you are already on O'Connell street, why not snap a pic the cities tallest landmark.
Next Stop: The Guinness Storehouse
Getting There: It takes 30/40 minutes to walk to the Guinness Storehouse from the Spire. So, rather than walk, jump on a red line Luas for 20 minutes and get off at the Fatima stop from there is a 6 minutes walk to the Storehouse.
Stop 6: Guinness Storehouse
The final stop of the day is the famous Guinness Storehouse. This is possibly one of the best tourist attractions in Dublin. And don't worry you don't have to like Guinness to enjoy the experience.
The Storehouse allows visitors to embark on a 7 storey self-guided tour. Here, they will learn all there is to know about how the 'good stuff is made, have the opportunity to pour their own pint, see the best panoramic views of the city in the Sky bar and even see a bit of river dancing. I 100% recommend a visit to the Guinness Storehouse on any visit to Dublin.
Price: The self-guided experience starts off at 18.50 but the price does rise during peak hours. The good news is, it is FREE with the Dublin Pass.
Opening Times: 9.30am to 5.00pm.
Duration: I recommend allowing at least 2 hours to enjoy this AWESOME experience.
Dublin in 2 Days Itinerary: Breakdown of Day 2
Ok, so that brings us to the end of day 2 in Dublin. Above, is a map of all the attractions and sites mentioned in the itinerary. Similar to day 1, I have placed each stop into google maps in order to assist you in your self-guided tour of Dublin.
Below is a recap of the stops mentioned in the itinerary and a suggested time frame:
8.30am – 9.00am: Breakfast
9.00am- 10.00am: Trinity & the Book of Kells
10.00am – 11.00pm: The view of both the Cutums House and the Samuel Becket Bridge. (factor in time to walk the the Jeanie Johnston).
11.00am – 12.30pm: The Jeanie Johnston & the EPIC Irish Emigration Museum (can possibly only do one tour).
12,30pm – 1.00pm: Lunch (Just a Quick Lunch)
1.00pm – 2.00pm: Take in the sights of the GPO and the spire
2.00pm – 2.30pm: Get the Luas to the Guinness Storehouse
2.30pm – 5.00pm: The Guinness Storehouse
Night Time: Go for Dinner and check out some more Irish pubs. Dame street is a great spot for nightlife.
And…That's a Wrap. I hope you enjoyed our 2 day Dublin itinerary <3 Please find down below some more information that would be helpful on your trip to Dublin.
What is the Dublin Pass? And is it worth the money?
Ok, so you probably noticed that over 90% of the attractions mentioned in this itinerary are covered by the Dublin Pass. And…It is no secret that Dublin is one of the most expensive cities in Europe. Therefore, I am sure those planning a visit would love to find ways to save money on their trip to Ireland.
The Dublin Pass does just that. Saves you money. The pass is a once-off payment that ultimately grants buyers FREE and discounted admission into over 33 attractions in Dublin.
Below is a list of the attractions mentioned in this 2 day Dublin itinerary that is FREE to enter for those who hold a Dublin Pass:
| | |
| --- | --- |
| Day 1 Attractions Cost | Day 2 Attractions Cost |
| Dublinia: €10 | Jeanie Johnston: €11 |
| Christchurch: €7 | Emigration Museum €17 |
| St. Patricks Catedral €8 | GPO €14 |
| Dublin Castle €8 | Guinness Storehouse: €10-24 |
| Total = €33 | Total = €62-66 |
48 HOURS IN DUBLIN GRAND TOTAL = €95-99
Therefore by purchasing the Dublin Pass, buyers would save a whopping 21 euros. But…wait the savings are not finished yet…
The Dublin Pass also offers those who purchase the pass FREE access to one of the BIG BUS hop-on hop-off services. This service runs by many of the attractions mentioned on this Dublin itinerary including Kilmainham Goal and the Guinness Storehouse which are significantly further out of the way. Normally, the hop-on/hop-off bus would cost €22 per adult.
So, those who on intend on making use of the hop on hop off service will save a further €22. Meaning a totals savings of €43.
Not only does the pass over FREE admission to several attractions, it also offers a discount to more services such as the air coach or a 10% discount on day trips out of Dublin.
Please note that the pass price may vary. At the time of write, a 2-day pass cost €78. Please always check the price before purchasing.
*SO, IF THIS IS SOMETHING THAT TICKLES YOUR FANCY. WHY NOT BOOK YOUR TICKETS TODAY AND SAVE A FEW QUID*
Getting Around Dublin
So, one good thing about Dublin is its size. For a city, Dublin is super duper small. In saying that, due to the high level of things to do, it is almost guaranteed your feet will be in bits from all the walking about. That is why I have listed down below the best transport options throughout the city.
Dublin Bus: There are many busses that run through the city. Making it easy to get from A to B. Prices vary depending on the length of the journey. The bus can be paid for using the leap card (which I will explain in more detail further down the post).
The Luas: The new intercity Luas route makes it easier than ever to get from the North to the Southside of the city or vice versa. It is also possible to pay for the Luas using a leap card and requires passengers to tap on and off at the station.
The Dart: The dart generally runs from the city centre to the coastal area's. Ideal for those looking to catch the sunset by the ocean. The dart also works with the leap card.
Dublin Bikes: Anyone can use Dublin bikes for FREE once they don't go over a 30-minute duration. If you go over a 30-minute duration there will be a €5 charge. You can, however, use a bike for 30 minutes, return it and then pick up a new bike for 30 minutes and so on for FREE.
Taxi: Of course taxies are available but they rather expensive. I recommend avoiding the use of taxies as much as possible. If you need to use a taxi, please note that to hail one down you must put out your hand to let them know you're interested in using the service. Alternatively, download the FREE Now taxi app (Android/IOS) to order a taxi on your phone.
The Leap Card is a prepaid pay as you go public transport card. The can be used on most public transport throughout Dublin. For more information and for rates click here.
Getting from Dublin Airport to the city centre
An Air Coach runs from the airport into the city centre. It takes about 25 minutes to reach the centre and those with the Dublin Pass get a 15% discount. Without the pass, a return ticket on the Air Coach costs €12.
Alternatively, as of the 1st of December, the 41 Dublin bus route has gone 24 hours and will transport people from Lower Abbey Street to the Dublin Airport. This is a much cheaper option and is available on the Leap Card.
Where to Stay in Dublin:
Ok, so due to the fact that I live a 30-minute drive from Dublin city centre, I can not advise places to stay down to my own personal experience. In saying that, I will point you in the right direction in terms of Budget.
Budget-Friendly Hostel: Abigail's Hostel cost around €80 for one person for 2 nights (Yes, a hostel is 80 quid. Dublin is EXPENSIVE!) But this one is in a great location. Right on the streets of Temple Bar.
A Good Location Hotel: The Moxy Dublin City Hotel costs around €390 for 2 people for 2 nights.
A Good Location Apartment: The Dublin Apartments Temple Bar costs around 400 for 2 people for 2 nights.
Now, I know they are all rather expensive, you stay a little further outside the city you will for sure get a better deal. Some areas with good public transport routes include Rathmines, Terenure, and Dundrum. To check for more options use the Booking.com search box down below:
Thanks for reading!
I hope you enjoyed this post and have an amazing time on your trip to Ireland. If you need any help with your planning feel free to message me on Instagram or Facebook 🙂
LIKE THIS POST? PIN ME FOR LATER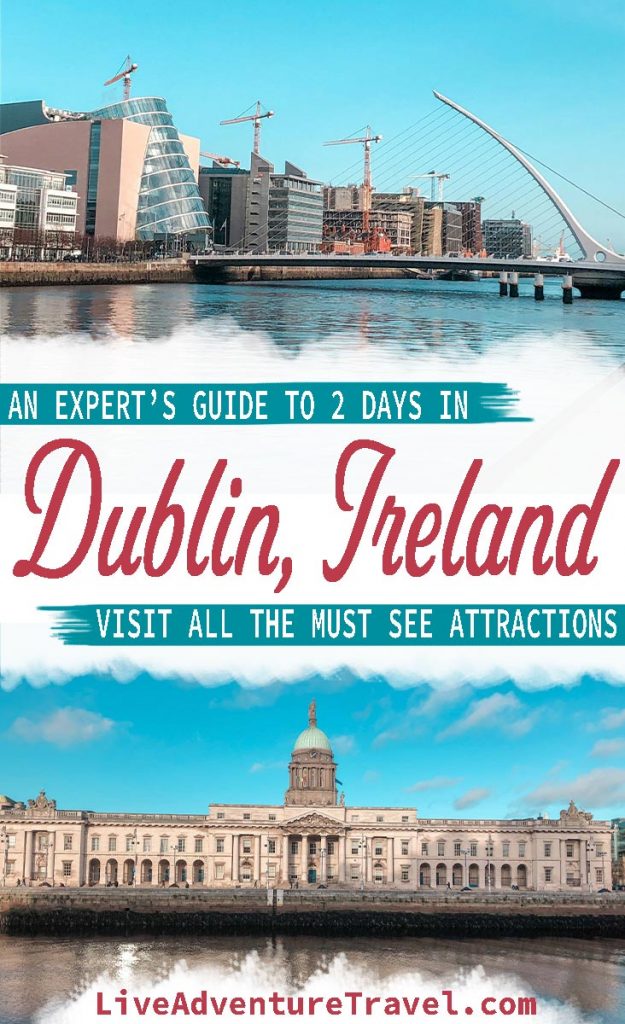 Disclaimer: This post contains affiliate links meaning I may make a small commission at no extra cost to you 🙂