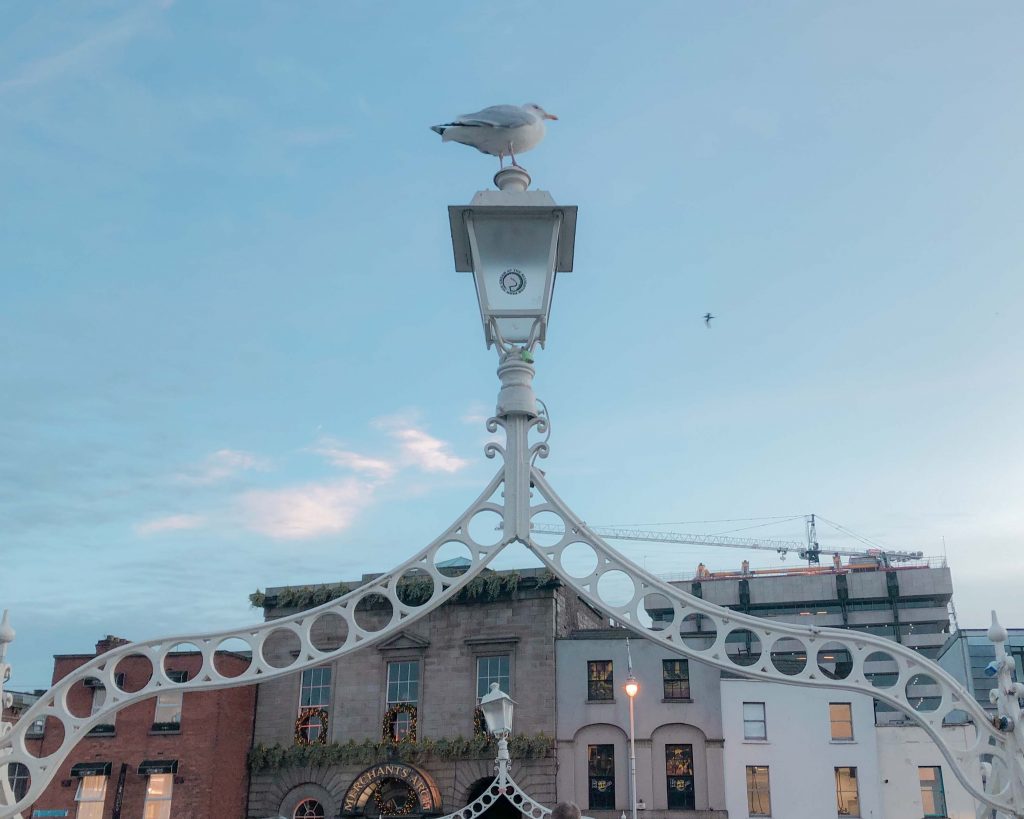 One Day in Dublin: A Relaxed Self-Guided Tour (A Local's Guide)
'I was in Dublin once, only for a day though and I don't really remember it'. This is something I am sad to admit that I hear all too often when people tell me about their stopover in Dublin. Now, I do understand, many of those who have just 24 hours in Ireland's capital city often want to tick the stereotypical 'Irish Experience' off their bucket list. And, to be honest, I don't blame them.
We Irish sure do know how to have a good time and as a result, it is easy for tourists to fall down the 'Temple Bar Trap' so to speak. Without even having the opportunity to experience the 'real' Dublin because all their time is spent in the bars. So, what if I told you that you could experience both. Yes, that's right in just 24 hours, you can tick most of Dublin's leading tourist attractions off your bucket list and then still have time to party the night away in Temple Bar. If this sounds like your ideal way to spend one day in Dublin then keep on reading.
I wasn't all too sure how to divide this post up, as a local, I know the most convenient way to walk around the city. And considering you only have 1 day in Dublin, I wanted to come up with a stress FREE way for you to see all the highlights, without feeling as if you were doing a marathon or a sprint. My solution was to break the day up into morning, mid-day, evening and night-time activities. You will be glad to hear that all experiences are of walking distance of each other, making it easy for you to do a self-guided tour of Dublin in just one day.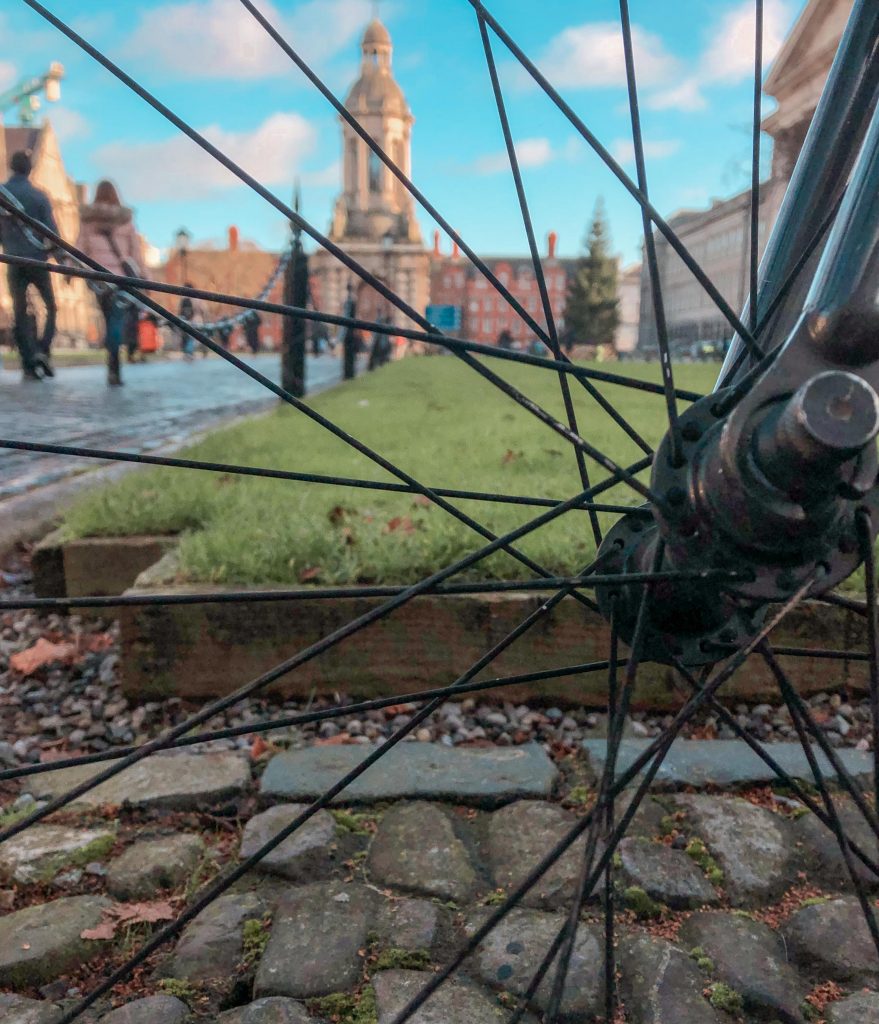 One Day in Dublin: Spend the Morning Exploring College Green & Beyond
I'd highly suggest waking up bright and early to take on Dublin's beautiful city park, St. Stephen's Green. The green is a lovely place to begin the day as it helps clear the mind and have you feeling fresh for a fun-filled day of activities. It can take anywhere from 30 minutes to 1 hour to loop around the park depending on which root you take. Once you have enjoyed the peace and quiet of the green it is time to head toward Dublin's main shopping district, Grafton Street. However, Grafton Street is not only known for its high-end retail stores. It is also the place to go to see Dublin's thriving music scene, with buskers from all over the country singing and performing for the public. As you walk towards the end of Grafton Street take a sharp to the left turn Suffolk Street, here you will find the famous Irish statue, Molly Malone. Take a moment to catch a snap with Molly before making your way to college green.
College Green is home to one of the most iconic places in all of Dublin, Trinity College. The Trinity grounds are certainly worth having a little wander around as some of the buildings date back as far as 1592. No matter how many times I stroll the ground of Trinity, I always feel as if I have stepped back in time. It's a truly unique experience.
Once you have finished exploring it is time to pay a visit one of the top tourist attractions in all of Dublin, the Book of Kells. The world's oldest book lies right on the grounds of Trinity College and is visited by over 500,000 visitors each year. Those who purchase tickets to the Book of Kells exhibition can also visit Trinity's famous Long Room free of charge. The whole attraction is one of my favourites things to do in all of Dublin. Don't forget to Book your tickets nice and early to avoid disappointment.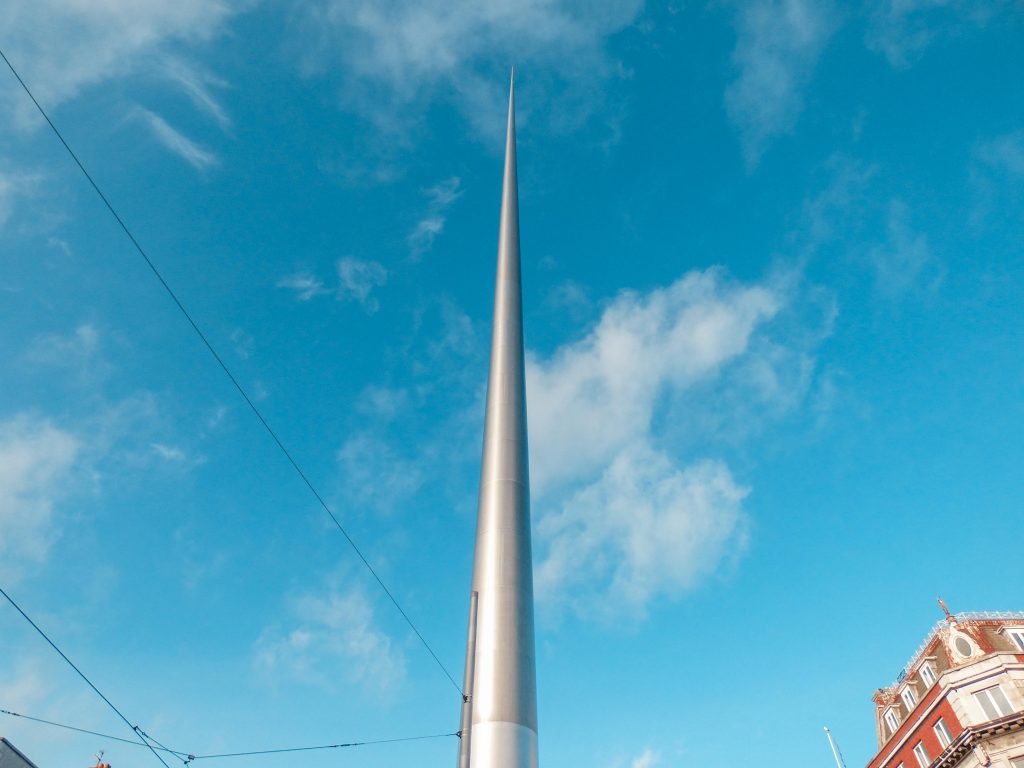 1 Day in Dublin: Take a Mid-Day Stroll through Historic Dublin
Once you have finished walking around the stunning grounds of Trinity College it is time to start walking towards Dublin's General Post Office, otherwise known as the GPO. Now, because this is only a 1 day Dublin itinerary we do not have time to enjoy the museum inside the GPO, it is, however, nice to get a picture of the Historic building. The GPO played a big role in Ireland's fight for independence and if you look really hard the bullet holes from the 1916 rising can still be seen on the building's exterior.
A little further up O'Connell Street(Dublin's most famous street) lies the new modern symbol of Dublin's fair city, The Spire. When the government announced the plans to build The Spire the public made a mockery of it. However, we quickly learned to love the monument as it can be seen from all angles of the city, making it the perfect meeting point for gatherings.
Once you had a glance high in the sky at the Spire, it is time cross the River Liffey using the famous Ha' Penny Bridge. This is the Bridge seen all over Instagram and is the gateway into the Temple Bar District.
Temple Bar is an old cobblestone quarter that the most famous spot in Dublin for tourist. It is where Irish the personality, music, and tales come to life. The most popular building who be the official Temple Bar Inn, a red brick pub seen on most postcards and information brochures. This may be a good time to grab a bite to eat, consider eating in the delicious Elephant Castle, or if you fancy designing your own cheesecake, check out the Mad Egg. Please note, that mad egg is before the crossing of the River Liffey, see google maps for reference.
24 hours in Dublin: Spend the Evening Exploring Beautiful Historic Buildings & Have a Taster of the Black Stuff
Once your Tummy is all full up, it is time to walk towards Dublin Castle. You may be surprised that there is only one section of the castle that in fact looks like a real-life castle. Nonetheless, it is still a significant building in Irish history. You can go inside the castle for a fee, although I suggest skipping this step due to time restrictions.
Following the royal visit, it is time to walk towards the stunning Christchurch Cathedral. The Medieval Cathedral will make you feel as if you are stepping back in time with its a truly unique architecture.
Continuing on the with the Medieval theme, a few minutes down the road lies Dublin 2nd Medieval Church, Saint Patricks Cathedral. This is one stunning building, with a beautiful garden adjacent to it. Consider taking a moment to explore the cathedral and take pictures of the exterior.
The final stop on today's self-guided tour of Dublin brings us to the home of the Black Stuff, The Guinness Storehouse. This is my favourite attraction in all of Dublin. And, that is even a little controversial, as I'm Irish, but I'm not all too fond of the taste of Guinness. My point being, anyone can visit the famous storehouse without having to like the taste of the Black Stuff! Visit for the brilliant storytelling, to have a laugh trying to pull your own pint and for the phenomenal 360 views of Dublin. If this sounds like a fun-filled evening, book your tickets now as they sell out fast.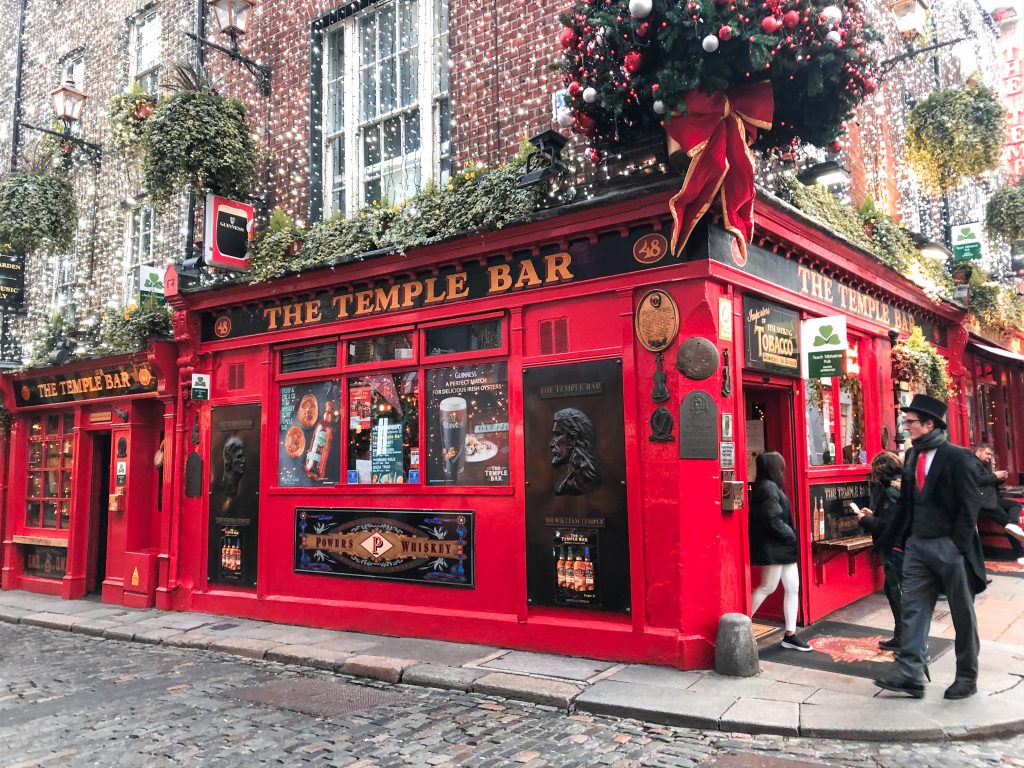 Things to do in Dublin in One Day: Night Time Shenanigans
Ok, so we have come to the end of our one day in Dublin Itinerary. How you spend the night is up to you. I have listed a few options down below are some of my favourite nightlife spots in the city.
Temple Bar: Let's start with the most obvious, Temple Bar. This is the place to go if you are hoping to listen to some Traditional Irish Music with a modern twist. I must warn you that the district is insanely expensive and you won't find much Irish hanging about in the pubs. But… It certainly lives up to the stereotypical 'Irish Experience'.
Location: Temple Bar
Dame Lane: Another great spot for traditional music is just across the street from Temple Bar, Dame Lane. The prices here are slightly cheaper, only slightly though and you may find a local or two jamming out to the great music scene.
Location: Dame Lane
Dawson Street: If you are looking for a nice chill place to have a few drinks with the possibility of having a little boogie as the night progresses. The make your way to Dawson Street, home to some modern bars with little dance floors.
Location: Dawson Street
Harcourt Street: If you are looking to dance the night away in a selection of Night Clubs then Harcourt Street is the place for you! It is a whole street dedicated to late-night dancing. If you are brave, you may even find yourself in coppers, dancing the night away until 5 am. Now, you have been warned, coppers can get CRAZY at night, so come prepared.
Location: Harcourt Street
Looking for Cocktails?
If you are looking for a bit more of a sweet drink, check out Pygmalion, Capitol Lounge or Copan(a little bit out of the city).
Not Mad on Drinking?
If drinking isn't your scene, why not consider going to see a comedy gig in Vicar Street. Or, visit one of Dublin's best hidden gems, the Stella Cinema, a vintage cinema complex that transports you back in time.
Also, don't rule out Temple Bar or Dame Lane. It is still possible to enjoy traditional Irish music without feeling the need to have an alcoholic beverage.
Map of our Dublin One Day Trip
A Suggested Timetable for a Stopover in Dublin
Ok, so now that you have found out all the best things to do in Dublin in one day. It is time to think about putting a general plan into place. Below, I have highlighted a suggested timetable to follow to ensure you get to visit all of the top Dublin attractions mentioned above.
8.30am – 9.00am: Breakfast
9.00am- 10.00am: Saint Stephens Green
10.00am – 10.30pm:  Grafton Street & Molly Malone Statue
10.30am – 12.00pm: Explore the Grounds of Trinity College and visit the Book of Kells
12.00pm – 1.00pm: GPO, The Spire & Ha'Penny Bridge.
1.00pm – 2.00pm: Lunch Break in Temple Bar
2.00pm – 3.00pm: Dublin Castle, Christ Church & Saint Patricks Cathedral
3.00pm – 5.00pm: The Guinness Storehouse
Night Time: Go for a nice bite to eat and then decide if you want to party it up in a night club, listen to live music in temple bar or go see a comedy gig in Vicar Street.
Considering Spending more time in Dublin?
If you are on the fence on whether one day is enough time to spend in Dublin and have the option to extend the trip I 100% recommend you do. Here is a list of some of my other Dublin Posts that may help you make up your mind.
Planning on staying a few days in Ireland? Check out some more of my posts that will help you organise your trip!
Getting Around Dublin City
Now, as mentioned above all the stops in this Dublin Itinerary are of walking distance of each other. Meaning it is very unlikely that you will need to become familiar with Dublin's transport system. Nonetheless, I have displayed all the details down below for those of you who are considering long in the city.
Dublin Bus: Dublin's bus service is well connected. It is easy to get from one place to another. You can pay on board using coins, it is, however, cheaper to pay using a leap card.
The Luas: The Luas is a tram that connects suburbs to Dublin city. It drives from one end of the city to the other making it super easy to navigate and get from A to B. You can pay for the Luas using cash, card or a Leap Card.
The Dart: The dart runs from the city centre to the coastal area's. You can pay using cash, card or a Leap Card.
Dublin Bikes: Dublin bikes are FREE for a 30-minute duration at a time. Make sure to download the app and fill in your details before arriving. This saves a lot of time.
Taxi: Taxi's offer a door to door service but are extremely expensive. If you plan to order a taxi, download the FREE now app now (Android/IOS) it is the easiest way to hail down a taxi. Alternatively, if a taxi has its light on when you are walking in the street putting your hand out will let them know you want a ride.
The Leap Card is a prepaid pay as you go public transport card. The can be used on most public transport throughout Dublin. For more information and for rates click here.
Getting from Dublin Airport to the city centre
An Air Coach runs from the airport into the city centre and at the time of writing costs €12 for a return ticket.
Alternatively, the 41 Dublin bus route is 24 hours and will transport people from Lower Abbey Street to the Dublin Airport and vice versa. This is a much cheaper option and is available on the Leap Card.
Where to Stay in Dublin:
Below is a list of possible accommodations to stay in on your trip to Dublin. I have personally never stayed in any of them as I live in Dublin. I can, however, point you in the right direction in terms of Budget.
Budget-Friendly Hostel: Abigail's Hostel cost around €80 for one person for 2 nights (Yes, a hostel is 80 quid. Dublin is EXPENSIVE!) But this one is in a great location. Right on the streets of Temple Bar.
A Good Location Hotel: The Moxy Dublin City Hotel costs around €390 for 2 people for 2 nights.
A Good Location Apartment: The Dublin Apartments Temple Bar costs around 400 for 2 people for 2 nights.
Now, I know they are all rather expensive, If you stay a little further outside the city you will for sure get a better deal. Some Area's with good public transport routes include Rathmines, Terenure and Dundrum. To check for more options use the Booking.com search box down below:
Like This Post? Pin it for Later
Thanks for Reading and I hope you enjoyed. If you have any further questions be sure to reach out to me on Facebook or Instagram. As Always, happy travels and see you in the next blog!
Disclaimer: Please note that some blog posts on LiveAdventureTravel may contain affiliate links meaning that I may make some commission on purchases made through said links at no extra cost to you.